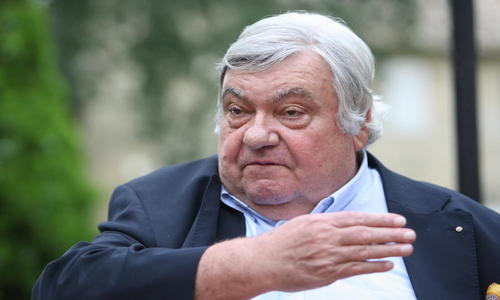 SPECIAL REPORT | Tensions bubbling at Montpellier
The relationship between manager and management at Montpellier has always been an uneasy one, especially since the departure of René Girard for Lille in 2013. Jean Fernandez didn't even make it to the winter break as Girard's successor, and while Rolland Courbis did last two years, he was also unceremoniously dumped in December 2015. There then followed a bizarre interregnum with a two-man team of Pascal Baills and Bruno Martini before Frédéric Hantz assumed the reigns.
Hantz has had a somewhat star-crossed career as a manager, bringing Le Mans back to Ligue 1, as well as winning consecutive promotions with Bastia, but also being decidedly underwhelming during his spells in charge of Sochaux and Le Havre. This season, Montpellier have been decent enough in the face of injuries (Daniel Congré, Casimir Ninga, William Rémy, Ryad Boudebouz) and departures (Jamel Saihi, Jonas Martin, Bryan Dabo).
Leaky at the back at times, the club have still endeavoured to play attractive, attacking football, a rarity for a mid-table club in Ligue 1, and Hantz's imaginative lineups in the face of injury and inexperience have been central to that. He has also done well to foster the development of young players, as Ellyes Shkiri and Steve Mounié have been hugely important this season at just 21 and 22, respectively.
Over his time at the club, 38 matches before today's visit from Dijon, he has earned 52 points, well above relegation form, if not quite knocking at the door of European qualification.
For a club of Montpellier's means, playing aesthetically pleasing football while recording the odd famous result (the recent wins over Marseille and Paris Saint-Germain), developing young talent and comfortably avoiding relegation is an impressive achievement. In a season like this one, it is perhaps even more so, as the club have had to scrap for free agents such as Stéphane Sessegnon and Cedric Mongongu to even fill the bench.
That is why the news of a recent imbroglio at the club involving Hantz and Louis Nicollin is somewhat surprising. One could understand the dismissals of Fernandez and Courbis; the former hasn't managed in France since, while the latter is now a pundit.
Both were emblematic of the tracksuit manager stereotype, playing unimaginative football even as they had talented creative players (Boudebouz, Rémy Cabella, Anthony Mounier) at their disposal. Hantz, however is the antidote to that, easily balancing the need to stay in the top flight with the fans' desire for good football.
In an interview with France Bleu Herault, conducted by the journalist Philippe Sers, on the heels of Montpellier's 5-0 defeat by Lyon in the Coupe de France, Nicollin expressed, in no uncertain terms, his frustration with Hantz's performance, specifically his ability to maintain consistency: "I am asking questions about the coaching of the team; we are capable of good results, and then afterwards we fall apart. At 74, I am not going to try to understand this, but I will tell my son to rush in the stretchers."
Nicollin continued, lambasting Hantz's recruitment philosophy, "Me, I say that we must recruit a good defender, but the manager is a problem child, asking me questions. It's not normal to give up two goals to Lyon in ten minutes; we're not an amateur team! It's serious, we should be fighting, but here it's sad, sad."
The owner concluded, hinting at relegation "I am angry with my manager and my team; I have had it up to here. We don't have the means to fire him, it's up to him to do his job. We have a recruiting unit that would do better in Pinder's Circus. If we don't play well in the next two matches against Dijon and Metz, we are going to join our friends in Nimes. If we go into the second division and play before 4 or 5,000 people who like us, it will make us stronger mentally, it doesn't matter. But if we stay up or go down, we must thank the recruitment team, in June it's going to be hot for them."
Now, obviously Nicollin has a long history of being outspoken, but he and his son do control the team's business interests. Recruitment, then, at least as far as its financial limits is the purview of he and the board, more specifically sporting director Bruno Carotti, against Nicollin has also railed in the recent past.
However, in that same interview, with RMC, Nicollin also emphasized that he didn't view the club's struggles as being the fault of Hantz but management; it appears his net is now widening in search of someone to take the fall. Carotti's recruitment may be poor, but he is a club legend, and it would be far more difficult to replace a sporting director than a manager at this point in the season.
Hantz, then, was understandably upset.
In yesterday's pre-match press conference, he said "I was very upset. The phrase that made me feel worst: we don't have the means to fire him, he must do his job. For me, in my soul, this represents a rupture. I can understand, on my part, his anger after the match at Lyon, but also I am astonished after we've been together for a year. Up until now, with Louis Nicollin, there has never been a shadow of doubt. I speak with him regularly and I've never had any reproach from him, even in difficult times, he always supported me. Today, around him, there are people who feed him information. There is a future but what worries me is that the last time Louis Nicollin used this phrase was in September 2015, against my predecessor, Rolland Courbis. We know how that finished. Because of this statement, I have been thrown to the wolves in terms of my environment and my dressing room. It creates a gap, because there will be questions about the relationship between the president and myself."
It is hard not to feel for Hantz, whose simple yet eloquent response speaks of an astonishment and a hurt, considering the facts at hand. Yes, recruitment has been an issue, but that already seems to be changing. This winter, the club have managed to bring in Nordi Mukiele from Stade Lavallois, a promising youngster capable of playing both centre back and right back, in a deal confirmed before the Lyon match.
However, Hantz described the player as being a "medium/long term project," which means that despite his obvious potential he may not be, in the eyes of the manager, capable of performing at a top-flight level as yet. Considering the €1.5m fee for the youngster (only Boudebouz and Kévin Berigaud, both fairly established in Ligue 1 prior to their arrival, have cost more in the last five years) Hantz may be under pressure from Nicollin to incorporate the youngster as quickly as possible.
That presents an issue, though, beyond Hantz's appraisal of his talent. Mukiele is a talented and mobile player, but he is also a right-sided centre back, and that position is currently occupied by the club captain, Hilton. Hantz spoke about being put in a delicate situation in the dressing room as a result of Nicollin's comments, but matters would surely be made worse were he to drop his captain for an unproven 19-year old merely because he is a new recruit.
Hilton may be aging, but when Daniel Congré is fit, the two are comfortably Montpellier's best centre back partnership. The merits of recruiting younger players for their sell-on value (Sanson, Jérôme Roussillon, etc) are manifest, but in this case, a more experienced player would probably have been the better option if Nicollin really felt that relegation was a worry as an extension of a lack of centre backs.
Hantz labeled Nicollin's comments as creating a "rupture," and the meaning is clear. There is no going back from what the president said, especially given his history. Nicollin finally had found a manager who could manage a dire financial situation and a threadbare squad, (Montpellier are likely to only name four outfield players on their bench today) but in conflating his frustration with recruitment with the club's on-field situation, he has jeopardised a good thing.
Hantz may last the season, but surely not beyond, and he won't be lacking in suitors come the summer given his heroics this season. Foot Mercato titled their report of Nicollin's comments "The big blow from Nicollin's mouth," but ironically, the owner may be the one feeling the blow at season's end, as he will surely struggle to replace Hantz with a manager of any quality.
Nicollin's mooted relegation, likely to be avoided this season, will loom much larger in 2017/18 and the owner may find himself wishing he had kept his mouth shut for a change.