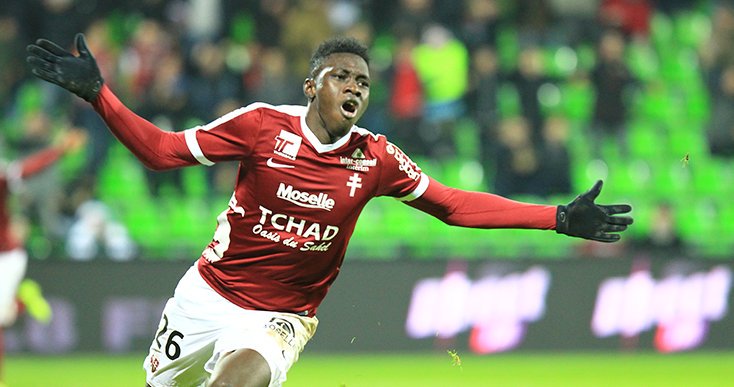 The 10 Ligue 1 Talents that Europe is chasing before the window even opens
In a surprise-filled Ligue 1 campaign with Paris Saint-Germain's domestic dominance finally put to an end, Europe's top clubs and the continent as a whole have been giving the French top flight more attention than ever before. In the image of Bernardo Silva's €50m plus bonuses move to Manchester City from AS Monaco, Ligue 1 is set to be raided once again for its top talents. Here are just 10 individuals who are garnering interest from across Europe before the transfer window has even opened.
Kylian Mbappé – (AS Monaco, 18)
Accentuated by the rise of social media, the phenomenon of hype around a certain a player is common in football, but to understate the impact of Kylian Mbappé's clinical finishing, terrifying pace and prodigious skill is not an easy task. His emergence at the turn of the calendar year was the catalyst for Monaco to turn on the afterburners and intensify their already scintillating, breakneck form in taking the league crown and galloping into the Champions' League last four. At just 18 he became the only man to score in his first four Champions League knock-out games, whilst 12 of his 15 league goals came as part of 20 in his last 26 since early February, not to mention adding eight assists.
Young players regularly burst onto the French footballing scene, Sofiane Boufal and particularly Ousmane Dembélé were last season's trailblazers, but Mbappé is on another planet entirely. His fluid, graceful style and unerring finish draw natural comparisons with Thierry Henry. Yet, his warp-speed acceleration and bamboozling of defenders with his magical sleight of foot and change of direction make a young incarnation of Brazil's Ronaldo a more accurate blueprint. Ronaldo was nicknamed 'The Phenomenon', it might be time to pass on that mantel.
Interested Clubs: Arsenal, Manchester City, Manchester United, Real Madrid.
Estimated Valuation: €150m
Joris Gnagnon – (Stade Rennais, 20)
This season has been frustrating for Rennes. Both wingers, prize asset Paul-Georges Ntep and longtime super-sub Kamil Grosicki, were sold in the winter window and not replaced. With them went much of manager Christian Gourcuff's cutting edge and creativity. They have failed to realise their European ambitions as their campaign petered out, making the revelatory development of 20-year-old defensive powerhouse Joris Gnagnon one of few bright spots in 2017 for the club. Gnagnon's impressive physique is a clear asset but since forcing his way into the first team last October, he has also proven to be an intelligent and wily operator, exhibiting superb positional play, anticipation and an astute covering of his colleagues.
With Gourcuff now describing him as the leader of Rennes' back four and bigger clubs circling, holding on to him this summer will be a serious challenge job for a side without clear ambitions for the forthcoming campaign. Regardless, a sizeable offer may be inevitable and ultimately unrefusable.
Interested Clubs: AS Monaco, Bayer Leverkusen, Borussia Dortmund, Borussia Mönchengladbach, Chelsea FC, Inter Milan, Sevilla, Tottenham Hotspur.
Estimated Valuation: €25m
Jean-Michaël Seri – (OGC Nice, 25)
Monaco might have Fabinho and PSG have Marco Verratti in their ranks, but Nice boast Jean-Michaël Seri. In much the same way Fabinho and Verratti dictated play for Ligue 1's top two this season, the Ivorian did so in emphatic fashion for Nice and, in terms of capacity, should be considered as on par with the Brazilian and Italian as a deep lying playmaker and pass-maker. Seri's ability to pick up the ball from his centre backs and either command the pace and direction of play with his unerring, metronomic passing and close control or drive his team forward in attack with a sharp dribble has been crucial to Lucien Favre's outfit's success this season.
His 10 league assists further underlines his influence in the final third. Unlike during his first campaign in France, Seri now very rarely makes a fatal decision that results in the opposition winning the ball back, even when under the pressure of a hounding, aggressive press. He has a knack for calmly wriggling away from danger or nonchalantly picking the perfect pass to negate the threat, which is aesthetically often sublime. With a €40m release clause (in theory banned by the LFP but still legally binding by taking advantage of loopholes), the Ivorian international has some of Europe's very best at his feet.
Interested Clubs: Arsenal FC, AS Roma, FC Barcelona, Paris-Saint Germain, Tottenham Hotspur.
Estimated Valuation: €40m
Corentin Tolisso – (Lyon, 22)
Cut adrift of the Champions' League places in Ligue 1 and embarrassed defensively by Ajax in their Europa League semi-final first leg, this year has been underwhelming for Lyon. There have however been bright spots; Alexandre Lacazette's phenomenal goal tally, young Lucas Tousart's emergence at the base of the midfield and Mathieu Valbuena's resurgence have all stood out, but a breakthrough campaign from Corentin Tolisso is their headline.
Comfortable in a range of central positions, holding, central or attacking midfield roles have all been handled masterfully by the 22-year-old Frenchman this season, while his understanding with Lacazette has been the key to anything positive that Bruno Génésio's charges have managed in an attack this season. Perhaps most impressive is his ability to play insightful, deft through balls, expertly judging the timing and weight of a pass and selecting the right option on the counter. If Juventus follow through on their interest in the new French international, replacing him will be extremely difficult at the Parc OL. Having rejected €37.5m from Napoli for Tolisso last summer, Lyon President Aulas will certainly be no easy individual to negotiate with.
Interested Clubs: Arsenal FC, Chelsea FC, Juventus, Manchester City, Inter Milan, Tottenham Hotspur.
Estimated Valuation: €50m
Ryad Boudebouz – (Montpellier HSC, 27)
Ryad Boudebouz is quite simply far too accomplished to be plying his trade for Montpellier. Whilst the club meandered in the lower echelons of mid-table, this has been a watershed campaign for Boudebouz; without his goals and creativity, Montpellier's relative security would have otherwise been difficult to come by. The Algerian's skill, vision, ability on the ball, eye for goal and his trademark swish of the hips have made him a somewhat under the radar delight of Ligue 1 this year and has left Montpellier with little chance of holding onto their prized asset this summer.
Previously, the Algerian's form has fluctuated from the sublime to the anonymous throughout spells at SC Bastia and Sochaux but his talent has finally won out and, at 27, he has entered his prime. A French top six club will be waiting to snap him up this summer, assuming a foreign giant does not beat them to it.
Interested Clubs: Lazio, Lyon, Newcastle United, OGC Nice, Schalke 04.
Estimated Valuation: €15m
Alexandre Lacazette – (Lyon, 26)
Since an injury towards the end of his breakthrough campaign in 2014/15, Alexandre Lacazette's form, sharpness and stream of goals has fluctuated frustratingly. However, as the 2016/17 season got into its stride, so too did the Lyon forward. Lacazette exemplifies the possible path that promising Ligue 1 players can take and the potential level that they can reach if they are not rushed out of the door as soon as they show some semblance of quality. The 26-year-old now emerges as what one would be daft not to call a very complete article after enjoying his most assured and consistent season to date.
His finishing is pin sharp, his touch and awareness of space have been refined and his acceleration is as evident and frightening as ever. 28 Ligue 1 strikes in 30 outings as part of 37 goals in 44 across all competitions in 2016/17 stand as evidence that this summer is the perfect time for Lacazette to finally fly the nest and prove that he is capable of becoming a top tier European striker. He appeared to be promised to Atletico Madrid, but the continuation of their recruitment ban following a failed appeal to the Court of Arbitration for Sport has thrown everything into uncertainty.
Interested Clubs: Arsenal FC, Atletico Madrid, Borussia Dortmund, Manchester United.
Estimated Valuation: €60m
Fabinho – (AS Monaco, 23)
Without Fabinho, it is likely that AS Monaco would not have been crowned Ligue 1 champions this season. The difference between Leonardo Jardim's side with and without the Brazilian is stark. The 4-1 drubbing that Monaco received from PSG when their midfield general was suspended for the Coupe de la Ligue final exemplified how much they rely on his mobility, power, range of passing and his ability to dominate midfield battles, in tandem with Tiemoué Bakayoko, despite often being outnumbered in what is now generally seen as an archaic tactic to position just two players in the midfield.
Fabinho is Jardim's lynchpin, without him their freewheeling, relentless, high press 4-4-2 starts to fall apart. Consequently, the rangy Brazilian has comfortably been Ligue 1's most influential player this season and finding a way to retain him will be top of Monaco Vice President Vadim Vasilyev's summer to-do list. As, for Les Monegasques at least, he could prove to be irreplaceable.
Interested Clubs: FC Barcelona, Juventus, Manchester City, Manchester United, Paris-Saint Germain.
Estimated Valuation: €60m
Issa Diop – (Toulouse FC, 20)
In November 2015, Toulouse were floundering. After just a solitary win so far in that particular campaign and barely avoiding relegation in recent years previous, then manager Dominique Arribage threw lanky 18-year-old centre back Issa Diop in at the deep end for the visit of Nice. Les Violets won 2-0 and although Arribagé was soon dismissed, Diop has been a permanent fixture in the Toulouse side ever since.
His pace, towering aerial ability, reading of play and assured, to-the-point defending were key to TFC's miraculous survival under the inspirational Pascal Dupraz last season. This year Diop has developed into one of Ligue 1's most consistent centre backs, finishing the season as captain and working in tandem with the equally superb Christophe Julien in what comprises arguably Ligue 1's most eye-catching defensive partnership. Still just 20, Diop's growing stature is already justifiably turning heads.
Interested Clubs: AS Monaco, Chelsea FC, Red Bull Leipzig.
Estimated Valuation: €25m
Ismaila Sarr – (FC Metz, 19)
'How on earth did Metz stay up?', is the season's biggest mystery in France. 72 goals conceded and a negative 33 goal difference, the worst defensive record in Ligue 1, usually equates to relegation form rather than 14th place. Fortunately for manager Philippe Hinschberger, that question has two possible answers. Cheick Diabaté, 8 goals in 15 games since his winter loan move from Turkey, is the first. The other being the emergence of teenage winger, Ismaila Sarr. Sarr's explosive and direct wing play dragged his Metz counterparts towards safety in the latter part of the season but 'raw' is still very much the watchword for the Senegalese, signed from Metz's partner club Generation Foot last summer.
His style resembles that of a lightening quick Paulo Wanchope, all flailing limbs and unpredictability, but flashes of genuine brilliance have become increasingly evident in 2017. Superb strikes against Caen and Nancy gave his team crucial points and a virtually unplayable cameo was nearly enough to see off PSG, aiding in overhauling a 2-0 deficit only to lose 3-2 in injury time. He still has some way to go but the journey will be an enthralling one.
Interested Clubs: Newcastle United, Red Bull Leipzig, Watford FC.
Estimated Valuation: €18m
Tiemoué Bakayoko – (AS Monaco, 22)
As Fabinho's midfield lieutenant, Tiemoué Bakayoko has been pivotal to Monaco's success in 2016/17. In his attacking, high-swelling 4-4-2, Leonardo Jardim's side can often be outmanned in central areas, pitted against more possession oriented three man midfields. However, with Fabinho dictating play, Bakayoko's ability to intelligently protect his back four and their combined coverage, aggression and power, Monaco may often be outmanned but they're never outgunned.
Although Bakayoko's core skillset places him somewhere between Ngolo Kanté and Claude Makélélé in the spectrum of midfield sentinels, astutely shutting down burgeoning attacks and harrying forwards into mistakes, his strong, leggy Patrick Vieira-like physique adds an extra dimension to his game. Although his concentration over 90 minutes may yet require some finessing, at just 22 Bakayoko has all the qualities to become a world class midfielder.
Interested Clubs: Chelsea FC, Liverpool FC, Manchester United, Paris-Saint Germain.
Estimated Valuation: €60m