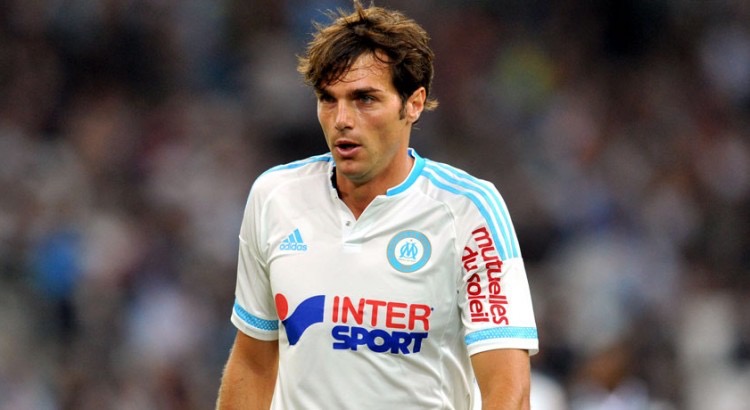 The 5 worst Ligue 1 signings in the last 5 years
With Mercato season well underway, it's time to look back at some of the transfer decisions Ligue 1 has regretted in the past. From players that never lived up to their potential, to others that could not replicate what they had done elsewhere and even a couple that barely turned up, there's a few here that teams would have really hoped you'd got a receipt for such duff purchases.Here's a look at five of the worst deals over the past five seasons.
Marvin Martin (Sochaux to Lille)
Once heralded as the future of the national team, it's almost farcical to see how far Marvin Martin has fallen. A whopping 27 assists in two seasons, which includes a staggering 19 in 2010/11, made it look like a simple decision for Lille to pluck him from Sochaux in the summer of 2012.
What they didn't forsee was his enormous drop off in production. His first season was decent on the stats sheet, his seven assists were only one off his previous year's total, but he still struggled to integrate fully into the side.
In the three seasons that followed, he regressed to the point where it was almost a sign of desperation when he was in the starting line-up. A career resurrection was offered by Dijon this past summer but even a move did little to reignite what looked like a blossoming talent just five years prior.
With a home that no longer wants him, it would be no surprise if the former France under-21 international has to dip into the second tier to find game time next season. A true fall from grace and turning 30 at the start of next year, it's highly unlikely we will see him scale the heights of top assist maker again.
Philipp Hosiner (Austria Wien to Rennes)
It's pretty common for the top five leagues in Europe to pluck up the top scorers of other, lesser divisions but it can be such a boom or bust move. Sometimes they turn into world beaters, sometimes it can seem like the world has beaten them into submission.
Case in point of the latter is Philipp Hosiner, who joined Stade Rennais in 2014 for a fee believed to be around €2.5m. Having scored 47 goals in 81 appearances for Austria Wien in the Austrian Bundesliga, he looked like being the firepower that Rennes desperately needed up top.
Unfortunately, he will only be remembered for his back-heel finish against Marseille in the Coupe de la Ligue, which was also his only goal for the club. A stuttering start was followed by a tumour on his kidney, which required the removal of the organ, side-lining him for the rest of his Rennes career.
A loan move to Köln failed to spark a return to form and he's yet to set the world alight again at Union Berlin. The fact that neither have been besotted with goals since then is both bittersweet and rather coincidental.
Paolo de Ceglie (Juventus to Marseille)
A Juventus man with over 100 apearances for the club? Sign him up, Marseille said. The issue was that the agent sending them that email left off the fact that it was over a nine-year spell and the player had been on loan to Genoa and Parma over more recent seasons.
Despite that, a 2015 move to the Stade Velodrome looked like a decent piece of business. L'OM needed more depth in their back line, Paolo De Ceglie had bags of experience and could thrive in a new league.
Instead, the Italian flopped alongside several other overly-ambitious loan signings. Five sorry appearances later, finishing a 90-minute game just once, he was shipped back home and was never spoken of again.
Now angling for a move to the MLS, it's not too much of a surprise that De Ceglie didn't work out at Marseille. But at least he can take solace in the knowledge that he wasn't the only bad deal the club made that summer.
Lucas Silva (Real Madrid to Marseille)
And speaking of another woeful deal Marseille made that summer, step up Lucas Silva. Recently signed by Real Madrid and seen as potentially a star defensive midfielder of their future, it was almost seen as a coup to gain him on loan for a season.
Los Blancos are traditionally selective of where they send their youngsters as well, making sure they have the competition to grow into a future Galactico. As for the French club, if he succeeded but didn't quite make the grade at the Santiago Bernabeu, he could become a fixture in the south of France instead.
It wasn't to be, with the Brazilian making many mistakes in his 22 appearances for L'OM. His performances were so pitiful that in January, chairman Vincent Labrune asked him to terminate the loan agreement in order to join Anderlecht but he refused and he never saw the field again.
He was never really quite cut out for European football, it seems, as Madrid allowed him to head home and join Cruzeiro on loan in January until the end of the 2017/18 season. Another failed recruit of what was a dreadful window for Marseille, they should just be glad they didn't capture him on a permanent basis.
Jesé Rodriguez (Real Madrid to PSG)
Have you ever spent €25m just for the hell of it? That seems to be what the Qataris decided to do when they threw cash at Real Madrid to sign Jesé Rodriguez last summer. Looking for added depth on the wings, Paris Saint-Germain targeted the Spanish youth international and paid a solid premium to get him.
Some question why Los Blancos were so willing to let him go, those that had yet to see Marcos Asensio at least, but it looked like an interesting purchase for the French champions. He'd been a small part of two Champions League winning sides and played almost 40 games in his final season in the Spanish capital.
Two goals and 14 appearances later, Jesé is already out of the door. A brief showing against Bastia to start the season was followed by a completely invisible performance at home to Saint-Etienne and from then on, he barely saw the starting line-up.
A loan spell to Las Palmas did little to move the needle, even if the Canary Islands club would like him back on a temporary basis, and his career in Paris already looks over. But with a huge wage and little offers to wade through, he could be an expensive mistake for the Parc des Princes to deal with for a while longer yet.