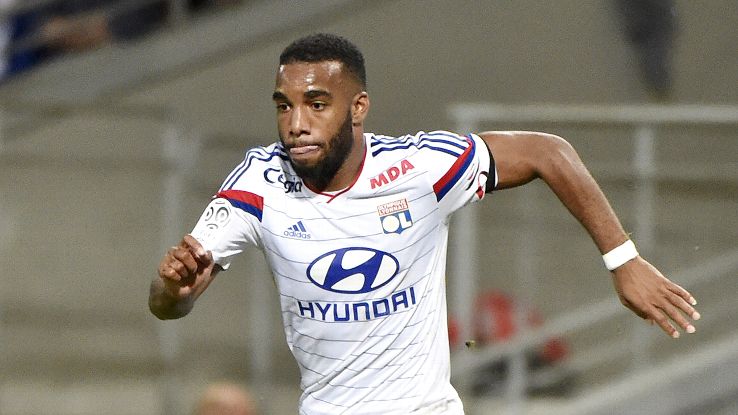 The Lacazette Series | His departure marks a definitive end to Lyon's second golden era of academy products – a missed opportunity
Alexandre Lacazette's departure, along with those of Maxime Gonalons and Corentin Tolisso, signals a definitive end to Lyon's second golden era of academy products. While this crop of players, born between 1989 (Gonalons) and 1994 (Tolisso), has never had the eye-catching nature of the group born in 1987 (Loic Rémy, Karim Benzema, Hatem Ben Arfa), nor their success, either domestically or in European play, they did comprise something approaching a complete squad rather than a hodegpodge of attacking talent. For that reason, there is more than enough reason to regard the last few years at Lyon as being a missed opportunity.
From front to back, Lyon had developed a deep and capable squad of players who became first team fixtures, largely after being pressed into service slightly ahead of schedule. Lyon have always sought to develop attacking players, but this group also contained a fine goalkeeper, Anthony Lopes, and a precocious centre back, Samuel Umtiti. Gonalons and Tolisso offered versatility and steel in midfield, while Lacazette, Nabil Fekir and Clément Grenier provided ample attacking flair, giving Lyon, with the possible exception of the fullback positions, a nearly complete side of full internationals.
The bulk of those players came into their own under Rémi Garde, who managed Lyon between 2011 and 2014. Gonalons was already a first-team regular, but the rest of the group, particularly Umtiti and Lacazette, blossomed under the former defensive midfielder, himself an academy product and sometime French international. Garde's rapport with and willingess to trust his young players was remarkable, and his faith was duly repaid. Lyon, limited by the disastrous transfers of Yoann Gourcuff, Ederson and Aly Cissokho to keep a close eye on their checkbook, were all but forced to look to their academy, and that often meant players being given their first appearances for the first team at very young ages or low levels of experience.
Umtiti was the first example of this, making his debut at age 18 in 2012, and impressing enough that Lyon saw fit to let captain Cris leave for Galatasaray that summer. Umititi was soon followed by Lacazette, who became a regular in the same campaign, albeit on the wing. Grenier, too, blossomed in Garde's second season, playing opposite Lacazette in a double pivot 4-4-2 and providing the team with much-needed creative impetus, an opportunity granted him by Gourcuff's inability to stay fit. All three eventually became full internationals, although Grenier, who had been set to travel to Brazil in 2014, has seen his career, ironically, derailed by the same sort of chronic injuries that befell his fellow play-maker Gourcuff.
In 2013-14, following the sale of veteran striker Lisandro Lopez, winger Michel Bastos and centre back Dejan Lovren, Lyon seemed once again in dire straits, but again their academy bore fruit. Lopes, who had featured in a handful of matches in the stead of Remy Vercoutre the previous season, was elevated to first choice in goal, midfielder Jordan Ferri became a regular, and Fékir and Tolisso also made their first appearances. Lyon progressed to the quarterfinals of the Europa League and finished in fifth place domestically, both achievements below those of their title-winning sides, but ones that offered some level of vindication to chairman Jean-Michel Aulas' austerity and faith in youth.
The stress of Lyon's finances proved too much for Garde, however, and he departed the club in the summer of 2014, ceding his place to former Reims boss Hubert Fournier. Fournier, somewhat by necessity, doubled down on Garde's youth policy, playing a diamond 4-4-2 in the absence of Grenier, with another academy product, the Cameroonian Clinton N'Jie partnering Lacazette ahead of Fekir.
In midfield, Gonalons played behind Ferri and Tolisso, who had been converted from right back, while Umtiti and Lopes kept their places in central defence and goal. For much of that season, Lyon topped the table and while Paris Saint-Germain did eventually continue their hegemony, that the club could succeed to such a level with 8 of 11 players being academy products was a hugely impressive achievement. Despite Grenier, Gourcuff and fellow midfielder Gueïda Fofana struggling with injury, and a slight drop in form in the run-in, Lyon looked a club on the rise.
That summer finally saw the end of Lyon's de facto limit on spending, and a host of intriguing players were brought in, including highly-touted Spanish youngster Sergi Darder, former Montpellier centre back Mapou Yanga-Mbiwa and Mathieu Valbuena. Things fell apart rather quickly for Lyon, though, as Fékir, whose creativity had been the beating heart of the team in the previous campaign, was ruled out for the year, forcing the team into a variety of makeshift attacking combinations. Middling league form, coupled with an embarrassing Champions' League exit, saw Fournier dismissed and long-time assistant Bruno Génésio brought in as a stop-gap.
Génésio switched from Fournier's diamond to a 4-3-3, with Lacazette flanked by yet another academy product, Rachid Ghezzal and the speedy former Metz youngster, Maxwel Cornet. The two wide players flourished in the run-in, and Lyon managed to finish second once again, despite getting relatively little from their raft of summer signings. Génésio was hailed as a genius and things once again looked up for Lyon. Last summer saw the club's first big-money sale in some time, but Samuel Umtiti being a target of Barcelona was only going to end one way, and there was still optimism around the return of Fekir and the nucleus of players who had been at the forefront of Lyon's successive second-place finishes.
Last season was a decidedly mixed bag for Lyon and their group of academy graduates; Tolisso became a full international while Lacazette continued scoring at an absurd clip, but Fekir looked unmotivated and over-weight, while Gonalons, normally a reliable presence, delivered arguably his worst season for the club, even being dropped for young Lucas Tousart on a handful of occasions.
Génésio also had to manage a succession of injuries, but his own tactical indecision did nothing to improve the team's lot. As Nice and Monaco kept pace with Paris Saint-Germain, Champions' League football looked all but impossible, and while a fine run in the Europa League, including a stirring home win over Roma, provided something of a palliative, given the ages of the likes of Lacazette and Tolisso, 2016-17 can only be labeled a lost season for Lyon.
The sales of Lacazette and Tolisso make sense for Lyon financially; both offers are all but too good to refuse, but with Ferri and Ghezzal set to take the team's exodus to five before the season starts, it is well and truly the end for this generation of academy graduates. Fékir and Grenier remain with the team, but little to nothing is expected from the pair in the months to come, owing to their fitness issues, with more anticipation being centered around the club's transfer dealings than any up-and-coming youngsters. Winning a title against the riches of Paris Saint-Germain these last few years was always going to be a tall order, but one can't escape the feeling that a pair of decent runs in the Europa League (and no trophies) means that this group of players collectively underachieved.
Admittedly, there are already promising signs for Lyon's current generation of young players, with Mouctar Diakhaby, Tousart, Cornet, Olivier Kemen and Hassem Aouar all looking set to be integral parts this season, but of those, only Aouar and Diakhaby are academy graduates, underscoring the rarity of the confluence of talent that Lyon had at their disposal.
Injuries, poor managers, financial indifference, or even a subconscious feeling of inferiority when pitted against the financial might of PSG and, to a lesser degree, Monaco; there are many factors that contributed to Lyon's drop-off in the last decade, but this summer's exodus underscores in no uncertain fashion that the long view on the team will undoubtedly be a narrative dominated by what might have been.