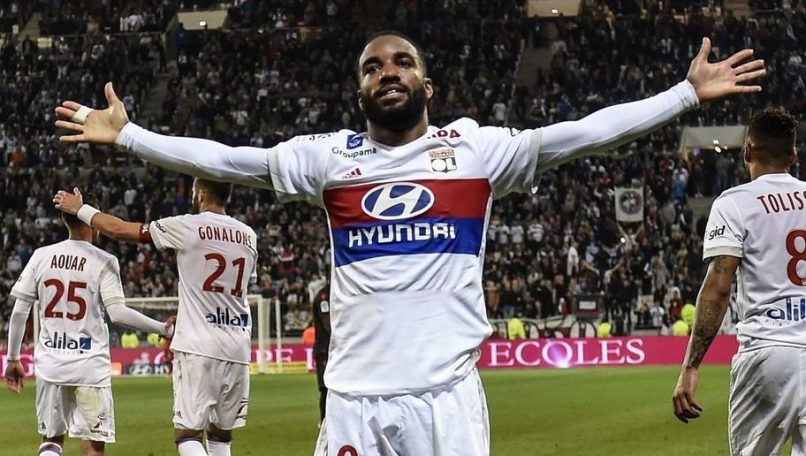 The Lacazette Series | Where will he fit in at Arsenal?
Alexandre Lacazette's arrival from Lyon has at last given Arsenal the world-class striker that they have desperately craved. Or, at least that's the narrative that the club would have you follow, given the fee that the Gunners paid for the forward.
Following the team's botched pursuit of Luis Suarez, the team did cry out for an experienced, proven striker, someone who could displace both Danny Welbeck and Olivier Giroud in Arsène Wenger's preferred 4-2-3-1. Suarez's blend of physical prowess and technical ability would have made him an ideal spearhead in that system, but the last season has seen things change considerably for the club. 
Arsenal failed to qualify for the Champions' League through their league position, but did deliver a characteristically strong finish to the season by moving to a three-man defence. There were several variations on the functionality of this formation, including Mesut Ozil playing behind Alexis Sanchez and Giroud, Danny Welbeck operating as more of a lone striker with Sanchez and Ozil in a dual creative role and Giroud doing the same. Arsenal's results during that period make the system likely to be continued, as does the club's move for Sead Kolasinac, a big, powerful player who thrived as a wing-back at Schalke. 
In this regard, then, Lacazette's acquisition makes sense. The Frenchman likely lacks the physical gifts to thrive at the head of a 4-2-3-1, but has consistently impressed when played alongside another centre forward, dating to his earliest days at the position, playing off the bulky Bafétimbi Gomis for Lyon's 4-4-2.
The archetypal big man-little man relationship in a strike partnership would seem to make Lacazette a more natural fit with Olivier Giroud, but one would also do well to remember that the new arrival's real breakout was the 2014-15 season. In that campaign, Lyon had played a diamond 4-4-2, with Nabil Fekir behind Lacazette and the speedy Cameroonian Clinton N'Jie.  
Fekir's vision, Lacazette's intelligence of movement and N'Jie's passing and willing running made Lyon a very dangerous proposition in attack without sacrificing any solidity in midfield, even as Jordan Ferri and Corentin Tolisso did make important contributions from midfield.
It would be hard to see Arsenal adapting to play a diamond, but a 3-4-1-2 looks tantalising at present. Hector Bellerin and Kolasinac on the flanks would provide the necessary width, while a combination of two of Granit Xhaka, Aaron Ramsey, Alex Oxlade-Chamberlain and Santi Cazorla (once fit) could control midfield, with Ozil pulling the strings behind Lacazette and Sanchez.  
This would also offer a contingency for Arsenal were Sanchez to be tempted by Manchester City or any of his other mooted suitors, as Welbeck, Alex Iwobi or perhaps Theo Walcott could all potentially be convincing partners for Lacazette.
Ideally, the Chilean would stay, and both he and Lacazette would profit from the other's presence, as both are deadly finishers and pacy enough to stretch play, but this offers the club a fairly convincing option should a wage hike and/or Champions' League football be too much to refuse for Sanchez.  
If Sanchez were to depart, the club could also conceivably move back to a 4-2-3-1, as Thomas Lemar, a player who has no natural fit in a 3-4-1-2 had reportedly been a target earlier in the summer. No matter the formation that Arsenal eventually decided on, the bottom line is that Lacazette has shown, for four seasons now in France, success in a variety of tactical systems, styles of teammates and with middling service to boot.
Fekir was sublime in the 2014-15 season, but beyond that, it is not unfair to intimate that Lacazette has never had the opportunity to develop a working relationship with a creative player on the level of Ozil.  
Two season ago, for example, Lacazette played in a 4-3-3 with Maxwel Cornet and Rachid Ghezzal on the flanks. Cornet is a pacy yet inconsistent presence, good at stretching play but a mediocre finisher, while Ghezzal can be dazzling on the ball as inverted winger, he is hardly the type of player who would inspire confidence.
Yet, with Lacazette leading the way, the team surged up the table to pip Monaco to second place, a result that would have seemed nigh on unimaginable following a season-ending injury to Fekir.  
Thus, while some might be eager to doubt the quality of Ligue 1 and what that means in terms of the credibility of Lacazette's numbers, it would be a better question to ask not of the weak quality of football in France but how much more success he could have had playing in a consistent system with teammates of a similar quality.
At Arsenal, even if Sanchez does depart, Lacazette will have that, and his growth as an individual, a goalscorer and as a leader, which has continued unabated over six seasons as a regular for Lyon should remain unfettered, making what might seem an eye-watering fee likely to be worth every penny.