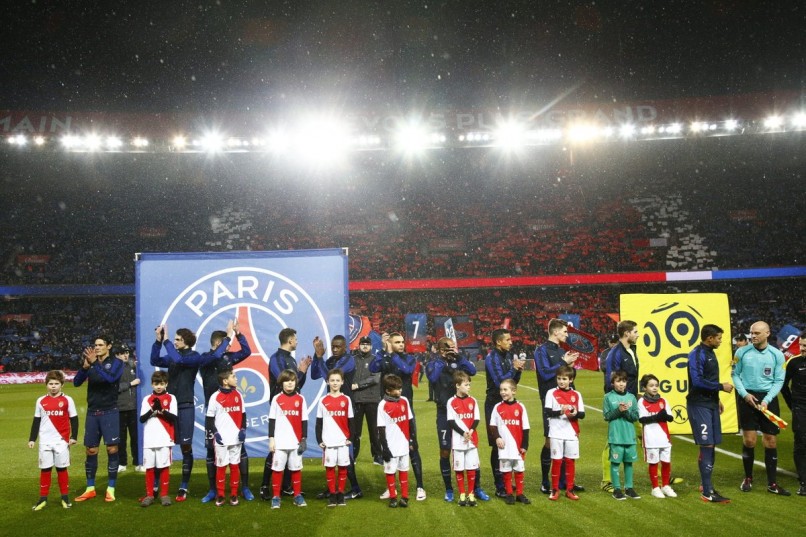 The Ligue 1 Review – Week 22
"When one is at PSG, one plays matches to win." Blaise Matuidi was visibly disappointed in Paris Saint-Germain's 1-1 draw with Monaco last night, a result which sees the defending champions mired in third place after 22 matches. There is only a three-point gap between Paris Saint-Germain and the leaders Nice, but perhaps more importantly, the draw marked the fourth time in 11 home league matches that the defending champions had failed to record three points.
At this stage last season, the club had taken 28 of a possible 30 points at home and led the league by 21 points over the same Monaco team, one that will perhaps feel aggrieved not to have done the double over the capital club this season after winning 3-1 at the Stade Louis II in late August.
Even with Paris Saint-Germain in third place behind Nice and Monaco, however, it is difficult to speak with plausibility of any real change in power in Ligue 1, given their financial might in comparison to the league's other top clubs. The three-time defending champions have shelled out close to £60m on two players, Julian Draxler and Gonçalo Guedes, this winter, neither of whom plays in a position of need.
Of the other teams chasing Champions' League football next season, only Lyon, sitting a distant fourth, have made any sort of similar purchase, bringing in Memphis Depay from Manchester United. Leaders Monaco have brought in the Ajax youngster Franco Antonucci for a paltry €3m, while Nice have added the veteran midfielder Mounir Obbadi on a free.
Thus, despite Monaco spending freely this summer on the likes of Djibril Sidibé and Kamil Glik, a marked gap in financial resources remains firmly in effect, but have Ligue 1's other sides started to close the gap on the pitch? On the evidence of yesterday's match at the Parc des Princes, the answer is decidedly affirmative.
Monaco were good, if not to their best, but still managed to give the hosts all they could handle, exposing not only the capital club's tactical limitations but also their worrying lack of depth. Injuries and suspensions have handicapped the club with an almost frightening regularity since the beginning of the Qatari era. Javier Pastore has become something of a punchline, but he is far from alone, as Layvin Kurzawa, Adrien Rabiot and Thiago Silva have all missed significant chunks of time this season.
However, while Rabiot has shown a dramatic improvement in form this season, he is not irreplaceable, nor are Kurzawa or Silva, with Maxwell and Presnel Kimpembé effective replacements whose inclusions do not have a huge effect on the team's tactical approach. Marco Verratti, though, is a different story.
The diminutive Italian is well-known for his combative style and penchant for bookings, but more than that, his intelligent passing and dribbling ability allow Les Parisiens to play their preferred style more effectively.
Relying on an almost hypnotic rhythm, Paris Saint-Germain comfortably lead the league in possession, with Verratti and Thiago Motta regularly recording 100 touches in a match. Not only does Verratti's precise movement and passing allow his side the ability to retain the ball, but his vision, be it a pass over the top for a pacey winger or a through ball for Blaise Matuidi, allows the team to maximize their talents.
Thus, in a side bereft of Zlatan Ibrahimovic's professionalism and match-winning ability, the little Italian has become arguably the team's most important player, and certainly the one most difficult to supplant.
Without Verratti, though, the team, as they were against Monaco, are a different animal, relying more on directness than a carefully-crafted approach. Manager Unai Emery experimented early in the season with a 4-2-3-1 similar to the one he had used at Sevilla, but having long since abandoned that experiment, he has persisted with the same 4-3-3 employed by his predecessors, Laurent Blanc and Carlo Ancelotti.
His midfield on the night was Motta, Matuidi and Rabiot, with the Italian sitting deepest. Paris Saint-Germain did manage to have the majority of possession, but at less than 55%, they were well off their usual mark. Moreover, what the hosts did have of the ball was often of a sterile nature, short passes between Motta and the defence, a fear of being caught on the counter manifesting itself as a paralyzing lack of imagination.
Granted, one would not expect any club, even one as moneyed as the champions, to so thoroughly dominate against the league leaders, but Verratti's absence underscored Paris Saint-Germain's inability to assert themselves on the match.
Lacking the former Pescara man's ingenuity, the midfield three's contribution to attack consisted mostly of aimless runs, hoping to latch on to a ball over the top from Motta or one of the centre backs, or to get on the end of a cross. It is fair to note Rabiot and Matuidi can score the odd goal, but much of their contributions in attack are down to their physicality, graft or a combination of both, and against Monaco's midfield, they would face both of those attributes in spades in the form of Fabinho and Tiemoué Bakayoko.
With the usual tactics producing a paucity of results, might Unai Emery have thus missed a trick to make his mark on the team? He appeared in the summer to be buying players to play a 4-2-3-1; Grzegorz Krychowiak could rotate with Rabiot, and Verratti in midfield, with the Italian potentially an option as a playmaker as well.
The likes of Motta and Matuidi were persona non grata, the Frenchman almost moving to Juventus in the summer. However, Krychowiak's failure to settle and the improved form of Rabiot saw little in the way of tangible change, with Emery ceding to the players' preferred 4-3-3, but could his original formation have worked here?
Lucas Moura has a propensity to cut inside from the right wing, often taking up a position at the edge of the area to link play with an overlapping full-back or play a through ball to Cavani. He could thus have played as a no. 10, with Di Maria and Draxler on the wings. Hatem Ben Arfa has been no favourite of Emery's since his arrival, but likewise could do a job. In midfield, we saw in the summer with France that Matuidi is never part of a 4-2-3-1, but Rabiot's blend of mobility and physical presence would have made him an ideal partner for Motta in front of the defence.
Playing like this, Paris Saint-Germain would not only have had all of their most dangerous attackers on the pitch, but they would also have had more natural width, which would have curtailed the space that Monaco too easily enjoyed in wide areas.
It would have been a bold move, and had it worked, Emery would have done much to combat the doubts surrounding his ability that have been manifest dating to these two team's previous encounter. It could have failed miserably, of course, but Emery's lack of courageousness speaks volumes to the mentality of the manager and the club.
Paris Saint-Germain, playing at home, had their best chance to put pressure on the leaders until a trip to Nice in late April. The team had been in cracking form of late, dating to a 5-0 win over Lorient before Christmas, but they simply failed to respond to the situation, either tactically or in terms of individual performances. The match thus became not so much a statement of Monaco's now very tangible title hopes but one of a lack of confidence on the part of the hosts.
Verratti is a top-drawer player and would be welcome on any side in the world; his absence on the night was keenly felt. That said, Paris Saint-Germain, given the disparity in financial realities between themselves and the rest of the French league, should not be making excuses, not even against an opponent of Monaco's calibre. They should, as Matuidi says, be playing to win.
1 | Marseille had no issues eviscerating a hapless Montpellier at the Vélodrome on Friday evening, winning 5-1 behind a hat trick from Bafétimbi Gomis. The real stars, however, may have been wide players Rémy Cabella and Florian Thauvin, one of whom will have to make way for new signing Dimitri Payet in the starting eleven. Payet will likely not feature in Tuesday's Coupe de France match against Lyon, but the performances of Cabella and Thauvin should give Marseille fans hope for revenge against Les Gones.
2 | Lyon dominated the early proceedings against Lille on Saturday afternoon at the Parc OL, but were unable to find a response after the visitors had gone ahead through a deflected goal. The inclusion of Memphis Depay saw Lyon playing a 4-2-3-1 with Nabil Fékir off of Alexandre Lacazette, but the former Ligue 1 Young Player of the Year was a muted presence. Depay and Mathieu Valbuena have always been more effective playing in a 4-3-3, likewise Corentin Tolisso. It may come as a surprise, but might a tactical change, with Fékir being dropped, provide Lyon with a more coherent attack?
3 | Pierre Lees-Melou scored at the death to give Dijon a vital win over Lorient, and the club now sit 13th. Still only three points clear of second-bottom Metz, Olivier Dall'Oglio's team are hardly clear of the relegation scrap, but are unbeaten in five matches in all competitions. With the best goal difference in the bottom half of the table, at just – 2, Dijon's early-season struggles seemed to be down to bad luck, but the team persisted in playing attractive, attacking football and are now closer to a place in the table that befits their style.
4 | For the casual observer of Ligue 1, when one thinks of the side with the poorest discipline, SC Bastia or perhaps Toulouse are likely to come to mind, but Metz lead the way this season, having had six players sent off in the league. In a massive match against fellow strugglers Angers this weekend, Renaud Cohade and Fallou Diagné were both sent off, consigning their team to a 2-1 loss and ending a three-match unbeaten run. Both had been in good form, but could face longer bans, further hurting Les Grenats' already tenuous chances of survival.
5 | Bordeaux continued apace in their new-look 4-3-3 on Saturday, handing Nancy a first home defeat since October, 2-0. Les Girondins now sit seventh, just a point off fifth place and European football. Manager Jocelyn Gourvennec took his time finding the best system and personnel, but with every team below the top three struggling for consistency, could a European return be in the cards?
6 | Nantes manager Sergio Concieção has been one for regularity since taking over at Nantes, rarely changing his starting eleven. That looked to be changing, though, with the arrival of Felipe Pardo on loan from Olympiakos. The Colombian, who had worked with Concieção at Braga, looked certain to become a starter on the right side of midfield, but Jules Iloki has managed to keep his place. A goal against derby rival Rennes will not have hurt his chances, either, the academy product showing there is more than just pace to his game.
7 | Saint-Étienne got the benefit of two dubious penalties against Toulouse on Sunday to win 3-0, recording consecutive league victories for the first time this season. The win follows a similarly specious result against Angers, but ahead of next weekend's derby against Lyon, merely scoring goals, no matter the manner, may be enough to give the team badly needed confidence.
Results: Marseille 5-1 Montpellier, Lyon 1-2 Lille, Angers 2-1 Metz, Bastia 1-1 Caen, Lorient 2-3 Dijon, Nancy 0-2 Bordeaux, Rennes 1-1 Nantes, Nice 3-1 Guingamp, Toulouse 0-3 St.Étienne, PSG 1-1 Monaco.
Team of the Week: Baptiste Reynet, Dijon FCO; Thomas Meunier, Paris Saint-Germain, Igor Lewczuk, Girondins de Bordeaux, Loic Perrin, AS Saint-Étienne, Franck Béria, Lille OSC; Allan Saint-Maximin, SC Bastia, Fabinho, AS Monaco, Romain Hamouma, AS Saint-Étienne, Florian Thauvin, Olympique de Marseille; Yassine Benzia, Lille OSC, Bafétimbi Gomis, Olympique de Marseille
Goal of the Week: Allan Saint-Maximin, SC Bastia
[Image: PSG]