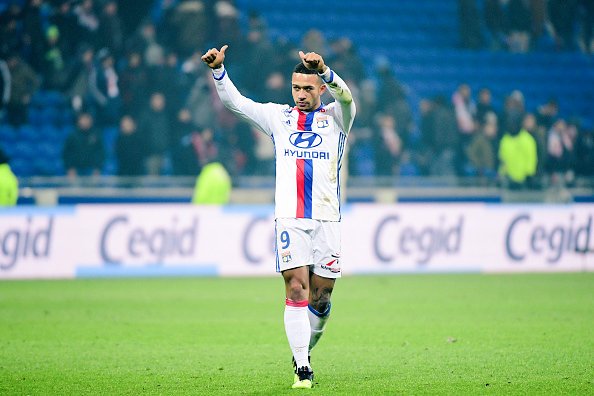 The Ligue 1 Review – Week 29
Receiving a short pass from Jordan Ferri in the centre circle, Memphis Depay swivelled, and almost in the same motion, launched a shot toward Alban Lafont in the Toulouse goal. The Lyon winger had shown good vision to catch the teenager off his line, but a shot from that distance, more than fifty yards, was ambitious, to say the least.
The ball, seemingly inevitably, looped over Lafont's head and into the back of the net, and Depay had recorded his second double in three league matches, powering Lyon to a 4-0 victory. In what could have been a tricky match between two legs of their Europa League encounter with AS Roma, it was a vital contribution, as Toulouse had been testing Anthony Lopes with worrying regularity to that point. Video clips of the feat immediately filled social media pages and football's leading news outlets stumbled over themselves to publicise a sumptuous goal.
Almost as quickly, though, the caveats began to emerge, largely, one can assume, from Manchester United fans, disgruntled that Depay had never caught the eye in that manner during his time in England. There were also those quick to take down Lafont and, indeed, Ligue 1 as a whole, casting aspersions on the achievement almost before the ball had nestled into the back of the net.
Lafont was off his line, clearly, and one reading of Depay's recent success at Lyon could be a condemnation of the league's quality compared to the Premier League. Yet, a savvier analysis would centre on the platform that Depay has been given at the Parc OL, and how his role, both at present and in the future, has evolved in the six weeks since joining for an eye-watering fee of a potential €25m.
There were plenty of doubters among observers of Ligue 1 upon Depay's arrival; many were baffled by the club spending such a sum of money when more pressing needs, including signing competition for Alexandre Lacazette and a left-back were apparent given the club's struggles in the league. Others cast doubts over the issues Lyon have had integrating players of a similar level of experience into the team, with Claudio Beauvue and Sergi Darder having struggled to make their mark after being first choice elsewhere.
There was also the small matter of Mathieu Valbuena; after being largely misused by Hubert Fournier, the former Marseille winger also had to deal with the emotional imbroglio surrounding blackmail and a sex tape, and hardly looked the part of the player who had been a regular starter for his country in the 2014 Brazil World Cup. However, since December, Valbuena has become one of Lyon's best players, recording crucial goals in wins over Monaco and Rennes, to the point that a return to the national team was now a distinct possibility.
With both players doing their best work on the left side of a 4-3-3, manager Bruno Génésio initially struggled to find a balance for the two, both tactically and personnel-wise. Things looked bleak for Depay; his first two starts, against Lille and Saint-Étienne, were embarrassing losses for the team, with the Dutchman looking out of sorts. However, after barely featuring for Manchester United this season, there was bound to be some ring-rust on the part of Depay.
He eventually got off the mark in a 4-0 thrashing of Nancy just over a month ago, and now has five goals and two assists, all in his last six matches. Depay being cup-tied for the Europa League (and an injury to the Frenchman) has also seen he and Valbuena rotated, with both in good form and seemingly no damage done to the team's chemistry.
That is not to say that there have not been mitigating factors in Depay's revival, though. The teams upon which Lyon have feasted in recent weeks have been some of Ligue 1's poorest, and Depay was far from incisive in the most difficult match the team have played of late, a 1-1 draw at in-form Bordeaux last Friday. There have also been matches (the win over Metz springs to mind immediately) where goals or assists have glossed over a host of wasted chances for the winger, the underlying assumption being that better sides wouldn't afford their opponents such a plethora of opportunities.
That said, on the whole, Depay's hefty price tag is looking increasingly to be good value for money, and to represent the power of a financially resurgent Lyon. On the heels of considerable Chinese investment earlier this season, Depay is supposedly the first in a line of marquee signings for the club, a tack that had disastrous ramifications the last time it was employed, but one that appears to be more sustainable now that the club will have less of a mandate to produce a year-over-year profit.
That will come as welcome news given that Alexandre Lacazette, Corentin Tolisso and Rachid Ghezzal are all likely departures this summer; Lyon desperately needed some reassurance vis-a-vis their goalscoring ability next season. Nabil Fékir is looking better, if not quite to his form of two seasons ago, and has shown a few cautiously encouraging signs that he could function as a centre forward in a 4-3-3.
Valbuena has likewise had a strong season, but is never going to provide the twenty-odd goals Lyon have come to expect from Lacazette. Depay, however, is increasingly looking like the answer in this regard, and if more purchases of his ilk follow, Lyon's likely spell away from the Champions' League could be a short one indeed, despite the good form demonstrated by Monaco and Nice this season.
1 | One of the most rewarding aspects of following French football is the regularity with which young players rapidly blossom into undisputable talents. Following on from teenage winger Adam Ounas last season, this term Bordeaux have again nursed the development of one of the league's rising stars; Argentine midfielder, Valentin Vada. Vada is a stocky deep-lying playmaker with a broad range of passing ability, superb awareness of space and the ability to put a defence on the back foot with his direct style and eagerness to further an attack with an incisive through ball or by driving towards goal himself from deep.
Although Jocelyn Gourvennec's Bordeaux side left Monaco with little to show from a 2-1 loss on Saturday afternoon, the waspish Santa Fe native stood out once again as he continues to hit the zenith of a period of form that has seen him overtake veteran Czech international Jaroslav Plasil in Les Girondins' midfield hierarchy. Having signed for Bordeaux from Proyecto Crecer as far back 2010 at just 15, he only made his senior debut in December 2015. However, despite some promising outings across the rest of last season, he seemed overly slight and often capable of poor decision making. Although this is often the case with young players, doubts remained over his ability to mature as a footballer but during this campaign, especially since Christmas, he has flourished and is now arguably Gourvennec's prized asset. At just 21, Vada has a frightening amount of potential that he has only just begun to realise and the rest of the league are taking notice.
2 | Christophe Galtier is Ligue 1's longest serving manager. Upon his appointment as manager of Saint-Étienne on December 15th 2009, Les Verts sat in the relegation zone after 17 games having barely avoided relegation at the end of the previous season. These performances were far below the expectations of French football's record title winners and one of the league's most historic and well-supported clubs, but Galtier revived them. They avoided relegation by eight points come May and a top half finish the following year catalysed a steady improvement which has reasserted St Saint-Étienne's status as a European regular, having qualified for the Europa League knockout stages in the previous two campaigns. However, as Galtier nears the end of his eighth season in charge, it may be time for the pair to part ways. Ambitions of Champions' League football, infuriatingly just out of reach in recent years, have faded over the last 18 months, as performances have gone from combative and effective to blunt and turgid. Although Galtier is an astute, tactically nuanced operator, he above all is a defensively-minded coach and his Saint-Étienne sides have rarely threatened to be even mildly engaging, his charges muddling their way through a lacklustre campaign, often snatching late points they scarcely deserve.
Their season was perhaps summed up by the 2-2 home draw with Metz on Sunday afternoon, a side that have been coolly dispatched on a regular basis by other top half clubs. Les Verts, however, had to come from behind twice; inspirational captain Loïc Perrin with an injury time header and taking most of the credit for any positives derived from the display by Galtier. The club has become stale and although Galtier's squad has been weakened slightly, injuries have been troublesome and forward players continue in woeful form, it now seems that both Saint-Étienne and Galtier are in need of a fresh start to truly realise their ambitions. Despite all he has done for the league's most vociferous fan base, he appears to have taken their club as far he can as their aim of making the Europa League continues to slip.
3 | Paris Saint Germain's 31-point winning margin at the end of last season, although alarmingly cavernous, lead to a misconception that Ligue 1 was lacking in competition. Every other prize on offer last term was ferociously contested over, Toulouse's miraculous survival under Pascal Dupraz at the expense of Reims and Gazelec Ajaccio being the most overt example. A turbulent weekend for the clubs at the bottom further illustrated that this year is no different. Bastia continued their run of red cards with Gaël Danic becoming their fourth player to be sent off in four games (and their 13th this season!) in a disastrous 5-0 loss at Guingamp. New manager Rui Almeida had started to reintroduce a little more organisation and impetus to a side that was become increasingly fraught and ill-disciplined under the weak stewardship of François Ciccolini but with the club second bottom and visitors to Corsica not as intimidating as they once were, Ligue 2 is not far away.
Lorient remain the closest to the trapdoor as a 2-1 loss to PSG kept Les Merlus six points from safety while Lille's win, Caen's superb 2-2 draw with Nice and Metz mirroring that result at Saint-Étienne pulled all three clubs further from a rapidly developing bottom four. Dijon took advantage of a Rennes side still struggling to deal with the losses of wingers Kamil Grosicki and Paul George Ntep in January to take a valuable point from Roazhon Park and stay just clear of a Nancy side who remain in freefall. The 2-1 home loss to Lille was their seventh in nine games, taking just seven points from 2017 in total and leaving Pablo Correa's outfit in the relegation play-off spot. Correa did have his side comfortably in mid table during December as some intelligent rotation from Ligue 1's tinkerman kept his players fresh and fighting for their places. Enigmatic winger Issa Dia and effortless centre back Clément Lenglet were the only men guaranteed selection. But with Lenglet swept up by Sevilla and not replaced while the trickle of goals dried up, still just 19 in total, none of their strikers scoring more this once this season, they have slipped back toward relegation. With the bottom four all playing each other next week, Bastia at Metz and Nancy hosting Lorient, and just nine games to play, the battle at the bottom has truly begun.
4 | Kevin Trapp, Thiago Silva, Marquinhos, Maxwell and Thomas Meunier. The back five that started in the 6-1 loss at Barcelona all kept their places for PSG's trip to Ligue 1's bottom club Lorient on Sunday night. Unai Emery neglected the chance to make something of a statement in dropping the likes of Thiago Silva with the club in need of a new direction. Silva's limp performance on Wednesday night stood out amongst an array of inept, mentally frail displays; devoid of leadership, presence and any sort of defensive acumen. Nevertheless, PSG eased passed Lorient on autopilot, with little sign of any attempt to make changes to a team who have followed the same path for a number of years; imperious domestic performances punctuated by erratic European form culminating in a disastrous, and inevitable, early Champions' League exit. Since the QSI takeover, the evolutionary focus in reaction to this cycle has been personnel based, with new stars signed for seven figure sums in the off season in a bid to change fortunes.
However, it has become increasingly apparent that the club's issues are far more ingrained than any amount of euros thrown at Jesé, Gonçalo Guedes or Julian Draxler can solve. It is in their academy, mental fortitude and overall philosophy where answers lie. Not in Patrick Kluivert shaking hands with another overpriced, undercooked starlet. Meanwhile, Monaco maintained their stay at the summit of Ligue 1, and three-point lead over the capital club, following a hard fought win over an improving Bordeaux. A stunning 25-yard strike from João Moutinho turned out to be the winner in the 2-1 triumph. Adversely, Nice lost ground in the title race, despite fighting back to take a point from Caen having been 2-0 down, Mario Balotelli with the first. With pressure mounting, the full extent of PSG's emotional damage remains to be seen after their Nou Camp humiliation. Comparisons with those Brazilians who will carry the score '7-1' around with them for the rest of their careers are not unjustified. If the club do not make more than their traditional superficial changes this year, they will be in exactly the same situation this time next season, or worse.