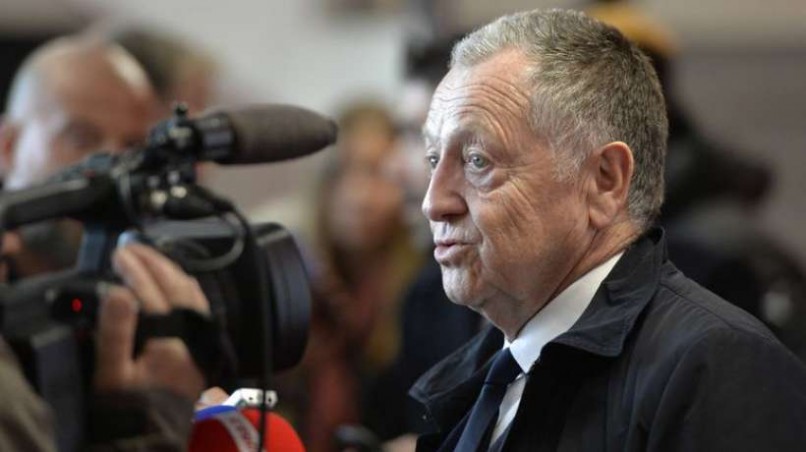 The Ligue 1 Review – Week 33
Football club chairman are a colourful group. Be they oligarchs, filmmakers or local businessmen, they regularly involve themselves in the day-to-day aspects of football affairs in which they can often be uninformed at best; creating controversy where there need not be any. Lyon's Jean Michel-Aulas is often as outspoken and brash as many of his peers. But this week, Aulas has shown that he is what many of his counterparts are not: a leader. As his Lyon players were subjected to near-unthinkable violence at Bastia this weekend to conclude a difficult week for the club, Aulas was able to remain calm but did he make the right decision to advocate playing on, even under duress from local authorities? In broader terms, with misbehaviour seemingly on the rise in France, fan culture across Ligue 1 stands at something of a crossroads.
"Football is an amazing sport, but people like Bastia supporters make it horrible. (They are) truly a disgrace."(sic) Mario Balotelli was, of course, angry. Subjected to racial abuse from the Bastia ultras, he took to social media to ask if racism was "legal in France? Or only in Bastia?" Shameful behaviour is unfortunately not uncommon from the compact single tier East Stand at Bastia's Stade Armand Cesari, the home of the Corsican club's vociferous ultras, Bastia 1905. But the events that we witnessed during Sunday afternoon's visit from Lyon perhaps saw a new low being reached.
As Lyon players warmed up in front of the East Stand, a Bastia fan vaulted the barriers to confront Memphis Depay, before being hauled away by a steward. The reason for this is unclear; there were reports of wayward shots hitting spectators, for example. From there the situation escalated; footage shows chaos ensuing as more than 20 Bastia supporters from behind the goal join the fray, with punches and kicks being thrown at players. Lyon reserve goalkeeper Mathieu Gorgelin was the focus of much of the fans' ire before stewards and other players were engulfed as the squad were forced to swiftly retreat back down the tunnel amidst the violent scenes.
Former Lyon player Jérémy Berthod described what he had seen to the club's official TV channel: "SC Bastia fans kicked balls into Gorgelin's goal. He and Memphis tried to move them out of the way before being attacked by many SC Bastia fans. The players then huddled together. They and the staff are very shocked. The moment it happened, none of them wanted to come out of the dressing room and play this match."
Eventually, however, they did play the match. With the Lyon team holed up in their dressing room, the next hour was punctuated by bizarre scenes of the Bastia eleven lining up in the tunnel alone, returning to their own dressing room before then warming up without Lyon's players. These images were accompanied by the imposing Jean Michel Aulas, Lyon's outspoken club president, conferring with officials and his staff in the tunnel. Aulas was seemingly able to convince his players and his manager to play the game, as they were understandably reluctant to do so. L'Équipe reported that OL coach Bruno Génésio had told his president: "We must stop! We should stop! They hit the players! We do not go to war!". It should be noted that the majority of the Corsican crowd applauded the OL players as they returned for their second warm up as kick off arrived nearly an hour after it was scheduled; however, an hour later the game was finally abandoned.
As Lyon goalkeeper Anthony Lopes left the field after a turgid 45 minutes, he was angrily approached by a Bastia official who allegedly asked him not to provoke the East Stand behind his goal. Whatever was said, Lopes did not take kindly to it, shoving the official and sparking another brawl. Stewards and players as well as staff from both sides were joined by more invading fans who again threw kicks and punches at players as an irate Lopes was dragged away. One particularly alarming scene shows a rotund steward repeatedly kicking out at Lyon attacker Jean-Phillippe Mateta, who had previously, incorrectly been identified Mouctar Diakhaby by media outlets local to Lyon.
Bastia officials pushed for the game to finish in a bid to avoid inciting further violence, but those calls were unheeded. After the local authorities and the LFP officials decided to abandon the fixture, the Lyon squad were forced to once again retreat to their dressing room having already boarded their team bus, their safety unable to be guaranteed. Objects were thrown as they left an hour later with Bastia "fans" countered by riot police and the use of tear gas.
Damningly for the Corsican outfit, this was the first game in which East Stand had been reopened having been closed for three matches following the punishment handed down by the LFP as a result of the abuse directed at Mario Balotelli. Earlier in the season, PSG's Lucas Moura had been struck by a stick thrown by a Bastia fan from the same stand as he prepared to take a corner. Beyond these incidents, there was also the use of 'pyrotechnic machines' during the visit of Marseille which saw the East Stand closed for a further two games.
With the club rooted to the foot of the table and severe punishments on the horizon, the Bastia fans may have sealed their team's fate in their survival fight. The French footballing authority's notoriously strict reputation is well earned; Metz were handed a (later rescinded) two-point deduction and stadium closures after a supporter threw a firecracker toward Lyon keeper Lopes in December. Benjamin Jeannot of Lorient was given a 10 game ban for supposedly barging a referee as he chased a loose ball in September. Bastia released a statement condemning the events but the club can expect equally forceful sanctions here; the LFP already referring to the Bastia 1905's actions as "unspeakable behaviour".
This week has been a tumultuous one for Lyon. A 4-1 home thrashing by the previously hapless Lorient preceded a 2-1 win over Besiktas in their Europa League quarter-final first leg, a match which was also marred by crowd trouble. A 45-minute delay ensued on Thursday night as missiles rained down from the upper tiers of the Parc OL forcing Lyon fans onto the pitch to escape the bombardment.
Where disarray may have otherwise set in, Aulas kept the home supporters and the situation under control. Venturing down to one of the stands, Aulas addressed the fans and explained that he was no more scared than they were, that they should remain in their seats and he would watch the game with them as it would be the Turkish side who would be punished. The short video of his address is a stirring one and it is abundantly clear that despite whatever is said about Aulas he harbours a deep love for his club; images of him verging on tears after the first attack on his players yesterday exemplify that.
That said, with his players having been attacked and security seemingly minimal around the troublesome areas of the Stade Armand Cesari, was it really the right choice to start the match? In hindsight, at the least, the answer has to be 'no'. This may not have only been a wrong decision but it was a surprising one from all concerned.
The game with Metz was abandoned earlier in the year after Lopes was temporarily deafened by a firecracker, while Aulas seemed to push for the withdrawal of his team from the Vélodrome upon Mathieu Valbuena being subject to thrown projectiles during his return to Marseille two seasons ago; that match was eventually completed after a delay. With tempers deteriorating, players intimidated and security sketchy at best, the sensible, if regrettable, decision would have been to not press ahead with the playing the match with further violence a strong possibility.
There is, of course, the possibility that Aulas had little choice in the matter of whether the game was to be played at all, and he merely used his trademark bullish bravado as more of a lightning rod for much of the attention these events would receive in an attempt to protect his staff and his players, much as he did during the Besiktas game. After all, officially, Lyon's president actually has very little genuine authority over this decision.
Aulas himself did however state in the aftermath that "after consulting with the chief of police that there would be no other incident, the decision was taken to start the game. There was a lot of reluctance on the part of the players and Bruno Génésio. I tried to convince them." Then, at half time Aulas explained that "the security official again came to explain that it was possible to resume. But this time no one listened to him. It was the referee, Amaury Delerue, who made the decision." Either way, his influence, albeit largely self-proclaimed, carries weight and he may regret advocating the fixture resumption.
These lamentable scenes will rightfully be their own story; the Bastia 1905 group has had a number of chances to redeem themselves for such reprehensible behaviour, squandering them all, and the French authorities will hopefully be exacting with their punishment. Nevertheless, it is another sign of a latent petulance amongst some sections of the Ligue 1 fan base. PSG fans were guilty of causing considerable damage to the Parc OL during their Coupe de Ligue final win over Monaco last month, while earlier on Sunday afternoon the Atlantic derby between Nantes and Bordeaux was stopped for nearly three minutes as flares were removed from a goalmouth. One of which, Bordeaux keeper Cédric Carrasso explained, came close to hitting him.
At the same time, this comes paired with a growing feeling of anti-establishment in a number of areas. Marseille fans went to the trouble to display a large tifo before the Sunday night game with St Étienne that simply read "F**k LFP". Pair these instances with events at Bastia and Metz this season, and the unsavoury feeling only escalates. Although the situation is far from dire, it is something the LFP will need to monitor closely and, more importantly, react to accordingly. L'Equipe called the events in Corsica a 'catastrophe', but with unrest becoming more common in Ligue 1, let us hope this is the last time we see a story like this dominating French football.
1 | Things looked grim for Bordeaux in the early going at the Stade Beaujoire; Nantes and their opponents yesterday afternoon enjoy a rivalry that, while not quite on the level of the hosts' Breton scraps or their own Derby de la Garonne, with Toulouse, still has its fair share of animosity. That, and the always raucous atmosphere, which included a few flares being thrown onto the pitch, had been enough to give Nantes the early advantage, dominating the ball from the off. Slowly but surely, though, the visitors began to fashion chances, with Maxime Dupé forced into a stellar save from Gaëtan Laborde just before the interval. Nantes may have played into Bordeaux's hands to some extent by removing midfielder Valentin Rongier, a more dynamic presence than Abdoulaye Touré, at half-time.
However, when Younousse Sankharé broke the deadlock mid-way through the second half, it was a well-worked goal that had been coming. What was more impressive about the goal, though, is that it came through the enterprise of the former Lille man. Sankharé has shouldered much of the attacking burden from central midfield on an afternoon when Valentín Vada, normally the team's creative catalyst, was off the boil. Bordeaux rely on a very young quartet of players (Laborde, Vada, Malcom and François Kamano) for much, if not all of their thrust in attack, and given their lack of experience, (Laborde is the oldest of the four at 22) they are bound to suffer the odd poor performance.
Knowing that veterans like Sankharé still retain the capacity to step into a void, should there be one, is a huge boost for the team's confidence, and also allows that younger group to play with less pressure, knowing that more experience teammates can be relied upon to boost the team's overall level should they falter. Earlier in the season, manager Jocelyn Gourvennec's lineups favoured experience over youth. Yet, in striking more of a balance, he has allowed his gifted attackers a chance to develop without fear of failure, and the results, since making that change (27 points from fourteen matches, a return exceeded only by the top three), speak for themselves.
2 | Ismaila Sarr's effort against Caen will garner all of the headlines in terms of superb goals this weekend, and deservedly so. The young winger has been one of Metz's best players this season, and despite the hosts only drawing against their Norman opponents, the result is enough to see them, despite a desperate goal difference, five points clear of the play-off spot with five matches remaining. Indeed, Metz and Caen were the only teams in the bottom eight to record a point this weekend, a remarkable turnaround from a week ago. As impressive as Sarr has been, though, Les Grenats' best player on the evening was the player who created the goal, Ivan Balliu. A product of Barcelona's academy, the diminutive right-back left La Masia in 2013, spending two years with Portuguese side Arouca.
Philippe Hinschberger's Metz came calling in the summer of 2015, and Balliu spent last season splitting time with the veteran Jonathan Rivierez, a vastly experienced campaigner. After Metz's promotion, the former Le Havre man was named the starter at the season's outset, but an injury brought Balliu to the fore, and Rivierez has not played since a loss to Monaco, more than two months ago. Keen to break up play and start a counter-attack, but also decent with the ball at his feet, the little Spaniard has been arguably the team's best player aside from January signing Cheick Diabaté and Renaud Cohade. The flair of Sarr's finish was impressive, but was only a moment. Impressive though the youngster's goal may be, more attention ought to be paid to a player whose influence is felt over ninety minutes, and indeed the season as a whole.
3 | Bafétimbi Gomis' strike against Saint-Étienne would have been goal of the week, had Metz's Ismaila Sarr not scored a blinder against Caen. Scooping out an under-hit pass, the former St Étienne player gathered the ball and finished impressively, firing across goal to double his side's lead, which had seemed slightly fragile at the time. At 31, Gomis certainly qualifies as a veteran campaigner, but with 17 goals this season, he has set a new career-high, and his style is something that has been emulated with some degree of success across the league. Not especially quick or tall, Gomis instead combines his powerful frame with a sublime first touch, facilitating wide players who are nearly as capable of filling the net as he is.
As adept at holding up play as he is shooting, Gomis increasingly looks the prototype of a new breed of striker, powerful yet not awkward, who plays neither as a hulking target man or as a speedy finisher. Alongside Gaëtan Laborde, Mickaël Le Bihan and Steve Mounié, Gomis stands as an example of a modern centre forward, one who can be either a focal point of a team's attack, or a fulcrum for inverted wingers. Able to get on the end of crosses or to play a one-two with a rapid winger, it is no coincidence that this new style of forward has been at the centre of some Ligue 1's most attractive attacking sides, as even the relatively penniless Bordeaux and Montpellier are generally worth the price of admission in the period since Laborde and Mounié have become regular starters. Le Bihan and Mounié have only been given an opportunity through injury, and Laborde through form. However, managers around the league would do well to see if there is a forward among their ranks who fits the bill in this regard, even as a change of pace.
4 | Radamel Falcao has proved himself to be a born-again force this season for Monaco, and he was at it again on Saturday, scoring to seal his side's second nervy win in as many weeks with a thumping free kick ten minutes from time. The hero at the Stade Raymond Kopa last week, in a 1-0 win over Angers, Falcao made his mark on this occasion against a desperate Dijon side, who had taken the lead through an error on the part of veteran 'keeper Danijel Subasic. He was also involved in his side's equalizer, crashing a free kick off the bar for Nabil Dirar to prod home. Normally, Thomas Lemar, no slouch himself in this department, is in charge of Monaco's free-kicks, but in this instance, the Colombian overruled the little winger, insisting he take them.
Perhaps this was to sow the seeds of surprise against Dijon, but more likely, Falcao, drawing on his experience as captain, was keen to lead by example, his burgeoning self-belief eager to pay back his teammates. After going nearly two months without their captain scoring, El Tigre's youthful teammates had kept Monaco not only in contention, but in the lead in the race for the title. Now, it was his turn to contribute, and his desperation to influence the match, which may have seemed reckless at the time, now serves as a near-perfect representation of his of class and ability to turn a difficult encounter.
5 | Florian Thauvin offered a firm reprisal to Didier Deschamps on Sunday evening, recording two goals and an assist to help his side defeat Europa League rivals Saint-Étienne 4-0. Coming just three weeks after having been an unused substitute through his first two matches as a French international, his performance seemed a direct riposte to his manager for the national side. That said, even as Thauvin set a personal record for goals in a season, this performance must be taken with a healthy grain of salt.
Saint-Étienne were, prior to the match, Ligue 1's second-best defence, but missing their first-choice centre backs, and with a half-fit Cheikh M'Bengué starting at left=back, this was a result that Les Verts had asked for to some extent. A visit from Nice and a trip to Bordeaux loom large as Marseille continue to chase European qualification; a performance of this magnitude against teams at or above their level will go a long way towards disproving Thauvin is more than a flat-track bully. This brace against Saint-Étienne is impressive, but it also represents the first goals Thauvin has scored against an opponent in the top seven; to be given more opportunities for the national side, he needs to prove his worth when the stakes are raised.