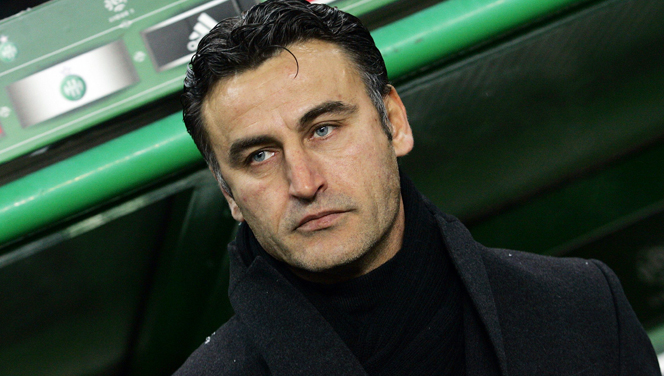 The Ligue 1 Review – Week 34
Christophe Galtier had had enough. 'Mentally weak' was how the St. Étienne manager described his players after another limp performance in the 4-0 drubbing at Marseille two Sunday's ago, a game in which Galtier said his players gave up far too easily. Angry and frustrated, not for the first time this season, Galtier acted swiftly: "It's never easy to make this kind of decision. I took it because I feel that the three players concerned are, in my eyes, insufficiently invested." Those three players were erratic striker Nolan Roux, wayward but talented Moroccan winger Oussama Tannane and ineffective summer signing Bryan Dabo, all three were subsequently, unceremoniously banished to the reserves for the rest of the season. Dabo and Roux had already been marginalised, Galtier displeased with their lack of impact, while he had finally lost patience with Tannane's selfish, arrogant attitude. All are likely to have played their last game for Les Verts.
With more than seven years as St. Étienne's coach, Galtier is currently the longest serving manager in Ligue 1 and with 10 league titles in the history of the division, the Loire club is France's most successful. However, when Galtier took over in December 2009, Les Verts were in trouble. Fifteen points from their first seventeen Ligue 1 games placed St. Étienne in the bottom three, having only narrowly survived at the end of the previous campaign under Alain Perrin. At the time, the decision to install Galtier was a risky one. Only awarded a short 18-month deal, he had very little managerial experience and had long been Perrin's assistant, his remit, explained ASSE Co-President Bernard Caïazzo, was to 'restore a relationship with the players', a relationship which, Caïazzo said, Perrin had lost.
The Galtier effect took a little while to take hold on what was a talented group that included a young Dimitri Payet and Blaise Matuidi, with Les Verts only just making it to 40 points and 17th place come May. But they survived. A creditable 10th place followed and despite losing Payet and Matuidi in summer 2011, 16 goals from Pierre-Emerick Aubameyang saw Galtier's charges challenge for Europe, finishing in the top seven at the end of the 2011/12 campaign, and there they have stayed. With Les Verts restored to the upper reaches of the Ligue 1, Europa League and Champions' League qualification has been their main focus under Galtier.
Despite his success in turning the club around, this culling of his team two weekends ago was not the first time Galtier had shown his displeasure at the tools he has been given to push St. Étienne on to the next level. Roux, Tannane and Dabo joined former PSG sentinel Jérémy Clement in exile, while attacking midfielder Benjamin Corgnet has just returned from his own lengthy stay with the reserves. Last season a supposed 'blacklist' of six players Galtier allegedly wanted out was leaked, a period in which Galtier referred to some of his charges as 'transparent'. This season Galtier has again often berated his team most notably after the loss at Rennes in December, while Roux, perhaps deservedly so after some woeful displays, has been regularly chastised.
Galtier is a precise, prudent and tactically astute coach who specialises in squeezing the best out of his players. He praised his side for showing 'courage, selflessness and realism' following last season's 1-0 win over arch-rivals Lyon. These three aspects define Galtier's managerial outlook. Every incarnation of Galtier's St. Étienne has been reserved, physical and methodical, often crossing the boundary into dull and stilted but largely remaining effective. Nevertheless, without talented goal-scorers and an abundantly creative midfield and the necessary funds to attract them, obtaining a Champions' League place has proven to be beyond Les Verts under Galtier; despite their manager's best efforts, the club has plateaued.
For each of the last four seasons, Les Verts have challenged for a podium place and the accompanying Champions' League spot. On three such occasions, they entered the final day with a chance of taking a top three place but have been unable to make the step up. This, however, is not a surprise. Despite Galtier's deft stewardship of the club, their resources do not match their ambitions. As Co-President Roland Romeyer highlighted, when Galtier took over, the club were €14m in debt. Although their books have been balanced somewhat since, Les Verts can no longer compete with the financial muscle of their rivals.
A statement from Romeyer and Caïazzo at the turn of the year made a point of outlining how proud they were to be the only fully French owned club in the top six. However, foreign investment is now driving the development of Ligue 1's top clubs. This season's budget of €70m is less than a third of neighbours Lyon's and with the club in its current guise, St Étienne are struggling to compete and will continue to do so without drastic changes. This is something Romeyer recognises, but it is also an issue that he remains stubborn on: "I am a patriot and it would bother me to bring foreign capital to the club…We must find solutions to continue to perform like in the last 5 years despite having the 7th or 8th biggest budget." OGC Nice perhaps offer a model to follow, never spending big on transfers and regularly unearthing talent from Ligue 2 or overseas. However, they have also recently accepted Chinese investment, and replicating the outstanding work of Nice's enigmatic transfer-completing duo of Jean Pierre Rivère and Julien Fournier would be far from a simple task.
Although the club hierarchy admit they are at a disadvantage, their push for Europe has remained top of the agenda, stating in January that a rise up the league was 'mandatory'. Despite qualifying for four consecutive Europa League campaigns, their excursions have done little more than hamper their league form. A collapse at the hands of Manchester United in the last 32 this season and a cruel injury time loss to Basel at the same stage last year are all they have to show for their adventures.
This season has been a dire one for St. Étienne, a huge step back compared to recent achievements. They have scraped by in the league; insipid, blunt and downright boring showings have regularly resulted in Galtier's men somehow snatching late points they scarcely deserved, making even their current seventh place a little flattering. Granted, there are caveats; 'injury crisis' barely describes the length of their absentee list over the winter, while the Europa League schedule has conspired to drain them of any remaining impetus, as it did last season. Nevertheless, a host of injuries and busy European schedules have characterised previous years as well and Galtier had expertly cajoled his squad into some superb, battling displays and kept them in the European race until the death. This season however they look lost.
With six games to go before the visit Rennes on Sunday, the situation looked desperate. Out of form and six points behind Bordeaux and OM in the likely European places, admittedly with a game in hand at leaders Monaco to come, the 4-0 defeat at the Vélodrome appeared to have been a costly one. Marseille's draw at Nancy on Friday gave Galtier a slither more hope but St Étienne, despite their manager's attempt to shake up the squad, were unerringly drab in drawing 1-1 with Christian Gourcuff's struggling side.
The game itself saw the issue of crowd trouble raised once more. The fixture was supposed to be played behind closed doors as part of an LFP punishment for violence during the derby with Lyon in February, but the attendance did not stay at 0 for long. St. Étienne's Ultras could be heard from outside the stadium, signing and setting off firecrackers before 200 or so somehow broke into the Stade Geoffroy Guichard and filled a corner of the ground. Play was swiftly halted and the players withdrawn as a result. Although Romeyer and Caïazzo reasoned with the intruders and they left without ever threatening a repeat of the disgraceful scenes at Bastia last week, it was yet another example of French fan culture and groups of ultras misbehaving that will worry authorities.
St. Étienne are a club in danger of growing stale. With a workmanlike squad and a manager, who thrives on a defensive approach, they have reached a ceiling. Without significant investment in the playing staff, they are unlikely to be able to complete with the comparatively cash rich PSG, Monaco, Lyon and Marseille and European success will remain beyond them. As the club starts to look towards youth, unable to replace Aubameyang, Payet, Matuidi and Max-Alain Gradel, while cheaper imports have regularly flopped and the academy has failed to produce players capable of breaking into the first 11, St. Étienne are at crucial point in their recent history. With the club forced into changing direction, one which their manager may be unable or unwilling to follow, the time has come for the two to part ways. Galtier has taken Les Verts as far as he, or perhaps anyone, can.
1 | Vincent Enyeama is not the only holdover from Lille's glory days at the turn of the decade, when the team were regularly Champions' League participants. Franck Beria is a regular again at left-back after the summer departure of Djibril Sidibé, Rio Mavuba still gets a match now and then, and Marko Baša, despite struggling for fitness this season, remains a regular in central defence at 34. However, it is Enyeama, whose fiery presence and flair for the dramatic make him arguably the northern club's most visible player. As Lille continue their progression under new ownership, though, his presence may have become not much more than a reminder of better times for a club who have struggled against relegation for much of the current season and are in the midst of a youth-oriented "project." Enyeama was forced off with a knee injury against Rennes last week, and on the evidence of Saturday's visit from Guingamp, the Nigerian, when he is ready to move on or hang up his gloves, will leave the position in good stead as the team continue their renewal.
Youngster Mike Maignan, signed from Paris Saint-Germain last summer, got the start, and seized his chance with both hands. There were a few moments of questionable positioning, but the French youth international also turned in a half dozen saves to preserve a clean sheet. Enyeama's style of play is not so dissimilar, partial to the odd dubious choice, but also able to pull off the unexpected to keep his offensively challenged team in a match. Enyeama looks certain to go back to being first choice when he is fit again, but given Marcelo Bielsa's penchant for developing young players, Maignan looks set to play a bigger role going forward, earning a well-deserved chance after being second choice for both club and country at French youth international level.
2 | Lyon's emotionally draining week came to a close last night at the Parc OL with a 2-1 loss to Monaco, but the hosts put on an unexpectedly strong performance against the leaders. Missing the injured Alexandre Lacazette, as well as Mathieu Valbuena, Corentin Tolisso and Maxime Gonalons, the hosts showed great character to give Monaco all they could handle. Indeed, better finishing from Memphis Depay, who found himself in promising positions on more than one occasion, could have been enough to see Lyon pinch a point from a nearly full-strength Monaco. Of particular note were the performances of Lucas Tousart, playing in a more advanced midfield role, and Maxwel Cornet, whose movement on the right made a difficult evening for Andrea Raggi.
The continued development of these youngsters, as well as the overall spirit showed by Lyon, bode well for what could be a potentially difficult summer, as well as their continued participation in Europe. There is no implication that Lyon will go back to their title-winning run of a decade ago, but even if Tolisso and Lacazette do, as expected, depart, Les Gones should not miss too much of a beat, buoyed by the continued improvement of the likes of Tousart and Cornet.
3 | Dijon recorded their first win in more than two months against Angers on Saturday, a 3-2 victory that perhaps was a bit more nerve-wracking than necessary after the hosts had gone ahead 3-0. The man of the match for Dijon was unquestionably Loïs Diony, who recorded two goals and an assist. Now with ten goals and six assists in the league, the burly striker's return to form could not have come at a better time for Dijon, who still occupy the play-off spot, but have a far better goal difference than any of their relegation rivals.
This weekend's match against in-form Bordeaux could be a stumbling block, but with Nancy, Toulouse and Guingamp yet to play, Dijon still control their own destiny in terms of survival. If Diony can deliver another performance of the calibre of Saturday's against Dijon's remaining opponents, survival, while not quite certain, now looks at least quite a bit more attainable.
4 | Nantes are still in with a shout for European football in Ligue 1 this season, even if they are seven points (and inferior goal difference) off sixth-placed Marseille. An incredible testament to Sergio Conceição's make-over of the club, Les Canaris' move up the table has been impressive, but many were quick to link their strong recent performances to Préjuce Nakoluma, the veteran Burkina Faso international showing a remarkable drive having being given his first chance in one of Europe's biggest leagues at age 30.
Nakoulma's being suspended and a tough trip to relegation-threatened rivals Caen on Saturday had this match as a tough ask for the visitors. Nakoulma, though, was hardly missed as Yacine Bammou played the lone striker role to perfection in a new look 4-4-1-1, with Adrien Thomasson playing off the lanky Moroccan. Given how strongly Nantes, under Conceição, had been associated with a 4-4-2, the tactical switch was a surprise, but even more so was how well the team took to it. Nominal winger Amine Harit tucked inside for more creativity and full-back Lucas Lima added attacking thrust down the left flank, giving Nantes the balance necessary to subdue a Caen side who were themselves playing in a changed shape in the absence of Fréderic Guilbert. This newfound versatility is unlikely to get Nantes into Europe, but serves as another part of a growing body of evidence surrounding not only Conceição's motivational abilities but also his tactical With Lyon and Nice both likely to suffer heavy losses in the summer, a summer of consolidation for the Breton club could see them be realistic challengers for the top six next year.
5 | Newcastle outcast Sylvain Marveaux's move to Lorient was hardly given a second thought this summer, given how poor he had been at Guingamp two years ago. When he started the season injured and Les Merlus struggled, that indifference seemed validated; how much could a player of 30, whose reputation was built on one solid season in an otherwise injury-blighted career, impact a team whose struggles were manifest? The answer was quite a bit; all of Marveaux's five goals and six assists have come since the dismissal of Sylvain Ripoll, establishing himself as the team's creative fulcrum. Faced with a match against relegation rivals Metz, themselves having been boosted by a veteran in the form of Cheick Diabaté, Lorient could easily have been worried about Marveaux's absence through injury.
Not wanting to disrupt Lorient's tactics, Bernard Casoni called on the youngster Jimmy Cabot to take Marveaux's spot on the right side of a 4-4-2, and the former Troyes man responded brilliantly, recording a brace and two assists in a demolition of Metz that sees Lorient up to the dizzy heights of sixteenth. The good form of Romain Philippoteaux and Marveaux mean that Cabot has often been rooted to the bench this season, but the youngster emphatically showed against Les Grenats that he should perhaps be given more of a chance come next season, provided Lorient's seemingly impossible bid for survival is a successful one.
Results: Nancy 0-0 Marseille, PSG 2-0 Montpellier, Bordeaux 2-0 Bastia, Caen 0-2 Nantes, Dijon 3-2 Angers, Lille 3-0 Guingamp, Lorient 5-1 Metz, Toulouse 1-1 Nice, St. Étienne 1-1 Rennes, Lyon 1-2 Monaco.
Team of the Week: Laurent Pionnier, Montpellier HSC; Rafael, Olympique Lyonnais, Hilton, Montpellier HSC, Erick Cabaco, AS Nancy, Oussama Haddadi, Dijon FCO; Valentin Rongier, Nantes FC, Mehdi Abied, Dijon FCO, Younousse Sankharé, Girondins de Bordeaux; Jimmy Cabot, FC Lorient, Lois Diony, Dijon FCO, Angel Di Maria, Paris Saint-Germain.