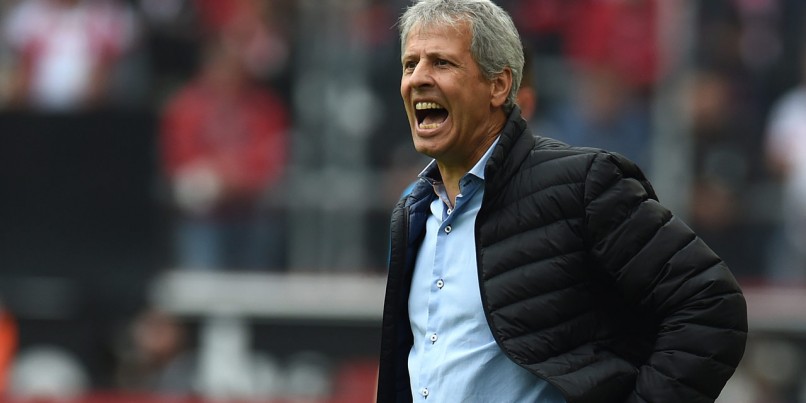 The Ligue 1 Review – Week 35
"It was a great match, one that completes our season. Once more, this isn't down to luck, we know this. We know our level and the progress we've made. (The result) is greatly satisfying for the players and the fans." OGC Nice's president, Jean-Pierre Rivère was understandably proud of his side after a 3-1 home win over Paris Saint Germain. Sublime goals by Mario Balotelli and Ricardo Pereira would have caught the eye, and the young goalkeeper Yoan Cardinale was superb as well, but Nice have their eyes decidedly on the bigger picture.
A combination of Monaco all but being assured of the Ligue 1 title and a near-complete meltdown by Paris Saint-Germain at the match's end may overshadow the result, but make no mistake, Nice's victory over the defending champions should be read, first and foremost, as a valedictory statement for the hosts and the progress they have made under Rivère. Nice are still all but out of the title race themselves, and some will view their tumble down the table in 2017 as a weakening of their early resolve, but yesterday's win saw them notch their 12th match in a row without defeat, something that would have seemed exceptionally unlikely three months ago.
Indeed, the last time the casual observer of French football heard from Nice was likely their 3-0 loss at Monaco in early February. Already out of Europe and both domestic cups at that point, the defeat completed a run of only one win in five in the league, the team slipping from first to third in the process. What had looked a charming story at the beginning of the season now looked to be slipping away, as the team was seemingly struggling with the reality of a lack of depth compared to their more well-heeled rivals. Most observers at that point thought that Nice had more to worry about from Lyon, in fourth, who had a game in hand and had just signed Memphis Depay.
Nice got themselves off the proverbial canvas after that loss to Monaco with an impressive 1-0 win over Saint-Étienne, and while there has been the odd draw in this unbeaten stretch, including away to Toulouse last Sunday, the team's story in the face of adversity has been hugely impressive. The team have endured season-ending injuries to midfield tyro Wylan Cyprien and then-leading scorer Alassane Pléa, as well as lengthy fitness problems concerning captain Paul Baysse, Ricardo Pereira, Valentin Eysseric, Younes Belhanda and Mario Balotelli. Add in Jean-Michael Seri's stint at the Africa Cup of Nations and young centre back Malang Sarr's dramatic loss of form, and that Nice continued to win seems a minor miracle.
Much of the credit has to go to Lucien Favre, who has used an ingenious variety of tactics to manage these absences. The team had started the season playing a 4-3-3 before moving to three at the back, and has more recently, in the absence of Cyprien, moved to a 4-2-3-1. Key among making these changes have been using Ricardo Pereira, brought in as a right-back, as an orthodox winger and pushing Seri further forward. A defensive midfielder upon his arrival, the Ivorian has been a revelation this season in a more attacking role, with ten assists and six goals, the first figure ranking second in the league.
Favre has also given expanded roles to a few players who were something of an afterthought in the season's early going. Along with Dante and Belhanda, Mario Balotelli was the big-name arrival in the summer, and while there was also some intrigue over the promising likes of Cyprien and Arnaud Lusamba, Arnaud Souquet was something of an afterthought. A former youth international for France, he was a product of Lille's academy, but two years ago had found himself playing with amateur side Poiré-sur-Vie. Success there saw him earn a move to Dijon, then playing in Ligue 2, and he was a key part of that team's promotion last season.
Still, though, he was hardly expected to play more than a handful of matches this season, as Pereira was unquestionably first choice. When the Porto loanee was forced to miss more than a month with a knee injury in January, Souquet, who had only played a handful of matches, stepped into the void, and has played every minute in Ligue 1 since being deployed as a makeshift centre back for the team's trip to the Parc des Princes. Now played as a right-back, while he does not possess the same ability with the ball at his feet as does Pereira, he is still an impressive attacking threat, having contributed five assists this season. This, alongside maintaining a solid presence defensively through his striking work-rate.
Another former Ligue 2 player, Maxime Le Marchand has also been important for Nice since signing from Le Havre in 2015. Like Souquet, he seemed destined for bigger things at a young age, having won the Coupe Gambardella, France's youth cup competition, in a Rennes team that included Yacine Brahimi and Yann M'Vila. However, after failing to break into the first team, he was forced to move down a level. Initially a left-back, Le Marchand impressed at centre back this campaign before suffering a recent hamstring injury that has ended his season, becoming an invaluable deputy for Baysse during the captain's recent spell on the sidelines.
Valentin Eysseric would also fall into this category, contributing six assists and three goals in 2017 after starting just eight times in the season's first half, but the pattern that should be apparent now is one of an exceptional recruiting apparatus. Admittedly, Chinese backing was key in Nice being able to pay the wages of the likes of Balotelli, Dante and Belhanda, but the real secret to the team's success lies with their scouting department. Nice did splash some money on Cyprien this summer, with the former Lens man having a €5m price tag (a figure that seems a pittance after his season), but the combined cost of Seri, Le Marchand, Pléa, Souquet, Baysse and Dalbert was less than €6m.
One could make the argument, of course, that even those paltry fees are beyond the means of most of Ligue 1, but Nice have also sold important players in the recent past, netting handsome returns for Jordan Amavi and Nampalys Mendy in each of the last two summers. In this way, Nice, through their scouting department, headed by Serge Recordier, have not only seen success but built with an eye towards sustainability. Under Rivère, in charge since 2011, and his chief executive, Julien Fournier, the team have placed their focus on the academy, building a new training centre, and on scouting, allowing themselves to sustain success even in the face of significant departures.
As Cardinale told RTL recently, "Last summer, there was a lot of uncertainty in the dressing room after the departure of our two top scorers, (Hatem Ben Arfa and Valere Germain) our captain (Nampalys Mendy) and the coach. In the end, though, everything worked out great. We've accomplished something historic and we're not setting limits (on ourselves."
Yesterday's win is a bold affirmation of that, and of the team's over-arching strategy going forward. As Nice prepare for what looks set to be a place in the Champions' League play-off rounds, there will be tough decisions to make on Balotelli (out of contract), Belhanda (an option to buy is reported to be in the neighborhood of €9m) and Pereira, whose loan is set to expire. There are also questions surrounding the ability of Cyprien and Pléa to recover from serious injuries, but the more one considers Nice's situation, though, the more likely that the combination of Favre, Fournier and Recordier looks set to keep success within reach.
1 | The consistent stream of new thrilling young players is perhaps the most exciting aspect of French football. Kylian Mbappé's compelling development over the last six months has been astonishing, but the form of one player who never truly lived up to his hype at a similar age has been just as brilliant as the teenage Monaco forward's displays this campaign. Florian Thauvin's swaggering hat-trick in Marseille's 5-1 demolition of relegation threatened Caen was perhaps the high-point of a stunning season. Despite Thauvin's arrogant, lazy reputation in England, his intensity, attitude and work-rate have been exemplary for Rudi Garcia's side throughout the campaign. So much so that he won a call up from Didier Deschamps in March and beat Mbappé to the Ligue 1 Player of the Month award.
The 24-year-old admitted recently that he had questioned himself after his trying spell with Newcastle, but his confidence has returned with him to France to stirring effect. 15 goals scored places him 5th in Ligue 1's scoring charts and with coupled with his seven assists, Thauvin's importance to Marseille is clear, regularly outshining Dimitri Payet since his return from West Ham. But crucially for Thauvin it is his renewed faith in his undoubted ability that shines through in each of his performances. The nonchalance and effortless grace with which he took all three of his superb strikes at Sunday lunchtime and his unerring pace and intensity whenever he was in possession will have Rudi Garcia delighted that Marseille were forced into activating the player's €11m purchase option owing to a "games played" clause in the loan agreement with Newcastle.
2 | When Monaco centre back Jemerson scuffed a clearance into the path of Toulouse's Ola Toivonen early in the second half at the Stade Louis II on Saturday afternoon, allowing the Swede to slot home for 1-0, the title race seemed to be shifting in PSG's direction. The first half was, by Monaco's standards, stilted and blunt and, despite Jardim's decision to sacrifice the Coupe de France (resting his entire team for the mid-week semi-final at PSG, which a B team string lost 5-0), Monaco looked tired. "A response of Champions" may be clichéd description of their comeback, but it began to feel like Monaco are now close to unstoppable on the domestic front when Kamil Glik slammed home a header to equalise seconds later. The effervescent Kylian Mbappé arrowed home to take the lead 15 minutes after, 22 goals in 20 starts for the teenager as his unbelievable form continues, while Thomas Lemar made sure Monaco managed their now customary three goals per Ligue 1 match and stayed three points clear of PSG.
But perhaps it was in the 5-0 thumping Monaco received from PSG where Jardim made his most astute move of the week. Monaco have looked a little weary at time in recent months. Their comparatively small squad, busy schedule and all action style has begun to catch up with them. In contrast, since their humiliation in Barcelona, PSG have returned to their swaggering best in Ligue 1 and dispensed with an admittedly Fabinho-less Monaco in the League Cup final, 4-1. As a result, even if Jardim picked his strongest XI for the Coupe de France semi-final in the week, PSG would have been favourites at the Parc des Princes, where they are very strong. By sacrificing the Coupe de France, Jardim gave his first team a much needed rest and simultaneously covertly sidestepped a potentially confidence, momentum and energy draining defeat to their rivals; perhaps a key psychological move that could aid in what now looks like a title win for Les Monegasques.
3 | End of season awards and shortlists are by definition a subjective business but as the French professional footballers body, the UNFP, released their various lists for their accolades this week, questions were raised. The UNFP have long be criticised for supposed big club bias, but the number of PSG nominations this year was surprising even by their standards. The perennial champions were represented on all four four-man shortlists, a more than curious situation after their comparatively poor season and fluctuating form. Edinson Cavani, as the league's top scorer, justifiably joins Bernando Silva and Alexandre Lacazette in contention for Player of the Year. However, Monaco's sublime midfielder general Fabinho's absence in favour of Marco Verratti is verging on ridiculous. Fabinho is Monaco's most important player and the difference in performances with him and without him both domestically and in Europe is stark. His power, drive and pace help him and partner Tiemoué Bakayoko to dominate midfield battles despite often being outnumbered while his range of passing, vision and creativity drive the side forward. Without him they would not be top of Ligue 1 and his omission is a baffling oversight. Verratti has been very good since Christmas and when on form is genuinely one of the best players on the planet, but when put next to Fabinho this season, there is only one winner.
Jardim and Nice's Lucien Favre are obvious inclusions on the managerial list while Jocelyn Gourvannec's deft nurturing of a young Bordeaux side into the top 5 also earns him a deserved place alongside them. Yet Unai Emery's appearance on the shortlist verged on the incomprehensible before his side's ill-disciplined, chaotic loss in Nice on Sunday evening, and now looks laughable. This season has been one of regression for PSG. Yes, they could still retain their treble and yes, this is a domestic award, so their humiliation in Barcelona theoretically should not affect the decision making.
However, PSG for long spells have been brittle, lethargic and complacent and although their best form has seen them play at their swaggering best this has largely come at home against much weaker sides, the chasm in available resources and personnel to rival clubs and the 31-point margin of victory last season under Blanc are huge caveats any of the league's now second best side's return to form. More to the point, Emery has had very little discernible influence on displays, doing little more than making Laurent Blanc look good. This is not to eviscerate Emery, Monaco in their current form is something precious coaches did not have to deal with (although Lyon's title push in 2014/15 is not too dissimilar) and his CV is still a superb one, winning three consecutive Europa League title's with Sevilla but his credentials for being on this 2016/17 Ligue 1 shortlist are thin at best. Nantes' Sergio Conceição, Toulouse's Pascal Dupraz and even Lorient's Bernard Casoni all deserve far greater praise for the evolution of their teams this season, all unable to bring the likes of Lucas Moura, Blaise Matuidi and Javier Pastore off of their benches.