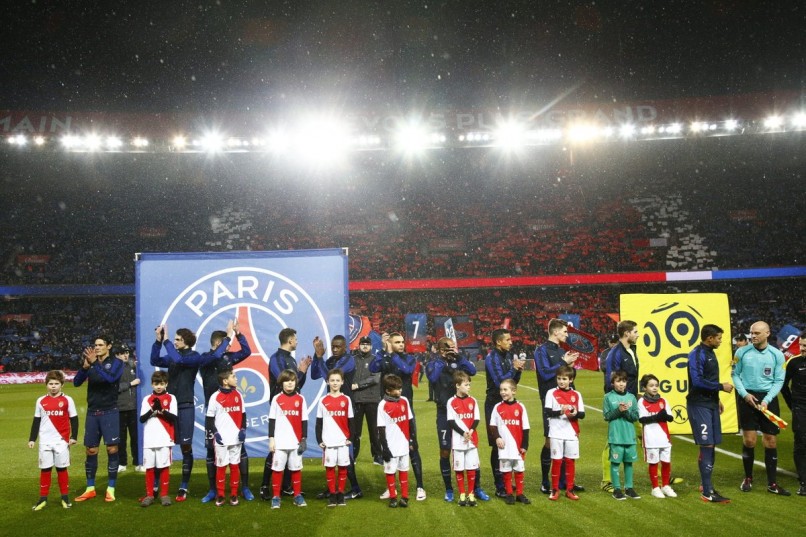 The Ligue 1 Review – Week 38
Humiliating may sound like an extreme characterisation of Paris Saint-Germain's season but, unfortunately for the capital club, the last 10 months of football have verged on the disastrous. This time last year an obscene 31-point margin saw them stroll to their fourth straight league title as part of a second consecutive French treble. It was frankly easy, and it had been for a considerable period of time but this season has been one of stagnation for PSG and now, with Monaco surpassing them as Ligue 1's premier side, the club's identity is being called into question.
Since the QSI takeover in 2011, Paris Saint-Germain's focus has been on one thing: Europe. Winning the Champions' League in the short term and eventually ascending to the echelons of the continent's elite band of clubs was the reason the club was purchased. With their overwhelming pool of resources by French standards, domestic dominance was assured sooner or later but Europe, on the other hand, has now become an obsession. Laurent Blanc was dispensed with last summer despite his clear sweep of French honours, after another limp and lacklustre exit from the Champions' League. After winning a trio of Europa League titles at the helm of Sevilla, Unai Emery was enlisted to transform Parisian fortunes abroad and maintain success at home. However, despite the €125m invested in playing staff and the swathes of quality already in situ, the loss of Zlatan Ibrahimovic aside, this season has not only proven to be one of regression but has put whole 'project' in a state of flux.
It is paramount to note that this has been a hugely successful season for French football on the whole. A pair European semi-finalists in the irresistible Monaco and the freewheeling, but often flaky Lyon made France the second most represented nation at the semi-final stage. In the process, it validated the notion that enough talent exists and is being utilised effectively to enable Ligue 1 clubs to realise their potential and challenge on a continental stage after a long period of underachievement and being unable to do so. Monaco's glorious championship win and Nice's strong title challenge made Ligue 1 the most compelling of Europe's traditional top five leagues, aided by the latest onslaught of exciting breakthrough talent, with Monaco's phenomenal Kylian Mbappé at the head.
After their routing in Barcelona, in contrast to recent years, the profile of French football has been in has been enhanced in spite of Paris Saint-Germain rather than because of them. Serious psychological failings in the capital club's biggest European matches were already evident under Blanc but were this season exposed to disastrous effect, ensuring that this summer will be both crucial and full of uncertainty. The rest of the league has gained substantial ground on Paris Saint-Germain. The club is in danger of becoming stale – an overhaul is desperately needed.
Their ubiquitous marquee signing, money throwing policy needs to be scrapped. Monaco have proved that effective, compelling and, above all, successful football is achievable through intelligent scouting, considered squad building and, when pitched correctly, investment in young talent.
Granted, Monaco have a billionaire owner too but their operating budget is still just roughly a third of their Parisien rivals and their team is populated by players carefully developed both via their own academy and those pinpointed as having potential from France and further afield. While Paris Saint-Germain's quasi-galactico ethos has seen them assemble a squad lacking in heart, mental fortitude and, on the whole, any real emotional investment into the club.
The signing of Angel Di Maria two seasons ago exemplifies this problem. The perceived nature of Paris Saint-Germain's project by the media guarantees that they are linked with every major footballing name to become available. Di Maria, a potentially world class player with Champions' League winning experience, seemed like a natural signing on paper but the deterioration of his form and, seemingly, his attitude at Manchester United in truth made him more of a mercenary, a gun for hire, hoping to escape his failing spell in England, making his motivation in signing for Paris Saint-Germain questionable at best.
Of course, it is not a novel idea to suggest that a large percentage of footballers will move where the money is but to be successful at the highest level, desire usually has to be fed by more than just financial gain. While the Argentine has been magical at times, during the genuine pressure points since his arrival he has often been anonymous, petulant, even cowering. His childish sending off at Nice last month being the more recent example. While a lack of mental fortitude is verging on the chronic; the Nou Camp debacle, no wins in four games against the rest of the top three and their dire performance at Manchester City last term standout. Paris Saint-Germain appears to mean little to Di Maria, and some of his colleagues, and it shows.
Marco Verratti's story and progression should be used as the blueprint for Paris Saint-Germain's dealings going forward. A hugely talented player with great potential, signed at a young age and given the faith of his club, the chance to develop as a footballer and the opportunity to become embedded in the French capital and its team. Paris is now his home and it is clear by his ferocious play, his passion and his burgeoning leadership that Paris Saint-Germain means something to Verratti and his will to win extends beyond the desire for the next contract or even footballing glory.
European champion clubs to a large extent often boast a core of players who have become ingrained at the club and to whom the club is more than just that. The is an investment and an emotional bond that cannot be bought and engendering it takes time. But time often appears to be the only thing that QSI have not been willing to invest.
Monaco were bought by Russian oligarch Dmitry Rybolovlev soon after QSI's arrival and after briefly flirting with a big spending policy, their forced change of direction has proven to be a blessing. They have built their team carefully, young players have been allowed to grow together over the past few years and they are now an effective, passionate group.
They outperformed Paris Saint-Germain's best result in the Champions' League under QSI and stole the league title, playing the kind of exuberant, fearless football that the PSG hierarchy have always craved. Although Paris Saint-Germain will naturally continue to chase some of the world's best players, their equilibrium between the two methods needs to be drastically altered. Paris Saint-Germain are currently akin to a spoilt child, showered with gifts. They may have everything they want, but, like a toddler, can achieve very little.
This somewhat hollow feeling can also be attributed the under-utilisation of their academy in recent years, something to his credit Unai Emery has aimed to rectify. Faith has been placed in Adrien Rabiot to pleasing results, whilst academy graduates midfielder Christopher Nkunku, goalkeeper Alphonse Areola and defender Presnel Kimpembe have all been given more responsibility this season, the latter in particular showing his qualities. In previous years they would have not got more than a handful of minutes or worse,they would have been farmed out on loan.
The leadership in this area is also changing. The Sporting Director, Olivier Létang, left last month while Director of Football, Patrick Kluivert's position has been under threat as Paris toyed with the idea of hiring Monchi, the man responsible for Sevilla's superb player recruitment of recent years, after his departure from Spain, eventually joining Roma. They have also been rebuffed in their efforts to convince Atletico Madrid Technical Director Andrea Berta to make a switch to the French capital. Kluivert being perhaps the most bizarre signing of the QSI era, his name again accounting for a lot and his lack of credentials for little. The fact that new signing Thomas Meunier, fresh from the Euros with Belgium, was not recognised by Kluivert as the pair shared a Los Angeles taxi on PSG's tour last summer, Kluivert having to ask Meunier who he was, says everything.
Paris finished the Ligue 1 campaign with 87 points, less than their title winning tally in two of the four previous seasons and they will likely still end the year with both domestic cups but, this represents another campaign of little more than treading water. It could be argued that Monaco's stunning season has just caught the Parisians by surprise but the fact that it has at all is the real issue. Problems have been evident for some time but have gone unaddressed by the club, now they have been embarrassed by their rivals at home and surpassed in Europe, the outfit's Holy Grail, with a fraction of the budget and relatively few major signings. The Champions' nuanced handling of their squad and its development has made PSG's philosophy appear ignorant and shallow by comparison.
As a result, this summer will be a crucial one for the Paris Saint-Germain "project". The lack of progress has started to breed further uncertainty. Verratti, the club's prized asset, may have seen enough, reportedly tempted by Juventus, Barcelona and others. He does not appear to want to leave Paris but he might have to if he is to continue to develop and he might not be alone in that regard. Pivotal decisions need to be made in the months ahead; the position of the manager, the long term role of aging captain Thiago Silva and who will actually oversee recruitment to highlight just a handful. Paris Saint-Germain have achieved a significant amount for Ligue 1 in the last few years but they have reached a ceiling – one that they have been hitting their heads against for some time and if they do not radically change tact soon, that ceiling could turn out to be their peak. French football is changing; they need to keep up.
1 | Sixth place not getting European football in Ligue 1 this year would require Paris Saint-Germain to lose a cup match to Angers, something Unai Emery's team have not done since the 2014 Coupe de France. That said, for Le SCO to topple PSG would not be impossible; despite losing both of the pair's league encounters 2-0, Angers were a more than worthy opponent. Rather than stressing over the outcome of that match, though, Marseille will be guaranteed a place in Europe next season. Given the club's bigger aims, the third qualifying round of the Europa League may seem like a poor return, but fifth place was not easy to obtain; after a 5-1 loss to PSG, Rudi Garcia's side finished the season on an eleven-match unbeaten run, including a 4-0 thrashing of Saint-Étienne and a home win against in-form Nice. There were also mediocre draws at Lille, Toulouse and Nancy in that run, but given this team were in 12th place after a loss to Monaco in November, fifth is a just reward for a maturing side. It shows improvement over the season and also allows Marseille to offer the carrot of European football next season to potential recruits, something which could be vital as they seek to continue the team's restructuring over the summer.
2 | Nicolas de Preville's hat trick against Nantes was hardly the stuff of dreams; one was a penalty and both goals from open play had more to do the visitors' defensive miscues than de Preville's ability. Nevertheless, the two goals took the former Reims attacker on to fourteen goals for the season, an impressive total considering his first goal was only scored in Week 15. Not really a striker, nor a winger, or an attacking midfielder, part of Franck Passi's issue with his use of de Preville, at least vis-à-vis not starting him, is that he has no set position. He faced similar issues last season with Reims, taking on more of a creative role behind a variety of misfiring strikers, but given a better platform with his move north, de Preville has sparkled. His future, at age 26, may be in some doubt as Lille embark on a youth-oriented transfer strategy, but given how vital his goals have been in avoiding relegation, Les Dogues would be foolish not to buy the player outright after his initial "loan" from Belgian side Oostende, a club owned by one of Lille's previous shareholders Mark Coucke, in a move that allowed LOSC to bypass the French football financial watchdog the DNCG's scrutiny last summer.
3 | Ligue 1's battle to avoid the drop lacked the sizzle of the Ligue 2 promotion race, with a flurry of late goals shuffling Lens and Troyes into and out of automatic promotion, but did have its own bit of late drama. Caen were trailing 1-0 at Paris Saint-Germain, heading into stoppage time and sitting in the play-off place on goal difference, when Ronny Rodelin turned Maxwell to prod home Jonathan Delaplace's cross, the match finishing 1-all. Caen probably have enough talent to beat Troyes anyway, the third-placed team from Ligue 2, but were saved a potentially awkward pair of matches. Rodelin's goal was also a measure of personal redemption after being dropped twice in recent matches and missing a penalty earlier in the match. It is true that the lanky attacker has not been quite as impressive as last season, with Ivan Santini more of the team's focal point, but his class and ability have nevertheless been key in keeping the Norman side safe both this season and next, making his permanent move from Lille last summer worth every penny.
4 | Alexandre Lacazette called time on his Lyon career in fine fashion against Nice, netting a brace to take him to an even hundred goals in the league. Lyon could only draw, even against a weakened Nice, though, in a match that served as a somewhat painful reminder in microcosm of their season. Lyon's attack, particularly Lacazette, was impressive, and should have done enough to seal a victory but defensive errors from Nicolas N'Koulou (a poor back-pass and a wayward arm leading to a penalty) saw them drop points. With his teammates consistently undoing his good work, it is no wonder Lacazette has had enough of his boyhood club. Linked with the always-solid Atletico Madrid, Lacazette has been a good servant for Lyon over the years, but with his 26th birthday next week, he in his prime and more than deserves a chance to ply his trade at a side whose defensive organisation can make his efforts worthwhile.
Results: Angers 2-0 Montpellier, Guingamp 1-0 Metz, Lille 3-0 Nantes, Lorient 1-1 Bordeaux, Lyon 3-3 Nice, Marseille 1-0 Bastia, Nancy 3-1 Saint-Étienne, PSG 1-1 Caen, Rennes 2-3 Monaco, Toulouse 0-0 Dijon.
Team of the Week: Kevin Trapp, Paris Saint-Germain; Arnaud Nordin, AS Saint-Étienne, Syam Ben Youssef, SM Caen, Jemerson, AS Monaco, Jorge, AS Monaco; Maxime Lopez, Olympique de Marseille, Younousse Sankharé, Girondins de Bordeaux, Nicolas de Preville, Lille OSC; Anastasios Donis, OGC Nice, Alexandre Lacazette, Olympique Lyonnais, Faitout Maouassa, AS Nancy-Lorraine.