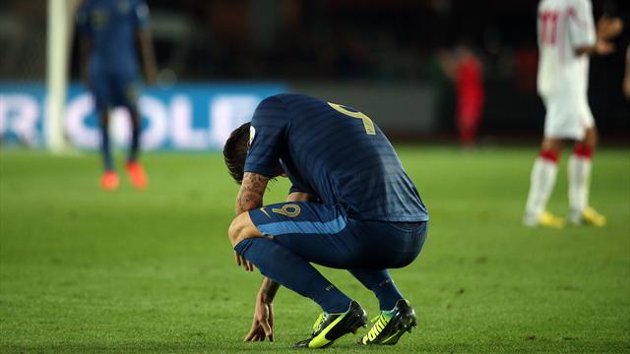 THE VERDICT | In Defence of Olivier Giroud – why he deserves his France call-up
Another Les Bleus squad announcement, another inclusion of the ever-divisive Olivier Giroud.
Some see him as Didier Deschamps' little pet, a safety blanket that the France manager always comes back to for a comforting cuddle. Others see exactly why he continuously goes back to the Arsenal man, even if he is dipping in form or he is out of the starting line-up with his club.
The fact of the matter is, the former Montpellier man gives the French national team a Plan B.
With so many attacking options coming through the ranks in France, there is no surprise that the team is morphing into a youthful, forward-thinking unit. Antoine Griezmann is the figurehead, rightfully so after his EURO 2016 exploits, and around him will be a mix of whatever France require against a particular opponent.
Dimitri Payet is a more creative option to help give the Atletico man service, Ousmane Dembélé and Thomas Lemar will link play with him too but will look to drive past their full-backs, while the likes of Florian Thauvin or Kylian Mbappé will perform narrower and more direct. That is only mentioning those who have made this particular squad, with Kevin Gameiro available either as a replacement due to injury or a link-up option as a partner.
However, even with so many different options mentioned, France still needs someone who brings another dimension to the side. All of those are similar archetypes at least, slender but quick and could occasionally struggle against more physical, stubborn defensive teams.
That is where Giroud steps into the fold. What the 30-year-old clearly brings in spades is power, both as a physical presence in the box and as a threat in the air.
Others are so willing to tear him down for his technical ability but again, he has proven that time after time that the doubters are wrong for doing so. Look at his wonder, scorpion kick goal earlier this season, it displayed the finesse that he possesses that separates him from the caveman stereotype that so many are willing to pigeon-hole him into.
Despite the lack of appearances for the Gunners this season, he has been effective when called upon. Eight goals in 18 starts is a solid return in the Premier League, add in two Champions' League goals in six and two in two in the FA Cup, that is an impressive résumé.
Then you factor in how good he has been for the national side recently and his inclusion by Didier Deschamps is a no brainer. Three goals in six back at EURO 2016, with five in seven international friendlies.
He is dependable and at the highest level, that can be so important. Yes, he might miss the occasional "easy" chance but he makes up for this with fight, tenacity and the ability to produce world-class touches and efforts on goal.
It is also great to see this kind of striker still play a pivotal role in a major national team and Deschamps deserves credit for foreseeing the need for tactical flexibility. Bar Romelu Lukaku, Robert Lewandowski and Zlatan Ibrahimovic, the physical target man forward is seemingly evaporating the way of the dinosaur in modern football.
You can throw Alexandre Lacazette in there, who does actually deserve a call up regardless of Giroud, or Karim Benzema, whose international career is rightly or wrongly in a seemingly permanent state of suspension. However, are separate issues to the question of Olivier Giroud's inclusion, yet the tendency is for the Arsenal man to be thrown by the wayside by pundits and fans alike. Surely Kevin Gameiro is the individual whose call up should be questioned most in parallel with the outcry over Alexandre Lacazette's omission?
When the chips are down and you're throwing balls into the box, who would you rather have throwing themselves at it in the air?
Yeah, I thought so too.