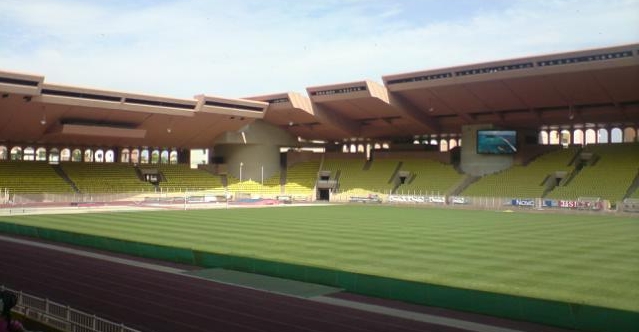 Uncovering AS Monaco's next generation
Monaco's cadre of young players, as expected, failed to do much against a full-strength Paris Saint-Germain in Wednesday's Coupe de France semi-final. Excepting Andrea Raggi and Valere Germain, Leonardo Jardim's callow set of players had played a grand total of eleven league matches this season.
Only Jorge, Irvin Cardona, Abdou Diallo and Kevin N'Doram had even seen any action with the first team across all competitions, and there were more than a few expressions of frustration with the Portuguese manager for not affording the competition more respect. His choice can hardly be faulted, though, as progression was far from a sure thing against the defending champions, and a league title or further progress in the Champions' League have to be seen as more attractive than the Coupe de France.
While injuries to the likes of Boschilia, Guido Carrillo and Djibril Sidibé had as much to do with this group of youngsters' inclusion as rotation, it is instructive to remember that Kylian Mbappé would have been among their unheralded number a year ago. With that in mind, here's a brief review of some the key players in Monaco's reserve team, as well as an assessment of their performances at the Parc des Princes.
There is, of course, no clear path to stardom for any these youngsters, especially if Monaco continue to pursue other young talent as has been their wont of late. There is also a cadre of loan players in Allan Saint-Maximin, Rony Lopes, Corentin Jean, Youssef Aït Bennasser and Adama Traoré, all of whom have considerably more first team experience. Nevertheless, these youngsters' talents could be key in sustaining Monaco's progress in the next few years, and certainly warrant a closer look.
Abdou Diallo – (Central Defender, 20, France)
A big, strong centre back who has also occasionally been played at right back, Diallo made his debut in the 2014-15  season. Playing time was sparse that season, but a loan spell to Zulte Waregem in Belgium saw him become a regular starter. His quest for playing time this season has stalled, even as the likes of Wallace and Marcel Tisserand have left the club, with Andrea Raggi often preferred if one of Kamil Glik or Jemerson are unavailable. With Raggi 33 this year, though, that is an unsustainable situation, and Diallo should have more playing time next year.
Good in the air, and mobile, his positioning still needs work, something which was in full evidence Wednesday, but being given the odd match alongside Glik, who is superb when it comes to organization should help him in this. Already capped for the U-21s for France, he faces stiff competition from Joris Gnagnon, Mouctar Diakhaby and Issa Diop; regular football, as his peers have for their club sides, is essential for Diallo's development, but the raw tools are undoubtedly there.
Kévin N'Doram – (Central Midfielder, 21, France)
Often used in central defence earlier in his career, N'Doram's lack of height has seen him pushed into central midfield this season, including a handful of starts. Physically robust, but also with a good range of passing, N'Doram is still adjusting to his new role, and was sometimes chasing shadows against the passing of Marco Verratti and Angel Di Maria, betrayed by his positioning. Asked to play a more prosaic role in Paris, he was unimpressive, failing to either link play or play balls over the top. At 21, he could be reaching his potential. A loan move next season could be immensely helpful, as competition from Traoré and Aït Bennasser looks menacing.
Irvin Cardona – (Winger/Striker, 19, France)
Cardona, despite his lack of playing time, probably has the most bonafide credentials of any of these players. Able to play on the left or up top, Cardona was far and away Monaco's most creative player in Paris, playing several fine crosses but also linking play on the ground. He was also guilty of some poor touches, but played a decent match overall.
Like Kylian Mbappé, his movement, pace and work ethic are also highly thought of. An injury to Guido Carrillo has admittedly been the impetus for Cardona's progression this season, but the youngster, having averaged nearly a goal per game with the reserves and in the UEFA Youth League, looks more than ready to take the step up. He still needs to work on his defensive positioning and strength, as he struggled against Thomas Meunier in that regard, but for the moment Cardona looks to be a real find. The hope here is that he can make the U-20 squad for the World Cup in South Korea, giving him a bit more of an audience, as his career to date certainly warrants it.
Jorge – (Left-back/Winger, 21, Brazil)
A full international for Brazil after being called up for a friendly to honor those who lost their lives in the Chapecoense air, Jorge is the most experienced of this group of players. A winter arrival from Flamengo, Jorge's two positions indicate he is an attack-minded left-back, somewhat tall, and with a direct style of play, more given to try to beat opponents on the dribble than solely with his pace. Even with these credentials, he was decidedly off the boil against Paris Saint-Germain.
Well-marshalled by Di Maria, he was also frequently caught in possession and the Argentine had a field day as a result, as his continued lack of success seemed to lead to a lack of enterprise. Language and cultural adjustments will have their role to play in his uneven performances, but a player named in the Brazilian Serie A team of the year last year is undoubtedly promising.
Like Diallo, Jorge is another player who will benefit from the aging of Raggi. With Benjamin Mendy's past discipline and fitness issues, Jorge should establish himself as the deputy to the former Marseille man next season, after having had a preseason under his belt.
Tristan Muyumba – (Central Midfielder, 20, France)
The easy comparison for Tristan Muyumba is N'Golo Kanté, owing to his small size. Like the Chelsea midfielder, Muyumba is an energetic, physical presence, and showed little fear, even against the towering Thiago Motta. Captain of last year's Coupe Gambardella-winning side, the little midfielder admits that "winning the ball is one of my best qualities," but, like Kanté, his vision and passing need some improvement.
Theoretically, that should have been the province of N'Doram, but the two showed little rapport and Muyumba was more often attempting to build play with the ball at his feet. He was surprisingly decent in that regard as well, and delivered a surprisingly assured debut considering he was making his professional debut. He should do well to beat out Traoré as the team's fourth central midfielder next season, building on a season that saw Monaco run Real Madrid close in the UEFA Youth League quarterfinals.
Dylan Beaulieu – (Striker, 19, France)
Beaulieu, playing as a foil to Germain, ran his socks off, doing his best to keep Monaco's high press effective. Beyond that, however, he was poor, displaying little chemistry with Germain or Cardona. Like Muyumba, he was also making his professional debut, but the occasion seemed to leave him a little over-awed. Not yet a regular for the reserves, Beaulieu was overall hindered by his small size, frequently knocked off the ball by Motta and Meunier, but beyond the occasionally break-up of play he was fairly ineffective.
If Beaulieu can improve with the reserves or on loan next season, he still has a chance of becoming a decent player, but success in top-level football means showing more than just effort, a lesson that the youngster will have to absorb if he wants to continue his development.
Yhoan Andzouana – (Central midfield/right wing, 20, France/Congo)
If Beaulieu could have showed more quality, Andzuyana could have showed more, period. He is a decent player with the ball at his feet, but even against Maxwell, a player nearly twice his age, he rarely tried to take the Brazilian on, even after meeting with some early success. Anzouana instead preferred to recycle possession into midfield, a poor choice given his dynamism.
He was also poor defensively, as Maxwell spent most of the match pinging crosses into the box with comparative ease. Having made his first appearance for the reserves in 2013-14, Andzouana has more experience than most of his young teammates, but hasn't really been first choice until this season, something which has no doubt stunted his development. A loan, perhaps to a Ligue 2 side, seems ideal, as there is undoubtedly ability present in the youngster with the ball at his feet, but becoming a complete player for him will require playing time at a higher level than the CFA
Safwan Mbae – (Right-back/Central Defender, 20, France)
Played out of position on the right against PSG, with this spot more likely to have been taken by the injured Pierre-Daniel Nguinda, Mbae is a centre back by trade, and that certainly goes a long way towards explaining his troubles. He seemed to lack positional discipline throughout, as well as much ability in the tackle. Decent in the air, despite standing just 5′ 11″, Mbae is a very rough player, and a great deal of refinement is needed if he is going to progress. It's hard to fault his enthusiasm, especially considering the occasion, but even excluding an unfortunate own goal, he was comfortably Monaco's poorest defender.