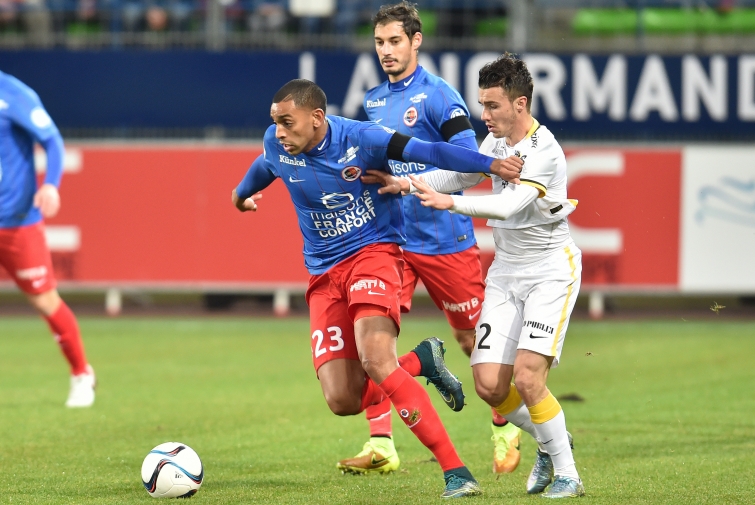 UNDER THE RADAR | Ronny Rodelin
Perhaps best known to casual fans of French football for receiving a bizarre shout-out from Dimitri Payet after France's victory over Romania last summer, Ronny Rodelin has always existed as a sort of secondary figure. For much of his career, he has gone about his business quietly, content to let other players take the spotlight, even if their talents are a pale version of his own.
Despite netting consecutive winners in Caen's last two matches, crucial 1-0 victories over Nancy and Saint-Étienne, he is far from the most recognizable player on the Normandy side. In Patrice Garande's high-tempo attack, the exciting youngsters Jean-Victor Makengo and Yann Karamoh are touted as top prospects while the burly Croatian striker Ivan Santini leads the line, garnering the lion's share of recognition.
Things were scarcely different last season, as Andy Delort looked an inspired signing from Wigan, bagging a dozen goals and impressing with his workrate; little notice was taken of Rodelin adding ten himself, exceeding his total for his four seasons at Lille. It has always been that way for the lanky winger, who seems to have finally found his stride at Caen.
At Lille, he arrived at the same time as Dimitri Payet and Joe Cole, naturally playing second fiddle to his more accomplished fellow arrivals. This was a trend which continued with Salomon Kalou, Marvin Martin and Sofiane Boufal coming into the team in subsequent years, as Rodelin was regarded as somewhat of a curiosity, never quite living up to the potential that had seen Les Dogues spend €1.5m on him that summer. Even his arrival to Caen, initially on loan, was seen as an afterthought given the potential in Delort and Jeff Louis, who had scored a dozen goals for Nancy two seasons prior.
Born in Réunion, Rodelin came to France at the age of ten, initially playing for southern club Rodez, making his first-team debut in the National before moving to Nantes in 2008. Nantes have a long tradition of success and an impressive academy, but Rodelin's time at the club was lacking in stability, both in terms of player personnel and management.
As Matthieu Bideau, Nantes' development director told So Foot: "He joined the professionals quickly, but things stalled for various reasons: injuries, lack of stability (Nantes were the quintessential yo-yo club at the time), and maybe a bit of laissez-faire on his part. The whole club was aware of having a great player in the squad, but this was (also) a player who couldn't fully express himself."
A brief loan spell with Troyes failed to improve his prospects with Les Canaris, but he had showed enough to catch the eye of Lille, who were fresh off a Ligue 1 title. Despite the club's reputation for placing their faith in young players, his time there was largely one of frustration. He did make more than 100 appearances across all competitions for Lille, but most of these were from the substitutes' bench, as Rudi Garcia's departure and the arrival of René Girard saw the team's style of play become increasingly negative.
Naturally a creative player, Rodelin was often misused under Girard, with his height being seen as his primary asset. Being deployed as an archetypal target man for long balls hardly suited Rodelin's game, and after a period of increasing disillusionment, he was loaned to Lille's Belgian partner, Mouscron-Péruwelz in the spring of 2015. Playing both across the front line and as an attacking midfielder in interim manager Fernando da Cruz's 4-2-3-1, there was at last some suggestion that his not-inconsiderable creative talents were at last getting their chance.
Having impressed in his spell in Belgium, when Caen offered to take Rodelin on loan, he snapped at the chance, expressing his satisfaction with a smooth integration into the playing squad. Last season, Rodelin played wide on the right of a 4-1-4-1, netting an impressive ten goals in the league.
His performances meant that Caen's season was largely free of the relegation worries that had flummoxed the side in the recent past. A good start for the team saw them fade slightly before recovering to finish seventh, a remarkable achievement, and Rodelin, freed from his limiting role as a target man was arguably the team's most influential player.
Languid and relaxed with the ball at his feet, but still a deceptively adept dribbler, Rodelin has this season been used more centrally, either as an inverted winger in a 3-4-3 or as a partner for Ivan Santini in a 3-5-2. His recent performances suggest his impressive goal record from last year could be met or even exceeded this term; it is only playing alongside the more workmanlike Santini, who naturally becomes the focal point of the attack, that has limited Rodelin's goal-scoring this season.
However, as the big Croat has hit a bit of dry spell, Rodelin has picked up the slack, his movement and intelligence hinting at even more to come. Despite his size, he had never really been comfortable being a mere aerial threat at Lille, and at Caen, his dribbling, pace and finishing have been allowed to shine. Last season, only four of his ten goals were scored with his head; eight were from open play. It was easy to see why his manager at Troyes, Patrick Remy, had dubbed him "l'Esthète."
Rodelin is far being a world-beater, but he has shown even more this season in the absence of Delort, succeeding in a range of tactical systems and positions. The value of a player who can play across the front-line and combines a creative nous with his unique physical presence is not to be undervalued. There had been some suggestion that he could even leave Caen in January, but, not wanting to leave the club which had showed such faith in him eighteen months prior high and dry, he has stayed, intent on carrying his good run of form forward as the club seek to rebuild an aging squad.
Caen are rarely given the spotlight, especially away from France, but the club's recent uptick in form could yet pose problems for Ligue 1's title contenders, with televised matches against Nice and Monaco in the next three weeks. While some might tune in to see what all the fuss is about over the division's two unlikely contenders, keen observers would do well to have a look at Caen's attack as well, as Rodelin could yet be hot property come the summer.
Part 1 of the Under the Radar series here.