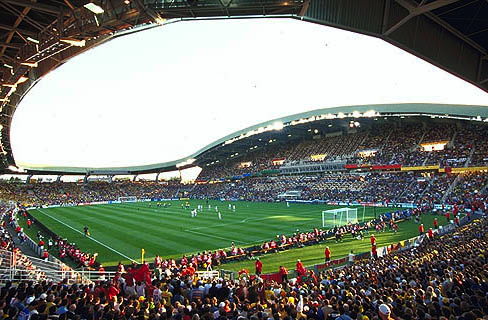 Exclusive | Nantes forward Abdul Majeed Waris: "I remember when we played in Anfield, everyone was asking whether we were in Liverpool or Porto!"
Ghanaian international forward and current Nantes loanee Abdul Majeed Waris sat down with Get French Football News to discuss the club's difficult start, his foundation & his future ambitions.
This move this summer to Nantes – set the scene for us – how did it come about? Did Porto tell you that Sergio Conceição didn't have you in mind for the coming season?
To be honest, if you look at my time last year. I didn't play a lot of games due to transfer issues with Lorient and then some small issues. When I went to Porto, it was Conceição who signed me, he knew who I was at Nantes. He had seen a lot of my games. I did play quite a few games at Porto, in the Champions' League as well. I was quite happy there – at the end of the season, I had an injury so I missed some time then.
After the season, the team did really well, they won the league, everyone was really happy. The atmosphere was really good and I was very happy there. I spoke to the coach, and I explained to him that, I knew I had some very good offers, I needed to play regularly, he wanted me to stay because he felt like I could play in lots of different positions and he wanted me as part of the team. I said to him I have got these offers, which are very interesting to me. I need to play lots of games to get my sharpness back. He told me no, he wanted me in the team. I went several times to talk to him, and eventually he agreed I could go on loan. I knew that I was having very good interest, which was very important for my progression.
Most of the attackers at Porto, there was no movement or ageing, so even if I would have stayed, I would have played games of course, but not to my satisfaction, I wanted to play every game. It was a very difficult decision, because he didn't want me to go. It took me time to convince him.
What convinced him in the end to let you go?
I think it was my ambition to play, I gave him a lot of reasons why I need to go and play a lot of games.
How did the offer from Nantes come about?
My agent just told me the interest – I had offers from the Spanish league and others too, but I thought I wanted to come back to France, it is a place where I am very confident.
What have your impressions been of Nantes as a club?
It is a very good club, the people are very good, happy and willing to help you. This is something I always look for anywhere I go. Sometimes it is not all about playing, but the life outside as well.
There is quite a big Portuguese-speaking, Brazilian contingent in the squad now. What does that bring in terms of atmosphere?
We all mingle together, we all play together. We speak with each other, I can speak a little French and we all have conversations, most of them can speak French too. Brazilians are very nice people, they always want to have fun. They are people who like to joke around and bring more happiness. It gives you a boost at everything you do.
Who is the biggest joker in the dressing room?
Hard question. Too many people to mention. I might be one of them.
What jokes are you playing on people at the moment?
I don't want to talk about that one right now. One day I can tell you.
Who is the person you have become closest to in the squad early on?
For me, I am talking with everyone. I am kind of like the joker. Enock (Kwateng) is like a brother to me though.
Do you feel that the work that Miguel Cardoso (who has now been sacked) has done both on and off the pitch translated into results?
For me, I really like him. He attacks and he defends, if you watch any of our games we play very good football, but we are ultimately not winning these games. I think in the future we will show that we are onto something very good. I don't know, I have a strong feeling, I know we haven't started the season very well, but I have a strong feeling that we will finish the season in a very strong position, because we have the attitude and the quality as well.
What is your preferred position? You played against Lyon as a striker, is that where you are most comfortable?
For me I always want to be close to the goal, because I don't think any defender likes me playing as a striker. I like to make them run, it is completely different, just last night I was having a conversation with a friend. He was telling me, now I am not scoring like I used to do. I told him it is completely different when you play on the wing then as a striker. Most of the time I am playing as a winger, I am not playing badly, I like it and enjoy it, I get to touch the ball a lot, I get to move. When you play as a winger, you think about two things, attacking and defending, and that is quite a lot of work and energy, but when you play as a striker, your target is to score or to cause a lot of problems for the defence.
Let's talk about the Nantes fans – who deserve a lot more attention, they are some of the most passionate in Ligue 1. Would you say they are the most passionate fans you have ever played in front of?
In terms of the fans, I have played in front of some very good fans. Trabzonspor was incredible, a very good place to play, very ambitious, they travelled everywhere with the team. Porto are another great team with a fantastic group of fans. I remember when we played Liverpool at Anfield, people were asking if this was in Liverpool or in Porto. It was crazy, it made me feel like really good. Nantes have very, very good fans, it is good. What I like is sometimes when the fans put more pressure on us, on the players.
In football, if you cannot cope with pressure, you cannot perform. Especially at this difficult moment, when things are not going on well, you cannot just bury your head under the ground. You have to get pressure from the fans and wake up. I think this is normal, fans do that everywhere you go. It was the same, I felt it at Lorient. Sometimes you go to a stadium and see a fan shaking in the cold and shouting. This is something great – they are ambitious, it makes me give everything. This is what keeps me going. For me it hypes me up. I am not saying it is all good all the time, sometimes they have to give the player positive motivation, but it is good sometimes to give the player more motivation in another way. If things go good, we stick together all the time, if things go badly, we stick together – that is how it should be.
When you joined Lorient in 2015, there were reports at the time that you could have joined, and were very close to, Rennes too. I am just wondering if that was true, that Rennes sent a car to the airport to pick you up and you joined Brittany rivals Lorient instead? 
I think to be honest at the beginning, I knew about Rennes. I spoke with their coach, he was a very good person, I know him, they were interested. But I feel like maybe some of the people weren't too sure about me or the type of player I was. I spoke with their coach, it was a long conversation, it was normal. They went to finalise everything with Trabzonspor. When Jordan (Ayew) went to Aston Villa, I think Lorient were looking for a replacement and they spoke with my agent, they knew that Rennes wanted me, I told them ok.
Then Lorient went straight to Trabzonspor. When I arrived in the airport, I saw people were there, I wasn't sure, but I knew that Lorient had bought the plane ticket for me. And for me personally, football I know is a business, a job, but I respect every club and everyone. When Lorient bought the ticket for me, I went to the club that bought the ticket for me. I asked my agent where was I going, and he said we are going to Lorient.
It is fair to say that in the last 6 months at Lorient, it was quite a disappointing time for you, the club got relegated. Tell us a bit about the summer of 2017 when I presume you were seeking to leave but it didn't happen.
My time in Lorient was good. For me, anywhere I go, I try to give my best even in terms of attitude and hard-working, because you never know what is going to happen. When I was at the club, I worked very hard for them, so so hard. When I came in my first season, I did very, very well, even though I had some injuries. I scored quite a few goals and I had some interesting offers, this is very good I said, you should listen to it.
When I joined them they said that after one season if I had a good offer that they would let me go. I had a very good relationship with them, they said that I should stay for another season, we will have very good success and all that. I had a very good relationship with Loïc (Féry – President) and Alex (Hayes – former Sporting Director) at that point.
When the team was relegated, I had very good offers, it is a very long story to explain why I didn't move. That summer, I was in England two or three times, a Premier League team, but nothing happened and I believe that God wanted it that way. I don't really want to put blame on anyone, maybe that is how God wanted it. I think that any player in that situation would have felt disappointed.
Where were the offers coming from at that point?
I had clubs in Spain, France and in the UK. I really wanted to go to the UK, because I started studying there. I had offers from both the Championship and Premier League at that point.
Is that a goal in your career to end up in the Premier League?
I am always going to be a big fan of the Premier League and the Championship, I like the way that football is played there, so definitely. It is something that I will continue to watch. Even though the French league is one of the top leagues in Europe, every year it is getting very competitive. This year is crazy. I really, really like the French league.
You are currently only on loan at Nantes – would you like to prolong your stay?
At the moment I am here on loan with Nantes. The people are nice, the fans are very good and I am very happy here. I want to have a very successful season with this club. With the stature of the club, they are really very good. I want to achieve something great with them. Even if I am not here in the future, I will know that I achieved something great. Maybe I can also be remembered one day.
Who is the best defender that you have come up against in Ligue 1 so far?
I would have to say Ricardo Carvalho and Thiago Silva. The reason why I say that is that they are so sensible in a way that they don't let you run, or get too close to you. Even when you try to fix them into a 1 vs 1 situation, they will try to slow you down. So, I think they were the two very, very difficult people to play against.
Do you have any personal goals this season? I.E. I want to score x amount of goals this season?
I don't care if I only score 4 goals, but Nantes are in the top 4 or 5. That would be amazing because when you achieve something as a team, it is more special than as an individual. This what I believe. I really want to achieve something great with Nantes – I remember when I arrived here, it doesn't matter where I go, I feel that I should score at least 10 goals per season. So I will be working very hard for that. I am sure that I will score some goals, despite our very, very rough start.
I was hoping to ask you more about your Foundation and why it is so important?
The foundation is something super important to me. I used to do a lot of charity work back home because I know how it feels to come from where I came from. The fact that there are people out there who do not get a chance to achieve what they want because of their situation. Before I set up the foundation, I spoke to a lot of people. Then, we came out with the idea of opening up the foundation, now we have a webpage, I am helping as much as I can. Most recently, we have got a lot of books together. It is not only the books, we went to different orphanages and then we tried to identify people who really needed to support to achieve their aims through education or football.
We got the books, the school uniforms, shoes, pen, paper, lots of things. So we visited each of their homes and then we donated to the families and we tell them we are supporting them and we should give them a chance to go after what they want. Then I tell them that if the child continues to progress in the right direction, then they will always be able to count on our support, because sometimes you support people but they don't really appreciate the support, or make good use of it. But when you let them know that they can get more support if the child is doing really well, that puts more pressure to the child to work even harder.
I believe that life is not all about playing football, most people can achieve their aim of becoming a better person through football or other means. For example, I didn't start as a professional footballer, I started as a student. Even being a professional footballer, I wasn't too sure about it, what I wanted was a better future for myself and then having a strong educational background so that after college and everything I might be wearing a suit in an office. Then football came along the way, I believe that with anything that you do you have to work really, really hard to really achieve what you want to achieve.