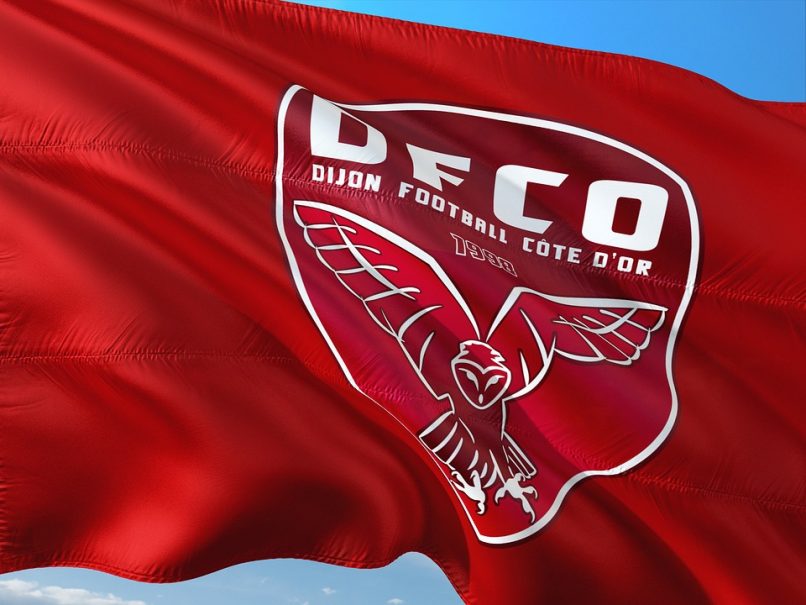 FEATURE | Dijon FCO – living & dying by prioritising attacking verve
Record-breaking, unpredictable, and endlessly entertaining, the last two years have been simply extraordinary for Dijon Football Côte-d'Or. Since September of 2016 Les Moutardes have set successive club records for highest Ligue 1 finish, improving from 16th in 2017 to 11th in 2018.
Dijon manager Olivier Dall'Oglio has been instrumental in this significant growth, bringing stability and fearlessness to the eastern city since his appointment in 2012. The 54-year-old's aggressive, attacking style has delivered numerous goal-ridden spectacles, and has given his team a positive platform to improve upon.
The start to this Ligue 1 season has seen Dall'Oglio and his men continue this strong form, showing that they have only gone from strength to strength. Les Moutardes are currently flying high in fifth place, powered once again by a prolific attack that has already found the back of the net nine times in five matches.
Often the start to a league season fails to paint an accurate picture of a team's true characteristics – both strengths and weaknesses. New signings, tactical adjustments, and the general chaos and excitement a new campaign brings can easily misrepresent a manager and his squad. That being said, Dijon's first five matches have actually done a more than adequate job in capturing the side's qualities.
Dall'Oglio hangs his hat on the aforementioned offence, which is truly the driving force for the Frenchman's side. The attack, a front four deriving from the 54-year-old's 4-2-3-1 set-up, is tasked with pushing far up the pitch and sharing the ball. Striker Júlio Tavares is the clear frontman, but the service provided to him by Naïm Sliti, Kwon Chang-Hoon, and Wesley Saïd is what makes the Cape Verdean such a dangerous centre-forward.
26-year-old Sliti is the most talented of the four due in part to his qualities in the final third. Club president Olivier Delcourt described the Tunisian attacker to his club's website after signing him in 2017, declaring, "he's going to bring attacking creativity. He's comfortable keeping the ball, and using it, especially in the quality of his final ball. He has an intelligence in his movement and a real technical quality."
While Les Moutardes boast a strong front four, perhaps the success that they have seen through implementing an attacking style of play stems more so from their sheer desire to do so than their actual individual talent. In an interview with Le Temps this August, Dall'Oglio spoke to a number of subjects, including this offensive mentality and the attraction of it. "Firstly, I consider football to be a spectacle," the head coach explained, "Next, we are Dijon, not PSG; the title isn't for us and European competition is very far away as well. However, we have to make people want to come to the stadium. Dijon is not a football city; here, there's more of a tradition of indoor sports. We have to try to interest people…The spectacle is part of our DNA."
Despite their open and attacking tendencies, Dijon has not exclusively committed themselves to such an approach. Dall'Oglio has shown clear pragmatism in declaring that playing more direct when necessary is not "forbidden." The French manager has been true to his word, as in the second game of the season his team was more than happy to give up the possession battle to a patient Nantes. Instead, Dijon focused on attacking set pieces and quick counter-attacks to best the unsuspecting Canaries 2-0.
Dijon's desire to provide spectacles has been fruitful for players and fans alike, but this attacking approach has often left the team without any real defensive solidity. Les Moutardes conceded the second most goals in league play last season, something that their manager was not at all pleased with. "We need to let in fewer goals, and I paid particular interest to this aspect at the beginning of training. Last year, we finished with the second-worst defence in the league. Normally, you're regulated with that same statistic," Dall'Oglio denounced in his summer Le Temps interview.
It would be premature to attempt to surmise anything from the six goals Dijon have conceded thus far, a figure that sits right in the middle for defences in Ligue 1. However, the new first team players offer a bit of promise for a typically leaky backline. Young centre-back Nayef Aguerd had a promising debut against Nice, and 22-year-old keeper Rúnar Alex Rúnarson looks to be a solid replacement for the consistent Baptiste Reynet. Elsewhere, the introduction of 17-year-old defensive midfielder Enzo Loidice has provided some protection for the occasionally problematic Dijon centre-backs.
The last two years have made it clear that Les Moutardes live and die by their attack. Their strong start to this Ligue 1 campaign can be attributed to the nine goals scored by the prolific forwards, but the promising developments shown in the defensive department must be credited as well, despite a set-back vs. Angers at the weekend. If Dall'Oglio can continue to improve his team's backline and commitment to team defence, then Dijon could very well break their record for highest Ligue 1 finish for a third successive year.