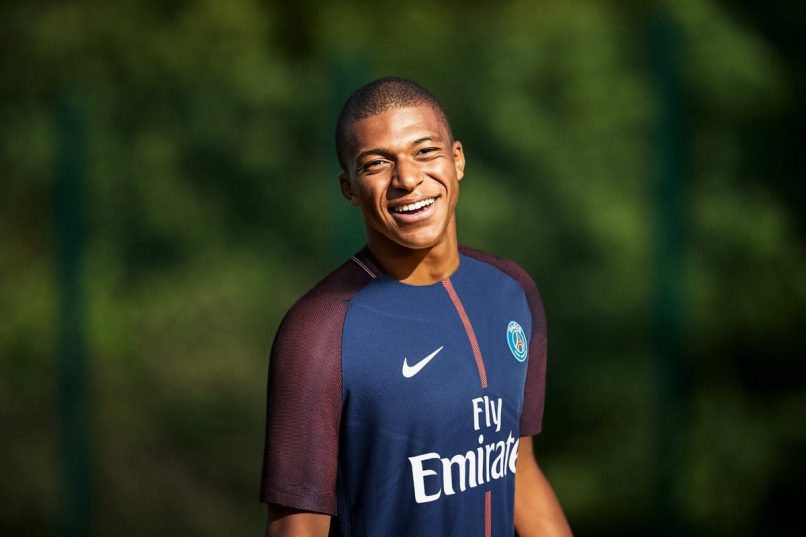 FEATURE | Does Kylian Mbappé need to defend more?
It didn't strike me on Wednesday evening against Napoli but rather against Germany whilst he was on international duty; Mbappé does very little defensive work, ever since winning the World Cup. In the League of Nations encounter against the 2014 World Cup winners, I was quite surprised to see that Mbappé didn't look that bothered by tracking back but was more interested in pouncing on the odd loose ball whilst in front of the opposition's left-back, using his pace to be more dangerous efficiently. Thankfully, Germany didn't attack much down the left in the first half and didn't come forward at all in the second so the ex-Monaco man's performance was deemed ok by most.
It was completely different this week though. Tuchel lined up with a 4-2-3-1 formation which implied both wingers (Mbappé on the right, Di Maria on the left) doing defensive work on Napoli's full-backs Mario Rui and Maksimovic. As it turned out, neither of them did that. Mbappé was playing not only higher up than Mario Rui but also in a more central position close to Cavani, while the Argentine was almost a 3rd holding midfielder such was his heat map in the first half. PSG were effectively playing a 4-3-3 with no wingers!
Obviously, this imbalance helped Napoli to have free space down the wings which forced unwanted press work by central midfielders Rabiot and Verratti which freed up space in the centre of the pitch. I'd like to add at this point that this abysmal tactical organisation from Tuchel was coming up a simple and route one 4-4-2 by Ancelotti for Napoli, the Italian could have used a more evolved formation to win the game but he probably knew that he didn't have to.
In the second half, Tuchel made the necessary adjustments by replacing the embarrassing Bernat by Kehrer which changed the formation to 3-5-2 (I read 3-4-3 or 3-4-2-1 in most news outlets but Neymar's positioning after the interval wasn't quite clear to me). Props to the German for making things right from a tactical point of view at least but Ancelotti saw the threat straight away and took off a forward (Insigne) for a hard-working midfielder (Zielinski) which restored Napoli's tactical superiority in midfield (and so all over the pitch).
Still, Tuchel showed that he can play different formations in a game and change systems fairly quickly (Blanc certainly took much longer in this regard when PSG bowed out to Manchester City in the 2015/16 season), which gets him off the hook in my book, as his initial shape was uninspiring and the players weren't doing the job they were supposed to do (well, two of them weren't which threw the whole side's balance off).
Still the question needs to be asked: should Mbappé defend? It's a massive decision to take by Tuchel as it could well shape Mbappé's career and his future for France (and should have a massive impact for a number of players called up by Deschamps in the coming years). We saw that he was more comfortable playing higher up and leaving the wing chores to Meunier (the Belgian is more than capable of making this position his own but does he have an understudy in Alves?) and focusing on the attacking side of things.
PSG didn't worry Ospina all that much in the second half but at least the balance was there and the players seemed to be working more as a unit (in all honesty, it was hard to do worse than the first half performance). It's almost a shame that PSG scored the way they did, as the equaliser coming through pressing, quick passes, sharp changes of play would probably have done the players more good than the (very) fortunate own goal they won.
On Wednesday, Tuchel learned things the hard way. The gap between a good team, unafraid of PSG and a Ligue 1 side is vast and those 10 wins out of 10 games don't make them unbeatable when the going gets tough. PSG need more discipline, more hard-work, more unity and, most importantly, to score the right goals at the right time.
It is this column's opinion that switching to a 3-5-2/3-4-3 formation would suit Mbappé's skills and also make him evolve as a player which would be very beneficial to PSG. Moreover, the club need to manage the young man's expectations. He may be a contender for the Ballon d'Or, but Mbappé has only played in two tactical systems in his career, which were 4-4-2 at Monaco and 4-3-3. Playing a totally different formation with a back 3 would suit his appetite for tactical acumen and will certainly aid his career.
It is also important that PSG challenges Mbappé too. He knows that the league and the domestic cups are won but another couple of Champions' League upsets will probably take its toll on the kid from Bondy, who will try his luck at another club (he'd be right to do so, can anyone see him playing for the same club till the very end of his career?).
Finally, after the lacklustre performance at Anfield and the aborted disaster against Napoli, PSG need to respond with at least one win in the two return fixtures against the current top 2 of Group C. Tuchel needs to try something new otherwise a Europa League spot beckons. The German may even already be on borrowed time…
Either force Mbappé into rediscovering an appetite to defend, or change shape.