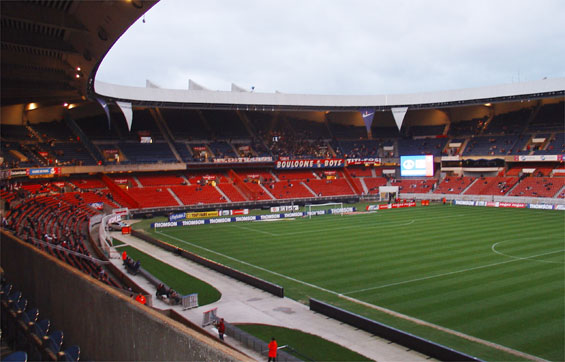 FEATURE | Liverpool 3-2 PSG – why the French champions could do with taking lessons from the club's fans
It's beginning to sound a little bit like a broken record; you can predict the headlines before they've gone to print. It's sometimes tedious but somewhat unsurprising.
Just like that feeling inside of you, as the fourth official held up his board on 90 minutes to signal 3 minutes of added time. I stood with my friend who made the trip from Paris, in the magnificent away supporters' section at Anfield and as Kylian Mbappé was dispossessed 30 yards from his own goal, I leaned in towards him and said "They (Liverpool) will score". And indeed, they did, because that's how foreseeable it has become. But the reality still hits you like it did in the Camp Nou, the Santiago Bernabeu and the Etihad Stadium. I slumped to my seat, head in my hands; it's happened again.
Then out of nowhere and rising above the screams of 50,000 euphoric Liverpool fans a loud chorus of "Allez Paris, Allez Paris SG" rang out from the Anfield Road end of the stadium. I glanced up from the depths of my seat and 2,500 PSG fans were on their feet still in party mood screaming their undying love for their club without any showing of dejection. Incroyable! I've since seen the footage on social media and on television but to be standing among this pack of fervent Parisians is an experience.
It's like a marriage but with a far greater commitment; an everlasting devotion, a passion to the very end. Every fan in rouge et bleu sang in unison for the entire game. They were applauded at full time by a section of captivated and awe-struck Liverpool supporters in the main stand for the unwavering support, noise and vibrance created inside Anfield on Tuesday night.
If this PSG team that work and train together every day could unearth a fraction of the level of cohesion matched by 2,500 Parisian fans, strangers to one another but who seamlessly unite for their club on match day, maybe that would be half of this constantly frustrating battle won?
At no point from the time of Kylian Mbappé's equaliser in the 83rd minute was there ever a feeling that PSG would take anything from the game. That is because history will tell you that it won't happen. Frustratingly, PSG are still unable to manage crucial periods in big games away from home in Europe the same way Juventus, Real Madrid or Bayern Munich can.
A point at Anfield for PSG would have been a robbery under the Merseyside night skies, but nevertheless, the seven-time French Champions would have taken it the same way Arsenal stole a point from at the Parc des Princes on Matchday 1 in 2016/17. If truth be told, PSG got what they deserved from the game, nothing. The performance was languid, lazy and disjointed. The level of ball retention was concerning particularly in midfield areas against a team that play a high pressing game.
It felt like Tuchel's men either didn't do their homework or didn't execute their game plan with any competency. The midfield was and is an ongoing problem and Marco Verratti's absence through suspension was hugely evident, more so in attacking transitions where final balls were either misplaced or too slow.
The Italian's omission was apparent within the opening five minutes of the game as Kylian Mbappé and Edinson Cavani both looked isolated and were devoid of any service. Neymar received the ball in deep central areas, made some promising runs but lacked any real end product and took too long to release the ball. Edinson Cavani whose movement was exemplary as always, found himself in some excellent one on one positions. Unfortunately for the Uruguayan, he was devoid of service all evening and rightly displayed his frustration to his teammates and Neymar in particular.
The lack of chemistry between PSG's front three in big games is still a problem. It's enticing to see the trio effortlessly work in tandem to assist each other to fire three goals past Angers and four past Nîmes. But until they start to execute this on the big stage rather than using it as a platform to showcase their individual talent, the big away win in Europe that the club need to make a statement, will continue to elude them.
As disappointing as Tuesday night was, it was encouraging to see the team show character to fight back from two goals down to draw level in a big game away from home. That will be scant consolation for PSG who find themselves propping up Group C.
What did we learn from Tuesday's defeat? The answer; nothing that we didn't know already. There are problems with unity and cohesion on the pitch and reportedly in the changing room as claims suggest that there are several language-based cliques within the squad. The media will have plenty to say, as is always the case with PSG, however the defeat at Anfield is more of a disappointment than a defining one. With five group games to go and 15 points to play for, perspective is needed. Now is the time for Thomas Tuchel and his staff begin to address the all too evident discrepancies in the team, even if that means making bold decisions and upsetting one or two ego's as much as building on the positives so far this season.
It was no surprise that PSG looked better after the introduction of Julian Draxler with ten minutes to go. A player that delivers simple and effective football which is something that PSG lack at times. A selfless talent that comprises the right pass at the right time and who the isolated and frustrated Edinson Cavani sorely misses.
Although Alphonse Areola's form continues to impress and could be at no fault for any of Liverpool's three goals, it cannot be underestimated what influence the suspended Gianluigi Buffon could have made when the game was poised at 2-2. His invaluable leadership, calmness and experience, which is in short supply within the team could have been invaluable in the closing stages when game management was crucial.
Players such as captain Thiago Silva, Edinson Cavani and Adrien Rabiot have been vocal in the past about what PSG could achieve if they played as a collective. Thomas Tuchel will need time to address the same issues that Unai Emery could not solve. The early signs do point to the players slowly buying into his ethos, but the deeper issue is imbedded in the squad and is something that has been unable to subside.
The signings of Mbappé and Neymar and the ongoing UEFA investigation into Financial Fair Play are still clearly influencing the clubs moves to strengthen key areas and this is evident by summer signings (Thilo Kehrer, Juan Bernat and Eric Maxim Chupo-Moting) and the imbalance within the team, particularly in midfield, where the search for an inexpensive 'number 6' continues. Concerns also continue in the full back positions which have been neglected for too long and at the cost of strengthening attacking areas. And it's from these weakened positions where PSG are being punished in Europe.
Despite the huge investment made in the team over the last 2 years, PSG look further away from winning the Champions League than they did under Laurent Blanc. Notwithstanding an array of individual talent there are currently too many positional deficiencies and mental stumbling blocks in the way of this team gelling into the cohesive unit to win Europe's biggest prize.
They say, "it's not how you start, it's how you finish" and look no further than Real Madrid's Champions League campaign last season for proof of that. This season's competition is wide open with no overwhelming favourite, which makes for exciting viewing. Without getting carried away with doom and gloom at this early stage, PSG could still achieve some success in this season's Champions' League even though no club has won the competition (in the current format) after losing their opening game.
Should PSG fall short of expectations once again in Europe and with FFP investigations ongoing, next summer could bring about some big changes in terms of player sales and re-investment and at this stage, that might just be the tonic needed to break the stagnation of the project.