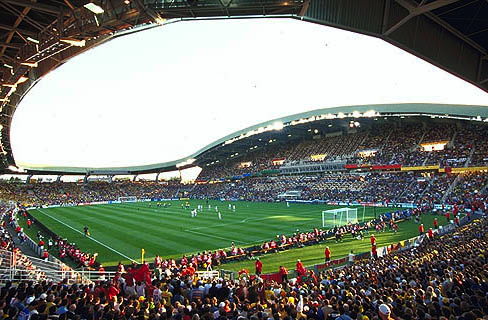 FEATURE | Nantes defender Matt Miazga in height mocking storm, an embarrassment for US soccer
Unfortunately, I was unable to watch the United States friendly match against fierce rivals Mexico last night. A win against Mexico is always something to celebrate, even if it came against a 10-men side for the last 30+ minutes. 19-year-old Tyler Adams did well to slot home and bag first international goal to secure the victory. Despite the fact the US Soccer Federation has still not hired a head coach following the disastrous absence from the World Cup, one play in particular from last night's, match has seemed to take the spotlight.
In the 65th minute, after a battle for the ball, central defender Matt Miazga mocked Diego Lainez for his height. For reference, Miazga is 6'4" while Lainez is 5'6". Nonetheless, the incident went viral on Twitter with many American fans celebrating the move in the midst of the rivalry.
As I've seen many varying reactions online, I figured I'd share my own thoughts.
Personally, I found Miazga's actions, along with the reactions to it, to be embarrassing for US Soccer. Yes, I understand that it was in the heat of an intense rivalry against Mexico, but it made Miazga look like the small man. I don't see how making fun of someone's height in the world's beautiful game can be viewed as a triumphant move. Arguably the greatest player to ever grace the pitch, Lionel Messi, is roughly the same height as Lainez so I don't see the rational behind such an action.
More significant to me, was the reaction online. A vast majority of the reactions just seemed to enforce the American viewpoint of soccer being a sport that needs to be dominated physically with tall, strong players. For as long as this persists, this country will continue to struggle to produce top-class, technically gifted players. The best American player right now, Christian Pulisic, is 5'8" and unsurprisingly went to Europe in order to improve his game and become the great player that he is today.
Do you fancy a flutter on this week's Champions' League action? Check out these football betting tips.
You even had US Soccer celebrating the Miazga's reactions on their official Twitter account.
Besides this being a poor taste of sportsmanship, the fact the federation endorses the action says enough.
My reason for taking this stance is because I want to see the sport actually improve in this country but it won't happen until we shake this mentality of placing physicality over technical attributes. Makes you wonder if we've already had generational talents slip through the cracks in the US Soccer setup.
Again, I understand the emotions that play into a rivalry, but there's a bigger theme at play here. The mentality coming down from the top of US Soccer will never help our national team reach the top of world football. The USMNT is also less than a year removed from their disgraceful absence at the World Cup while Mexico defeated the defending champions Germany and went toe to toe with Brazil in the Round of 16. So maybe not the ideal time to be mocking Mexican players, Miazga.
Credit to Lainez who responded well in his post-match comments:
"I wasn't offended by Miazga. It's football. Football players are different sizes and have different skill sets."
US Soccer needs to develop more players with Lainez's skill set, not mock them, which will remain hard to develop under the certain circumstances and mindset within the federation.