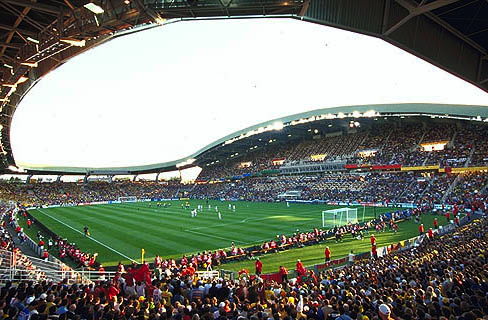 FEATURE | Nantes have sacked another manager in Miguel Cardoso – was it the right call?
Eight games into their share adventure, FC Nantes and Portuguese technician Miguel Cardoso decided to "part ways" on Tuesday by mutual agreement. Cardoso and his players only managed to win 1 game out of 8 this season, against Strasbourg in Ligue 1.
Cardoso had the difficult task of replacing the well-known Claudio Ranieri this summer, coming from Rio Ave to head up the Canaries for this 2018-19 season. When Waldemar Kita appointed Cardoso, the club president was full of hope for what the new man could bring to the team.
Cardoso quickly gained the club's trust for the summer transfer window. Nantes have brought in several established players in the form of Fabio (Middlesbrough), Lucas Evangelista (Udinese), Gabriel Boschilia (AS Monaco), Anthony Limbombe (Club Brugge) and Majeed Waris (FC Porto). These signings sent all the right messages to their fans – a wealth of new attacking talent brought in to make them forget of Claudio Ranieri's generally defensive outlook. A marked difference from last season was immediately apparent, with sharp, refined attacking play on display in Cardoso's opening fixture vs. AS Monaco.
Being positive, attacking and retaining possession were key aspects of Cardoso's tactics and the statistics prove that the latter facet of his game-plan came to fruition, with an average 56,8% of possession over the last 8 games, only PSG have done better with 61%. Pass completion rates were also impressive under the Portuguese at the passing it is a 81,3% rate which sees them currently sit 5th in this regard behind PSG, Lyon, Nice and Marseille.
Despite the impressive stats, Nantes amassed only 6 points in 8 games and are languishing in 19th place in the relegation zone with only one win and one clean sheet. In that timeframe only 6 goals were scored, conceded more than double that amount (13). The board's growing frustration did not go unnoticed as Kita publicly criticised Cardoso's decisions in front of the media after a recent defeat against Lille, 2-1. Kita was particularly disappointed about the lack of his expensive new signings in the line-up with Boschilia and Limbombe on the bench.
Therefore, both Cardoso's decisions and on-pitch results did not meet the board's expectations. Cardoso's future was already sealed after the defeat 2-1 against Nice at the middle of last week, which ultimately marked his downfall. The Portuguese technician prepared the next match with his suitcases ready. His departure was announced shortly after the 1-1 draw against Lyon despite a very good performance by Cardoso's men.
This move has shown once again the highly fractious nature of the relationship between the club's board and its fans. Often jokingly referred to as FC Kita, Nantes are a perfect example of a club where its own fans do not recognise themselves reflected in the values of their club, their institution. The team's situation has rarely been stable since the arrival of Kita.
Nantes played home to 13 different managers in the 11-year spell that the businessman has headed up the club, including the hiring of five different managers in the last three years since the departure of Michel Der Zakarian, the Kita regime's longest-serving coach, who stayed four seasons with the Canaries from 2012 to 2016, but who left in tempestuous circumstances, with Kita instructing that Nantes' PA system should drown out der Zakarian's farewell speech.
This is largely why Nantes ultras often sing and deploy banners asking the president to leave. Nantes' board is often criticised for its lack of patience and trust for managers which has once again been proven by sacking Cardoso this early.
FC Nantes fans made their voice heard on social media following the official announcement of Cardoso's departure. Despite a disappointing 19th position, the majority of fans have expressed their regrets regarding the club's decision to sack Cardoso, arguing that the new system and style of play was starting to work well as seen against Lyon but also that Nantes, 19th, are only 4 points behind Caen, 10th. Supporters clearly wish that the board would have given the Portuguese manager more time to settle.
Nantes have since announced the hire of Bosnian manager and former Les Canaris player Vahid Halilhodzic as Cardoso's replacement. He has signed a contract until 2020, the same year until which Miguel Cardoso signed his contract for, the same year until Claudio Ranieri signed his contract for and the same year until Sergio Conceição signed his contract for. You see where I am going.
The 66-year-old previously coached in France with PSG and Lille and recently Japan before getting sacked 2 months before the World Cup. He is known for his defensive philosophy which is the opposite of Cardoso's approach. Halilhodzic has a victorious past with Nantes. He is known as one of the best strikers in club history, scoring 111 goals in 192 games. He also won the league with the club in 1983. It is fair to say that Nantes fans already adore him. But the question is, how long until Kita gets bored?