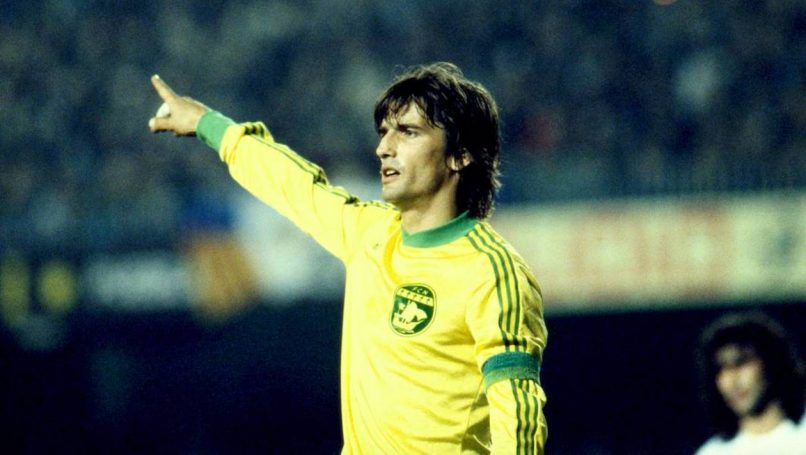 FEATURE | RIP Henri Michel – the player, the manager, the legacy
On Tuesday April 24th, French football lost one of its most charismatic and jovial legionnaires. He may not have oozed charisma in front of the press but Henri Michel was THE man to share a laugh with, the more you read players' obituaries and testimonies.
The player
It may surprise most, but Henri Michel was a southerner. Born in October 1947 at Aix-en-Provence, near Marseille (the place where he has been buried this week), Michel only spent 2 years and played 38 games at his home club AS Aix. In 1966, he joined FC Nantes where he became notorious for his distribution and established himself a very intelligent player off the ball. A former teammate of his, Olivier Rouyer, said this week that Michel was quite slow, but would instinctively execute the right action with the ball at his feet.
When Michel arrived in the Loire-Atlantique, Nantes had just won back-to-back league titles and were starting the famous jeu à la Nantaise (a game based on passing and movement). However, the end of the 60s and the 70s (Michel was a Nantes player from 1966 to 1982) was completely dominated by St Étienne who won 4 titles in a row between 1967 and 1970 and another 3 on the bounce in 1974, 1975 and 1976. In those days, the French league was dishing out bonus points to teams that achieve wins by 3 goals or more, so Michel's conservative ball-keeping midfielder abilities are not as highly regarded as they could be today. Still, Nantes managed two other titles in 1977 and 1980 and a French Cup in 1979.
Michel's performances for his club earned him call-ups to the national team on 58 occasions, during which time he managed 4 goals.
His aura and joie de vivre was duly noted by everyone around him (a tendency to party long into the night after games, according to one former teammate) and his future quite clearly laid in the tactics and analysis side of the game from the dug-out.
The manager
His hyper-analytical eye was first noted when he received a call from then major broadcaster TF1 to work as pundit during the 1982 World Cup (a rather successful campaign for France, who lost on penalties to West Germany in the semi-finals). The FA gave him the reins of the French Olympic team just after that campaign and he does brilliantly, winning the 1984 Los Angeles Olympics and beating Brazil in the final.
Meanwhile, the senior side is busy winning its first ever major tournament at the Euros, led by Michel Hidalgo. Just like Aimé Jacquet in 1998, Hidalgo retires straight after winning the trophy and his successor is quite naturally Michel.
The former Nantes player continued the good work he started with the Olympic side, leading France to the 1986 World Cup in Mexico. France breeze through the group stage, finishing second to the USSR only on goal difference and beating Italy 2-0 in the 1st KO stage. The big game was of course the quarter-final against Brazil won on penalties (1-1, 4-3 on pens to Les Bleus). To this day, it is still regarded by many experts as one of the World Cup's greatest ever matches. Sadly, France then lost to West Germany in the semi-finals. Again!
Of course, Michel stayed on, but his tenure goes rather downhill from here. France fail to qualify for Euro 1988 (a bitter disappointment as they are the defending champions after all), due partly to the retirement of a few key players of Mexico 86 (Bossis, Giresse and Rocheteau straight after the World Cup and Platini in 1987).
Still, the French FA stick their guns and keep Michel on, but a calamitous 1-1 draw against Cyprus straight after the tournament gets Michel the axe. In truth, a lot of people wanted him out and Platini to manage the squad straight after the Juventus maestro retired, a typically French manoeuvre to find a scapegoat and point fingers, fingers pointed at Michel. The FA just needed a good excuse to get rid of him, and the Cyprus game was the decisive blow.
Michel then went on to manage PSG in the 1990/91 season in a rather forgettable campaign (PSG finished 9th) and would never return to management in his home country. It was in Africa that he would spend the rest of his career, managing no fewer than 6 national teams on the continent (Cameroon, Morocco, Tunisia, Ivory Coast, Equatorial Guinea and Kenya).
The less said about his spell as Cameroon coach, the better. The FA was blighted by corruption and internal disputes, which boiled over onto the pitch. The 1994 World Cup was a veritable disaster, with Cameroon managing only a solitary point, with a 1-6 thrashing at the hands of Russia particularly hard to swallow for Michel.
His finest hour as a coach came immediately after his foray with Cameroon though. He took the reins at Morocco and transformed the youth set-up, qualifying them for the 1998 World Cup in France. In Michel's home country, Morocco put on a good show. They draw 2-2 versus Norway on the opening day but are logically beaten by Brazil 0-3 in their second game, played in Nantes (where Michel spent so many years). The third and final fixture saw Michel's charges emphatically win 3-0 over Scotland and Morocco believed they had a foot in the 1st knock-out round.
However, Norway's last gasp goal against Brazil ensured that it was the Scandinavians that go through to meet Italy and not Morocco. Still, the campaign was a triumph for Michel and his influence in Morocco did not stop there: he won the African Champions' League in 2003 and the league in 2004 with the country's biggest club, Raja Casablanca.
Michel's other stints across his journeyed career include coaching countries like the UAE, Tunisia, Ivory Coast (he qualified Les Elephants for the World Cup 2006 in Germany where they were drawn in a ridiculously tough group with Argentina and Holland; narrowly losing to both 1-2) and clubs such as Aris Saloniki (Greece), Mamelodi Sundowns (South Africa) and Zamalek (Egypt).
The legacy
It does not matter which former team-mate of Michel's that you talk to, each and every one of them was deeply shocked when they heard the sad news. Henri Michel was a kind and merry character that made other people smile. Former teammates and players he managed were sometimes surprised at how simple the man was. His managerial career was littered with a number of success and failures, but the general common denominator throughout was the jovial atmosphere in his dressing rooms, be it with France back in 1986 or with Morocco in 1998.
It is unclear which country is more saddened by the news of his passing. The reaction in Morocco has been very moving, with many former players depicting him as the "daddy" of a golden generation.