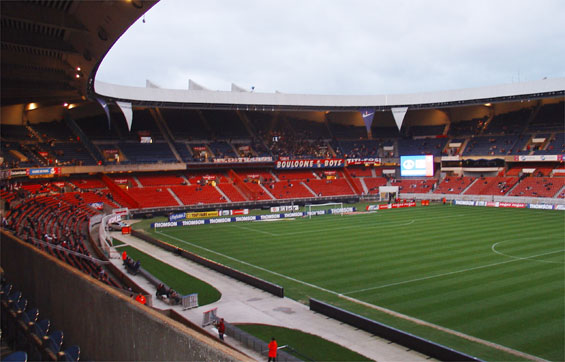 FEATURE | Why Stanley N'Soki can represent a new phase of QSI's ownership of PSG
Paris Saint-Germain are a club harbouring a series of ingrained issues, central amongst them is an impulsive and top heavy recruitment policy. Over the course of the QSI era a transfer ethos based around assembling a group of celebrity forwards, rather than developing a group with the medium to longer term in mind has been pivotal in their lack of progress in European competition as less headline grabbing positions are neglected. However, with the continued FFP squeeze and the more holistic influence of Thomas Tuchel, the conditions might finally be right for Paris to develop a talented pool of youngsters – 19-year-old defender Stanley N'Soki leading the charge.
Throughout the QSI era, prospects such as N'Soki have been jarringly absent. As PSG's options in the final third become ever-congested, the rest of the squad has been patched up with comparatively stop-gap measures or risky additions. Rather than focusing on promising young players, of which PSG have in abundance, in a league set up to aid youth development, Paris have, with FFP biting, bizarrely patched up their deficiencies with cut price players such as Kevin Trapp, Yuri Berchiche, Lassana Diarra and Benjamin Stambouli.
With Thiago Motta injured, his extended stay well past his best another consequence of this policy, and few other options for the Champions League last 16 first leg trip to the Bernabeu last season, Unai Emery was forced to use the ill-suited Giovanni Lo Celso out of position at the base of his midfield. Julian Draxler, Angel Di Maria and Javier Pastore meanwhile, €130m worth of attacking talent unable to get into the team, sat on the bench.
While Paris have skirted the transfer market spotlight this window, the club have started to make some crucial changes – of which Nsoki's burgeoning presence is indiviactive. With his PSG reign in its infancy, Tuchel explained that "if the transfer window closed today I would be happy. There are many good players, it's not like I came here with demands. I need to get to know the players, who they are. If we discover we need to bring in another player, we will do it. Sometimes you have to let young people develop." Although unfortunately not solely the manager's decision, this would represent a drastic change to the perpetual quasi-galaction policy of previous eras.
However, Tuchel has instigated quiet evolution at PSG. A baggy squad has been neatly trimmed down with Motta, Pastore, Berchiche, Hatem Ben Arfa and Grzegorz Krychowiak all departing; their spots for now taken by a vibrant younger generation. With more established names returning late from the World Cup, French forward Moussa Diaby, Antoine Bernede in midfield, right back Colin Dagba and Nsoki, all 19, featured in both the Trophée des Champions rout of Monaco and the opening day Ligue 1 defeat of Caen. Striker Timothy, son of George, Weah, just 18, scored in both.
While all have impressed to varying degrees, it was Nsoki who has stood out. More accustomed to a centre back role, Tuchel has shifted the Poissy (just west of central Paris) native to both left back and left wing back during preseason – a likely eventual move to 3-4-3 could make Nsoki ever more useful as a central defender. N'Soki's muscular physique and strength have been well suited to marauding up and and down the left flank, as Andrea Raggi discovered in the Trophée des Champions.
Although his energy and power have been prominent, N'Soki's ability on the ball and assuredness in possession are his standout qualities. With Marquinhos injured during the previous league visit of Caen back in December, the young Frenchman was unexpectedly thrown in for his senior debut alongside Thiago Silva for the final half an hour at the Parc des Princes. Where others may have been nervous, N'Soki spent the rest of the game calmly trying to play his way out of any trouble and confidently picking passes.
Tuchel has admitted that N'Soki is not naturally a left-back but his displays in that role this season suggest otherwise. Arguably PSG's best premier performer in the win over Monaco, two of four Parisien goals came via N'Soki assists as he relentlessly pushed forward, both being crosses for fellow rising stars Weah and close friend Christopher Nkunku.
On field confidence is mirrored off it as, still only signed to a youth contract at PSG, N'Soki has repeatedly refused to sign a professional deal in Paris as he has little interest in being 5th choice centre back. As a result, with just one year left on his current deal, other offers have been forthcoming this summer. Newcastle lodged a bid worth in excess of €10m but that was rebuffed by N'Soki who felt that, while he would like to move to the Premier League in the future, the offer had come too soon and wants to move once he has acquired more experience and is more mature as a player.
Despite sporting director Antero Henrique supposedly offering little more than an initial role in the B team, who play in the French fourth tier, and minimal first team experiences once Tuchel has his whole squad available to him, Les Parisiens are still hopeful of changing Nsoki's bullish attitude after reported further talks with Arsenal, Marseille, Juventus and clubs from Spain. "The pressure on the player and his family is very strong," explained one of his entourage in L'Équipe. "But how can we hope to have a young man signed by only offering him a fourth division sports project, with no other alternative?" PSG would be the player's preferred location, should what he sees as a worthwhile opportunity present itself.
However, as it stands, that chance may be some way off. After praising his young newcomers, Tuchel explained that "it would not be fair to tell all the kids that now they can play with us. I will always be there to encourage them. But the challenge is great to play for PSG." Although, encouragingly for Nsoki, the German added: "You have to protect them, there will be harder periods. We must have a core of 16 top players and young people can progress with them," but whether that would represent the type of opportunity the teenage defender is after remains to be seen.
With the transfer window closing, it would be natural for the PSG hierarchy to seek a new, if uninspiring, left-back to play understudy to Layvin Kurzawa but in Stanley Nsoki, they may have the long term replacement for former full back Maxwell, or even Thiago Silva, they have long needed. All it might take to keep him is changing long ingrained bad habits and the placing of faith in a vibrant generation of youngsters, of which Stanley N'Soki is at the fore. If PSG hold fast, this time next year N'Soki will be a free agent and other clubs won't hesitate in giving this talented defender what he wants.