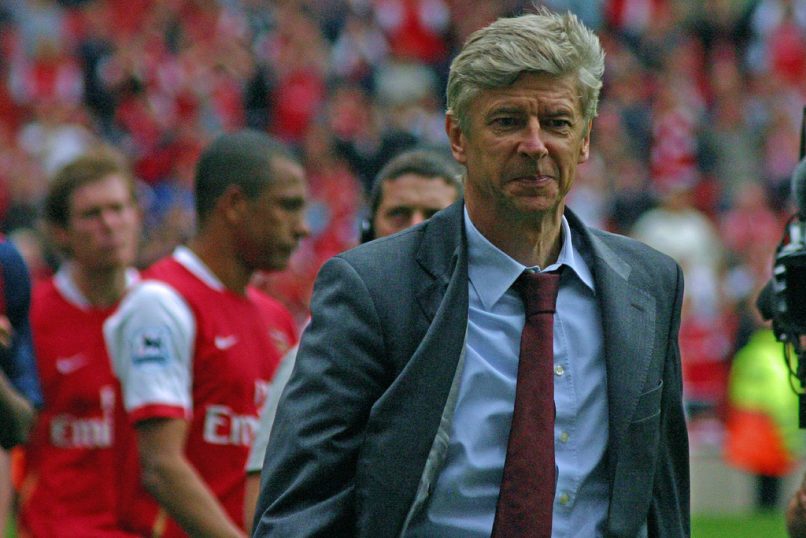 OPINION | How history will judge Arsène Wenger & what he meant to me
As the news broke on Friday morning that the great Arsenal coach would be leaving his role at the end of the season, I felt a strange mixture of relief and sadness. Relief that a man who has been subjected to increasing indignity and abuse (from the ridiculous sight of planes being flown over the Emirates with "Wenger Out" banners to all of the sub-human attention-seeker Piers Morgan's output of recent years) might now have some peace. Sadness that one of the greatest ever managerial eras was coming to an end.
I should make clear at this point that I am not an Arsenal fan. But I do carry a very soft spot for them – and that is almost entirely down to Wenger (and his early Buy French policy). I can even claim a Six Degrees of Kevin Bacon-style connection to him (my aunt's first cousin went to school with him and their parents had a school run rota together). Wenger also is one of the few remaining people in football that enables me to keep a connection to my dad, who introduced me to football.
He sadly passed away 19 years ago. So I can confirm from bitter experience just how long a period that is. It seems surreal that Arsenal's coach when he died is still Arsenal's coach today. In fact, by the time my dad passed, Wenger already had been Arsenal manager longer than 15 of the Premier League's current coaches have been in their position.
If you want a less personal way to measure just how long he's been in situ, here are some examples: when he took over from Bruce Rioch, Tony Blair had not yet won a General Election. Pete Sampras had only three Wimbledon titles and Roger Federer had not yet turned pro. The Spice Girls' Wannabe had only just been knocked off the Number 1 spot. Smartphones didn't yet exist. In fact the internet had only just been commercialised in the US.
It wasn't just technology (and musical taste) that were simply not advanced. English football, despite beginning to see the benefits of the post-Italia 90 and relatively young Premier League era, was still quite "old school", with Arsenal arguably the poster boys, their reputation for drinking having arguably overtaken their footballing renown.
When Wenger was appointed, the absence of Google to look up his managerial record, allied to the still-prevalent xenophobia in the English game, caused great distrust. Tabloids exclaimed "Arsène Who?" Alex Ferguson scoffed at a manager coming from Japan. Tony Adams was reportedly disgusted at the prospect of being coached by a Frenchman.
Within a season and a half, Wenger had won the Double, the league secured with a 4-0 mauling of Everton; Tony Adams' famous goal, as he found himself far upfield, breaking the offside trap and powering home, arguably the perfect encapsulation of the team's transformation.
The changes that Wenger brought in seem obvious now but at the time appeared revolutionary: limiting the amount of alcohol the players drank, encouraging them to eat vegetables, introducing stretching before matches and massages after, buying foreign players, blooding younger players in the League Cup. Imitation is the sincerest form of flattery, and Wenger's struggles of recent years are greatly down to the fact that others have simply taken his lead and run with it.
One aspect that not everyone has been able to copy – and which some, including notable Wenger nemeses Allardyce and of course Mourinho – have actively railed against – is the attacking football that Wenger espoused.
Encouraged to express themselves, his players played with speed, skill and imagination, displaying some of the best football ever played at their very best. Given this freedom, Arsenal are responsible for some of the Premier League's truly iconic goals: Bergkamp's outrageous spin vs Newcastle, Pires' chip of Aston Villa's Schmeichel, Henry's – well, take your pick: the back-heel vs Charlton? The length-of-the-pitch run vs Spurs? The mazy run vs Liverpool (which included the cherry-on-top of Gerrard and Carragher running into each other)?
As attack-minded as the football was, it was made possible thanks to the foundations of a strong defence. While he was fortunate to inherit one of England's great defences, he prolonged and improved the careers of Dixon, Keown, Adams and Winterburn. He also built a strong defence of his own, with Lauren, Campbell and Ashley Cole among others winning titles under him.
In order to play in this exciting, offensive way, Wenger of course needed the personnel. And while, perhaps Cesc Fabregas aside, few have gone on to greatness having begun their careers at Arsenal, the number of players who rose to the very top and improved immeasurably under him are numerous. Petit (who had already benefited from Wenger at Monaco), Vieira, Henry, Pires are the obvious examples. Even Bergkamp's game improved under the man whom George Weah credits with making him the World Footballer of the Year.
Forming a great partnership with David Dein, Wenger built Arsenal into one of the two great clubs of the Premier League era, the bad blood between he and Ferguson, Vieira and Keane, Arsenal and United, a sign of the (at the time concealed) respect that they had for each other, as they pushed each other to greater heights. Ferguson was the more successful manager – but Wenger will always have the Invincibles season of 2003-04. As well as the 2005 FA Cup final, in which United dominated but Arsenal won out on penalties, Vieira securing the Cup with his last kick for Arsenal.
A year later, during the final campaign at Highbury, Wenger guided the Gunners to the Champions League final and a brave defeat to Barcelona after they'd played the great majority of the match with 10 men following Lehmann's sending-off (Wenger chose to sacrifice Pires in order to bring on a substitute keeper; it turned out to be Pires' last match for the club).
With hindsight, perhaps that match was the "before and after" point of Wenger's career. Arsenal moved to the Emirates – Wenger having had a great influence in the stadium's building, and David Dein left not long thereafter. For several years, Wenger worked with restricted funds as football became ever more dictated by super-bucks. Arsenal were left behind and forced to feed off the scraps left by the likes of Chelsea, United and more recently City (for whom Arsenal at times has felt like a feeder club).
In the days of player power he has also had to tolerate mercenary players like Ashley Cole, Samir Nasri and Robin van Persie quickly running for the door as soon as a few more zeros are flashed their way. That he delivered Champions' League football every year until this season (while always finishing above Tottenham during that same period) is an achievement that no other manager could have matched, whatever the Wenger Outers may say.
Wenger is not faultless in Arsenal's lack of recent success (three FA Cups in the last four seasons apparently not good enough for some). When he did have money to spend, his refusal to fork out what he considered ridiculous prices was in a way laudable, but it left him realistically unable to compete on a regular basis for the title. His inability (or unwillingness) truly to replace Vieira and Gilberto Silva in the defensive midfield role has also hamstrung the team.
His insistence on an approach involving far more carrot than stick has meant that some of his players have got away with a lack of effort, when a kick up the Arsenal may have done the trick. And without Dein to feed off, left to his own devices by shareholders clearly uninterested in football as long as the profits keep rolling in, perhaps Wenger has missed someone in authority to challenge and question him.
Looking back, maybe Leicester's title win of 2016 was the point at which Wenger should have left. He had just won his second straight FA Cup (his sixth as manager), and Leicester had undermined the argument that all it took to win the title was money. The abuse to which he was already being subjected has grown to a fever pitch in the last couple of years and few would begrudge Wenger a break from that – possibly even a little more love shown to him from his own fans for the last month of the season.
Since the announcement, I have been particularly moved by the non-footballing stories about Wenger. His interest in societal issues such as the need to support children with autism, his support of the community in Chernobyl, his appearance at an event to support the victims of Grenfell (all detailed by Henry Winter on Friday) are examples.
Even more moving was the tearful tribute of former Arsenal keeper and coach Bob Wilson, who described Wenger as one of the three greatest people he'd ever met, and expressed how grateful he was for Wenger's concern for his family during his daughter's terminal illness. Everyone seems united in their view that he is a man of strong values and morals. Football today could do with more people like that.
For his first decade or so Wenger was responsible for some of the best football ever seen. The years since then have been leaner as other teams have benefitted from his wisdom. Too many Arsenal fans, spoilt by the spectacles that he provided, have been too quick to forget – and may yet regret their treatment of him, as his replacement will also struggle to match City, Chelsea and United in the transfer market. Throughout, however, Wenger has acted with class, dignity, erudition and restraint, showing that some things are more important than football.
That being said, his obsession with the sport means that he may find it hard to retire. If so, many clubs could benefit from his experience – not least PSG: he may well have the respect of the players and he and Nasser Al Khelaifi could act as good counterbalances to each other and perhaps revive what he once had with Dein.
Whatever the future holds for Wenger, he deserves to be celebrated not just by Arsenal, not just by the Premier League, but by the world of football. He is one of the greats, having straddled football eras and, while perhaps left behind by some elements of modern football, he can be credited for many of the things we love about football today.
Salut Arsène. Et merci pour tout!