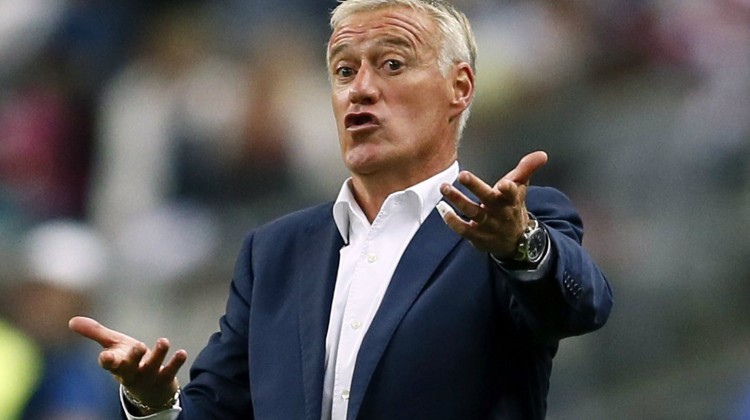 PLAYER RATINGS | France 2-2 Iceland – how the French fared
We run the rule on a largely abject performances from France in their international friendly clash with Iceland last night in Guingamp.
Hugo Lloris – 6
A good evening for Lloris despite conceding two goals, who pulled off some top saves to keep the score down to just 2-0 for the longest time. His triple save in the first half was outstanding and with the defensive line being half changed tonight with more alternations made throughout the fixture with another defender subbed off at half-time, Lloris had a big job of commanding his defence.
Benjamin Pavard – 5
It's quite clear that at times, Pavard isn't too comfortable at right back. When he's in full force, he can be a very useful attacker as well as a good defender but in games like today where there wasn't too much space on the flanks to exploit and he had to stay deeper, he did not get involved too much. He was a bystander for the majority of the game, but did well enough defensively without putting a foot wrong.
Raphael Varane – 5
By far and away he is the best defender in the team but this is nothing new and the 45 minutes he played last night reaffirmed that: he marshalled the backline well and performed well alongside his new partner Presnel Kimpembe. A solid, if not nothing else, kind of performance for Varane who will be hoping for more game time in the future.
Presnel Kimpembe – 3
With the unfortunate injury to Samuel Umtiti, Kimpembe is going to get more game time in the French squad that normal, but last night he was incapable of producing an acceptable shift, with him missing out in duels which lead directly to Iceland's two goals. Could he have done better tonight? His intensity levels were low and he struggled to partner effectively with Varane.
Lucas Digne – 4.5
A tough night for Digne, who showed his ability to get forward well and put in some crosses, but didn't offer much else in terms of actual end product and lacked defensive  solidity in the 1st half. He got forward on the left flank well along with Ousmane Dembélé, but while most of the attacking was done by the latter, the former was able to get crosses into the box and tried to offer Dembélé as much as possible on the overlap. However, he must improve his defensive solidity if he is to take back a place in this France squad ahead of Benjamin Mendy.
Paul Pogba – 6
A good performance from Pogba, but one where you felt that he was trying too hard to force everything he did. If there was a 50-yard long pass or a short one out wide to be made, he would pretty much always try to play the glory ball which wasn't the end of the world because it worked a handful of times, but France lacked a competent bridge between defence and attack for the majority of the encounter.
Steven N'Zonzi – 5
We all know that N'Zonzi's strength is spreading the play on the ball, but it wasn't a great night for him overall. He was often found wanting in transition when Iceland countered and didn't make any penetrating passes, mainly leaving that to Pogba and Griezmann. He's a good option when you want to slow a game down and control it, but when you need to dominate with pace from the off he the best option against a side that will sit deep.
Florian Thauvin – 4
Tonight was a huge opportunity for Thauvin to show that he can prove to be a viable option for France and Didier Deschamps. While he deserves credit for having the confidence to take on his man, cut in to his left foot and take shots, nothing really came off for him tonight. He grazed the bar with an effort in the second half before being taking off for Thomas Lemar, but tonight was a poor game for Thauvin and a missed opportunity.
Antoine Griezmann – 5.5
An indifferent kind of game for Griezmann, who looked good at times but didn't really effect the game in a positive way. It was almost a case of being left with too much space to try and change things, leaving him with too much time to overthink what he wanted to do. He was eventually taken off for Mbappé, and Griezmann will feel disappointed with how he played.
Ousmane Dembélé – 4
An exciting talent, no doubt, who showed some exciting moments last night but we sat wondering how the game might have unfolded if Dembélé had some end product? His pace had Iceland's defenders sitting deep all night, but he could never produce something to really give France a good chance of scoring. He'd always manage to find space and find a way to get a cross in, but the cross would generally be poor, or he'd turn two defenders inside out, fail to look up and completely miss the target with his shot. Frustrating considering his lightening form for Barcelona at the moment.
Olivier Giroud – 5.5
It's almost becoming a bit tiring to say this: Giroud hardly affected the game but did not receive any service to work with. He couldn't do anything because no one gave anything to him. Granted, this isn't the type of game where Giroud flourishes because, to be quite frank, the Iceland defenders probably relished coming up against someone physical, but there isn't much we can say about Giroud other than he didn't link up play or have any chances because he simply never got any.
Substitutes:
Kurt Zouma for Varane – 5 
A solid replacement for Varane, although has a lot of room for improvement if he wishes to keep his place in the squad.
Thomas Lemar for Thauvin – 5
A better substitute than Thauvin, but that's not really saying much. Didn't really change the game and was rather pointless, but did add a bit of pace when needed.
Kylian Mbappé for Griezmann – 7.5
Shock and horror, Mbappé changed the game. Pace was required tonight and Mbappé delivered, especially with his penalty and the shot he put in which resulted in the first own goal. A good performance, but showing even more how much of a game changer he can be.
Tanguy N'Dombélé for Pogba -7
A very assured performance on an international debut by a star of the future, who will definitely be more involved with this team from now on. He can sit deeper and start plays like N'Zonzi and deliver passes – short or long – like Pogba. Best of both worlds and a bright spot last night.
Dimitri Payet for Dembélé – N/A