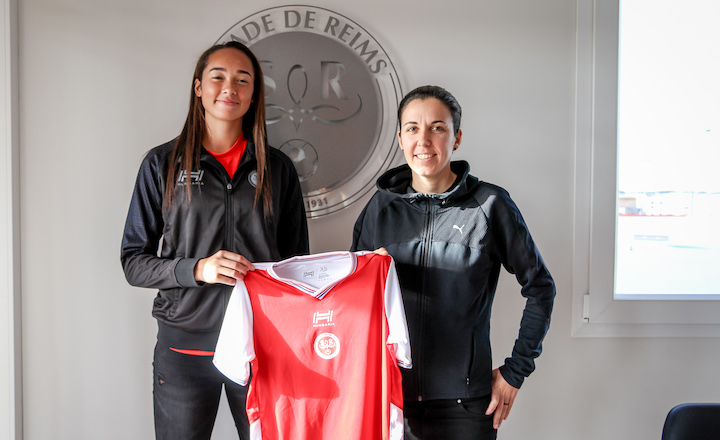 Exclusive | American & Stade de Reims goalkeeper Phallon Tullis-Joyce: "I wanted a degree in marine science & biology… then I started looking at my options."
Speaking exclusively to Get French Football News, American goalkeeper Phallon Tullis-Joyce explains how she hopped the pond to play in Division 2 Féminine for Stade de Reims and discusses the differences between two footballing cultures.
How did you go from playing college soccer at University of Miami to professional football here in France?
While playing college soccer, I always knew that was just the dream for me. In the United States, you have academics and athletics together and I really wanted to get a degree in marine science and biology and on top of that play in one of the best Conferences. Afterwards, towards my junior and senior years, I started realising that I love, love soccer, and I didn't want to stop anytime soon. Then I started looking at my options, started training harder and really was open for whoever would accept me as a goalkeeper, so that's pretty much how I made my journey here.
Where did you play between your graduation (in May 2018) and when you signed for Reims in January?
It's called a red shirt year. In my freshman (1st) year I didn't play a game, so I was eligible for another year afterwards, so I had five total years of college. My fifth year I still spent at University of Miami, so I was able to do a masters. They paid for my masters while I was still playing another season.
Now that you're a professional athlete, are your marine science and biology projects on hold?
They're definitely on hold, especially with the location I'm at right now: there's one river. I see things on Instagram, that's about as close as I get to an ocean now. We'll wait till I'm a little older to re-spark that.
When you came to Reims did you have to convince the club to sign you or did they have to convince you to sign for them?
I was very fortunate that they offered me the contract that they did, and I was willing for any opportunity they would give me. I knew that this was the place I wanted to play for, so I just gave it my all during the trial and then eventually the coach asked me if I wanted to sign for the team.
You specifically wanted to sign in France?
Yes, France was like a dream for me. Previously I had never been to Europe – unless you count Iceland. I knew that the benefits of the French league are what I need as a goalkeeper to progress, because I do have the aspiration of making the US women's national team. I knew this would be the place to be to really give me that push.
Clearly you already knew a bit about French football beforehand.
Yes, I'm able to watch it online, I even watch the English league too. But just seeing how their national team plays, it's a really cool style of soccer.
What has struck you about your first training sessions in France? What was different?
There was definitely a little bit of a learning curve. The French players, they're very quick, not only just the passing, their shooting was very quick. The speed at which they shoot… I had to get used to it because at first, I got caught by one, and I was like "Oh, boy". One second they'll be looking away and the next thing you know the ball's in front of your face. But after a few training sessions I eventually got the hang of things.
Specifically with regards to goalkeeping, how has the coaching changed for you?
It's been great. I train with Chris Dauphin (the goalkeeping coach) and we have our own goalkeeper training on Tuesdays, and that's very nice. I like having a whole block dedicated to improving those skills. And then we have striker training which I love – it's my favourite day of the week. All the shots… lots of workout. It's a great balance, I really like the training structure.
What were your first impressions your new coach Amandine Miquel?
Great person, great coach. Very friendly. Definitely a very intelligent woman when it comes to the game and an intelligent person when it comes to people, so it was really great just to be able to speak to her. She speaks, as far as I know, three languages, which is absurd. I can barely handle English and French together.
Are you familiar with some of the other American players that have played or are playing in France nowadays?
I know some of the goalkeepers that are playing around in D1 and D2, and that's pretty much it. I keep track of the goalkeepers. Casey Murphy (Montpellier goalkeeper), she's from New Jersey. We trained together once or twice.
Next year you will almost certainly be in first division the way things are playing out so far (Reims are 1st in Group A of Division 2 with a 10-point lead). Are you and your team-mates looking forward to that?
We hope so! The girls on the team have worked so hard. I was only a mid-season entry so… They've been working hard, and they've been really focused on that goal. Again, I'm really fortunate to be a part of a program that's so serious about these goals. Making it up to D1 would be fantastic.
Last Sunday (1-2 defeat in a friendly against Georgetown University), your teammates were playing out from the back often, and didn't hesitate to pass back to you and look your support. This reflects a trend in the last few years, at least in European football. Was this something new coming from the US?  
It's definitely a mix. In America it depends on the game whether or not the goalkeeper is used or not in constructing moves. Definitely more so here, absolutely. There's no question about that. They utilise their goalkeeper as the 11th player, like an outfield player. I think it's awesome, you can build your attack, it's a new level that you have. Another resource.
In Europe there is a cliché that, in men's football at least, the United States has very good goalkeepers. Obviously, the relative level of American women's football is much higher, but is there are also a specific strength in goalkeeping?
Goalkeeping is unique in it of itself. I think both the men's goalkeepers and the women's goalkeepers are just doing their best to be the best, especially for our country. It's hard to compare.
The idea is that in America there are so many other major sports where you use your hands – basketball, American football, etc. – and that helps kids to develop their ability as goalkeepers. Did you play basketball or other sports?
Yes, I love basketball! I was always torn between – well, I wouldn't say I was torn. I loved soccer the whole way through, and then I also played basketball on top of that. And basketball is pretty much why I became a goalkeeper, because I started as a field player. I tried out for a team and made it as a field player. We were playing little games and the coach noticed that I was one of the better players in goal: at the time, I was also playing basketball. He asked, "Why don't you hop on in?" and I've stayed there ever since.
On Sunday we heard you using key phrases like "montez" (push up) or "ça vient" (man on). How is the communication with your defenders developing?
They set me up with French tutoring so that definitely helps out a lot. I'm doing my best, I'm trying. Sometimes I have little brainfarts where it's just hard because I want to say the English word but I have to say the French, because otherwise it's just useless, I'm just saying words to people and it's not helpful. I would say a good portion of the girls understand English. There's a small portion that speak it.
As I'm sure you're aware, the World Cup is taking place here in France over the summer, and Reims is a host city. Are you looking forward to that? Any predictions?
Yeah, that's so awesome! It's great to be part of a facility that's also world-renowned now, that's going to have the World Cup. I've got to root for the US though, that's all I have to say. I'm American!
Back in January, France played against the US and won (3-1). What did you think?
I know… I think we're building. We still have a bit of time, a good chunk of time before the World Cup so we're testing things out. It was a little bit of a wake-up call.