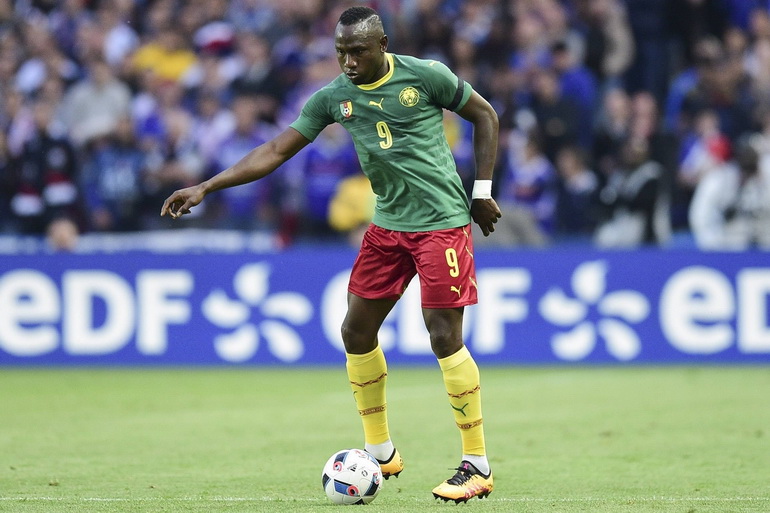 Exclusive | Jacques Zoua: "I don't necessarily want to spend the rest of my career here!"
Speaking exclusively with Get French Football News, Cameroonian international attacker & 27-year-old footballer Jacques Zoua discussed his hopes for AFCON, his desire to return to France amid a successful campaign in Romania with Astra Giurgiu, as well as his experiences in Corsica, the mental difficulties that come with injury, how he is Cameroon's answer to Olivier Giroud and much more.
For our readers who may know about your time at Gazelec Ajaccio but otherwise not too much about you, can your talk us through your career, beginning in Cameroon and then moving on to Europe?
I came through the youth development at Cotonsport in Cameroon. I was moved up to the higher age groups, was there for two years and represented Cameroon in the Junior African Cup of Nations and the African Champions League, before moving to FC Basel. I was at Basel for four years and won two domestic doubles. I also experienced the Champions League and the Europa League with FC Basel. Then I went to Hamburg before being loaned to Turkey – I received an attractive offer from Erciyesspor in Turkey.
Then I moved on to Gazelec and spent a season there, before moving to Kaiserslautern. During my year at Kaiserslautern I played in the African Cup of Nations and the Confederations Cup so it was a packed year, playing lots of matches and competitions, so I became injured. I moved on to Belgium and Beerschot but was injured almost the whole time I was in Belgium.
And now you're in Romania, with Astra. How is your season going?
It's going pretty well. The plan was to play matches – to play a minimum of 20 matches and be competitive again. I've done that so I've achieved my objectives, and helped the team reach the play-offs and the final of the cup too, which will be on 25 May.
You spoke about your injuries last season in Belgium. I believe earlier in your career you had some too, and even missed a World Cup?
Yes, I missed a World Cup because of an injury. It was while I was at Basel, in 2010. It was my first call-up to the full Cameroon squad, but I sustained an injury and wasn't able to take part in the competition.
How did you deal with that? If must have been hard?
Yes it was really tough, as it was my first call-up – and it was the first World Cup to take place in Africa. So it was really hard.
How do you handle your periods out injured? It must be the most frustrating thing for a footballer?
Yes, it's very frustrating. When you've been preparing for a competition, and you know you're a competitor, and then you can't compete. But then you also know it's part of the job, so you just need to deal with it and work ever harder each time.
And each time that you come back from an injury, are you able to come back as strong as ever, or does it always eat into the your mental and physical resources?
It's true that each time you come back from injury you have some doubts, but that's normal – you need lots of things to go right, to play lots of matches, to have some luck. And the most important thing is to work hard – do that and you'll get back to form. But certainly, when you come back it's not quite the same – when you keep missing periods it's hard to maintain optimum weight, to remain as sharp.
You've travelled a lot in your career, you've learnt lots of languages. How is your Romanian coming along?
I don't speak it yet but I understand some of the key words so I already have some of the basics. That's the important thing, when you travel . I'm lucky enough to be able to speak English and I've also learnt German.
And in terms of travelling, apart from Basel it seems rare that you stay more than one year at a time at any club. Is that your choice or the clubs'? And do you embrace the opportunity to experience different countries, or is it a frustration to not be able to put down some roots somewhere?
It's not my choice to have to move all the time, but you have to take it as an opportunity and an extra motivation to do well. But it's tough always leaving your family, it's not easy at all. It's too difficult for my family to move every time, so they are based in France, in Paris, and I'm alone, and they come to visit me every now and again.
I just wanted to ask about a couple of nicknames that I read that you have. Apparently when you were younger you were known as Omi, and more recently as Le Blitz. Can you explain those nicknames?
Omi means the young one who plays with bigger boys. It was the nickname I always had at Cotonsport because when I was little I was always played in higher age groups, so I was always the smallest. And Le Blitz came about at Basel. It was friends and fans who started calling me that, because of the style of my game – speed, explosivity, that kind of thing.
Going back to the season that we at GFFN know you best for – your season at Gazelec Ajaccio. It was a great team with strong characters – the likes of Maury, Filippi – and you only just missed out on staying in Ligue 1. Tell us about the season.
We had a great team! We had some really good players, some with great experience, and players who were ready to have a great Ligue 1 season. But unfortunately the squad wasn't large enough and I'm not sure that the club was quite ready – it was the first time that the club was in Ligue 1, so it was tough at times. But we did all we could to survive and very nearly made it. And for me it was a great experience.
I really liked Gazelec as a club and Ajaccio was a lovely city too. There was a real family atmosphere and my family and I were very well welcomed. We really felt good there and I have to thank Christophe Ettori [the sporting director] for everything he did for me – he was like a father figure there. He and Thierry Laurey really looked after me, made sure I felt good there. They made lots of efforts and my family and I really felt good there.
And how were the fans with you? Obviously Corsican fans have a bit of a reputation, but how was your relationship with them?
They adopted me as one of their own and I never had a problem with them. It all went very well with them.
Scoring in the Corsican derby at Bastia has got to help endear yourself to the fans! How was the atmosphere in the derbies?
Seriously – it was a crazy atmosphere! The fans are mad – it's not a laughing matter! Whenever we played Bastia in Ligue 1 it was an obligation to win. In Corsica the fans are so passionate and really support you. And they love their club, above all.
You mentioned Thierry Laurey. Since then he's moved to Strasbourg, guided them back to Ligue 1 and won the Coupe de la Ligue. How was it, playing under him?
I think he's one of the best coaches around at the moment in Ligue 1. Everything that he's achieving right now – it doesn't surprise me. Because he knows football – I saw that when he was my coach. And he's passionate – he's one of the few coaches I've had who is that passionate, who attends every training session, who is always there, running everything.
One time I was recuperating and came to training by myself – and he was there with his wife! I was shocked. He was there in the evening checking the pitch, making sure everything was in place for the match the next day, doing running repairs to the pitch himself. So the fact that he's doing well now doesn't surprise me at all – he was the main reason for our success at Gazelec. So yeah, for me he's one of the best in Ligue 1.
Do you think he could go on to coach one of France's bigger clubs – or even the French national team?
Easily! Absolutely he could! It wouldn't surprise me at all. Because he knows football inside out, he bleeds football.
And whilst at Ajaccio, you played in some of France's great stadiums – Gerland, the Parc des Princes, the Vélodrome of course. How was it playing in those stadiums?
It was a great experience and reminded me of playing in Germany. The stadiums were packed with fans who love their football, whether at the Parc des Princes or at Lyon, it was the same. And at the Vélodrome – there the atmosphere was amazing too. It really gave you the shivers playing there. It really brought home that you're a professional footballer!
And who was the best player you faced in France? For example you'd have played against Zlatan but I guess you wouldn't have directly faced him?
For me it would be Thiago Silva. I definitely felt it after facing him!
I read that you would like to return to France sometime.
I would love to. If I had the opportunity to, particularly since my family is there.
Have you had any contact with French teams?
Personally, no. My agents have said that there are some interested clubs. But for the moment I'm concentrating on my role here in Romania. But I don't necessarily want to spend the rest of my career here!
I guess one way to attract other clubs would be to have a good summer at the African Cup of Nations, and only this evening you've been named in the 34-man provisional squad. You've been in and around the Cameroon full squad for close to 10 years and, if you don't mind me saying, it's notable that you haven't yet scored for Cameroon.
No – not yet in an official match.
Is this partly to do with your versatility – you play across the line and have also played as a number 10? Is it fair to say that your role is to create as much as it is to finish?
Exactly! Yes it's very much because of that. The coaches put a plan of play in place, and it often means that I play down the channels or as a number 10.
It must still be frustrating for you. The day you score will be a great relief!
It will be a moment of great joy and a huge weight off my shoulders. Because obviously when you give everything for the team but you don't score, it's not a great feeling.
At the same time, you were very involved in the last Cup of Nations, which Cameroon won. How was that?
It was an amazing feeling. I played in almost every match, and we won it. We all knew our role, we all played our role brilliantly. Now we will try hard – whether I'm there or not – we'll do everything we can to retain the trophy. But it won't be easy because there are a lot of good teams, and it's never been easy anyway – the African Cup of Nations has always been a tough tournament.
But we have the means to win it, we have the personnel and the quality. So we have every chance, but then it depends on football – because in football the most important thing is to prepare well and to give everything and then the result will come. Results will be more favourable to you – you're more likely to win – if you have given everything.
You said that you all played your roles. What was your personal role at the last CAN? As you didn't score, was it more to be a foil and support for Aboubakar?
Yes that's it, support as a number 10 and also a lot of defensive support, dropping back into midfield.
So a bit like Olivier Giroud's role during the World Cup?
Yes, pretty much.
And are you confident that you will be in the final squad?
No one is confident until the coach has made his choice. It's for him to decide. But I believe in myself and will do everything I can to be there, and then we'll see what happens.
Looking at Cameroon's forwards – there's you, Toko Ekambi, Aboubakar, Ntep, for example – it's a really strong offensive line, surely one of the best on the continent. How do you rate your teammates – such as Toko Ekambi, who had a brilliant last season in France and is having a good season in Spain?
We all have great quality and will all try to apply it for the good of the team. Karl [Toko Ekambi] has had a really good season with his club, with Villarreal. And lots of others too – Aboubakar who has come back from his injuries. So I really think we have the necessary qualities and the important thing is to put those qualities together for the service of the squad.
Talking of teammates, you must have spent a lot of time with Benoit Assou-Ekotto. He's known for being an atypical character, who doesn't like football and doesn't follow it other than when he's playing. How was it, playing with him?
Honestly, I had no problems at all playing with him and he was an excellent player. But yeah, he's never hidden the fact that he doesn't like football. And footballers who don't like football are players apart, for me it's certainly something very rare. But I always liked playing with him, he was great in his position, and that's his personality – that's him. Guys like that make things interesting!
This year's African Cup of Nations was meant to take place in Cameroon. Can you explain why that's not the case?
I'm a player so it's hard to talk about it much as I'm focussed on the playing side of the game. The problems were on the administrative side. But for me, it's not such a bad thing as it gives Cameroon the time to prepare for the next CAN, which we'll be hosting, to make the 2021 CAN a beautiful tournament. So it's un mal pour un bien, as we say, a blessing in disguise.
And at the moment your national coach is Clarence Seedorf, who is of course a legend of the game, and he's supported by Patrick Kluivert and Jean-Alain Boumsong, among others. How is it to play under such a legend, and also under a great striker such as Kluivert?
It's great to play under them because they understand football at the highest level and that makes it easier for us. And I'm learning lots under Kluivert, we do a lot of work with him, and he was such an important player – we're all trying to profit as much as possible from the chance we've got, as they come around very rarely in football.
Well good luck for the rest of the season, and I hope that you secure your selection for the CAN – and maybe your first goal will be the winner in the CAN final?
Haha – who knows – thanks very much!