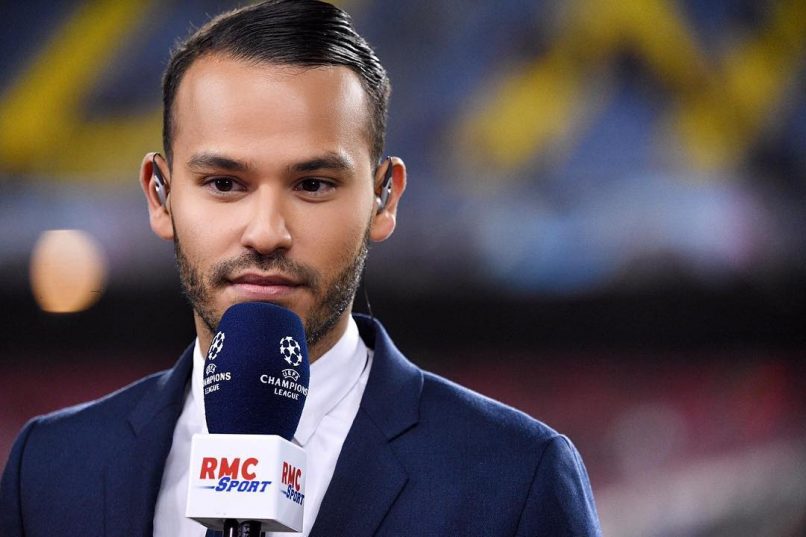 Exclusive | Mohamed Bouhafsi interview in full: "Before I go, long live Get French Football News!"
Speaking in an exclusive interview with Get French Football News, Head of Football at RMC Sport Mohamed Bouhafsi talked about the challenges associated with being France's #1 transfer expert and what to expect from the upcoming summer window.
On Neymar:
First of all, I would love the French supporters to be like Spanish supporters because Spanish media can say on a Monday that X is signing, only to say on Tuesday that a different name is signing. It doesn't seem to bother anyone in Spain, but in France we would be chastised for that. The only thing I can say from my point of view, I don't think that Neymar is necessarily happy in Paris. He is upset with the last few months, injured, upset about PSG's Champions' League last season, upset about the treatment that he receives during matches. But I also think that Neymar knows that he is on a very big contract, he is one of the best paid players in the world, he is injured right now, he has considerable off-the-field matters to attend to.
So, it is a very difficult situation. PSG tell us that he is not for sale, unless there is an enormous offer worth €350m for the Brazilian. Then the question to ask is can Barcelona make a bid worth €300m, €350m, €400m? Especially when they are set to sign Antoine Griezmann. I think there is a lot of noise about something that for the moment I don't believe is financially viable. Maybe it could be, someone needs to explain to me how, Barça maybe find some spectacular solution, but I don't see it right now. My view is that for the moment the situation is blocked, I don't know maybe things could evolve in 1 hour, 2 hours, 5 days, 6 days etc. But I don't think that things have advanced like the Spanish media are claiming. And the situation is much more complicated than people think.
On Thomas Meunier:
I think that the situation is also difficult for him. He is well-regarded in England, he is the viewfinder of Manchester United, who like him a lot. The only solution is that he either absolutely has to leave this summer, or sign a contract extension. I think, and this is not information that I have but instead my point of view, I think that PSG should extend him, because he is a very professional player, and who has shown on the pitch that he is very good and that he deserves to be part of the PSG set-up. Aside from that, his relationship with Thomas Tuchel is going to have to be clarified. If PSG want to sell him, they will sell him very well, all the English clubs are interested in him, he has a very impressive value on the market.
On Leonardo's arrival:
I don't think that Leonardo will be uniquely concentrated on the Italian market. Leonardo knows that the English market is very difficult, that players are very expensive to buy from there. Players in England have a crazy price, when you think of someone like (Harry) Maguire of Leicester, I am not talking about for PSG, but in general, that is a crazy market price. Players in England already have a very hefty price, then in Spain, players at the top of the game, outside of Real Madrid and Barcelona, there aren't so many.
Then there are very interesting markets in Italy and Germany. Leonardo is not just going to focus on the Italian market, he is going to focus on good opportunities, and it is true that in Italy there are several of those, as the clubs are a little less rich than the top 3 in Spain or the clubs in England. So it is a more favourable situation to do good deals. It is also a market that he knows well. A player like Milinkovic-Savic is worth right now €50m, €60m, whereas in England he would be worth €80m, €100m. It is a potentially interesting situation for PSG, but he will focus on all markets.
On Thomas Tuchel's future:
Thomas Tuchel cannot do worse in terms of his relationship with a Sporting Director than was the case with Antero Henrique. So it can't be worse. What is certain is that Leonardo is someone very political, diplomatic, a charmer. Someone who is very competent, I can't see him not getting on with Tuchel. Leonardo has had discussions with Tuchel, the two men have started to work together, there will have to be a working relationship of trust built. Tuchel didn't want to work with Antero Henrique, Henrique is now gone, now it is up to Tuchel to work with the aims of PSG and of the club, and he will have to do that with Leonardo. Leonardo will do everything he can to give him the players he wants and needs and then it will be up to Tuchel to find the right recipe with this team.
On Ibrahim Sangaré:
I know that he is being followed by big European clubs, but I don't have any more information for the moment. He is well-regarded for his strength, power and impressive physique and also a technical ability that surprises people. I know he is well-liked on the market, but don't have more details at the moment.
On Lyon's pursuit for a central defender:
I think it will be another player (not Joachim Andersen). Lyon are far away from the Italian club (Sampdoria's) valuation of €35m for the defender. But I think there could be another player that could open up as an option for OL in the coming hours.
On Youri Tielemans' future:
I think that it will evolve for him soon, he is well-regarded in England. Manchester United have him on their shortlist, but he is not their priority, Ole Gunnar Solskjaer has other priorities. In Germany, he is also well-liked. I think this is one to watch in the coming weeks, rather than coming days.
On which club in Ligue 1 will surprise us with their business:
I think probably AS Monaco, it is a hard question. They need to rebuild, they need to sign multiple players, and I think they can come back with very interesting signings.
On Cesc Fabregas:
Monaco want to keep him. He is not sad on the Côte D'Azur, I know he has a big salary, but that's my view.
On Marseille's FFP troubles:
I think it was something that was not unexpected, Marseille have had a structural deficit that has been considerable for several years and it is sure that this will make it a lot harder to work calmly with their FFP restrictions. I also think there is going to be a change in strategy, looking to buy younger, cheaper and hungry players to then sell them on with more maturity. I know that the price of Caleta-Car was seen as excessive when he was bought, but if you look at the teams interested in him now, it makes sense. I think we are looking at deals of around €8m to €10m and then selling these young players on a lot more expensively. Next, Andoni Zubizaretta is going to have to be listened to much more closely, a man who now has the keys to things so to speak and let him work. I think that will be interesting to following in the coming days.
On Florian Thauvin:
Jean-Pierre Bernès is an agent who works very well and has a big network of contacts. I think the window isn't yet open for every player. This market is stable and calm for the moment, there haven't been many big big moves yet. We will have a game of musical chairs in the coming weeks. When one attacking midfielder moves from one club to another, it will have a domino effect. Eden Hazard has gone to Real, but Chelsea can't buy. I think things will evolve for Thauvin.
Today, he is the most important and best player at Marseille, with incredible statistics over the last 2-3 seasons. He is on the shortlists of many big clubs, in Italy, Spain and England. When the market moves, I think it will move for Thauvin, an excellent player who is now of course a French international. We can't forget that when the English clubs return from holiday, beginning of next week, I think things will go on fire. Usually it is the English clubs that dictate the pace of the market. André Villas-Boas wants to keep Thauvin, but he has an interesting value on the market, we will see, he is very attached to Marseille.
On Nabil Fékir:
It has always been denied to me that there would be another offer from Liverpool for Nabil Fékir this summer, first off. No concrete activity from Liverpool at least for the moment on Fékir. The fact that there aren't any big European clubs interested at the moment, I think that this is a pretty unique situation. Fékir had a solid season, but he is capable of much better. To defend him, it is not easy to have a good season after winning the World Cup. Clubs today have a different way of looking at football, especially in his position. They are looking for players who can counter-attack, very powerful, very quick players. You see Real Madrid with Vinicius, you have Liverpool interested in Pépé, we have seen Bayern being interested in Pépé and Sané and Hudson-Odoi. Today, teams are looking for players who can be very mobile and rapid. Fékir doesn't match that, and the position of the #10 is becoming rarer and rarer in terms of tactical set-ups.
But, he is a player with incredible talent, crazy talent. I think his future is more likely to be with Spanish or Italian clubs, rather than an English club. Even though it is true that the doors could open in the coming weeks, but there is less interest in him than in previous years.
Why didn't his transfer to Liverpool happen last summer?
I don't know exactly why. The details, there are lots of different theories. Some people speak about the knee, about other things. I know that he underwent a medical with Liverpool, that all the videos had been prepared etc. I think it is possible that at the end of the day, Liverpool came back to Lyon to try to renegotiate terms and also with Fékir. But I think also it is possible, maybe, that not the entirety of Liverpool's staff were convinced about bringing him in.
Liverpool is a very organised club with a recruitment cell, technical staff, Director of Football and it is a club where there are lots of discussions. The process of signing players requires every member of the transfer committee to get behind the signing before Jürgen Klopp has the last word. Maybe that was not the case at the end with Fékir, especially at the price that was in the process of being agreed, which was well beyond €50m.
On William Saliba:
I have seen the comments from Arsenal & St Étienne fans and I don't think they really know William Saliba. He is an U20 international defender and he is the only player in the French set-up who is in the age class two times higher than a player would typically be. He's the first player to be in this situation since Kylian Mbappé. He is a player with incredible qualities. Everyone at St Étienne tells me he is a fantastic player, I don't know him personally, but they say he has incredible qualities and is a very, very, very good player. Arsenal, Tottenham, Napoli and Juventus have been watching him so much because he is a player with enormous qualities, but he also needs playing time and the ability to grow more. And to succeed in having maturity and consistency.
Today, if you look at the transfers of De Ligt and other great defenders, €25m, €30m for Saliba is nothing, nothing at all. So, that is why Arsenal have very well understood that they should leave him at St Étienne for another year, or at least close the deal now, because if a player like Saliba is as good again in Ligue 1 this coming season, he will easily be worth €55m, €60m next summer. That's why all the English clubs, and notably the two that are currently in the running, Arsenal & Tottenham, especially Arsenal who have an agreement with the player, know that this would be a great deal. Arsenal's offer is €30m, but with bonuses, so €25m + €5m in bonuses, it is interesting (for St Étienne). There are other meetings that will follow, because Arsenal know that if they close a deal for the player, even if they loan him back for a year, they are signing a top, top central defender.
Is there anyway in which St Étienne let the player leave this summer without him being loaned back?
I want to say that the Arsenal fans need to understand the position that St Étienne are in. The position of St Étienne is to have a top defender for another year and the position of the player, who wants to have another year of progression in Ligue 1. He wants to be even better in Ligue 1 and play even more games, and it is possible that he would not be starting that much in England next season. Talks aren't finished, discussions are ongoing between the two clubs, I could be wrong, maybe if Arsenal offer another €10m, then St Étienne might drop the loan back condition, things could evolve.
What I want to say though, is that it is not necessarily a bad calculation to sign a player who is going to be fantastic for many years and loan him back for one season. And who is going to grow during that time in terms of his qualities, rather than immediately putting him in a fierce competition for places, immediately putting him under pressure. Sometimes it is better to lose 1 year to gain 5 or 6 years, rather than to gain 1 year and lose everything.
On Nicolas Pépé:
This is an €80m situation. So it is a situation that needs time and calm. What I can say is that there are very concrete discussions with Liverpool. Discussions that are not even denied by Lille, at Lille they don't deny the very concrete interest and discussions from and with Liverpool. Even Bayern Munich, I haven't checked in on this situation for a couple of days, but it is possible that other clubs have inserted themselves into the running. I know that one of my colleagues, Bilel Ghazi, who does an excellent job, who I want to congratulate because on top of that he is a very nice person at L'Équipe, speaks about Atletico Madrid and Inter Milan.
I don't have any information on Atletico Madrid. For Inter Milan, I did speak about an unnamed 3rd club, following my exchanges on Nicolas Pépé and with Liverpool fans, and I think that this 3rd club could be Inter Milan. But I think that at €80m, this deal is too expensive for the Italian side. Then, I know that Jürgen Klopp adores Nicolas Pépé's profile, he brings a lot of speed and he is made to play in England, with quick transitions and an exceptional ability to counter-attack. Discussions have been had with Liverpool, who have a very profound interest. The other thing that I know is that Nicolas Pépé is at AFCON and wants a couple of days to make his decision…
Liverpool haven't denied (interest in Nicolas Pépé). I know that Bayern Munich are still following the situation closely, even if the Ivorian is not #1 on their shortlist. Their interest is still there like it was in winter. It is a situation that will decant in the coming days, or coming weeks, maybe just after AFCON. It needs time, because Nicolas Pépé is asking for time, and we have to respect the player's wishes, who wants to concentrate on his national team. And don't be surprised if other clubs dive into the race in the coming days, at Lille, I'm told that they are anticipating other Premier League clubs to get involved. It is not unthinkable.
RMC have had a breakout 2018/19 campaign, having obtained the exclusive Champions' League rights – how did this experience enrich your career – being closer to some of the world's best with pre and post-match interviews?
First of all it is a pleasure to be in the biggest stadiums in Europe each week. We experienced some exceptional semi-finals, notably with the goal in the last minute by Lucas Moura in Amsterdam. And then the remontada from Liverpool against Barcelona. So first of all, as a fan of football, these are incredible moments to live through. From a professional point of view, it is a pleasure because it enables you to increase your network and take things from a national to an international level which is powerful.
To be able to exchange with people like Edwin van der Sar in interviews. Just before the Ajax game, I spoke with Erik ten Hag. And then also on match-days you get to meet with club officials from some of Europe's biggest clubs, to chat about the transfer window, to chat about a lot of things. For them to know who you are, for them to be able to put a name or a mobile number to a face, that of course allows you to go to the next level and makes you more powerful and better.
Is there a particular player you feel that through your post-match interviews you got to know really well this season?
There have been some incredible moments, interviewing ten Hag several times, speaking with Karim Benzema in Amsterdam. Having spoken several times to and having built a small relationship with Liverpool manager Jürgen Klopp, that all allows me to build big relationships. I can also cite my interactions with Pep Guardiola during the two matches between Lyon and Manchester City, all of that allows me to meet even more stars, not to become the next day close friends with them, but at least they know who I am. Entering into their professional lives is important for me.
Almost a childhood dream, to rub shoulders with Pep Guardiola, no?
It was a childhood dream. I know him as the Champions' League winner with Barcelona, he is a man who has an incredible mind and when you talk about football with him it is just incredible. I remember my exchange with him after the Lyon match, that superb game, when he spoke about Houssem Aouar, when he spoke about football, when he spoke about French football – it is always a pleasure. That too is a pleasure, to speak to people who really know their football, it is an incredible opportunity.
What is the most difficult thing about being a transfer market specialist/reporter?
There are lots of difficult things involved in getting the most truthful information possible. To be as close to the truth as possible and not disappointing the fans or the readers, that is always the most difficult thing. Then, the second thing, I have been in football for 10 years, I have been at RMC for 8 years, the thing that is becoming the most difficult is the pace at which information has to come out.
Today, there are lots of websites, social media accounts, you have to go quicker and quicker. Or else risk being outdone or overtaken by someone else. And that is always challenging because to get information out the quickest is often in conflict with getting the most accurate information out. With time, the landscape has evolved, with the arrival of a lot of accounts, people who can take photos, bring out information. We see that news comes out quicker and quicker and it is more and more risky not to have the most accurate information possible.
It is true that I cite a lot of transfer window colleagues who do an exceptional job, and it is true that when you see new accounts pop up and bring out information, if these accounts make a mistake, it doesn't matter, people will say well they are not professionals, so so what. But people like in Italy Gianluca di Marzio, people in England from The Times or The Guardian, or people in France like me and my colleague Loic Tanzi – we don't have a right to make mistakes. Because if we get it wrong, then for weeks and months afterwards we are reminded of it (publicly but also privately).
Thankfully this has rarely happened to me or very little. If someone has created an account which has 1,000 followers, and gets something right, all of a sudden social media reacts like they are THE transfer window source. But when they make a mistake, people say it doesn't matter, they aren't really a journalist. But I don't have a right to make a mistake.
Today, you open Twitter, you see 12,000 transfer stories, we don't know what is true or what is false. I think that is a shame because the people that suffer the most are the readers, they read a lot of things, but they are not always true. I regret that for people.
Have you ever received death threats from fans on social media?
No, no thankfully not. I would say that 85% of people on social media are very nice, very positive. There are insults sometimes, but it is very difficult, sometimes people only look at the negative messages and not the positive ones. The man who is like that, is the man who likes to moan about the one train that was late rather than praise the 49 trains that arrived on time. It is true that sometimes there are insults, for example 2 days ago there was a fan who said to me: "Well because things aren't advancing, I am going to unfollow you." Sometimes there are personal insults, but I don't pay attention to them. There are fans that get frustrated because they don't understand that deal-making takes time.
Longer than 24 to 48 hours. Deals worth €50m take weeks and days to complete, not a couple of days. So they need patience, and fans don't necessarily have patience when it comes to the window. Which is why the market is amazing, we all love it, because things move in so many directions, but sometimes people have to understand that things take time. But I have never received a death threat from a fan, and hopefully God will protect me and that will never happen. I would not call them fans if they did that. Generally my interactions are positive and it is true that I have created a special and strong relationship with fans.
Which fans are particularly positive?
At the moment I receive magnificent messages from Liverpool fans. An exceptional and magnificent club and city.