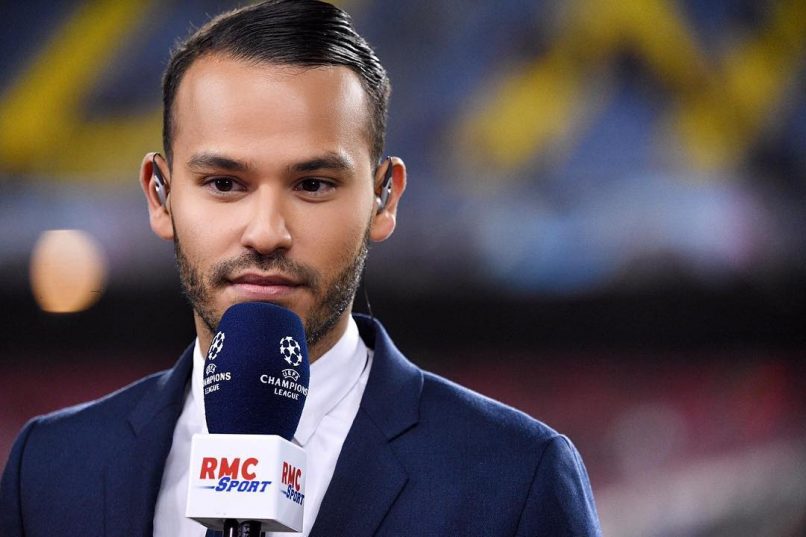 Exclusive | Mohamed Bouhafsi – Part 1: "Today, you open Twitter, you see 12,000 transfer stories, we don't know what is true or false."
Speaking exclusively to Get French Football News in a multi-part interview, RMC Sport's Head of Football Mohamed Bouhafsi discussed his delight at covering the Champions' League in the 2018/19 campaign & the trials and tribulations of being a football journalist that specialises in transfer activity.
RMC have had a breakout 2018/19 campaign, having obtained the exclusive Champions' League rights – how did this experience enrich your career – being closer to some of the world's best with pre and post-match interviews?
First of all it is a pleasure to be in the biggest stadiums in Europe each week. We experienced some exceptional semi-finals, notably with the goal in the last minute by Lucas Moura in Amsterdam. And then the remontada from Liverpool against Barcelona. So first of all, as a fan of football, these are incredible moments to live through. From a professional point of view, it is a pleasure because it enables you to increase your network and take things from a national to an international level which is powerful.
To be able to exchange with people like Edwin van der Sar in interviews. Just before the Ajax game, I spoke with Erik ten Hag. And then also on match-days you get to meet with club officials from some of Europe's biggest clubs, to chat about the transfer window, to chat about a lot of things. For them to know who you are, for them to be able to put a name or a mobile number to a face, that of course allows you to go to the next level and makes you more powerful and better.
Is there a particular player you feel that through your post-match interviews you got to know really well this season?
There have been some incredible moments, interviewing ten Hag several times, speaking with Karim Benzema in Amsterdam. Having spoken several times to and having built a small relationship with Liverpool manager Jürgen Klopp, that all allows me to build big relationships. I can also cite my interactions with Pep Guardiola during the two matches between Lyon and Manchester City, all of that allows me to meet even more stars, not to become the next day close friends with them, but at least they know who I am. Entering into their professional lives is important for me.
Almost a childhood dream, to rub shoulders with Pep Guardiola, no?
It was a childhood dream. I know him as the Champions' League winner with Barcelona, he is a man who has an incredible mind and when you talk about football with him it is just incredible. I remember my exchange with him after the Lyon match, that superb game, when he spoke about Houssem Aouar, when he spoke about football, when he spoke about French football – it is always a pleasure. That too is a pleasure, to speak to people who really know their football, it is an incredible opportunity.
What is the most difficult thing about being a transfer market specialist/reporter?
There are lots of difficult things involved in getting the most truthful information possible. To be as close to the truth as possible and not disappointing the fans or the readers, that is always the most difficult thing. Then, the second thing, I have been in football for 10 years, I have been at RMC for 8 years, the thing that is becoming the most difficult is the pace at which information has to come out.
Today, there are lots of websites, social media accounts, you have to go quicker and quicker. Or else risk being outdone or overtaken by someone else. And that is always challenging because to get information out the quickest is often in conflict with getting the most accurate information out. With time, the landscape has evolved, with the arrival of a lot of accounts, people who can take photos, bring out information. We see that news comes out quicker and quicker and it is more and more risky not to have the most accurate information possible.
It is true that I cite a lot of transfer window colleagues who do an exceptional job, and it is true that when you see new accounts pop up and bring out information, if these accounts make a mistake, it doesn't matter, people will say well they are not professionals, so so what. But people like in Italy Gianluca di Marzio, people in England from The Times or The Guardian, or people in France like me and my colleague Loic Tanzi – we don't have a right to make mistakes. Because if we get it wrong, then for weeks and months afterwards we are reminded of it (publicly but also privately).
Thankfully this has rarely happened to me or very little. If someone has created an account which has 1,000 followers, and gets something right, all of a sudden social media reacts like they are THE transfer window source. But when they make a mistake, people say it doesn't matter, they aren't really a journalist. But I don't have a right to make a mistake.
Today, you open Twitter, you see 12,000 transfer stories, we don't know what is true or what is false. I think that is a shame because the people that suffer the most are the readers, they read a lot of things, but they are not always true. I regret that for people.
Have you ever received death threats from fans on social media?
No, no thankfully not. I would say that 85% of people on social media are very nice, very positive. There are insults sometimes, but it is very difficult, sometimes people only look at the negative messages and not the positive ones. The man who is like that, is the man who likes to moan about the one train that was late rather than praise the 49 trains that arrived on time. It is true that sometimes there are insults, for example 2 days ago there was a fan who said to me: "Well because things aren't advancing, I am going to unfollow you." Sometimes there are personal insults, but I don't pay attention to them. There are fans that get frustrated because they don't understand that deal-making takes time.
Longer than 24 to 48 hours. Deals worth €50m take weeks and days to complete, not a couple of days. So they need patience, and fans don't necessarily have patience when it comes to the window. Which is why the market is amazing, we all love it, because things move in so many directions, but sometimes people have to understand that things take time. But I have never received a death threat from a fan, and hopefully God will protect me and that will never happen. I would not call them fans if they did that. Generally my interactions are positive and it is true that I have created a special and strong relationship with fans.
Which fans are particularly positive?
At the moment I receive magnificent messages from Liverpool fans. An exceptional and magnificent club and city.
Part 2 follows.