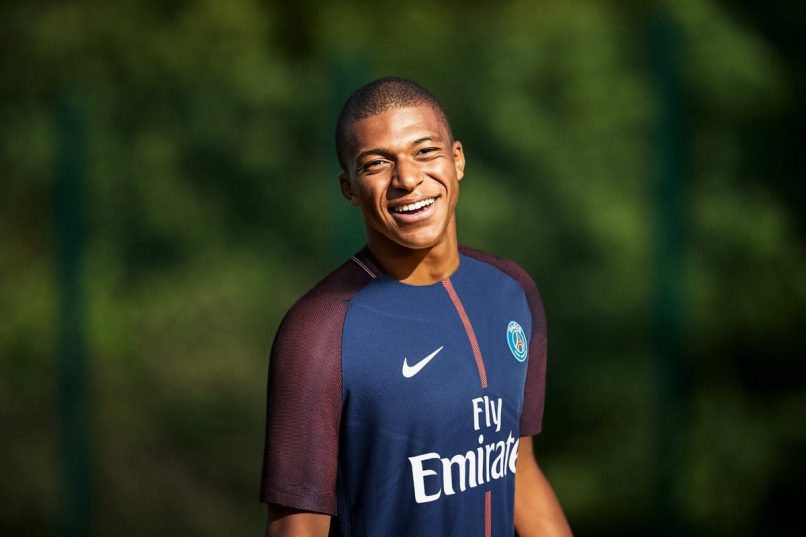 FEATURE | 21 Under 21 – the depth of young Ligue 1 talent continues to stun scouts across Europe
Developing and sometimes explosive young talent is perhaps the most endearing and enthralling aspect of French football. As underlined by the depth of the national team squad that won the World Cup, and those that missed out, Ligue 1 is a league almost designed for, and successful at, nurturing burgeoning talent.
So much so that it has become the league's selling point as Ligue 1 officially branded itself as 'The League of Talents' this season. Various clubs overtly adopt this idea as a sustainable model. Most notably Monaco and Nice in recent times enjoyed success in scouting Ligue 2 and more niche markets that offered value, signing young players at low cost (or developing them at academy level) while offering a clear path to the first team for all.
As successful players are sold on at a profit, the void is often filled by a younger prospect from within further down the Ligue 1 table or Ligue 2, affording the newcomer first team football in a competitive yet under the radar environment. This list is comprised of 21 players under the age of 21 at the start of 2019 who have graced Ligue 1 this season and cover the full spectrum of that development process; from debut-less prospects to Barcelona's latest signing. Keep your eye on them.
Stanley Nsoki – PSG (19)
Having broken into the squad under Unai Emery, with PSG lacking centre back cover, Nsoki has forged a reputation as a physically imposing yet technically gifted defender in the last year, despite only fleeting appearances.
Equally comfortable in the centre of defence or at left back, Nsoki was heavily linked with a move this summer; Newcastle and Marseille supposedly interested after the 19 year old initially rejected an extension to his PSG deal having not been given guarantees on game time. Despite eventually signing a new contract he remains on the fringes of the 18, a summer move seems ever more likely.
Moussa Diaby – PSG (19)
Given the lack of faith placed in youth products in Paris since QSI's takeover with only Presnel Kimpembe and Adrien Rabiot really establishing themselves as anything other than a young prospect to be sold or loaned out in that time, Moussa Diaby's impact this season becomes all the more impressive. Fitting snugly into the wing back roles used by Thomas Tuchel in the autumn, by the end of January Diaby's five Ligue 1 assists came in just 543 minutes of play and placed him inside the top 10 providers in France.
He may be a little raw at 19 but a refreshing self-confidence and lack of deference to Kylian Mbappe and Neymar (which has drawn the ire of his more illustrious teammates on occasion) makes him an exciting watch. A mazy dribble and assured finish to win a cup tie at Orleans in the Autumn, while also being a candidate for PSG's goal of the season, is hopefully a sign of things to come.
Ismaila Sarr – Rennes (20)
Like a number of players on this list, it's tough to grasp the fact that he remains so young, given his level reached and responsibility assumed. Sarr joined then Ligue 1 Metz for the start of the 16/17 campaign from their Senegalese feeder club Generation Foot but despite flashes of his loping brilliance it took until the final third of the campaign for him to establish himself – a devastating cameo off the bench in a 3-2 loss to PSG proved a highlight. Tricky, direct and imposing physicality, the Senegalese International has developed a knack for the spectacular at Rennes, moving to the Breton region after a sole season with Metz. A host of thunderous strikes have characterised his upward curve to becoming arguably Rennes' premier player after a trip to the World Cup in the summer. Whether a mooted shift towards a more central role would be beneficial remains uncertain. His talent, however, is in no doubt.
Kylian Mbappé – PSG (20)
Including the 4th best player in the world, as per the Ballon d'Or, on a list designed for burgeoning talents may seem a little facetious but it's worth underlining just how close to vertical Mbappé's upward curve has been. Despite a stellar campaign until that point, before the 5-3 Champions League first leg loss to Manchester City in February 2017, 'Donatello', as PSG teammates often refer to him due a supposed resemblance to a certain ninja turtle, wasn't truly even considered first choice at Monaco. 16 months later he was dismantling Argentina at the World Cup and scoring in the final. As a result, the fact that he only turned 20 in December becomes rather alarming.
Yann Karamoh – Bordeaux (20)
A lot has happened in Yann Karamoh's short career. Having fought through the ranks at Caen, a breakthrough 16/17 season in France took the forward to Inter Milan on a two year loan where, unfortunately, opportunities proved rare. His first Serie A start didn't come until February but an all-action, if a little erratic, display, which saw him score a superb winner, lead to more game time in the run in where he often impressed off the bench with his speed, directness and keenness to take on a full-back. However, form during a subsequent loan (from the original loan with Inter) at Bordeaux has become intermittent.
A place in the 11 is not assured with the talents of Samuel Kalu and Francois Kamano his competition. Impressive strikes and the odd terrified full back have been balanced out by absent, ineffective displays and a poor first touch. One such low point in Coupe de la Ligue semi final loss at Strasbourg saw him dropped from the 18 in January, reportedly at the behest of Les Girondins' new American owners. An unauthorised trip to Paris and an altercation with a coach the following week saw him exiled to train with the reserve side. A promising talent's career now sits at a crossroads with both his Bordeaux and Inter loans up in the summer despite having been reintegrated at FCGB.
Boubakar Kamara – Marseille (19)
Highly regarded at OM for sometime, Kamara broke into the squad on a regular basis last season and has seen significant game time again this term. Good on the ball, mobile and astute defensively Kamara has been slated for an eventual evolution into a midfielder having played across the back line under Rudi Garcia with a maturity beyond his teenage years.
Malang Sarr – Nice (20)
A fluctuating career to date saw Sarr initially break into the Nice eleven as a seventeen year old under Lucien Favre at the start of the 16/17 campaign, impressing many before his form evaporated in the new year. Two further stints in the side since were fairly unsuccessful but he has finally found his feet again this term under Patrick Vieira and is starting to make good on that initial promise.
Aurélien Tchouameni – Bordeaux (19)
An athletic and technical all round central midfielder, Tchouameni forced his way into a thin looking Bordeaux midfield during pre-season under Gus Poyet at just 18. Despite Poyet's bizarre sacking, the France under 19 international has remained on the scene under Eric Bedouet and Ricardo Gomes' stewardship, drawing reported interest from Inter Milan amongst others. Despite clear potential, Tchouameni can still be swallowed up by more intense matches. An ability to impose himself in midfield needs to be nurtured as his career progresses.
Jean-Victor Makengo – Nice (20)
A fringe member of Lucien Favre's Nice team last term, midfielder Makengo has become a consistent part of Patrick Vieira's squad this time around. Comfortable deeper in central midfield as well as an attacking midfielder, Makengo somewhat came of age during a match winning display at Nantes in September. Nice's current defensive outlook may limit his growth however.
Benoït Badiashile – Monaco (17)
One of 49 players used this season by Monaco in all competitions, Badiashile may be the only debutant to have an immediate future in the ASM 18. Since the 4-0 loss to PSG in mid November he started all but one game under Thierry Henry but with Naldo arriving and Leonardo Jardim back in charge, meaning a likely to switch back to a four man defence, Badiashile may have to wait for another chance at centre back. But at just 17, his future remains bright.
Willem Guebbels – Lyon (17)
Excitement has surrounded Guebbels for some time as the latest talent to be produced by Lyon's increasingly prolific academy. However, the versatile forward's development has been halted of late. Firstly by a protracted transfer dispute between OL and Monaco, Guebbels only played 88 senior minutes for Bruno Genesio as a result, and then successive lengthy injury layoffs having finally arrived at the principality club. Monaco's disastrous season may have been an opportunity missed for the young Frenchman given the swathes of absentees and young players of lesser repute than him thrown in at will by Thierry Henry to compensate. As such, despite the hype, Guebbels' impact remains merely a potential one at senior level, for now at least.
Jonathan Ikoné – Lille (20)
Marginalised as a PSG youth product, as is the norm, and unable to find form on loan with a defensive minded Montpellier team, forward Ikone has finally found a home under Christophe Galtier at Lille. One third of BIP (Bamba-Ikone-Pepe), a reference to the sound the Road Runner cartoon character makes, Ikone has become an integral part of a free-wheeling, Champions League chasing, attacking outfit. Coalescing nicely with Pepe and Bamba, his pace and direct style have been counterbalanced by a newfound elusiveness, an ability to drop off and find space playing behind a central striker. At just 20, he remains an intriguing prospect, three years teammate Pepe's junior.
Jean-Clair Tobido – Barcelona (19)
Rangy ball playing centre back Tobido, who draws parallels with Rio Ferdinand, has endured a tumultuous season so far. Barely more than a Toulouse youth teamer during preseason, Tobido ended 2018 as a Barcelona player despite just 10 senior outings for Les Violet. Having initially been thrown in by Alain Casanova with defensive options limited back in August for the visit of Bordeaux, that short spell included last minute goals, a sending off and a controversial refusal to sign a pro deal. His youth contract expiring in the summer, interest was already rife in Tobido and, in a bid to unobstruct a summer move to a bigger club, Tobido rejected club president Olivier Sadran's advances.
With the club facing the prospect of getting nothing for an extremely talented player, nurtured through the youth ranks at the Stade Municipal, an infuriated Sadran banished Tobido to the reserves. Having secured a deal from the summer, Barcelona eventually negotiated an early transfer for €2m this January. While his short career to date may have been unpredictable, his ability remains unquestionable. Skillful with an eye for a pass and a proclivity to gracefully, although sometimes riskily, play his way out of trouble, coupled with a burgeoning defensive intelligence make Tobido one of the most exciting defenders to emerge from Ligue 1 in the last decade. Barcelona seems the right fit.
Jeff Reine-Adelaide – Angers (now 21)
The former Arsenal youngster proved crucial to Angers' rejuvenation in the second half of last season. His dribbling abilities and tendency to drop off and find space, whether used as a winger or part of a central forward pairing, can make the Frenchman an elusive and threatening proposition. Although he remains an important cog in Stephane Moulin's masterful management of a club who continue to survive despite minimal resources, examples of the match winning displays he's capable of remain rare.
Samuel Kalu – Bordeaux (20)
An inconsistency prevalent in Belgium with Gent hasn't been completely overcome in France but the Nigerian winger is starting to affect games more often than not and has outperformed more heralded teammates Francois Kamano and Yann Karamoh of late, becoming one of few positives in an underwhelming season for Les Girondins.
Sofiane Alakouch – Nîmes (20)
Consistent and reliable, Alakouch has quietly become one of Ligue 1's premier full backs. Promoted with Nimes at the end of last season, the 20 year old Moroccan has adapted seamlessly to a higher level of football, proving diligent and assured defensively while his considered use of the ball and willingness of overlap further forward have made him one of many threats in Bernard Blaquart's attacking team.
Sofiane Diop – Monaco (18)
A beneficiary of player turnover at Monaco during the summer and a shift (ill-advised, as it turns out) towards even younger additions, Diop moved to the Stade Louis II from Rennes despite never having made a senior appearance. A gifted attacking midfielder with a waspish intensity, he remains rather lightweight and has struggled to consistently impact games despite an extended run in the side and obvious ability.
Pietro Pellegri – Monaco (17)
Joining Monaco for a mammoth €20m as a 16 year old, after brief scoring exploits in just 9 outings with Genoa, Pellegri's promising career has been decimated by injury in Ligue 1 thus far. Impressing in narrow windows between issues, a powerful finish at Bordeaux in August being a highlight, the prospect of a consistently fit Pellegri remains tantalising but at just 17, he has time.
Kelvin Amian – Toulouse (now 21)
Having broken into the eleven during Toulouse's miraculous survival at the end of the 15/16 season under Pascal Dupraz alongside fellow youngster Issa Diop, now of West Ham, Kelvin Amian's form has proven somewhat undulating since. Equally comfortable at right back in a four man defence or on the right of three centre backs, Amian suffered as Dupraz's aggressive intensity ran out of steam and Toulouse became meek and conservative. This season however, individual defensive displays have solidified despite TFC's fluctuating form and amounted to Premier League links in January.
Houssem Aouar – Lyon (19)
A silky and graceful midfielder often reminiscent of Andrés Iniesta as he drifts around midfield and picks passes, Aouar has become crucial to a young and vibrant Lyon team under Bruno Génésio. Although his path to the zenith of the European game seems assured, for now he lacks an ability to dictate games and take responsibility for his side consistently. That will hopefully come with time as Aouar's potential remains enormous nevertheless.
Jules Koundé – Bordeaux (20)
Emerging from the CFA side in January under Gustavo Poyet ice-cool Koundé has become a crucial part of the Bordeaux defence, quickly asserting himself with his intelligent and assured defending. A diminished confidence that affected his displays after Poyet's removal has been rectified and he is again hitting his best form and proving something of a leader.
This piece was extracted from the Roligan Journal, an exquisite and free magazine on world football. Download your copy here.