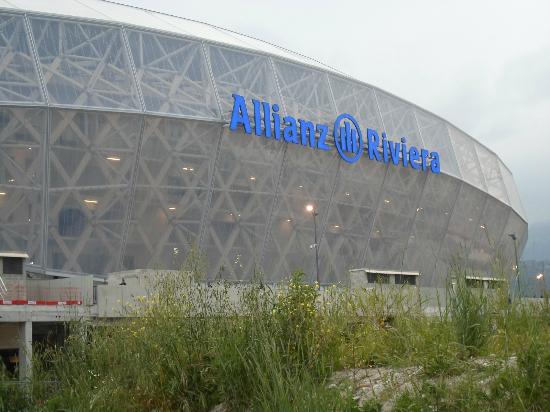 FEATURE | Ahead of tonight's pivotal derby & clash for Europe, OGC Nice must ask more of the collective
The mild weather in Nice on Monday, would have allowed any of the locals to peruse L'Équipe in a bar similar to La Cave de la Tour. The mood would have been relaxed as they read about OGC Nice's industrious victory against Strasbourg on Sunday. These are three points that keep them in contention for the European places. As they turned the pages, the mood would have perhaps soured, as most of the paper would have been devoted Mario Balotelli's new romance with Marseille, its even all over Instagram. It is not the player himself they perhaps miss, but the fact that he reminds them of a gap they have not yet filled.
OGC Nice played well against a Strasbourg side who are also trying to see if they can make the Europa League. It is perhaps difficult to work out the team from the Côte D'Azur as their form has been so inconsistent. One thing is for sure, they are struggling for goals and despite coach Patrick Vieira working the team hard, the jury is out on whether he is doing a good job with a poor squad or simply not maintaining levels of performances that would bring less sporadic results.
Le Gym sat in eighth place after the victory, only two points behind Stade de Reims in sixth. The glaring issue with the team, however, is the lack of goals. They have scored 20 so far in 27 games, only Dijon (19th) have scored 20 and Guingamp (20th) have less with 18. Defensively they are better averaging one goal conceded per game but the fact that they have suffered some heavy defeats to Lille (4-0) and Angers (3-0) in recent weeks doesn't bode well. For the team to try and finish the campaign effectively, they need to find a solution and quickly.
OGC without Balotelli is a little like the Hotel Negresco without the artwork. The building would still be beautiful without it, the artwork, if there, is not to everyone's taste but the two are synonymous. For Le Gym, the Italian's absence does not necessarily mean that they crave for him to return but more that they need another striker. Allan Saint-Maximin has been the team's star man this campaign and his performances even turned the heads on Milan, who have made their interest clear.
With six goals and three assists, he has had an impact, but he is certainly not yet efficient enough in front of goal. This perhaps has not been helped by Vieira's 3-4-3 formation translating in nearly all of the matches to a 4-5-1. This has meant he has had to try and be the creative hub from a wide position for the strikers. Despite his best efforts, the forward men are devoid of goals this term with only midfielders, Wylan Cyprien, Remi Walter and the mercurial talent, Youcef Atal, providing more than one goal. It is a situation that is far from ideal and one that highlights the gargantuan void that Vieira is struggling to fill.
Against Strasbourg it was left to Jean-Victor Makengo who tried to add to his one goal of the season whilst deputising as a striker from his customary midfield position. This has now become the blue print for this current OGC team. Young talented players who are being asked to mature at a considerable rate and either fill-in in different positions, or take added responsibility, both elements in turn putting pressure on their development.
The upcoming fixture against Marseille will do little to comfort those fans who will have noticeably been pining for goals. Balotelli will welcome his old team to the Vélodrome this weekend, albeit not the fans, as they have been told they cannot travel due to the threat of trouble. This is a controversial move, as fans of Marseille were allowed in the Allianz in the previous fixture and has criticised as it may build up resentment for future clashes.
For Vieira, the task will continue to vex him, but if he can find a way to solve his conundrum, then his team look like a unit who next season, with some additions, could advance some distance. He would have a young group who have been tested this term, and yet their coach may still have to ask more of them. Perhaps the answer for Les Aiglons, is for their coach to recognise the absence of a goal-scorer and instead challenge his players to take collective responsibility for their short fall. If they can take this on, then Europe may not be out of reach.