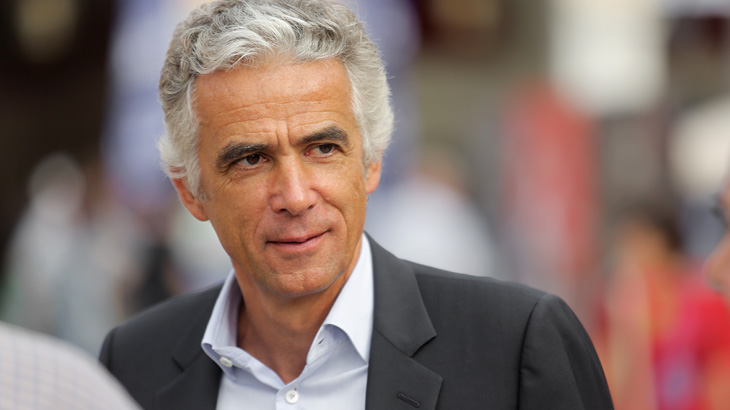 FEATURE | French football will imminently lose its greatest visionary of the 21st century: Nice President Jean-Pierre Rivère
It was a meeting that the mayor of Nice was not looking forward to. Having spoken with players and staff, Jean-Pierre Rivère entered Mayor Christian Estrosi's office with bad news. After nearly a decade of building, careful re-investment and glorious success, club President Rivère and his partner, General Manager Julien Fournier, would be leaving the Allianz Riviera.
Such was their influence on the club, and by extension the city, that Rivère felt the need to warn the city's mayor of their impending announcement. Having guided Nice from the precipice of relegation to the brink of Champions' League football in a journey that included a new stadium and training ground, largely without the help of cash-rich benefactors, Rivère and Fournier will be remembered by Estrosi and the rest of the Cote d'Azur as nothing less than visionaries.
As Eden Hazard's Lille won the 2011 Ligue 1 title, Nice languished in 17th after a final day battle against the drop which saw Monaco relegated to Ligue 2. Les Aiglons needed change. Having parted company with his real estate developer company in 2008, former Nice youth player Jean-Pierre Rivère had been looking to invest in a new project. Rivère's €12m bought him 51% of OGC Nice and installed him as club president before Fournier was enlisted as CEO in July. "We share the same desire to build," said Rivère of his new partner, "It will take time but this is a long project."
With the long term in mind, Rivère and Fournier's management would be based on a number of principles. Chief among those would be re-investment – anything the club made through transfers or sponsorship would be used to develop the squad and club infrastructure. An extensive and carefully targeted scouting network would also be key. Ahead of the competition, Nice assigned a team of scouts to the top two tiers of more than 12 countries where value for money, mainly on younger players who meet stringent club criteria and values, might be forthcoming. Portugal and Ligue 2 became favourites, and England largely ignored.
Rivère and Fournier would also look to develop the club's brand, as Fournier told L'Équipe in 2016: "It is necessary to become an economically more important club but not by the cheques of shareholders, by developing our own wealth.  On the national level, we remain a small brand compared to the PSG or the OM. On the other hand, the Côte d'Azur is world famous – if we manage to associate the image of the club, it gives a stronger international resonance." Finally, Rivère and Fournier would have "strong nerves" in the transfer window, "a period of negotiation, bluffing" says Fournier, partly to avoid financial risk but also to eek the most out of the club's resources, at one stage signings exceeding €2m were rejected. "We are always uncomfortable with too much risk financially. Footballing risks though, yes."
At the end their first season, Nice had risen to thirteenth. A €2m deal for Boca Junior's defender Fabián Monzón proved an early Rivère-Fournier coup as eight goals and 4 Aiglon du mois awards convinced Lyon to part with €4.3m (and Jérémy Pied) a year later. Having won Ligue 1 with Monaco in 2000 and lead Lyon deep into the Champions' League since, Claude Puel was appointed as the coach to implement the progressive football and youth development that Rivère wanted.
Puel had an instant impact. An astonishing 4th place finish was achieved with Nice's now celebrated and replicated principles at the fore. Defender Romain Genevois as well as midfielders Valentin Eysseric and Éric Bauthéac were signed from Ligue 2 for free or on loan and played prominent roles. Argentine forward Dario Cvitanich, a €400,000 addition from Ajax, proved to be the first real success of the club's overhauled scouting system, his 19 Ligue 1 goals were bettered only by Zlatan Ibrahimovic.
However, consistent development proved to be, as Rivère suggested, a long term project. Contending with the demands of European football is a struggle, as many inexperienced French teams find, and Nice dropped to 17th and then 11th place finishes the following season. Supporters even chanted for "Rivère démission!", 'Rivère resign!", during the visit of Evian in April 2015. Rivère and Fournier left in disgust before the ultras released a statement claiming they were "promised wonders, but what have we done for three years? No heart, selling players, no purchases in return, all the power to an egocentric coach and no ambition except to play for survival."
Fortunately for all concerned, Rivère and Fournier stayed and their ideas of club management finally coalesced. Summer 2015 saw a string of genius deals for Jean-Michel Seri who joined from Pacos de Ferreira for €1m, full back Ricardo Pereira on loan from Porto, Valère Germain from Monaco whose year-long spell produced 14 league goals and 6 assists while defender Maxime le Marchand joined from Ligue 2 Le Havre. Heading the list of recruits however was Hatem Ben Arfa, who signed on a free for a single year. A cautious deal given his previous issues at Newcastle and Hull City but one that represented "a sporting, but not financial, gamble". The €11m received for academy graduate Jordan Amavi from Aston Villa was re-invested into such transfers and building a new training centre.
Those additions brought about Puel's best season at Nice, Ben Arfa's 17 league goals the product of some enthralling attacking football. With Puel off to Southampton, Lucien Favre fit the Nice mould perfectly and took the club to third the following year, their title challenge only extinguished in the final month having been top at the halfway point and dismantled eventual champions Monaco 4-0 in September's Côte d'Azur derby.
Somehow, despite losing Ben Arfa to PSG, Nampalys Mendy and Jérémy Pied to England, Valère and Germain after his loan, Rivère and Fournier had improved the team yet further. A €15m fee for Mendy was reinvested as the club added full back Dalbert and midfielder Wylan Cyprien, typically low cost deals from Liga Nos and Ligue 2 respectively, Brazilian defender Dante and Montpellier's title winner Younes Belhanda on loan from Dynamo Kiev. All proved crucial for Favre.
Shrewd to the last, Rivère and Fournier have recouped €100m from the sales of Seri, striker Alassane Pléa, Dalbert, Mendy, Amavi and Le Marchand, players who joined the club for a total of less than €5m. Mario Balotelli meanwhile became the latest sporting but not financial gamble to pay off. Rivère and Fournier had completely revolutionised the club, however, an attempt to develop further has led to their exit.
In 2016 a group of Chinese-American investors bought 80% of Les Aiglons, acquiring more than half of the 51% owned by Rivère. "Their arrival secures the future of the club and will provide the additional resources for continuation of our vision." Rivère explained in a statement, "While keeping its identity and guidance, OGC Nice will gradually reach new heights." Chien Lee, Chairman of the OGC Nice Supervisory Board effused, "Between the passion of its fans, its world-class stadium and future training centre, the infrastructure is in place to achieve the management team's vision. As a long term investor, the future is bright for the club and its city."
But whether Nice's new investors, a group led by Lee and Paul Conway who also own an 80% stake of League One outfit Barnsley, truly shared the 'desire to build' Rivère saw remains debatable. In a lengthy press conference Rivère and Fournier pointed at "tensions with our shareholders" that were "accentuated over the transfer window." "As time goes by, fluidity is no longer there. And the differences of opinion are there." Rivère said.
Those differences centre on their re-investment policy. In an interview with L'Équipe, Rivère dispelled the ideal Lee and Conway would plow millions into the club and insisted that all summer 2016 moves were "due to our own funds". Keen to back their manager, another club principle, Fournier and Rivère wanted to sign either Younès Belhanda again or Ryad Boudebouz as an established, proven creative player to aid Vieira, but instead the club's investors wanted to see Rivère and Fournier sell players for large fees without re-investment into proven quality, as they had done so successfully before.
Rivère even went as far to say: "On sales, we always agree, but on arrivals, a little less. Well, we manage departures and they manage arrivals. We are not in conflict with the shareholders, but we are not comfortable with this management." Fournier, who has had full control over transfer policy and likes to act quickly, has been particularly irked the investors slow decision-making. It reportedly took Conway and co. six weeks of being persuaded before they sanctioned the €3m purchase of right-back Youcef Atal, who has already proven to one of the best signings made by any Ligue 1 club this season.
As a result of this parting of ways, Patrick Vieira's reign at the club may yet prove collateral damage. Being Fournier and Rivère's appointment, the former had flown out to New York convince Vieira to sign for the club, his position is weakened by their departure. A position that has already been tested following a shaky start and some uninspiring football – results often accredited to in-form goalkeeper Walter Benitez. Having suffered through an exodus of talent in the summer, Vieira needs quality to stabilise the team but is likely to only receive young players not ready to make an impact. As Monaco have shown this season, a shift too far in that direction can be disastrous without experience to guide fledgling talents.
Both men will remain for now, running day-to-day business until replacements are found. Fournier has been linked with the Sporting Director role at Southampton, while Rivère, having recovered €11m of his initial €12m investment, in a typically astute piece of business, still owns 20% of the club and is unlikely to resurface anytime soon. On his way out, the form of full back Atal and lightening winger Allan Saint-Maximin remain testaments to his image for Nice, Rivère insisted: "There is no crisis at the club." For now he is right but without their visionary Chairman and CEO, Nice's players, staff, fans and mayor may soon disagree.
Rivère has everything a president requires in football: guts, an ability to spot opportunity, a vision and a dream, with the necessary pragmatism that the ups and downs of football require a man in his position to have. His departure from Nice is devastating for the club and the league as a whole.