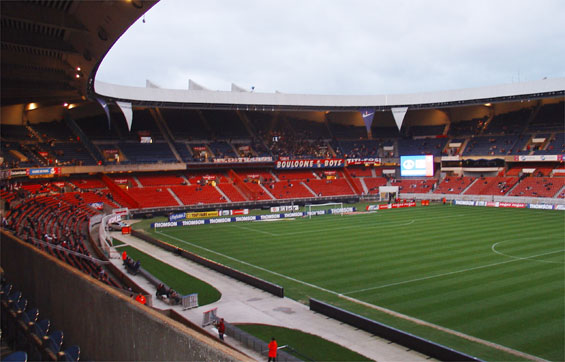 FEATURE | How PSG knocked themselves out of the Champions' League
It's almost 4.30am and I'm lying on an uncomfortable single bed in a small hotel in the north of Paris. The sound of heavy rain crashing down on this quirky family run business keeps me awake as do a million thoughts in my head as I reflect on the debacle at the Parc des Princes just six hours earlier.
I'm sure that I'm not the only one awake right now trying to figure out just what went wrong in south-west Paris late last night. Fans, players and management will not sleep too well after such a shambolic performance against a Manchester United B team. PSG had just done everything in their power to eliminate themselves from the Champions' League and nobody inside the Parc des Princes understood why?
It was supposed to be comfortable, or so they said. There was a job to do: to see the French champions through to their first UEFA Champions League quarter-final since 2016. The hard work had been done at Old Trafford and the team were 75% of the way there, but maybe in that, lies the problem.
It was a straight-forward win three weeks ago in Manchester, comprising of two away goals and none conceded. The media on both sides of the Channel saw no way back for Ole Gunnar Solskjaer's men and many fans of both teams thought the same.
I arrived in Paris around 3pm on Wednesday afternoon and immediately helped a group of United supporters to navigate their way through the city and find their way to the Eiffel Tower to collect their match tickets. They were humble, very complimentary of PSG and had no real belief that their injury-hit team were going to pull off an unlikely victory. In fact, not one of these men could even have envisaged United winning the game, never mind going through to the next stage.
As we walked together through Gare du Nord station, I reminded them of Barcelona two years ago, but even as I informed them that the tie was not yet over, I did not truly believe that PSG would throw this away again.
After all, Unai Emery has now moved on and Thomas Tuchel has come in and seemingly enhanced the "mental toughness" of the squad, or so we thought. To come through precarious situations such as the group of death with Napoli and Liverpool and to put United to the sword on their own patch formulated a belief that PSG were finally turning the corner.
I left my hotel and arrived at Porte D'Auteuil, situated just a few hundred metres from the Parc des Princes, at around 6pm to meet a friend and journalist for a drink and discuss the outcome of tonight's game. We spoke about who would be a potentially good draw in the quarter-final and where we felt improvements have been made under the German Tactician.
At 6.30pm I left the bar, walked up towards the stadium and was greeted by around 1,500 of PSG's renowned Collectif Ultra's Paris group (CUP). There they were, dressed as they do in trademark fashion, looking the part in black CUP merchandise, hoods up and sunglasses on.
They had banners and flares to hand, there were fire crackers lighting the skies as dusk slowly set in and each person in full voice. They had pre-arranged a walk to the stadium and everyone was invited. It was cold, windy and the rain was starting to fall but they didn't care, they were ready to give their all for the cause and there was still over 2 hours to kick off.
An evening in the Virage Auteuil with the CUP should be on everyone's bucket list and whether you're a fan of the club or not, these men and women do some incredible work to ensure the players get the best possible support and that the club is represented in the most colourful way with a true Parisian influence. I truly believe that at times, there is a huge disparity between the endeavour the fans give to the players and what they receive in return. Last night, that was more evident than ever.
After watching this team for many years, it has come to my attention that the opening 10 minutes of big games will give you an indication of how the night is going to conclude. As to mirror the opening exchanges in the Camp Nou in 2017, a nervous PSG fell behind early to a Romelu Lukaku goal after a calamitous mistake by Thilo Kehrer.
The German has regularly unsettled PSG fans since signing from Schalke 04 last summer. He is either excellent or littered with errors, there is no middle ground and he has conceded no less than 4 penalties already this season. How he remained on the pitch for 70 minutes was baffling as it was quite possibly one of the worst full-back displays you will see anywhere this year.
After drawing level through Juan Bernat, PSG fell behind again after the usually reliable Gianluigi Buffon spilled Marcus Rashford's long range drive into the path of Romelu Lukaku who tucked home his second of the evening from close range. It was at this stage when PSG became increasingly nervous, afraid and the frailties of past wounds were opening once again before our eyes.
Within 45 minutes, the two away goals at Old Trafford had been wiped out, and that sickly feeling that PSG fans develop every year in the first week of March was starting to take over.
The second half was more of the same, PSG maintaining the bulk of the possession but with no real purpose. Kylian Mbappé was dropping deeper and for the first time in the tie, the absence of Edinson Cavani was truly felt as balls flashed across David De Gea's box with nobody there to convert. There was a lack of chemistry between the attacking players and the longer the game went on without PSG scoring that all important second goal, the tension in the stands became more evident.
In truth, PSG did not really look like scoring in the second half, but then neither did United however, as the latter stages of the game ensued, there was a feeling that the game was going to slip away on a mistake or a contentious decision. In the final minute of the game United were awarded a penalty via VAR for a Presnel Kimpembe handball and Rashford tucked away the winner under huge pressure to send United through to the last eight.
At the final whistle, the Parc was in silence and I slowly made my exit from the stand, in disbelief that PSG had miraculously done it again. After the silence and denial came the next stage of grief response, anger.
A plethora of colourful language was directed from the stands at the PSG players lying motionless on the pitch to the point that I have never witnessed before. It was aggressive, enraging and it felt like the fans had finally reached their threshold with this team. How many more times could those wonderful supporters be let down at key moments by this team in European competition?
Year after year PSG are finding new spectacular ways of crashing out of Europe and making themselves and the fans look like a laughing stock.
It was a Ligue 1 performance on a Champions' League knockout night. PSG were poor and played with no cohesion from the offset. Players looked languid as if they were playing against a team at the bottom of Le Championnnat. Kylian Mbappé was dreadful throughout and looked a shadow of the player that destroyed United at Old Trafford. Julian Draxler looked lethargic and Dani Alves was careless in possession. The football was slow and predictable, and PSG played with three or four touches instead of the quick, dynamic one touch football on display at Old Trafford or in Naples in November.
The approach and attitude were wrong from the start and this in part was owing to United having such a depleted team. Perhaps some PSG players thought they were already through to the last eight? That's certainly how it appeared from the stands. But football works in mysterious ways and PSG are masters of their own downfall time and again. It was an unprofessional performance from the capital club and for all the good that Manchester United did in punishing PSG's mistakes, the Red Devils didn't knock PSG out due to an overwhelming belief they could turn it around, PSG knocked themselves out of Europe and the manner of three conceded goals clearly shows that.
The defeat was more because of a mental problem than a tactical one and this deep-rooted ability to self-destruct has reared its ugly head once again. How can Thomas Tuchel legislate for second gear displays from his front three? A woeful error-ridden evening from Thilo Kehrer and Gianluigi Buffon. The former Dortmund coach was highly animated on the touch line throughout the evening and his body language often portrayed a very frustrated figure.
There are many questions that need to be answered in the coming days and weeks. Is this debacle worse than Barcelona? In some ways yes. It took PSG two years to put the ghost of the Camp Nou behind them only now to arguably surpass that feat.
What will the psychological impact be on this group of players? Only time will tell but players such as Marco Verratti, Marquinhos and Thiago Silva have endured all of PSG's recent disappointments and it will be interesting to see if they can bounce back from this again.
There is still a Ligue 1 title and a Coupe de France to win and for now that will have to suffice. If PSG are successful in both competitions, the season will still be viewed as a disappointment due to a distinct lack of progression in Europe.
However, one hopes Thomas Tuchel's position will not be called into question. The club and players firmly believe they have the right man at the helm. There were maybe some selection and tactical deficiencies issues last night that could and should have been revised earlier, but the 11 players that Tuchel started were competent enough to have got the job done against a United team that created very little.
PSG must already start to look towards building for next season, there are huge holes within the team that need to be fixed. To do that, Sporting Director Antero Henrique must find common ground with Tuchel to deliver the calibre of player that the German requires to bolster his squad and not repeat the mistakes of last summer.
For all the media criticism PSG are going to endure over the next few days as the post-mortem begins, there should be a clear message of unity sent out to the football world that PSG are not going anywhere. The club will continue to work to build itself commercially in order to heavily invest in the playing squad whilst ensuring that Financial Fair Play restrictions are appeased. After the defeat in Barcelona, PSG reacted by signing Neymar and Kylian Mbappé. Whilst this level of investment clearly does not equal immediate success, maybe we can expect some big arrivals and departures at the Parc des Princes this summer, and not only on the pitch.