Nicolas Pépé was one of Ligue 1's standout players last term as Lille OSC stormed to an unexpected runners-up finish after they'd spent much of the 2017-18 campaign battling relegation (click on graphics to enlarge).
He of course subsequently joined Arsenal for a club-record initial €79m at the beginning of August.
Having previously assessed Pépé's apparent replacement at Lille, Yusuf Yazici, here we'll take a closer look at Pépé himself.
We'll start with a map of all his shots during the 2018-19 Ligue 1 campaign.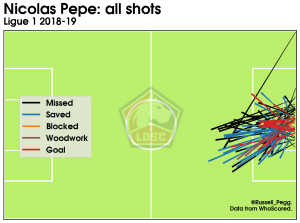 The two obvious take-aways here are that Pépé barely ever shoots from range in the left-hand side of the pitch – and that his long-distance shooting is terrible.
This becomes even more conspicuous if we separate these attempts into those that resulted in goals and those that were unsuccessful.
Almost all his goals came from inside the "danger zone" in the central areas of the penalty box. Pépé appears to be at his most dangerous around the penalty spot.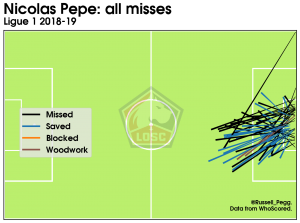 By contrast, in the league, Pépé took 47 shots from outside the box – but just one of them resulted in a goal. That cluster to the left of the 18-yard line is a study in wastefulness.
This is even easier to discern if we look at the shots in heat-map form.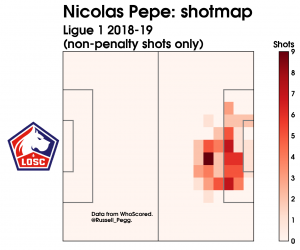 Unai Emery will surely try to eradicate that dark red square well outside the box altogether.
Watching Lille last season, you could see that if the first goal didn't come early, the team's forward line would sometimes begin to lose their composure and start shooting from range, rather than continuing with the combination play that often served them so well.
Pépé was far from the only offender in this regard, but he seemed to be the worst, an impression that the charts above do nothing to dispel.
Moving on to look at Pépé's shot placement, we can see that he has a very clear preference for keeping his efforts low.

When Pépé does go high, he (i) often goes wide as well; (ii) rarely ever hits the target. None of his non-penalty league goals were placed in the top half of the frame.

In terms of where on the pitch Pépé saw the ball, it's clear that he loves to work in the right half-space just outside the penalty area.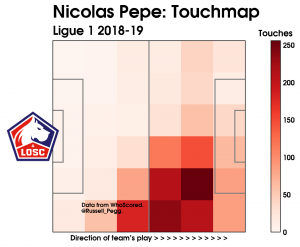 If we compare Pépé's plot to the touchmaps of Arsenal's forwards last season, a couple of things are obvious.
Firstly, it's easy to see why Henrikh Mkhitaryan was allowed to join Roma on loan a month after Pépé's arrival, as both players operate in similar areas.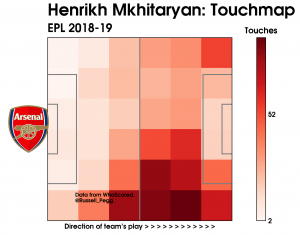 Secondly, it looks like Pépé will naturally complement Pierre-Emerick Aubameyang and Alexandre Lacazette, both of whom work primarily on the left-hand side of the pitch. Pépé and Aubameyang appear especially well suited.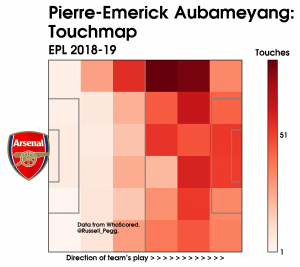 Finally, here's Pépé's pass radar for last season, which for an attacker indicates considerable evenness and a penchant for link-up play: