Lille have now announced the signing of Turkish attacking midfielder Yusuf Yazici from Super Lig side Trabzonspor for €16.5m plus bonuses.
A record fee for Lille, so what is it about Yazici that has caused the club to offer such a landmark sum?
N.B. Click on all data to enlarge.
Before we move on to the player's talents, we should first note that shopping in Turkey was hugely productive for Lille last summer, with right-back Zeki Çelik turning out to be a fine signing.
But while Çelik arrived from lowly second-tier İstanbulspor, Yazici had been playing for one of Turkey's biggest teams.
Although their last title win came way back in the 1980s, Trabzonspor remain by far the nation's most successful club based outside of the Turkish capital, Istanbul. And last season they were also by some margin the best.
They finished fourth, just six points behind champions Galatasaray and 16 points above fifth-placed Yeni Malatyaspor – as well as 17 above one of Turkey's traditional big three, Fenerbahce.
Now 22, Yazici has been a first-team regular since his teens, and despite his young age, he captained Trabzonspor a number of times last season. He also made his international debut in the summer of 2017, although so far he's been restricted to substitute appearances during Turkey's Euro 2020 qualifying campaign.
To be fair to Yazici, the competition in the Turkey team for his preferred positions is strong, with Milan's Hakan Calhanoglu, Cengiz Under of Roma and Everton's Cenk Tosun all in contention.
Narrowing the focus to how he would fit in at Lille, it's clear that Yazici is already accustomed to playing in a 4-2-3-1, which of course is very much Christophe Galtier's preferred formation at Lille.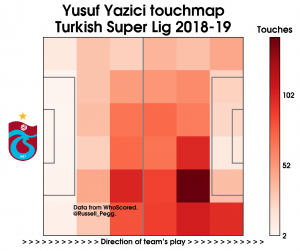 Yazici has most often been deployed on the left or in the centre of the three, and as we know that's where Nicolas Pépé and Jonathan Ikoné respectively play for Lille. It could be that the club expect one of that pair to leave, or perhaps Yazici is simply being brought in as a talented back-up to help the squad deal with the demands of Champions League football.
Despite the fact that Yazici played as a ball-progressing central midfielder at times last season and that Lille have already lost Thiago Mendes to Lyon this summer, there seems to be very little chance that he's being earmarked for a deeper role, as Lopez described the player as "a 9, a true 10 or a winger."
Next, we'll look at his shot map, which isn't especially pretty.
Much like Pépé, Yazici is fond of cutting in from the right and shooting on his stronger left foot. We can see that he clearly has a favoured position from which to shoot, namely just outside the right side of the box as he's looking at it.
The obvious problem, however, is that while the majority of his shots have come from that area of the pitch, none of his league goals have.
This issue can be seen more easily if we look at his shot locations in heatmap form – that's just a horrible zone to be shooting from so frequently.
Yazici's shooting accuracy is actually impressive: 42.7 percent against a league average of 34.4 percent. But his conversion rate – in other words, the proportion of his shots that result in goals – is poor: 5.33 percent, about half the league average.
Moving on to Yazici's chance creation, there's a pleasing variety to his play. He's obviously adept at creating openings with longer balls from wide on the right, but he's also able to make chances with short passes in more central areas and the left side of the penalty box.
You can see why such versatility might appeal to Lille, given the fluidity displayed by their front four last season. The ability to switch positions with teammates would seem to be a prerequisite for joining that attack.
There's also a possibility that Yazici could be earmarked for corner duties, as Lille's main corner taker last season, the aforementioned Mendes, is no longer at the club.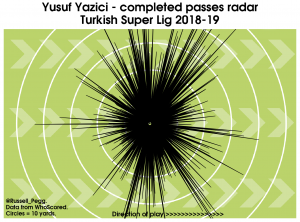 Finally, Yazici's pass radar shows that he's certainly not averse to a cross-field ball. There's a good amount of successful vertical passes in there as well, which tended to be a feature of Lille's play when they were at their glorious, free-flowing best last term.
For now, though, it's worth remembering that while the Turk's goal and assist figures are far from dazzling, Jonathan Ikoné's numbers at Montpellier were much more underwhelming than Yazici's – and he hasn't turned out too badly for Lille at all.