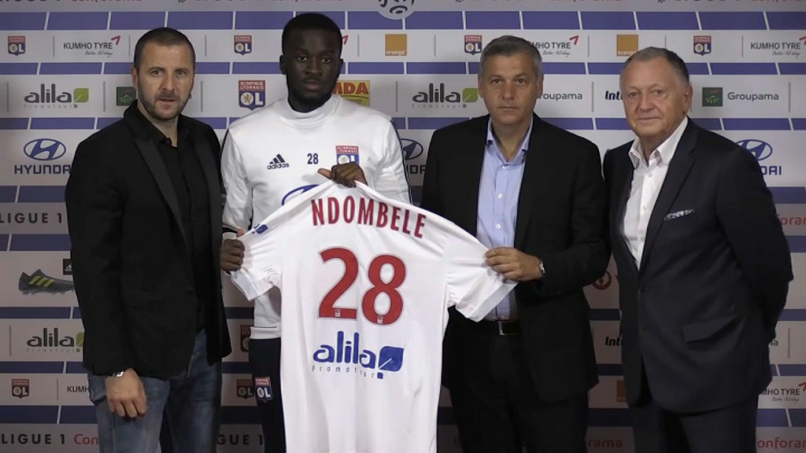 FEATURE | Tanguy N'Dombélé – an assessment of the Lyon midfielder's capacity to fit in at PSG or Manchester City
Marred by player unrest, including reports of physical confrontations and poor performances in recent weeks, this has been a rather trying season for Lyon. Dumped out of both cup competitions against supposedly lesser sides, and meekly eliminated by Barcelona, the team, despite being clearly talented and (by Ligue 1 standards) expensively assembled, has failed to live up to expectations. The impending departure of Bruno Génésio is only the first step in a much-needed major restructuring at the club, but among the team's mooted departures, one player continues to elicit by the far the highest degree of interest.
Signed from Amiens for what seems a paltry €8m in summer 2017, Tanguy N'Dombélé has continued to blossom this season, despite some poor performances in the season's early days. There was some suggestion that his head had been turned by what was reportedly concrete interest on the part of Roma and Tottenham, but he has, by and large, buckled down and played well both domestically and in Europe, earning his first cap for France, even as his time with Les Gones may be growing short, with Paris Saint-Germain and Manchester City among those linked. With Lyon poised to recoup his purchase price ten-fold should he depart, now is as good a time as any to take a look at what kind of player N'Dombélé is and what kind of system is the best fit for his skill set.
N'Dombélé's most obvious assets are his ability to hold onto the ball with it at his feet, having recorded one of the highest success rates in terms of dribbles in this year's Champions' League, and his remarkable vision, particularly in recording assists. While his assist figures are down this year, that is clearly a product of the way in which he has been used in the current campaign. Whereas last season, he was played in central midfield, with Lucas Tousart playing in front of the back four, in this campaign he has more regularly found himself played in a central two, partnering Houssem Aouar. Given Aouar's slight build and creative impetus, that has necessarily shifted N'Dombélé's responsibilities in such a way as to have made him a more defensively-oriented player.
Much of this has been a product of Bruno Génésio's desire to try to shoehorn as many attacking players as possible into his starting line-ups, but in addition to making Lyon a poorer side defensively, it has also done much to pinpoint how N'Dombélé is best used. Despite his physicality being an asset going forward, he lacks the positional judgment for this to really be a strength in a deeper role, despite what would seem a not-inconsiderable ability to function as a regista. Were he to be played alongside a more prosaic, defensive-minded midfielder, he could certainly prosper in a central two in a 4-2-3-1 or 4-4-2, but alongside the slightly built Aouar, it revealed him to be somewhat wanting, even as he was better able to spread play to the flanks in this role.
Links to Manchester City have him tagged as a replacement for Fernandinho, who has, no matter the system employed by Pep Guardiola, always been the most defensive player in the midfield, whether deployed as part of a two alongside Kevin de Bruyne or deepest in a 4-1-4-1 or 4-3-3. There is some suggestion that N'Dombélé could be acquired by City to play alongside the Brazilian in a 4-2-3-1, but given the surfeit of far more attack-minded midfielders at Guardiola's disposal it would seem folly to drop one or more of them in favour of the Lyon man.
However, rather than being a replacement for Fernandinho, might N'Dombélé prosper as a replacement for another ageing member of the City squad, David Silva? The Spaniard, 33 this year, is under contract for one more season, and even as his role in a 4-3-3 is more attacking than box-to-box, he, too, is a player that will need replacing, and surely N'Dombélé's dynamism would be well-appreciated in his stead. In that sense, then, N'Dombélé's nominal tactical versatility would seem well-suited for Manchester City, but what of a presumptive move to Paris?
Thomas Tuchel has, like Génésio and Guardiola, been a manager who doesn't seem to be wedded to one particular system and is apt to try to experiment with players in new roles (see Marquinhos as a defensive midfielder and Dani Alves and Julian Draxler as central midfielders). Following on from this, even though N'Dombélé isn't the style of player that PSG have lacked since the retirement of Thiago Motta, there is more than enough about him to suggest that he could be capable of playing not only as a left-sided central midfielder in a 4-3-3 or 3-5-2, but also as part of a central pair in the 3-4-3 that seems to be Tuchel's preference when his squad is fully fit.
With Marco Verratti capable of playing a deeper role as well, N'Dombélé's potential arrival would add another layer of tactical flexibility to PSG's play, and he would also be a replacement for (and upgrade on) the intransigent Adrien Rabiot. Whether he can prosper as left-sided player, as both of these sides would seemingly require, is another matter, as his time playing in a box-to-box role with Lyon has largely been on the right, but one cannot help but feel that his skill-set, unlike that of a wide player or of a full-back is something that is eminently flexible.
Thus, if N'Dombélé does depart this summer, so long as he is provided the opportunity to make use of his skills and not wrongly saddled with protecting a slipshod defence, there is no reason to believe that he can't blossom even further, especially with the chance to make a greater impression on the European stage.