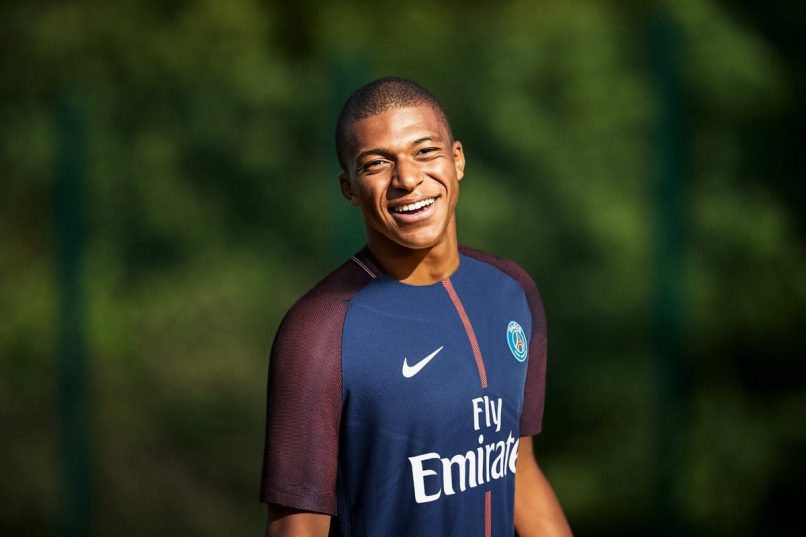 FEATURE | The Psyche of Kylian Mbappé – the weight of the world's next best player tag
During his meteoric rise at Monaco, Kylian Mbappé set records galore across Europe. Not only was the young starlet scoring goals left, right, and centre, but he was doing so whilst achieving one of the toughest feats of all: being almost universally liked.
Practically everyone who laid eyes on the then-teenager on the south coast of France was wowed by his maturity both on and off the pitch. Not overly exposed to the media in his early days of stardom, the image painted of Mbappé was one of an innocent, calm schoolboy who was still living at home and being dropped to training by his mum everyday.
And when the big money move finally came, the young man's first interview in a Paris Saint-Germain shirt painted a picture of a player wise beyond his years; jokes were cracked, astronomical fees were downplayed, and the overriding characteristic most onlookers observed from Mbappé was humility. While the 20-year-old is just as astute at scoring goals nowadays, his temperament may be viewed to have somewhat changed. Taking a deeper look at both the underlying statistics and Mbappé's behaviour reveals this.
Firstly, the numerical view. During his stint in the Principality, Mbappé received just two yellow cards across his 51 appearances in the domestic league and European competition combined. Mbappé was in the headlines for his goal-scoring, creative play, and not much away from the pitch.
His transfer to the French capital seems to have awakened something of an aggressive streak, with the World Cup winner earning himself eight yellows as well as his first red card in a slightly higher amount of games (68) in the same competitions. On top of that, add a dismissal in the Coupe de la Ligue against Rennes, after he raked Ismaila Sarr's calf in a poorly timed challenge. The red card was fully merited, but on his way to the tunnel Mbappé found a television camera and vented his frustration to the world: "The same thing [happened to me] last week… And nothing!"
His sending off at Nîmes Olympique in Ligue 1 at the beginning of this campaign was a notable one. Teji Savanier cynically brought down the speedy forward, only for Mbappé to jump to his feet and forcefully barge the Crocodiles midfielder to the floor, followed up by what looked to be some choice words while Savanier lay on the ground. Mbappé had already been booked that match for blocking a quick Nimes free kick by knocking the ball away, but the referee reached straight for red after his encounter with Savanier.
Aside from the bookings, the PSG forward's attitude seems to have changed in style somewhat, too. He has attracted widespread criticism for play acting and showboating during his time with the national team, with even some in his own camp denouncing his actions. Les Bleus coach Didier Deschamps said that Mbappé was lucky not to be playing against him, as he would have been happy to take more than a yellow card in order to teach Mbappé a lesson on the field for disrespect.
More recently, in Le Classique against Marseille in March, Mbappé's goal celebration was to just shrug at the camera, as if his goal against the bitter south coast rivals meant nothing to him. He had also downplayed the rivalry with OM in the past. Before the 2017 match in which Edinson Cavani spared PSG's blushes with a last minute free kick, Mbappé ruffled Marseille's feathers by emphasising the chasm in quality between the sides. This interview and subsequent reaction is a far cry from the angelic schoolboy who had jested about not yet passing his driving test when moving to Paris.
Despite all of these incidents, it is important to remember that Mbappé has had to deal with the weight of the world on his shoulders at such a young age; France see him as their crown jewel, and PSG have had to rely on him numerous times since his arrival. It would be naive of us to expect a 20 year old to keep all of his feelings bottled up, and not to have some kind of backlash from time to time.
But perhaps we can examine this change in personality in a different light. Yes, seeing the anger and play acting is frustrating, but has Mbappé's shorter temper and sharper edge come with an extra desire to win? For better or worse, he has gone to the next level since moving to PSG. A domestic treble in his debut year in the capital will shortly be followed by a domestic double, and the images of the youngster lifting the World Cup high above his head will live long in the memory.
And while his card tally has increased, the goals have followed: four at the World Cup was a fantastic return, and only a miracle for his competitors will take the title of top scorer in Ligue 1 away from him this season. Part of Mbappé's natural development has been adding the nastier side to his game, and rather than hindering him, it seems to have given the extra boost to bring him into the conversation about the best players in the world. There is something a little sad about the fact that he is not the perfect-mannered, babyfaced teen he first was when he burst onto the French football scene, but in a dressing room such as PSG's, you have to impose yourself. So perhaps these moments of on pitch petulance are a symptom of a transformation from the shiest character in the Monaco dressing room as attested to by Benjamin Mendy, to Mbappé the brand, the machine.
It is vital that his coaches keep him grounded now. If his temper is allowed to flare in games, as well as his ego off the field, Mbappé could well be watching PSG more often from the stands. He could even make some enemies on the way to the top if he continues on his current path, but for now, his desire for victory at any cost is paying dividends.