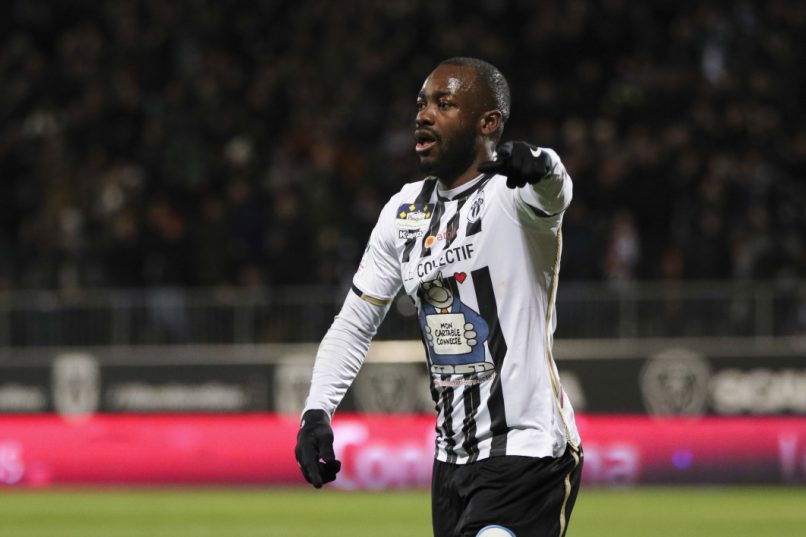 FEATURE | The understated rise of Stéphane Bahoken – the centre-forward who brought Neymar to his knees
Angers SCO are a club renowned for their clever and cost-effective transfer business. The current starting back four and keeper have cost the quasi-nothing in transfer fees, yet this season they have conceded less goals than the likes of Marseille.
Famara Diedhiou's €6m transfer to Bristol City in 2017 was three times the fee that Angers spent on the Senegalese forward for the previous summer. More recent deals have reinforced the existence of this savvy business model, and current centre forward Stéphane Bahoken signed last summer provides the latest fitting example.
Signed for free from Strasbourg at the start of the season, the Cameroonian international was brought in to try and help plug the huge goal-scoring chasm left by his countryman, Toko Ekambi. Ekambi's 22 goal involvements (assists & goals) in the 2017/18 campaign helped drag the Western club out of a relegation battle, subsequently earning him a record €18m move to Villarreal.
Going into the new season, fans and pundits alike were not expecting Bahoken to produce these numbers. However, they anticipated a significant contribution towards those goals, with Flavien Tait's explosion in the second half of last season, as the most influential player, making up the rest. It seems that Bahoken has proven this theory right, with 11 goals and 1 assist.
It will surprise some to hear that this is Bahoken's first professional season where he has started the majority of games possible. Coming through the Nice academy at the beginning of the decade, Bahoken was unable to break into the first team squad considerably under Claude Puel. An unsuccessful and somewhat odd loan move to Scottish side, St Mirren followed. This influenced the striker's decision to take a step down to build his career in 2014. That step down was to 3rd division side Strasbourg, who are now in the Europa League qualification rounds for 2019/20.
Only recently liquidated in 2011, the Alsace side had already scaled two divisions from the fifth tier. Over the following three years, Bahoken contributed to the meteoric rise of the club, as they gained promotion to Ligue 1 for the 2017/18 season. It was in this campaign that Bahoken started half the games and with his seven goals, helping to secure a consecutive year in the top flight.
The highlight of his previous campaign was the winning goal that inflicted the first defeat of the season on eventual champions PSG. A picture of Bahoken standing strong over Neymar on his knees was captured, and is something that he still has as his Twitter profile picture.
With new signings Ludovic Ajorque and Lebo Mothiba incoming for Strasbourg, Bahoken was already out of contract and planning a move elsewhere. Interest came from fellow top flight club Angers; and the Cameroonian accepted, signing a 4-year contract and becoming the highest paid player at the club at approximately €17,500/week.
This change of club presented a slightly different challenge for Bahoken. He would now be looked upon as the main goalscorer for the upcoming season? In his first interview for the club he stated:
"I will try to bring all that I have to bring to the club, and to be as efficient as possible."
And his performances this season has reinforced his statement.
Out of all centre forwards that have played over 2000 minutes this season in the division, the Cameroonian's 22% conversion rate is only bettered by four others; the freak of nature that is Kylian Mbappé, and two players from his former club – Nuno Da Costa and Lebo Mothiba.
Enzo Crivelli also betters him; however, the former Angers striker's conversion rate of 36% is best taken with a handful of salt rather than a pinch, as he has achieved only 21 shots in a full season of football. That's a shot every 109 minutes!
Bahoken's impressive conversion rate can also be attributed to not just his own ability, but to how Angers have utilised him. While at Strasbourg, Bahoken tended to drop slightly deeper to construct play and contribute towards attacking moves.
However, this season at Angers, coach Stéphane Moulin has provided simple instructions. Hold the ball up for teammates, try to stretch the defence when needed, and most importantly, finish the chances you are given. The former Nice youth product has clearly done so with aplomb.
There has been recent interest in the striker, from a host of English Championship and Italian clubs; with Moulin confirming that Bahoken, and teammate Flavien Tait, are the two players most likely to depart this summer.
In a recent half-time interview in the final game of the season against Saint-Étienne, Bahoken stated he will decide his future after he has represented his nation at the AFCON in Egypt. Any team that looks to acquire his services will be obtaining a hard-working, clinical centre forward who has even brought the star-studded Neymar to his knees!