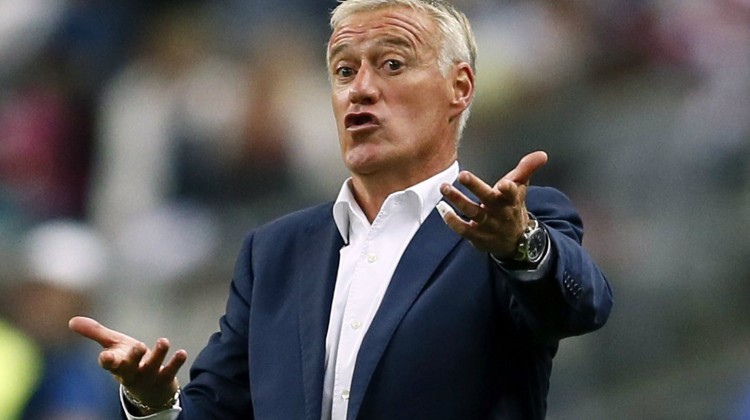 FEATURE | Why France's loss to Turkey was an anomaly
In England, the drum of players' efficacy, energy and fitness after a long and gruelling season has been a common trope of late. Harry Kane, of course, is the common example, but legginess and the quality of both European finals were surely linked. In parsing France's 2-0 loss to Turkey, however, there was clearly more at play than just exhaustion. The hosts, of course, played with no lack of it, offering a fluid and dynamic midfield display that left Paul Pogba and Moussa Sissoko chasing shadows.
Compact and opportunistic, Turkey played a near-perfect match as only some heroics on the part of Hugo Lloris kept the score to what it was, but might Didier Deschamps have done something differently, or was this a one-off, a poor performance compounded by injury absences, a steaming evening, and a fervent crowd? Nerves as a product of the atmosphere will have certainly played their part, but it is difficult to countenance Kylian Mbappé repeatedly giving the ball away, or Lucas Digne being destroyed by Mehmet Zeki Çelik.
On the latter count, there may be some suggestion of Digne's incandescent attacking performances for Everton overshadowing how poor he can be on occasion defensively (particularly for his country), but with Blaise Matuidi in the fold as well, one would have thought that Deschamps would have struck the right balance. Ferland Mendy offered an improvement in this position upon his introduction, but the damage had been done by that point. While Digne is a mistake that Deschamps is not likely to make again, what of the rest of his choices?
Antoine Griezmann turned a decent enough performance, and he, Mbappé and Olivier Giroud are of course automatic choices in attack, but did the manager botch his midfield choices? Moussa Sissoko endured a long campaign with Tottenham. The efficacy of Paul Pogba in a midfield two is something that has been debated ad nauseam for quite some time, and with Matuidi in the side last summer, Deschamps seemed to have struck the right balance, with N'Golo Kanté (absent on Saturday) and the Juventus player picking up any slack on the part of Pogba.
However, with Kanté absent, Deschamps opted for Sissoko over Tanguy Ndombele, his options having been limited by not calling up a replacement for Kanté following the Chelsea man's injury. Ndombele is not exactly best suited to playing in a midfield two, but he has impressed there for Lyon this season, allowing Houssem Aouar a freer role, and was also solid before being taken off injured vs Armenia, hindsight suggesting he may have been a better option to partner Pogba.
Sissoko has been a hugely effective presence for France, but more often on the right, impressing with his graft and industry. However, he simply was not up to the task at hand, whether through a lack of positional familiarity in the national team, or exhaustion, and he and Pogba were frequently caught out, with Matuidi otherwise occupied in covering for Digne. With so many interesting options in central midfield available to him outside of the picked squad (Tiemoué Bakayoko, Steven N'Zonzi), why Deschamps failed to bring in cover for Kanté baffles, but even more so his decision to play this formation given a lack of resources in his squad.
Thus, it was somewhat of a perfect storm as Turkey seized the initiative in playing a fluid and mobile block, overrunning France in midfield while allowing the hosts fullbacks to torment Benjamin Pavard and Digne. One can only guess at how hubris and a seeming lack of knowledge of Turkey's style may have also contributed to the result, but the hope here is that Deschamps, especially after some choppy Nations League performances, will have learned his lesson.
However, despite the minor crisis at hand, things seemed to have worked in France's favour in the group. Iceland's 2-1 win over Turkey has allowed France to top the group on goal difference, despite Les Bleus only themselves beating Andorra by a 4-0 scoreline. Kingsley Coman was a late absence, having been injured in warm-ups, and his departure saw Wissam Ben Yedder inserted into the starting line-up, a rare happening, but one that is richly deserved given his form for Sevilla. The former Toulouse striker responded by scoring his first goal for his country, stepping into the centre forward role while Kylian Mbappé was played on the left.
Kudos, too, to Florian Thauvin and Kurt Zouma; both of whom also scored for the first time. Neither can realistically expect to be a part of the starting eleven going forward, or indeed even the squad as a whole given the competition for places in their positions, but both offered the sort of assured performances that have come as a consequence of their playing expanded roles with their clubs.
Finally, a tip of the cap as well to Lyon's (one now of Real Madrid) young full-backs, Léo Dubois and Ferland Mendy. The latter has already shown what he can do for his country, and while it may take some doing for him to cement himself as the first choice, he is well on his way, showing plenty of attacking verve in addition to a solid positional sense. Dubois, however, was a slightly surprising inclusion; Kenny Lala had a fine season with Strasbourg, and Djibril Sidibé has been a fairly regular inclusion over the past several years at right back.
However, with the Monaco man out of form, Dubois got the call, and performed admirably once more, having made his debut in the friendly against Bolivia last week. With Lyon again in the Champions' League, he will continue to be given opportunities to prove himself on a bigger stage, and may have come away from these three matches having gained more than any other player.