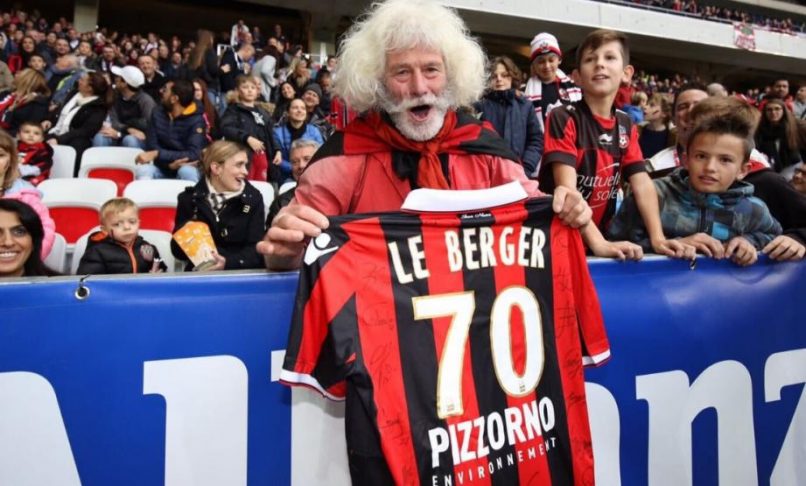 Legendary OGC Nice "Le Berger" was arrested by police for going to Sunday's clash with Marseille & forced into a psychiatric unit
Nice-Matin report this afternoon that legendary 73-year-old OGC Nice fan, nicknamed "Le Berger", real name Paul Capietto, was arrested on Sunday evening by Marseille-based police for disobeying an order that prevented Les Aiglons fans from being present at the Mediterranean derby which OM triumphed 1-0 courtesy of Mario Balotelli in.
Capietto was transferred to Timone hospital, into a psychiatric ward, by law enforcement – he should be released this afternoon.
Canal + journalist Laurent Paganelli told the newspaper that he was seeking to look after the super-fan:
"My heart sank when I heard this. If I had to, I would have driven and got him released from prison myself. There is PSG vs Nice in a week's time, he has to be on his bike. He is a fantastic guy he will get out today."
Paganelli was informed of Capietto's arrest by Dominik, an individual close to Le Berger who has been living in Guadeloupe for the last 3 months.
"I was a bit worried because I did not see him before the match. Normally, he always waits for me outside the stadium. Paulo is a phenomenon. I have such affection for him. He has already come to my house for lunch. We waited for him for more than 3 hours," said Paga.
"When I come to Nice, we eat together in the Canal + tent, we must not let him be excluded, I will always find tickets for him."