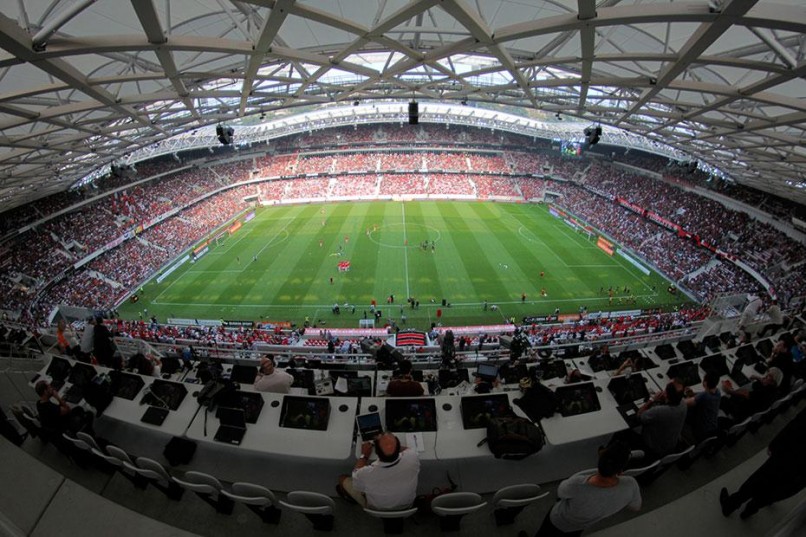 Foreign ownership has become an increasingly ubiquitous proposition in France in the last few years; Paris Saint-Germain are of course at the forefront of this trend, with billions invested in transfer fees and wages. Monaco, with Dmitry Rybolovlev at the helm, also held considerable ambitions, before switching to a more cost-conscious model following a change in philosophy. More recently, there have been American-led takeovers at both Marseille and Bordeaux, while Lyon have also received Chinese investment.
Those injections have seen the clubs improve in sporting ambition, more or less; Marseille have spent heavily in the transfer market, and Lyon have opened an impressive new stadium. The jury is still out on the scope and aspirations of the Bordeaux project as the owners seek to come to grips with the nature of football in France, but the early signs are promising. Despite frustrations on the part of Marseille fans, there is no doubt that despite their recent struggles, none of them (or those of Monaco) would trade their European adventures for skulking about on the fringes of the top five domestically.
While these clubs have clearly benefitted from the largesse of their owners, there has emerged in recent times, and exception to this, in the form of Chien Lee and his involvement with OGC Nice. In Lee's first season of ownership, Nice were a delight to watch under Lucien Favre, leading the league for much of the season's first half before wilting under the pressure of Monaco and PSG, eventually finishing third. After beating Ajax in impressive fashion the following summer, Nice were knocked out of the Champions' League but still seemed to have some ambition, bringing in the likes of Allan Saint-Maximin before finishing just a point off the European places.
Last summer seemed a different proposition, however, as the departure of Lucien Favre hastened a mass exodus including Alassane Pléa, Jean Michaël Seri, and the underrated Arnaud Souquet, leaving Dante and Wylan Cyprien as the only holdovers. That money was hardly reinvested in any significant fashion, however; Christophe Hérelle has impressed in defence since joining from Nice, and Youcef Atal has similarly looked a canny buy, but Danilo and Myziane Maolida, the latter's injury notwithstanding, have hardly looked worth the combined €15m that the club spent on them. Patrick Vieira has gotten a tune from his young squad defensively, as this weekend's draw with PSG underlines, but one has to wonder how much better Nice's placement could be with a decent attack ahead the league's second-best defence.
All of this has led to growing unrest within the club's fanbase, with La Populaire Sud, the club's main ultras group rightly accusing Lee and his associates of lacking sporting ambition. This has been painted in a particularly harsh light owing to recent interest on the part of British billionaire Jim Ratcliffe. Ratcliffe's INEOS Group has expressed interest in buying Nice, but according to Nice-Matin, Lee is refusing his advances, even in light of an offer reportedly in the neighbourhood of €100m. This is, of course, in keeping with an interview Lee conducted with the club's website some two months ago, averring that, "We haven't planned our departure. It's a special investment for me. It could be even longer than we might imagine. Five, 10 years, maybe more. The goal is really to be here for the long-term."
Nice are an attractive asset, with a sparkling new stadium and training ground, a hospitable climate, and while one can certainly understand Lee's desire to hold on to the club, particularly as Ligue 1 prepares to enter into a new, considerably more lucrative television deal, and seeks to expand its global reach in Asia, his reticence to spend money on players pales in comparison to more recent alleged financial skulduggery.
Reports emerging from Challenges this week reveal that Lee forced the club to take a €22m loan in December, at the usurious rate of 9%. After failing to secure said loan through an American source, Paul Conway, a minority investor, put forward the Luxembourg-based firm Thalos as a potential avenue, and it was duly granted. However, Thalos itself sits on some rather dubious moral and legal ground; last year two Swiss media groups had filed a legal complaint against Thalos in a bankruptcy case relating to Swiss advertising giant Publicitas, as reported by Swiss outlet Le Temps. The upshot of their case was some (again) rather uncommon language that would transfer the assets of the loanee to the lender in the event that the loan could not be paid within the agreed-upon terms.
Quite why Nice would need this money given the aforementioned profit that they had made in recent summers is baffling, and it has since been revealed that the loan, not only the source of its funding, but also in some of its attendant clauses is even more ominous that one would expect. One clause reportedly stipulates that if Nice were in 14th place or below after the 22nd matchday of the season, the loan would have to be repaid in full within a week, a potentially ruinous outcome for the club. Luckily, as Vieira has got to grips with his young squad, that was avoided, but has also brought forth some rather murky infighting within the club's board. It has been suggested that this loan business precipitated Nice's former president, Jean-Pierre Rivère's departure earlier this year.
Rivère was, by all accounts, an excellent president and managed to have Nice be, for the bulk of his tenure, a side that played attractive football whilst managing to be sustainable financially and challenging for the European places. His departure from the club was additionally reportedly hastened by disagreement with the rest of the board on Nice's sporting ambitions, and he has been summarily replaced by Gauthier Ganaye, who had been president at Barnsley, another club owned by Lee. Admittedly, he has been placed alongside Gilles Grimandi, a well-regarded presence at Arsenal, in terms of player movement, but at thirty, his lack of experience seems a bold and potentially risky move for a top-flight club.
Lee insists that Ganaye's youth is an asset, rather than a detriment: "Youth brings energy and an openness. Young doesn't mean that he doesn't have experience. I worked with him in the past at Barnsley, he did fantastic work there." With the transfer window set to open soon, Nice, with most of their rivals for the European places facing a summer in flux, have a massive opportunity to move ahead in sporting terms. With Lee at the helm, though, one can only guess if that opportunity will be taken, or if the club will continue down the path of becoming a cautionary tale.
1 | When does a crisis stop being a crisis and simply become normal? Marseille's draw with Strasbourg seemed to answer that question. With fifth no longer a European spot, Marseille are out of contention after a disastrous season on all fronts. Aside from their Europa League run last season, underachievement has become the norm since their last trophy (the league cup) in 2012. Despite Frank McCourt's near €200m investment, recruitment has been chaotic and ineffective, manager Rudi Garcia continues to lack ideas while FFP sanctions could be close with an €80m deficit reported at the end of last season. The Champions Project has not only failed but its very existence is under threat.
2 | Nantes' season seemed to be petering out. Having flirted with the relegation fight, fans' have continued battles with owner Waldemar Kita while players became frustrated with manager Vahid Halilhodzic. A group of senior squad members apparently criticised 'Coach Vahid' for his "inflexibility and tactical deficiencies" reported Ouest-France last month. Incredibly however, five brilliant wins has Nantes looking at a top-half finish. Sunday's win over Dijon followed unlikely victories against PSG, Marseille and Lyon. While the tragic loss of Emiliano Sala will continue to dominate the thoughts of all those connected to the club, next season is looking a little brighter.
3 | PSG's Coupe de France final loss to Rennes last week may merely prove part of a deeper malaise. After a 3-2 defeat, Paris again defensively shambolic, Thomas Tuchel accused his players of approaching the mid-week game at Montpellier "like a friendly" while Saturday's draw at home to Nice meant just one win in seven. Although PSG have little to play for, the lethargic attitude of the players, Tuchel's ongoing public criticism of his squad size and the manager's significantly weakened position after poor cup results in general, his contract announcement delayed, all underline that PSG are still a long way from making tangible progress. Never has a league winning season been so depressing.