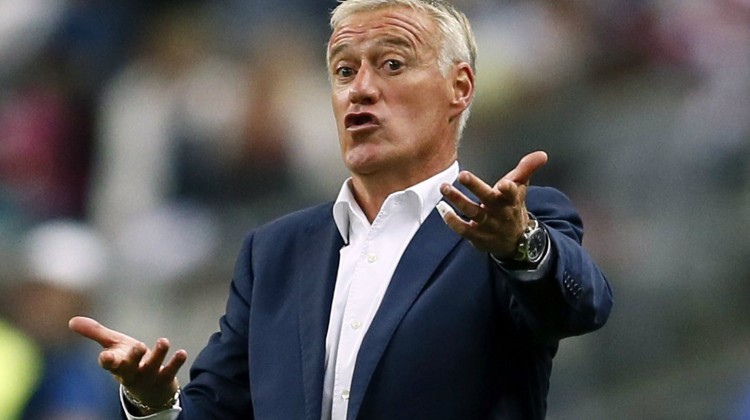 PLAYER RATINGS | Moldova 1-4 France – How the French fared
A look at how Les Bleus' fared in their 1st competitive fixture since the World Cup final.
Hugo Lloris: 5
An easy night for the captain up until the 89th minute when he failed to deal with a tame header that he spilled into the path of Ambros to lose the clean sheet. There isn't much to discuss about Lloris' game, because he didn't have anything else to do because France were so dominant throughout the match.
Benjamin Pavard: 6
The centre back-turned-right back is looking more comfortable going forward in this role the more he plays there and in some ways, these games against weaker opposition suit him more. We know he is a strong defender but going forward is where the question marks are and when he's invited by an opponent to come forward with freedom and cross the ball into the box, it helps his confidence. That being said, he had a solid game while not really being all too productive, nor was he called upon to produce crosses or key passes.
Raphaël Varane: 7
The Real Madrid defender is probably still yet to put in a bad game for Les Bleus and tonight was no different although he'll make the headlines for his goal as opposed to his defending. His defending wasn't really needed at all – other than one or two flashes – but his good run towards the near post for his goal was something you'd see a top striker be proud of, even if he was aided by poor marking. That being said, Varane was imperious when needed and adept in his one flash of attacking prowess.
Samuel Umtiti: 6
There probably isn't a centre back partnership in world football – club or international level – better than Umtiti and Varane, and tonight further exemplified this. Like Varane, he wasn't required taxingly in the defensive side of things, but his importance came from playing the ball out and starting moves from deep, an underrated quality of his. Again, he wasn't put under too much pressure so there weren't many individual highlights to mention but when he was on the ball and playing, Umtiti was a good influence on the team.
Layvin Kurzawa: 6.5
When Kurzawa was recalled into the France squad in the last set of fixtures some eyebrows were raised, perhaps rightly so. But tonight seemed like a good attacking performance from the PSG left back that almost justified why Didier Deschamps has brought him back into the fold. He wasn't afraid to take his man on and beat his man, nor was he afraid to put crosses in and even when they didn't come off, he kept plugging away. Defensively, questions will still be asked of him but those questions cannot be answered until France play a team that attacks them, so for now, it was a strong performance from the left-back.
N'Golo Kanté: 7
Such is the brilliance of N'Golo Kanté, he can almost literally glide through games. He probably ran further than I can count tonight, but he did it so effortlessly that most of the Moldovan players never saw him coming. He swept up – as per usual – and let his midfield partner take the glory – as per usual – but perhaps Kanté's all round game is underrated these days? He was good making runs off the ball and his passing release was much quicker, so maybe his time with Maurizio Sarri is only improving his all-round play?
Paul Pogba: 9  
The star of the show and the King of this France team. Go and watch his pass for the Antoine Griezmann opener, it is just pure class! Pogba has games like this in his locker where he can control fixtures and contribute in an attacking sense, while having the swagger that regular Paul Pogba always has. When he combines his football skill, intelligence and ability with his swagger and his charisma, he is almost unstoppable and tonight he was just that.
Blaise Matuidi: 7
Every top team needs a player who is willing to run and run and run until they cannot run any longer. France have Blaise Matuidi but he is more than just a runner, he is a very useful player in the way this side sets up. He still possesses great skill on the ball and is always able to bring other players into the game which, again, he did tonight. He wasn't flashy or attention grabbing, but he made the right decisions at the right time, played a smart game and showed he still has great worth in this set up.
Antoine Griezmann: 8 
There is an argument going around social media suggesting that Antoine Griezmann is somewhat overrated – of course not helped by having a Netflix documentary about yourself called "The Making of a Legend" – but even if you think he is somewhat overrated, he is undoubtedly a productive player and never disappoints in front of goal. His volley tonight for the opener was excellent and his all-round game was superb too, proving that he and Giroud go together like peas and carrots.
Olivier Giroud: 7.5
From a potentially "overrated" player to a potentially "underrated" one, Olivier Giroud is so important to this squad. His hold up play is immaculate, his ability to make those around him better cannot be replicated by any other French striker playing at the top level, yet he is criticised. Tonight, although against weaker opposition than usual, he proved he can still be a threat and it is games like this where Giroud's worth shines through because he can always sniff out a goal, just like he did tonight.
Kylian Mbappé: 7
By his own lofty standards, the Prince of France (if Pogba is the King, Mbappé can be the Prince) was on subpar form tonight but he was defended well and wasn't allowed the room to burst away and use his pace. He remained threatening at times, as his opportunistic goal showed which he took expertly, but it wasn't a peak Mbappé performance. A non-peak Mbappé performance is still a good performance and still a good overall game, even if he did get booked for diving at the very end of stoppage time.
Substitutes:
Florian Thauvin for Blaise Matuidi: N/A (The game was done when he was substituted on, so he didn't really have much to do nor did he make any impact.)
Thomas Lemar for Antoine Griezmann: N/A (ditto, but provided an easy assist to Mbappé)
Nabil Fékir for Oliver Giroud: N/A (He showed good bursts of pace when the Moldovans were tired and leggy but ultimately didn't do much due to the game being over.)