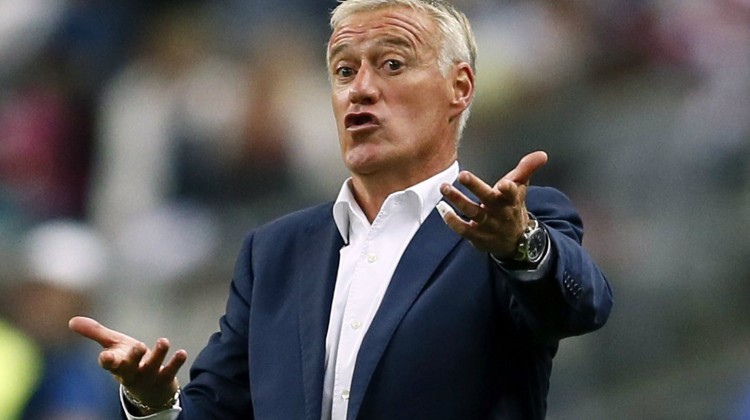 PLAYER RATINGS | Turkey 2-0 France – how the French fared
We take a look at how the French fared during their EURO 2020 qualification 2-0 loss to Turkey tonight.
Hugo Lloris: 7 
If there was a man of the match from this game for Les Bleus, then Lloris gets it. Without him between the sticks, it could've and would've been a lot worse for France. Off the top of my head I remember three enormous chances that he saved, making the scoreline appear relatively disgraceless. It goes to show that even when the rest of the team is poor, Hugo can still perform.
Benjamin Pavard: 4
I've been a fan of Pavard, but tonight showed his major flaws. Defensively, he was not quick enough, caught out on counter attacks too often, out of position and being a tad  lazy. Going forward, he failed to combine with an equally hapless Mbappé and did not produce a good quality of cross.
Raphael Varane: 4
Varane is meant to be one of the best defenders in the world. If you took an alien to this game and said "that tall guy at the back for France is one of the best," they'd laugh at you. They would not have a clue about football, and even they would giggle based upon tonight's showing. This is not an indictment of his ability overall, he will bounce back, but tonight he was terrible. Just got beat to every ball at defensive set-pieces in abhorrent fashion.
Samuel Umtiti: 3
Watching Umtiti tonight was tough. He was poor, can you imagine how Aymeric Laporte feels? Umtiti and Varane have produced a formidable partnership but after tonight's game, what more needs to happen for Laporte to get a chance? Rudderless.
Lucas Digne: 3.5
Looked out of his depth and didn't offer all that much going forward or defensively, caught out of position for a header on Turkey's 1st goal. A short summary of the Everton left-back's game because he was subbed off at half-time.
Moussa Sissoko: 5 
You know that with Sissoko, you'll extract a significant level of effort, a player that can turn defence into attack in the blink of an eye and someone who can hand the ball off to his midfield partner. He did it at Spurs this campaign with Harry Winks next to him and tonight he had Paul Pogba, producing a limited performance overall. Did not feel comfortable in Kanté role that comes with a midfield duo at all.
Paul Pogba: 4
Paul Pogba is a good footballer. Paul Pogba is a good footballer. Paul Pogba is a good footballer. So, why didn't he play like a good footballer tonight? Did he not care? Was he mentally checked out after a long and draining season with Manchester United? Is he carrying an injury? I'm trying to think of a reason as to why Pogba was so poor tonight but… I can't? He was terrible, giving away possession in the middle of the park too often, not offering any penetrating passes that we've seen him pull off time and time again, producing no intricate interplay and France paid because of it.
Kylian Mbappé: 2
I know he's young, so this might not mean too much, but tonight might be the worst performance of Kylian Mbappé's career. What did he do well? Tell me one thing he did well (apart from act as a 12th man for Turkey at times) and I will buy you a steak dinner because dear me, Mbappé was dreadful. His first touch was all over the place, he offered zero serious attacking penetration. Something looked wrong with him tonight and it didn't seem like it was just fatigue… 
Antoine Griezmann: 4
Griezmann is like marmite. You either like him, or you don't. You rate him or you think he's overrated and tonight's like this help the latter group rather than the former. He was off, like the rest of his team, but he was unable to find space and couldn't emerge in the little pockets that he likes to get into, thus making his skill-set irrelevant to the game. Normally, he's so effective in this team but tonight Turkey defended him perfectly, rendering him useless.
Blaise Matuidi: 3 
Matuidi is reliable and one of Deschamps's main lieutenants, but his positioning as a nominal left midfielder was too conservative an approach to take from kick-off. Matuidi's close control is are not as refined as it used to be and when France fail to dominate proceedings, it shows up like a rash on a pale child. Maybe his time is up, maybe it was a poor performance but the point remains that Deschamps needs to look at replacing the Juve man in the near future, if he persists with him as the left-sided midfielder in his now famed asymmetric 4-2-3-1.
Olivier Giroud: 4
When France win, Giroud's contribution is mentioned and he's proclaimed as "underrated". But when France lose, and lose badly, he is often the scapegoat. Tonight had absolutely nothing to do with Olivier Giroud. France did not lose because of Giroud, but he was not in the game at all and at some points, you would be forgiven for forgetting that he was on the pitch. The midfield construction of moves was so poor that he was barely allowed to be involved.
Substitutes:
Kingsley Coman: 4 
Came on at half time for Blaise Matuidi, all I remember Coman doing is getting told off for diving. One day he will come good… I think.
Ferland Mendy: 4
A good player, but Mendy looked green as grass after coming on at the break for Lucas Digne. Didn't appear confident enough to regularly attack his opposing full-back, failed to take his man on and when he managed to it to any degree of success – there is still a lot to learn for the youngster.  
Wissam Ben Yedder: N/A