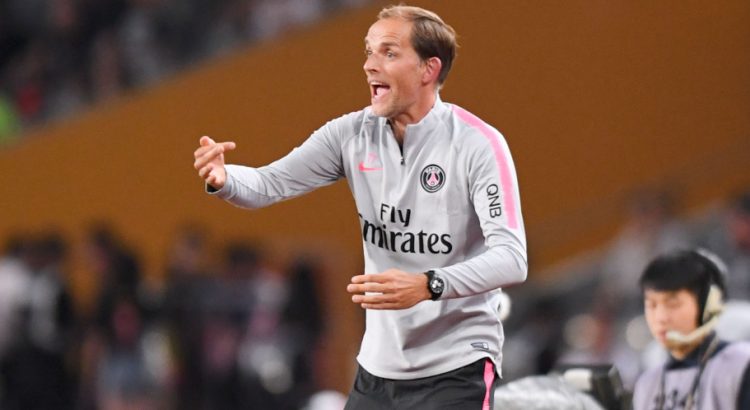 Thomas Tuchel, the anti-Emery antidote
France Football have produced an excellent article this week discussing the differences between Unai Emery and Thomas Tuchel at PSG – here are the highlights.
The German coach is succeeding where his predecessor failed: uniting the players and imposing a variety of tactical systems.
Strange things happened in Paris over the last few months. We saw some players in positions we would have never imagined: Marquinhos and Dani Alves playing in midfield, Rabiot as a centre back, Draxler as a defensive midfielder, Di Maria as right wing back… We also saw a team abandoning its principles to venture into new tactical set-ups. We saw a coach letting himself go in front of players during the traditional "song initiation".
In a matter of weeks, Thomas Tuchel earned the confidence of the entire group in a way that Unai Emery never did in the space of two seasons. The Spaniard failed with an attempt to implement other peoples' ideas, instead of earning this respect to impose his own.
The German intends to succeed, but with his own convictions, and now it turns out that everybody at PSG is following him. "Right from the beginning, Tuchel turned on the "seduction mode" button. And it worked with the players, the media, the supporters…" says Canal + pundit Alain Roche. "Even us, behind the microphone, we are in love. He is such a clever communicator that we are ready to make all the excuses over all the extenuating circumstances we can possibly find. The Rabiot case? That's not his problem but PSG's. A disappointing transfer window? Ask Henrique…"
Benevolence and authority
In a long interview given to L'Équipe in September, Tuchel insisted on one obvious point: "There is no success without a real relationship with the players". Right from the start, he has been making pain-staking efforts to create strong bonds with his players. For example, he went to meet Neymar before the Brazilian left for the World Cup. "That's the great difference between him and Emery", surmises Canal + pundit Eric Carrière. "The Spaniard saw players as "X", like tools he could use to win. It is the opposite for Tuchel. For him players are human beings, with a name, a personality, a sensibility and proper characteristics".
And to whom you must show affection through a little hug, a little text message or some extra holiday time. "His management relies on benevolence, which doesn't exclude authority and discipline, just like Rabiot and Mbappé experienced after being late at the pre-Classique speech and therefore sent on the bench at the Vélodrome," says Carrière. "The strength of this manager is his ability to unite. Today, if a player doesn't feel the kindness or thinks it is fake, he won't fight for you. And you can tell that it is not fake with Tuchel. It is way easier to win trophies with such a team… Emery was a good tactician but didn't have this ability".
Affection and a force of persuasion
Luis Fernandez, BeIN Sports pundit, agrees with this sentiment: "He loves his players. He is exchanging, talking, seducing and showing affection to the players. And for them that is essential. On the other hand, we see that they love their gaffer as well". Neymar described to Canal Football Club his relationship with Tuchel as follows: "It is friendship, but there is also a great mutual respect. When you have this kind of affection for your coach, you give your life on the field."
"A player would never say anything wrong against his coach, except if the coach is not in charge anymore. A player would rarely say something nice either, so Neymar's words have a real significance," judges Carrière. Tuchel has made Neymar his technical leader and has given him a lot of freedom and influence on the Parisian style of play. More than he has ever had, which is now very problematic owing to the metatarsal injury he suffered last month.
And this is all because he has created this special link with his players. "I really value Emery, he is a hard worker but never succeeded in imposing his style", analyses Luis Fernandez. "At Sevilla, he played with a 4-2-3-1, and in Paris he stayed with the classical 4-3-3. He never managed to get out of it because he never established this connection with the players. Unlike Tuchel, who convinced them to follow his ways."
A more receptive team?
The good results have given Tuchel standing and credit for the moment, whereas the Spaniard had to change his plans after a difficult beginning in the job (4 defeats in the first half of his first Ligue 1 season and a difficult European group stage campaign with draws at the Parc des Princes against Arsenal and Ludogorets). "Emery maybe dealt with a less receptive group of players. Was Thiago Motta, who had a very strong influence in the dressing room, ready to play in another system?" wonders Alain Roche. Moreover, it is way easier to deal with a "competition" between Areola and the legend Buffon than between the French world champion and Kevin Trapp.
"Concerning his communication, Emery was in an unstable position regarding his players. He never shared anything with them, never gave the slightest message to his players during his press conferences, whereas Tuchel has a very clear and positive message towards everybody. And not only because he has a better knowledge of the French language than Emery did." 
His ideas and instructions are clearer, so the communication is better. "When Mourinho played Eto'o as a right back (during the 2010 second leg of the Champions' League semi-final against Inter, 0-1), he did not simply write his name on a paper, he convinced him of the personal and collective interest that would come with playing in this position," explains Carrière.
"To impose this, hard-work must be done. And Tuchel has this quality. That is why he likes the players who are able to adapt themselves, and that explains the choice of signing Thilo Kehrer. In Germany, he obviously observed the role of Philipp Lahm with Bayern and the German national team, capable of playing in midfield or at the back, just like Marquinhos. He belongs to this new generation of coaches embodied by people like Guardiola and Klopp, very comfortable with both man management and tactical analysis."
He has an influence during the games
Even if the positions across the squad are not as filled as he would have wanted, Tuchel has a very competitive team with which he can use different systems. "Today, the trend is to change tactical system mid-game," underlines Carrière. "There is no need to make changes, you can keep the same starting line-up and your team evolves."
Even if changes are sometimes guided by circumstances (injuries, suspensions, absence of a holding midfielder), it is first and foremost, a basic principle with Tuchel. "He is always looking for switches, even during the game. He never stays with his arms crossed," says Luis Fernandez.
"Players can feel when a coach has an impact on the game or, at least, tries everything to control or reverse a difficult situation." Unlike Unai Emery, and even Laurent Blanc who both stuck with the 4-3-3, Tuchel used the supremacy of the club in Ligue 1 to safely experiment with many different systems.
Until now, everybody is charmed by Tuchel. But at PSG, the season starts tonight.