Paris Saint-Germain have been accused of mental fragility in this competition, but on the day of their 50th anniversary, they showed a never-say-die attitude with a late winner in this quarter-final and reached the Champions' League semi-finals for the first time in 25 years. 
With three of his four best players on the bench or in the stands, Thomas Tuchel had to rely on the Man of the Match, Neymar, as his biggest offensive threat. In this analysis, we will see how Tuchel approached this game and why he deserves praise for this win.
Formation
With Marco Verratti injured, Kylian Mbappé coming back from injury and on the bench, and Angel Di Maria being suspended, Thomas Tuchel had to play a different formation to the one he has been wedded to throughout the season. Instead of his usual 4-4-2, the German coach opted for a 4-3-3, with Neymar acting as a False 9.
PSG's press to force Atalanta to go long
One of the main reasons why PSG lacked on the ball control in midfield is because Tuchel wanted intense runners, instead of a player like Leandro Paredes. As he said in the press conference prior to the game, he wanted Neymar to be as free as he possibly could, which is why he decided to play three midfielders who can run with great efficiency and aptitude than Paredes.
Idrissa Gueye and Ander Herrera were there to provide that dose to PSG's midfield. When the ball was played in their zones in defensive phases, they were tasked to press the ball carrier to not allow the usual wide combinations from Atalanta and force them to go long instead. As highlighted below, Neymar leads the press and forces Atalanta's goalkeeper to play a long ball.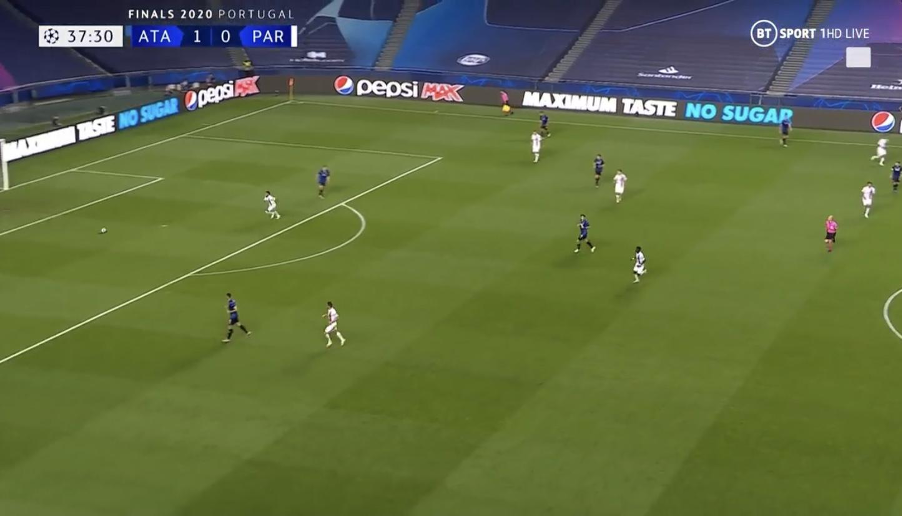 Below, you can see Icardi and Neymar tasked to lead the press to force Atalanta's centre-back to go long. Duván Zapata was able to get the ball and pass it to Alejandro Gómez. However, when Gómez decided to pass the ball back to Zapata, Gueye was there to intercept it.
However, the lack of quality on the ball from Gueye and Herrera forced Neymar to drop deeper than usual to take the ball and initiate attacking move construction for PSG, as depicted below in the Brazilian's pass map.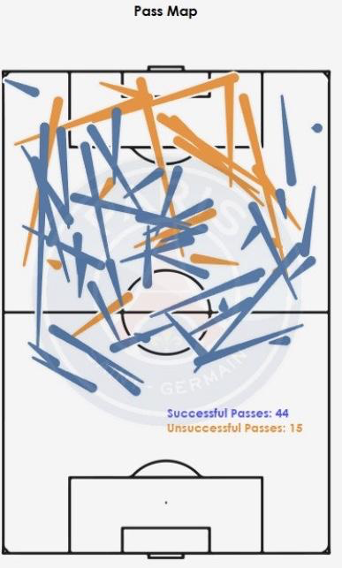 This strategy of pressing Atalanta and forcing them to go long proved to be effective as PSG recorded their best PPDA (Passes allowed Per Defensive Actions) of the season in the Champions' League, standing at 6.36. It also allowed PSG to sustain pressure in Atalanta's half and to not concede many shots. Indeed, they only conceded four efforts on target including Pasalic's goal, and didn't concede a single effort on target after the Italians went ahead. They also prevented the best offensive side in Europe to get over 1 xG (0.9 in fact), which deserves to be highlighted.
PSG exploited Atalanta's man-marking well
It was a good strategy from PSG to use Keylor Navas to prevent Atalanta's high press from being effective because he was rarely harried owing to the Serie A side's man-marking strategy. Therefore, he had the time to find a good long ball for Neymar, who was frequently the Costa Rican's chosen out-ball, both with short and medium-length kicks.
It ended up being beneficial, using Neymar to pull one of Atalanta's centre-backs out of the backline, owing to PSG's lack of quality in midfield, giving them a larger amount of more obvious passing opportunities to put Pablo Sarabia or Mauro Icardi through. See below as Navas completes a long ball towards Neymar and the forward decides to play a one-touch pass towards Icardi who gives it back to him. Because of Atalanta's man-marking, it was easier for Neymar to create space.
Then, Neymar ran into space behind Atalanta's defensive line but unfortunately misses his 1v1 opportunity against the goalkeeper.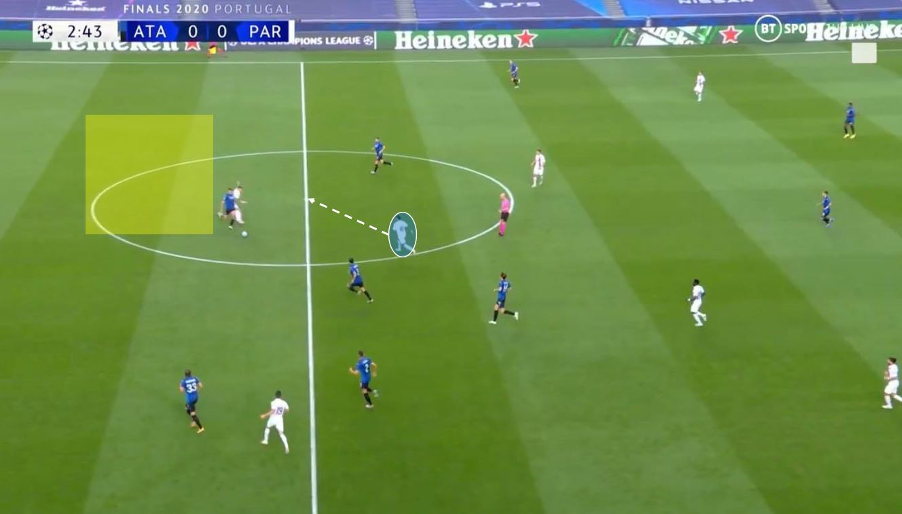 Atalanta's man-marking meant that Neymar face a 1 vs 1 situation throughout most of the encounter, rather than being both man-marked by one opposing defender and zonal marked by another midfielder, which happens to him more frequently in Ligue 1 and earlier in the 2019/20 Champions' League campaign. Neymar is one of the best 1v1 players in the world, if not the best, which also gives even more credence to Tuchel's strategy of making him the absolute focal point. The man-oriented press from Atalanta reduced the tactical battle to an individual 1v1 clash when Neymar had the ball. The Brazilian completed 15 take-ons yesterday, which shows how many times he was in a 1v1 situation.
On the still below, Navas has the ball. Idrissa Gueye drops deeper to be alone to receive between the first and the second line. However, Navas decides to attempt a long ball into the middle of the pitch to reach Neymar. Neymar cannot control the ball but he is able to immediately pass it to Gueye who is alone. Thanks to this interplay, PSG created space to run into. Unfortunately, they didn't exploit it well.
Mbappé, the difference-maker
On the still below, we can see Neymar setting up Sarabia who runs in behind Atalanta's defensive line. We saw it on multiple occasions on Wednesday, although none of them resulted in ultimately fruitful opportunities.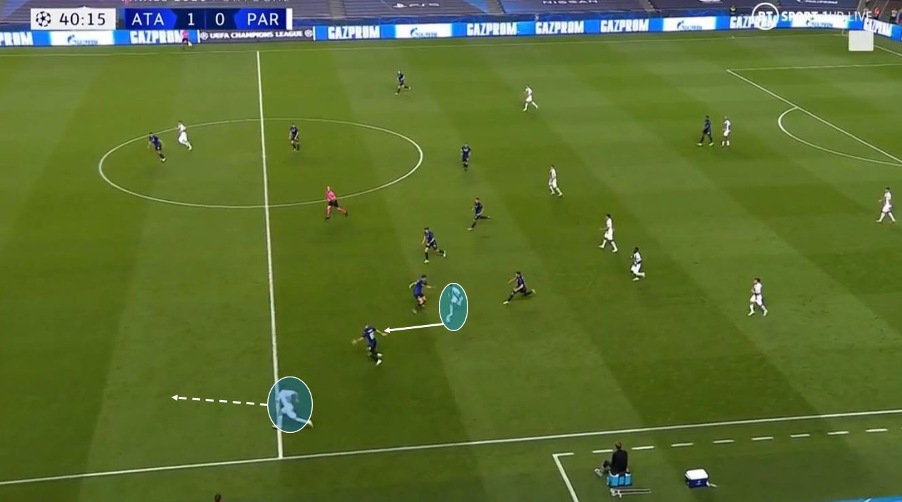 However, once Kylian Mbappé replaced Sarabia in the 60th minute, everything changed for PSG. Neymar finally had a runner to play off him and it showed. PSG made 10 runs in behind Atalanta's defensive line. Four of them were by Mbappé. This is depicted below. There, Neymar has the ball and Mbappé hugs the touchline to make a deep run.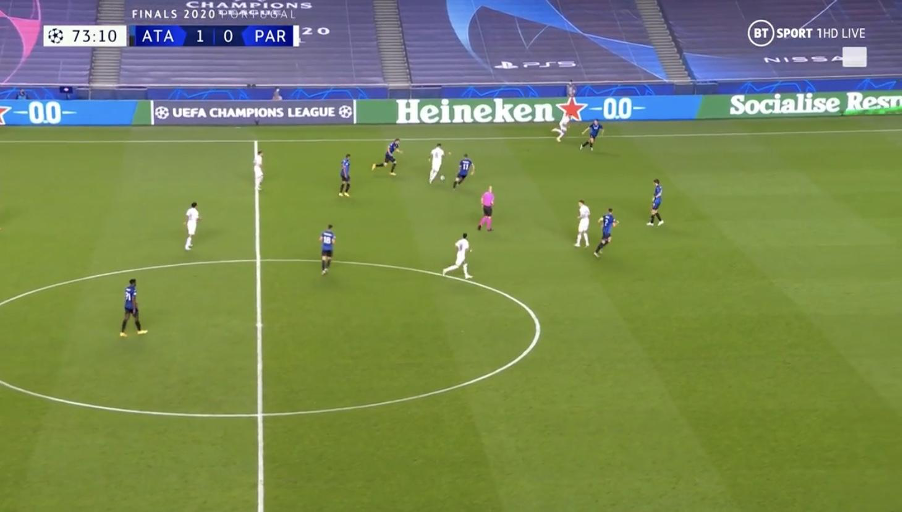 According to multiple xG models, PSG's xG pre-Mbappé was under 0.8 whereas PSG's xG post-Mbappé was above 2. The Parisians finished on 2.8 xG according to StatsBomb's xG model, which shows how much Mbappé impacted the game in 31 minutes on the pitch.
I already talked about Neymar dropping deep to make space for a runner to exploit and the inefficiency of it as a tactic in the first half. However, Mbappé changed that. On the stills below, Neymar drops deep and creates space infield. Mbappé is able to run into space but fails to score his 1v1.
Mbappé changed the game for PSG through his ability to create depth by his movement into pockets of space when Les Parisiens were in the opponent's box. The main example of this came for Choupo-Moting's goal which gave PSG the win. Mbappé made the run in behind Atalanta's defensive line and Neymar gave the ball to him. Choupo-Moting then scored from Mbappé's cutback.
Conclusion
Atalanta's man-oriented pressing against the likes of Neymar and Mbappé was ultimately poised to fail. PSG's coaching staff did a great job at preventing Atalanta to express themselves by closing down the wide areas as well as preventing Duvan Zapata from entering into goalscoring positions.