The objective for any team pressing high up the pitch is to win the ball back quickly in opposition territory. There are variations of this tactic across the world, which have different monikers. Some call it Gegenpressing and others simply call it counter-pressing.
Regardless, no one system is the same, which Borussia Monchengladbach Assistant Manager, Rene Maric explains in this piece: "Pep Guardiola's goal with his counter-press is to prevent counters, to prevent a deformation of his attacking shape and to being able to secure the ball. Jurgen Klopp uses the counter-press as an attacking mean. For him, counter-pressing is the best playmaker and creates the best shots."
Ligue 1 has rarely been known for high intensity pressing compared to the Bundesliga or Premier League. Former Marseille manager, Marcelo Bielsa, is one of the more notable managers to implement a high intensity press during his time in France. Marseille started the 2014/2015 campaign incredibly well, but they ultimately faded in April. The term "Bielsa Burnout" became a popular slogan to describe the fading of physical dominance that Bielsa's players faced as a season climaxed as a result of the highly-demanding nature of his tactics. That does not necessarily mean that employing a high counter-press is not beneficial. In fact, Bielsa's Marseille were not only effective at pressing, but they also had a productive defence that season.
Colin Trainor of Statsbomb coined the term PPDA, which measures how effective a team's pressing is. A lower number represents a higher level of defensive intensity, so in essence any team in the bottom left quartile is in a good position. They press high up the pitch, but also do not regularly concede high quality chances on a per game basis.
Let's fast forward to the 2019/2020 season to get a better idea of how each team pressed the opposition.
It should come as no surprise that PSG dwarf their opponents when it comes to pressing and conceding less chances. Their talent is vastly superior compared to the rest of the league and they usually have a high percentage of ball possession. The other notable team on the bottom left is Marseille. In his first year as OM manager, André Villas-Boas, has been a proponent of a high pressing system since his days as a Chelsea and Tottenham boss. It should also not be shocking to see Toulouse on the opposite end of the chart. They do not press high up the pitch, but also concede plenty of high-quality chances. There is a reason why they were relegated.
Thanks to the treasure trove of data on FBref.com, we can analyse where each team's pressures are originating from. As defined by FBRef, a pressure is the number of times a player or team apply pressure to an opposing player who is receiving, carrying, or releasing the ball.
A special shout out to Andy Rowlinson who helped provide the code for the plots below. The left-hand side is a team's own penalty box, the right-hand side is the opposition's penalty box.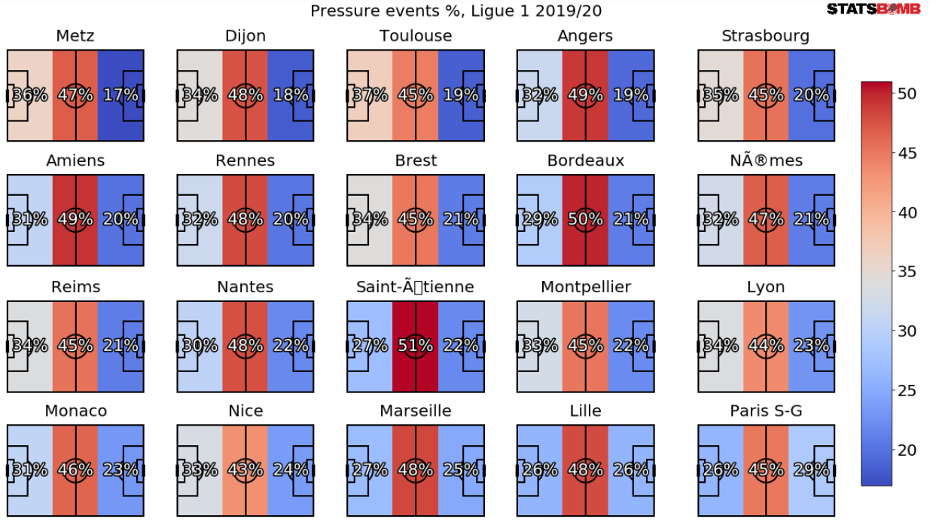 Each club has a high amount of pressures coming in the middle of the pitch, but how do they compare according to the league average?
This plot is sorted so the team with the most pressures in the opposition third are last. The darker the red area represents the portion of the pitch where teams employ more of their pressures above league average. PSG have the highest percentage increase, 7 points, in pressure events in the attacking third of the pitch.
PSG, Lille, and Marseille employ most of their pressing actions high up the pitch, which suggests they utilise a rigorous counter-press to win the ball back. Meanwhile, Metz, Dijon, and Toulouse are on the opposite end. Their highest area of pressures are concentrated in their own third.
As with any tactical system, the ideas are only as good as the players on the pitch.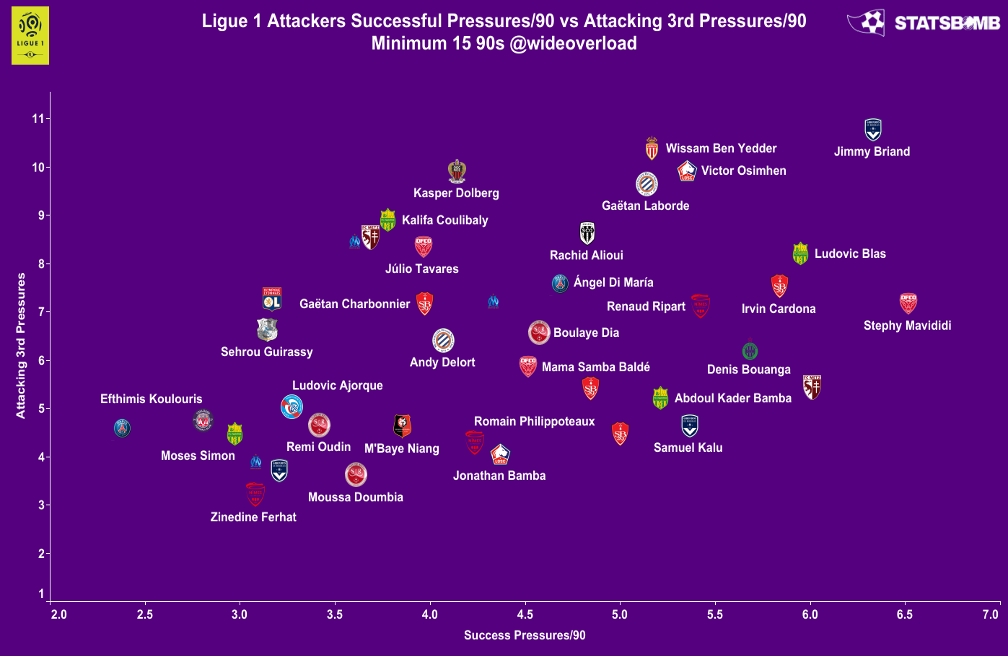 Which attackers are the most successful at pressuring high up the pitch? The most successful was 34-year-old Bordeaux attacker Jimmy Briand. As a team, Bordeaux are below average when it comes to their distribution of pressures in this area, but they should consider altering their approach. 22-year-old Samuel Kalu is also successful at pressuring opponents, but he is well below average in attempting pressures in the attacking third.
Lille might be able to replace the goal production of Victor Osimhen, but he was a key part of Christophe Galtier's pressing system. Former Arsenal youth product Stephy Mavididi was successful at pressing but playing for a Dijon side that does not press high up the pitch, resulted in only producing a fairly average amount of total pressures in the attacking third.
Transitioning to midfielders, the first name that stands out is Strasbourg's Adrien Thomasson. The 26-year-old was not only a high intensity presser in the attacking third, but he was also outstanding at it. Morgan Sanson and Valentin Rongier are important cogs to AVB's counter-press. They are afforded that luxury due to Boubacar Kamara's protection, but nonetheless both midfielders produce excellently.
Moving to the middle third of the pitch, it's not a surprise to see the Marseille midfield duo near the top again. The other immediate two names that stick out are Angers midfielder Mathias Pereira and Bordeaux's Otavio. Pereira has had a promising season in France's top-flight division. He is averaging 2.34 tackles per 90 minutes according to Football Reference. Otavio has been a reliable defensive midfielder for Les Girondins since 2017. He has been averaging 3.46 tackles per 90 minutes according to Football Reference.
Switching now to defenders who are successful in the mid third area of the pitch, there are some interesting young players such as Boubacar Kamara, Mohamed Simakan, Zeki Celik, and Mamadou Fofana.
Finally, here is a look at how defenders fared in their own third. Mohamed Simakan, once again, shows up well here. This suggests that he is covering plenty of ground, not only within his own third, but also the middle third.
There are more nuanced methods that rely on film and other resources to judge how individuals and a team pressures the ball. However what is undeniable, is the centrality that the tactic has to the modern footballing game and that the best clubs in the world are employing it. The managers for last year's Champions League Final, Jurgen Klopp and Mauricio Pochettino, both implemented a pressing system that was beneficial for their respective club. More Ligue 1 clubs should be seeking to apply the same principles if they not only want to progress within the ranks of France, but also in Europe.
Data in this article from Understat and FBRef.