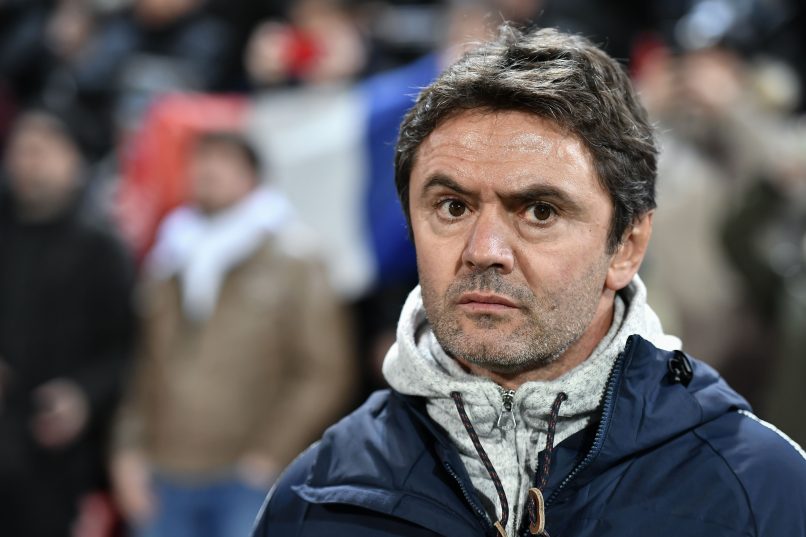 FEATURE | Mattéo Guendouzi & Faitout Maouassa shine as Sylvain Ripoll's tactics bore in U21s fixtures
While one could ostensibly give France's senior side the benefit of the doubt in terms of the sharpness of their performances, given the absences of Paul Pogba, Kylian Mbappé, and yes, Blaise Matuidi, the U21s, despite being deprived of Eduardo Camavinga and Houssem Aouar, both of whom had been selected for Didier Deschamps' senior side, need only look in the mirror for those responsible for their sluggish performances. Across 180 minutes of action against Georgia and Azerbaijan, Les Espoirs scored just once from open play, and even that came with just five minutes to play in the second match as they sought to keep pressure on group leader Switzerland.
Their qualification looks all but assured, despite trailing the Swiss, having lost to their neighbours 3-1 late last year, as the playoffs for next year's tournament in Hungary and Slovenia have been scrapped in favour of giving the five best second-placed sides passage to the tournament. With results as they stand, France need just a solitary point from their matches against the leaders and Slovakia to qualify. However, given that this team features a host of very accomplished players, a more convincing performance should have been delivered in both matches as the team seek to improve upon a wretched span that has seen them qualify for the European finals just once, in 2019, over the last fourteen years.
It is true that in these two matches, France, particularly with the partnership of Jules Koundé and Boubacar Kamara, look far more settled at the back. Les Espoirs' defending had been, to be charitable, problematic over the course of qualification to date, having conceded nine goals in their first four group stage matches. Koundé, despite his experience with Bordeaux and Sevilla, was making his first appearances for the U-21 side, and looks to be the ideal partner for Kamara, even if the likely return of Dayot Upamecano may challenge that. 
However, their bluntness in attack, especially given the surfeit of attacking talent at Sylvain Ripoll's disposal is frustrating indeed, more so as in Odsonne Édouard, the team have a striker who can function as a focal point by using his physicality, something easily exhibited by his scoring record. But with Édouard having been left on the bench against Georgia in Friday's first match, with Amine Gouiri preferred centrally, Les Espoirs looked toothless indeed. There's no arguing that Gouiri deserved a place in the eleven following a strong start to the season with Nice, but with Les Aiglons he plays wide on the left, rather than as a central attacker, and his effectiveness was limited, despite the central role being his natural position. 
Rather than be a spearhead in the mould of Édouard, he frequently dropped deep, hoping to link with the midfield and run with the ball at his feet, and he summarily conceded possession cheaply, sapping him of his effectiveness and wasting the team's build-up play. He and nominal wide players Arnaud Nordin and Moussa Diaby did put in plenty of effort on the evening, but with Jeff Reine-Adélaïde suffering an early end to the evening following a calf injury, the team's 4-2-3-1 lacked a creative impetus, the system having left the normally excellent Maxence Caqueret somewhat lost in a nominal double pivot.
Game as Diaby was to take up a central role in Reine-Adélaïde's stead, it's not a position that matches his skillset, and Eric Dina-Ebimbé's introduction in midfield did little to ameliorate that as well, even as the team seemed to play more of a 4-3-3 in possession, with Matteo Guendouzi the deepest in midfield. Playing this system, which was more apparent after the break, France had markedly less possession, but looked more dangerous, especially with Édoaurd's eventual introduction. Even as the result was eventually sealed by the Celtic striker's penalty, one had to wonder what difference a player like Mounir Chouiar could have made in terms of a player who has manifest ability on the ball.
In selecting for this squad a midfield composed entirely of players (save Reine-Adélaïde) that are box-to-box at best, Ripoll had all but insisted that this team's impetus come from the flanks, a seemingly self-defeating strategy without a natural target man. As a coda to this, Faitout Maouassa was superb at left back in both matches, his having played more regularly there under Julien Stéphan clearly paying dividends as regards his positional sense, allowing the team to retain its width even as Nordin moved inside. While it's folly to suggest he may be ready for a place in the senior side, the unimpressive outings on the parts of Lucas Digne and Ferland Mendy may yet be encouraging for the former Nancy man, especially with the Champions' League potentially offering an ideal showcase of his talents at the very highest level.
There was, of course, another match in which to rectify this, but it was unfortunately more of the same against Azerbaijan. Ripoll here set out his side in a 4-3-3, but left Caqueret on the bench, perhaps with an eye on the Lyon man's busy August. This left Guendouzi to play as the most advanced of the midfield three, and he responded brilliantly, winning a penalty and putting in a sterling display throughout. However, Ripoll again here set this team out far too negatively, even if Édouard was included from the off – Ibrahima Diallo and Boubakary Soumaré are both fine players, but even if the Lille man had a few impressive long passes, that Guendouzi would be the team's nominal creative outlet again was a source of frustration.
Gouiri would perhaps have been expected to provide some of that ingenuity, but while he was far better on the ball in a wide role, his passing was again lacking and he seemed at times to struggle to establish a solid spatial relationship with Maouassa on the latter's forays forward. This is the sort of thing that can emerge with time, though. Too, with Caqueret normally to be included, France could have benefitted from the kind of short passes that can knit play together more seamlessly, but as it was, it was another middling evening from the visitors. 
With more familiarity and his regular squad (including Aouar and Camavinga) at his disposal, Ripoll would have likely expected better results. However, over these two matches, his tactics too frequently seemed at odds with the personnel he had selected both in his lineups and his squad as a whole, resulting in an incoherent and impotent pair of performances. Again, the need to be tighter at the back would surely have influenced his thinking, but if he is unable to find a happy medium ahead of the summer, it seems that yet another brilliant generation of young talent will go without a trophy at this level, extending their drought once more.