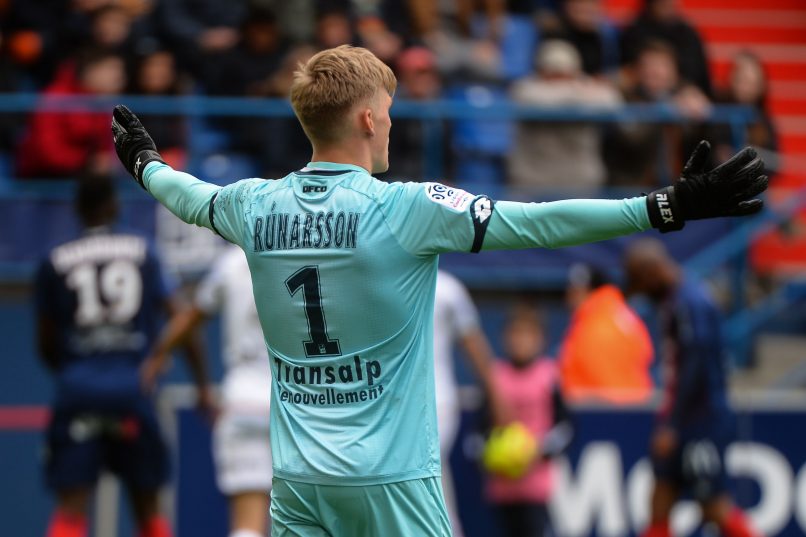 FEATURE | Rúnar Alex Rúnarsson – Arsenal's bizarre bet
With Emiliano Martínez having moved to Aston Villa, Arsenal are in need of a deputy for Bernd Leno. The Argentine had performed well in the German's absence, but it was clear upon Leno's return from injury that he would be keeping his place, despite Martínez having shown he was clearly of a Premier League level. With the Gunners on the hunt for a reserve goalkeeper, they have turned to Ligue 1, as they have so often in their history, this time to sign Alex Runarsson from Dijon.
The Icelandic goalkeeper has been relegated to backup status since the arrival of Alfred Gomis, the impressive Senegal international, last summer, and his sale, for €2m, represents a small profit for Dijon, who have far more pressing concerns in rebuilding their squad, with Gomis arguably their best player. So, then, a promising young player from France? That's worked out well for Arsenal in the past, but it also hasn't, more recently, and the thinking here is that this is likely to be more of the latter than the former in this instance.
Runarsson had impressed in Denmark for Nordsjaelland before joining Dijon to replace Baptiste Reynet, who had decamped for Toulouse in the summer of 2018. Reynet, a superb reflex goalkeeper, was right to be more ambitious than Dijon, and Runarsson's purchase, given the balance of his age and experience, seemed a sound investment. The results however, were less than glowing — in his first season, Runarsson conceded 43 goals in 25 matches, eventually being benched for Bobby Allain, a player who had just one match as a professional to his credit prior to the start of the season.
He would regain his starting spot later in the season, but was generally far from assured, as Dijon only managed to survive by beating Lens in the promotion/relegation playoff. As a result, Gomis was brought in from Italy, and Runarsson was on the bench once more. He would feature in a handful of matches at season's end after Gomis suffered a knee injury, but was again totally devoid of confidence, strength and poise – his only win came against a Toulouse side who were historically poor last season and he failed to keep a clean sheet in any of his 11 appearances.
Runarsson's numbers can be blamed, albeit only slightly, on playing for a Dijon side in his first season that was far too attack-minded for its own good, but he frankly was culpable for much of their troubles as well. A decent 'keeper in terms of his reflexes, his positioning and aerial ability is lacking badly, and while he does have a powerful kick, his distribution out from the back often left much to be desired, frequently putting his defenders under pressure. Too, at Dijon, a long ball was a reasonable choice, as in Julio Tavares and Jhonder Cadíz, he had two reasonable aerial threats at which to aim, something that will scarcely be the case in north London.
Rather than try to pick apart his skillset any further, suffice it to say that if Arsenal see a goalkeeper who is second choice for the worst team in Ligue 1 this season as a viable option to be their own deputy, they had better make a none-too-inconsiderable offering to the injury gods on Leno's behalf.