Jake Smales is taking on the challenge of keeping Paris FC up in Ligue 2 on Football Manager 2020 under budgetary constraints – to read episode #1, click here.
Ligue 2 commences: big wins, narrow losses, famous faces and a load of surprises
With a hectic yet successful pre-season winding down, featuring wins over Lille, Genk and Brentford, it was time to take stock of the situation at Paris FC a little more broadly, before the brutal physical and psychological onslaught of Ligue 2 commenced. Besides, from a first-team perspective, all was looking extremely encouraging, save for experienced winger Lalaïna Nomenjanahary, who was STILL somewhere on his tour of South America's beaches, and still, apparently, bereft of any phone signal.
It seemed as good a time as any, then, to take a closer look at the academy. On returning to the training centre after our win against Brentford in London, I met up with reserves manager Fabien Valéri and Head of Youth Development Jean-Luc Ruty for a chat, before attending an U19s training session in person on Monday.
It quickly became clear that our best prospects were by far and away those already in the first team. Goalkeeper Anthony Maisonnial (21), understudy to captain Vincent Demarconnay, starting centre-back Axel Bamba (20) and the player who I hoped would lead the line in attack, Lamine Diaby-Fadiga (18) were all showing signs of becoming at least key first-team players, if not decent Ligue 1 players in the future, with Diaby-Fadiga threatening to go even further in the game.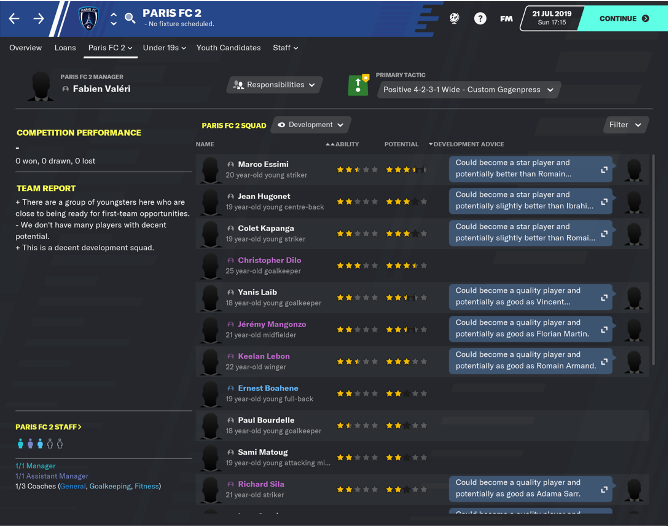 Looking at the reserves, Cameroonian striker Marco Essimi wasn't too far from the first team, and at just 20, had potential to become a star player for the club. He was certainly one I would look to keep an eye on, and potentially loan out, as having more than one young striker in and around the first-team did not seem best for the youngsters' development.
While watching the training session, Valéri seemed smug about two players in particular who had recently outgrown youth football and moved up from the U19s: centre-back Jean Hugonet and striker Colet Kapanga. In a feisty seven-aside game, Hugonet looked highly adept in his, positioning, decision-making and overall reading of the game, holding his own against some of the more experienced players despite being more slight physically. His well-timed yet tough-tackling approach was also especially encouraging. Kapanga meanwhile was showing some decent movement on and off the ball, with a very tidy first touch.
The current U19s squad, on the other hand, looked relatively poor. Ruty's report on Gabonese striker Meshak Babanzila Mayala suggested the player showed promise, but behind fellow youngsters Diaby Fadiga and Essimi he was unlikely to get any significant playing time for the first team any time soon. He too would be placed on the loan list. None of his other teammates gave any indication of potentially making the first team, and so I hoped that the coming year would provide a more promising intake of youth players.
Despite my best efforts to drum up interest in the youngsters, there were no takers at that time. For now, those showing more promise would have to stay where they were, and in the meantime I would be sure to tabs on their development.
As we moved into the week, there was a real buzz about the club. The mood was great in training, with the younger players particularly excitable, and the team training well, save for a sub-par few days from winger Julien López. At first, they had responded better to my assistant, Stéphane Gilli, but it became clear that I was starting to win their favour and their respect. Save for Nomenjanahary's continued desire to ignore me while on his 'retreat'.
After submitting the squad list to the league, all eyes were on the weekend's match against Troyes at the Stade de l'Aube. It was soon time for me to face the media for my first pre-match press conference.
It was a calm, humid August day at the Charléty as I was shown to my seat, with the few journalists present rushing with their small coffees to their seats, awaiting their key sound bites with bated breath.
In truth, there was relatively little fanfare around the match, given our relatively unfancied squad.
"Do you think Paris FC can get off to a winning start?" Lou Dumas of French Football Review queried, opening the questioning.
"The team is developing well; they are working towards the right mentality and philosophy, and every match we play will help develop that."
I was playing it cool. But in truth, I was wrought with anxiety. I had a big vision for the team, and knew it would be crushing to fall short of my lofty goals. A strong start was key.
I barely slept that night, but felt an eerie, tired calm the next day at training. After the morning session, it was time for our tactical briefing. I would go with our strongest XI, based on ability and pre-season performances, and opt for our high-intensity pressing game, using the counter-press to win the ball back as quickly as possible, and keep the tempo up to fluster the opposition. Even though Troyes were favourites, I wanted us to take the game to them, to play positively and see how we coped.
"We're going to go for the 4-2-3-1. Lamine [Diaby-Fadiga], you'll be leading the line, and Jérémy [Ménez] you'll play in support. Mo [Mara], I want you working hard on the left. Draw them in and give the guys in the middle some space."
At first I couldn't sleep a wink that night, the excitement and nerves getting the best of me. At about 1AM my phone buzzed. It was Nomenjanahary.
"Good luck boss! Will be back in the next couple of weeks."
Finally a response. After that, I slept like a log.
It was an overcast, humid afternoon in Troyes as we arrived at the stadium. The morning papers made grim reading. The hosts were favourites, and predicted a 4th place finish, compared to our 12th. 3 of the 4 defenders in the media's Ligue 2 dream XI were Troyes players (centre-back Jimmy Giraudon and full-backs Oualid El Hajjam and former Crystal Palace and Lille man Pape Souaré). A win was looking like a tall order.
In the dressing room, there was a nervous buzz which went quiet as Gilli and I entered. I wanted to stress the important of a good start.
"This game could dictate the rest of our season. Start well, and we could fly. The odds may be against us, but we want to give the fans hope. Let's give them the performance they deserve. Allez!"
Shouts of "Allez!" reverberated around the dressing room as the lads headed for the tunnel.
The muffled echoes of the fans, and smell of fresh turf pervaded the tunnel. Before heading out to the technical area, I was intercepted by La Provence journalist Gregory Brunel, mic in hand, asking me to sum up my feelings.
"I've had plenty of time to think and now I'm ready to do what I came to do – win football matches."
Troyes were clearly growing in confidence and had the momentum going into the closing stages of the first half. I shouted for Bamba and Kanté to drop further back, as they began to commit men forward. Shortly after, Ménez managed to win the ball off Tardieu, and began marauding towards the Troyes goal. Only Diaby-Fadiga was ahead of him, with the midfielder feeding the onrushing forward. Using his pace and strength, the 18 year-old held off the opposition defenders, veering slightly to the right before opening up his body to shoot. Gallon however made the save.
Shortly after, the whistle blew, putting an end to a frustrating first half. The game had been very even, but we had failed to make the most of a couple of golden chances thanks to some terrific goalkeeping and defending.
The players cut frustrated figures in the dressing room. I told them that they had been unlucky, and that all we needed was to create another key chance and we would be right back in this.
With the players looking fired-up, the second half was underway. We started on the front foot, but were struggling to create anything clear cut against the highly skilled Troyes defence. I decided on 60 minutes that it was time for a change. Pitroipa had been our poorest performer, struggling to get into the game, with Souaré having got the best of him. On came Amiens loanee Cheick Timité.
I motioned to Koziello for him and Mandouki to push further up the pitch, which they duly did, heightening our line of engagement. With 12 shots to their 7, we were on top, and it seemed like just a matter of time before we scored, providing we could break their lines.
Struggling for the breakthrough, I switched things up to have Ménez playing alongside Romain Armand in a 4-4-2, the latter having replaced a tired looking Diaby-Fadiga. I bellowed from the touchline for the boys to get creative. A Ménez free-kick from just inside the Troyes half led to a scramble in the opposition box, but eventually they got it clear.
With time running out, I threw creative midfielder Florian Martin on for the more industrious Mandouki, but we could only manage a couple of half chances. At the full time whistle, Gilli kicked his bottle in frustration. We had played well, but were not ruthless or creative enough. It was the worst possible start to the campaign.
The mood was sombre in the dressing room. Perhaps I had been tactically naïve, playing in such a positive manner. But had we been more reactive, we barely would have created at all.
"It was just one of those days," I began as the players quietened down. "I can't fault any of you individually." The guys looked exhausted.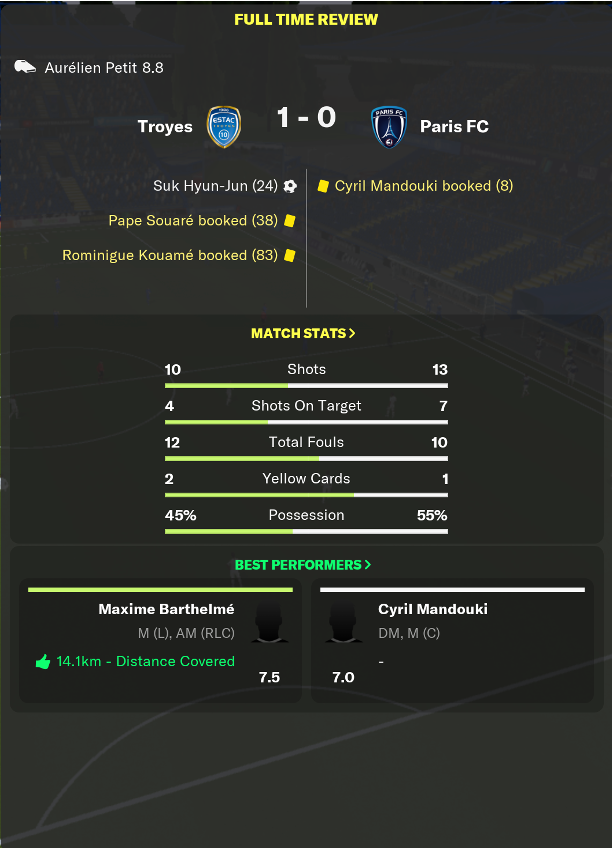 In the mixed zone, it was clear the media were looking for their soundbites. I tried to keep things cool and not let my disappointment betray me.

Fortunately, our next game was just days away, and so immediately we had another opportunity to get our season up and running, without too much time to dwell on the result. The match however, was against Lens, who the media were backing to finish third come the end of the season. What's more, morale was high for les Sang et Or, who had equalised in the 97th minute against Le Havre. We certainly had our work cut out for us.
After an uneventful couple of days at training, save for the returns of Felipe Saad and López from injury, it was time for the match. To keep things fresh, I decided to partner Kanté with the more experienced Samuel Yohou in defence. Despite his poor showing in the previous match, Pitroipa kept his place on the right side of midfield, having impressed in training, and showing signs of forming a good relationship with right-back Cissé.
Given that we were the home side and still yet to get into our stride, I didn't yet want to stray from our primary tactical setup.
As we arrived for the match, the concrete Charléty glowed beneath the setting Parisian sun, and the fans were in fine voice in and around the stadium. Even if the attendance wasn't anything to shout about, there was a buzz. Football had well and truly returned to the capital.
This time, there was more of a calm in the dressing room, a palpable excitement to get our season underway, rather than a heavy feeling of apprehension. "Now's our chance to get things moving. Let's do this for the fans!" Stéphane Gilli roared, beating his chest.
We started the game well, dominating the ball and creating a couple of decent half chances early on, prompting Franck Haise to try to martial his team further back. 16 minutes in, we were knocking the ball about nicely between the defence and midfield, before a weighted pass forward from Coulibaly found Mara in space on the right hand side of the area. However, the winger's cross was intercepted by Gaëtan Robail, made a darting run for our half. Fortunately, Mandouki was quick to snuff out the threat, albeit through cynically hauling the Lens player down for his second yellow card of the season.
We were in control of the match, though faced a scare in the 31st minute, when a Corentin Jean free kick cannoned off the crossbar, before being cleared by Kanté. After a quiet final 15 minutes, we went into the dressing room at half time with things level.
Other than the free-kick scare, Lens hadn't had a single shot on target. As a result, I instructed the players to keep doing what they were doing. "Get that one goal that can win this for us."
My plan was to try to play through Ménéz, as most of our successful forays forward had been in central areas. After an uneventful first 20 minutes, however, the Frenchman looked exhausted, and so I decided to replace him with Florian Martin.
With Lens now sitting deep and congesting the central channel, I yelled for the players to work the ball down the flanks. Coulibaly was having some luck on the left hand side, with the fullback finding Florian Martin in space with a floated cross in the 75th minute, only for the midfielder to volley wide. With Mara also looking tired, I called Romain Armand to come and warm up. "I'm looking for you to make the difference here, Ro."
Our dominance continued, however we were still struggling to create clear cut chances. Lens had a few late shots, but nothing which caused us any particular concern. Soon after, the final whistle blew. Another positive performance against one of the division's heavyweights, but also a somewhat frustrating game; a point didn't seem to reflect our overall performance.
Our next few games looked a lot more straightforward, playing two newly promoted sides in the league (Rodez and Chambly) either side of a cup match against third tier Béziers. It seemed a strange thought this early into the season, but given our situation and our ambition, the Chambly game, to me, was already a must win.
The week in training was an interesting one. Axel Bamba had trained exceptionally well yet again, proving to be the consummate professional despite his age.
However, there was some overall concern. Our performances had been somewhat frustrating, in that we hadn't created enough clear-cut chances, nor made the most of the opportunities we did have. What's more, the on-pitch relationship between Ménez and Diaby-Fadiga, that which I had expected to be the fulcrum of our attack, wasn't working. The two would rarely pass to one another, and often make the same sorts of runs, stepping on each other's toes. What's more, there had been some bickering in training.
I decided to alter our tactics slightly. We hadn't quite clicked into gear in an attacking sense, and so I changed some of the players' roles around.
To add a bit more creative impetus, I decided to change Koziello's role to that of a deep lying playmaker, a role he was somewhat more suited to, through his vision and passing ability. As a foil, I wanted Mandouki to take his place as a box-to-box midfielder, due to his industry and technical ability. Through not having an out-and-out defensive midfielder, I worried that perhaps we would be slightly unbalanced, but it was a risk I was willing to take.
Meanwhile, in an attempt to help better support the relationship between Diaby-Fadiga and Ménez, I decided that the latter would be better suited working in an advanced playmaker role, rather than just as a generic attacking midfielder.
Over a cup of tea, a practice I had brought with me to the club, Gilli and I had a brainstorm over how else to get the best out of our players in an attacking sense, within the confines of our current tactical system.
Given how effective our full-backs had been in an attacking sense, we decided to instruct them to make overlaps whenever possible. Additionally, we figured that getting more early crosses into the box for Diaby-Fadiga would yield far more scoring opportunities, given the youngster's height. All this, while increasing further the tempo with which we would play, always looking to distribute the ball quickly, rather than dawdle.
The weekend rolled around, and it was time for match day three. I was already feeling the pressure. Facing Ligue 2 newcomers FC Chambly, failure to win would almost certainly lead to some early questions being asked of my tenure, as well as losing ground on our rivals. Moreover, decisions I had made, such as persisting with Diaby-Fadiga up front, would start to face serious scrutiny, unless they paid dividends.
On the bus up to Chambly, the young striker was sitting by himself, looking out of the window with his headphones on. I decided to go and talk to him.
"I know the start of the season's been tough so far Lamine, but you've played well and worked hard. This weekend, I know you're capable of leading us to victory. I want you to go out there and I want you to get your first of the season."
"I'll do my best, gaffer," he nodded, giving me a thumbs-up.
"I have a feeling you'll do more than that," I winked, knowing that the tactical rejig that Gilli and I had worked on would help get the best out of the youngster.
Game day finally rolled around. On arriving at the ground, I just knew that today was going to be our day.
On my way to the away dressing room, I bumped into Chambly coach Bruno Luzi. I shook his hand and explained that, prior to my managerial days, I had actually written an article about his team, family and the club's history for Get French Football News. He looked flattered, shook my hand and wished me luck in the game ahead. "Finally someone a bit more grounded in this league!" I thought.
After a pretty standard warm-up and team talk, we were underway. I had decided to give Tunisian left-back Ali Abdi his first start of the season, resting Coulibaly, who had exhausted himself after the first couple of matches. Now all that remained to be seen was whether our changes would pay off.
As usual, we started the match very well, putting continuous pressure on the Chambly defence, who were pegged back in their own half. Koziello and Mandouki both had decent efforts blocked and saved respectively from the edge of the area.
Throughout the first ten minutes, my words to Diaby-Fadiga were echoing in my head. I had put enormous pressure on the youngster, and whether or not he delivered could have enormous repercussions on my reputation. This had to be the match.
12 minutes in, Mandouki had another effort from distance saved by the Chambly keeper. The ball is parried back into the area, and poked home. The next thing I know, we're all on our feet, elated that we've finally scored the first goal in the season. However, it's only after the celebrations that I turn and realised I didn't catch the scorer.
Sure enough, leading the players in wheeling away to celebrate was Diaby-Fadiga. The 18 year-old finally had his goal for the club. Joy and relief were however soon turned to mild embarrassment, as the youngster began beating his chest in front of the Paris supporters. Gilli planted his right hand on his forehead, shaking his head with distaste.
In the 32nd minute, after another sustained period of possession, we were presented with another clear-cut chance; Diaby-Fadiga this time heading just over from an outswinging corner from Mara. During a Chambly attack from the resulting goal kick, we managed to turnover possession, with Pitroipa leading the counter attack down the right. The Burkinabé cut inside, before delivering a clever ball over the top of the Chambly defence, which was met by the head of an onrushing Mara. The ball thudded in at the far post. We were 2-0 up and cruising.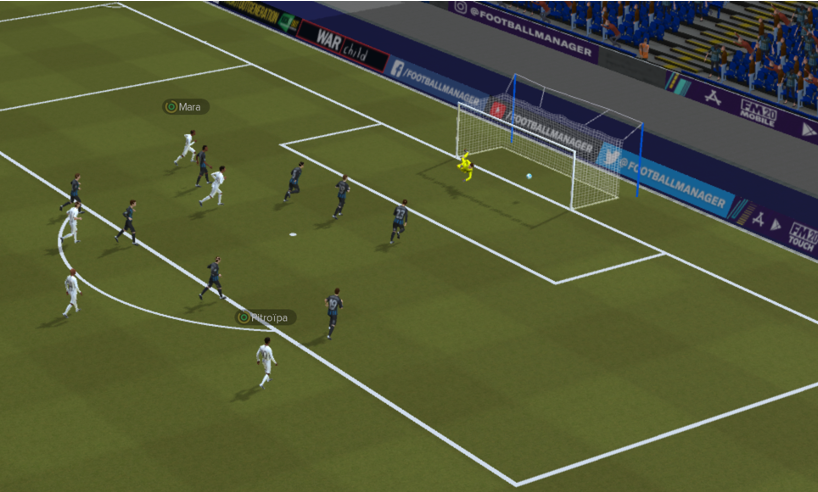 Little else happened before half time. In the dressing room, the contrast in moods from the previous two weeks was palpable. The players were oozing confidence, and looked raring to go. "I'm pleased with your performance so far, keep it going lads!" I smiled.
After a quiet start to the second half, Chambly won a free kick from just outside our area, to the right of goal. Up stepped veteran midfielder Marvin Martin, who struck the ball delightfully, hitting a curling ball straight into the top right corner. Our smiles quickly faded as Bruno Luzi and the Chambly crowd bellowed for their players to fight on.
We had yet to be in a situation like this, defending a lead when the momentum was with the opposition. I was anxious, and I could see Gilli was too. But we had still had 17 shots to their three, and I knew that as long as we could keep things calm and slow down play, we would start to take control again.
And so we did. In the 66th minute we won a corner. Mara ran to the left hand corner flag to take. A clean, floated cross came into the box and was met by the head of Diaby-Fadiga, leaping above everyone, who thumped the ball into the net. It was 3-1.
Gilli ran up behind me and jumped on my back, waving his fist in the air. This was what we had been working on, and what we had been waiting for. Having had a word at half time about his 'peacocking', the young forward's celebration was a little more humble this time round!
From then on, we were in complete control. In the 71st minute, we won a penalty from a shove in the box on Ousmane Kanté. Some of the players were making a case for Diaby-Fadiga to take it, to complete his hat trick. The striker looked to me, but I shook my head, insisting that it was the responsibility of regular taker Ménez. The forward nodded, seeming to understand.
Ménez stepped up to take, but struck the ball agonisingly wide, straight into the advertising boarding to the right of the goal. However, I did not regret my decision – I wanted to maintain authority and go with experience, and at that stage, I didn't know that we were home and dry.
I made two changes soon after, bringing on Armand for Mara, who went off to a standing ovation from our supporters, and Florian Martin for Mandouki to freshen things up in midfield. Both decisions paid off almost instantly when, in the 84th minute, Armand headed home his first goal of the season from a Martin corner. The game was over, and our season had started.
Chambly had a late half chance, but the rest of the game was a controlled affair. It finally felt like our season was underway.
In the dressing room, I pulled Mara aside. "Mo, you were sensational today. Congratulations on a terrific performance." The winger looked delighted. "The rate you're going, there's no chance Lalaïna (Nomenjanahary) will get a starting spot!" I joked.
Our next match was AS Béziers in the Coupe de la Ligue 1st round. Given that this was the final ever edition of the competition, I wanted us to at least make a splash.
The week however started poorly. Ali Abdi, who had had a very good match against Chambly, suffered a twisted ankle in training on Monday, and faced up to five weeks out. I pulled him aside to speak to him.
"I'm sorry this has happened Ali. Make sure you take it easy, and get back to us as quickly as possible – we need you! And let me know if you need anything." He smiled faintly. "Cheers gaffer, this injury won't get the better of me. I'll make sure of it."
The news however wasn't all bad. After training that day, I sat in my office, watching some footage of Béziers' weekend league match. I had a knock at the door, and a figure walked in wearing a garish flowery shirt, sunglasses on, with beaming grin on his face.
"Hi boss! Sorry I'm late – got a bit held up. You know how these things are!"
It was Nomenjanahary.
The veteran winger sat down and explained that the holiday he had taken was agreed with the club and the previous management. I intended to lay down the law, but after swashbuckling tales of his adventures in South America, trekking the Amazon, partying on the coasts and participating in local futsal tournaments, it was difficult to stay angry. "I promise to give 110% boss," he insisted, "I'll be fully match-fit in no time. Just you wait."
"You'll have to fight for your place, Lalaïna. Mo has started the season terrifically. And if it is a struggle to get your place back, I want no sulking. You're a leader in this team, and I expect you to act like it."
"You can count on me," he winked.
There was a real sense of excitement ahead of the match, with all of the players eager to get a cup run going. Moreover, we had the incentive of playing our bitter rivals Red Star in the next round, should both our teams win our respective matches. Club stalwart Ousmane Kanté was also especially excited with the opportunity to play against his former club.
For the match, I figured it was time for some rotation. But I wanted players to play in the same system as we had in the league, with the same player roles, for the sake of continuity. Even if certain players were perhaps less suited to their specific roles.
Anthony Maisonnial would make his first start in goal for the club, while Cheick Timité would replace Pitroipa on the right. Romain Armand would start on the left, with Adama Sarr making his first appearance at striker. Mohamed Rabiu and Jason Kikonda would act as the pivot in midfield, behind Florian Martin, replacing Ménez. Coulibaly took over from the injured Abdi at left-back, while Yohou would come in for Kanté in central defence. I would make nine changes in all.
Nomenjanahary unfortunately wasn't fit, but would accompany us to the south of France nonetheless. On the bus journey down, while briefing the players, I joked that we could leave him down there in the sun to continue his holiday, and keep up his surfing. Unfortunately the veteran winger was the only one who seemed to find my joke funny.
The match took place on a gusty night at the impressive Stade Raoul-Barrière. The home side sat 13th in the National following their relegation from Ligue 2 at the end of last season. After a bright start, we took the lead just three minutes in, with a Florian Martin cross from the byline finding Cheick Timité, who heads the ball back into the path of Cissé, who blasts the ball into the roof of the net – his first goal for the club.
The match proved a physical affair. The ball was bouncing around all over the place due to the wind, and the players seemed to do the same, with Yohou and Kikonda both booked early on for rash challenges. I ushered for the players to calm down, and to play with more caution.
After a quiet first half, Béziers first clear chance came in the 48th minute. Having won a free kick from just outside the box, Bongiovanni delivered a dipping cross which was met by the head of striker Testaud, whose header pinged off the post.
"Wake up!" I yelled, clapping my hands together. My voice was drowned out by the howling wind, which had now carried a young boy's hat onto the pitch.
As the game progressed, I made several changes to keep things fresh, putting on some of the 'first choice' players, as it seemed that this XI were struggling to gel. Finally, in the 91st minute, we killed the game with a second goal. Ibou Cissé's pass from out wide found Sarr in space centrally, the Senegalese then booting the ball straight into the top corner.
The other cup matches provided no shocks, with fellow Ligue 2 sides Guingamp, Chambly, Lorient, Chateauroux and Le Havre among others all joining me in the next round.
What did come as a surprise was the reaction of Béziers manager Didier Santini. The coach had been slightly cold at the start of the match, and very lively during the game, screaming at officials over highly innocuous challenges and decisions. At the end of the match, he stormed straight past me, cursing, leaving an embarrassed assistant to apologise, running after him. Having witnessed his fury, I was glad we hadn't scored more.
During the trip back north, we learned that Diaby-Fadiga had made the league's team of the week. I went over to show the 18 year-old, who was already starting to grow in confidence, sitting and chatting with the other players at the back of the bus. He looked delighted. "I told you Lamine" I grinned, "great work."
That weekend, we played Rodez at home, Another newly promoted side, this was a golden opportunity to consolidate our win from the previous weekend. What's more, the visitors had won just one point so far, sat 20th in the league, and had a goal difference of -5. Again, I expected nothing but a win.
For the match, I returned to my favoured XI, the same who had beaten Chambly the previous weekend. Nomenjanahary now found a place on the bench. Despite the Ménez – Diaby-Fadiga partnership still not flourishing, I was determined to persist for now. After all, it had only been a few games.
The match took place on another glorious summer afternoon at the Charléty, with the sun glowing bright in the sky, just starting to wilt.
Perhaps rather unexpectedly, Rodez started on the front foot. Clearly with a point to prove, the visitors were playing an interesting 3-5-2, retaining possession nicely and causing us some trouble with their wingbacks. I shouted for Cissé and Coulibaly to pull back slightly and now allow them space in behind.
After 20 minutes however, momentum began to shift. Ménez was causing them some problems in midfield, with the Rodez players resorting to fouls to try to dispossess him. In the 27th minute, he forced a throw, which Coulibaly stepped up to take. From the right touchline, just outside the area, he found Cissé, who crossed the ball in, finding Mara at the back post, who slotted the ball past the Rodez keeper, and it was 1-0.
Two minutes later, we had won a corner. Koziello stood over the ball at the right corner flag, and provided an in-swinging cross into the box. Diaby-Fadiga again rose highest, and headed the ball in for 2-0. Gilli and I high-fived the rest of the coaching team, while opposition manager Laurent Peyrelade kicked a stack of water bottles, cursing at his assistant.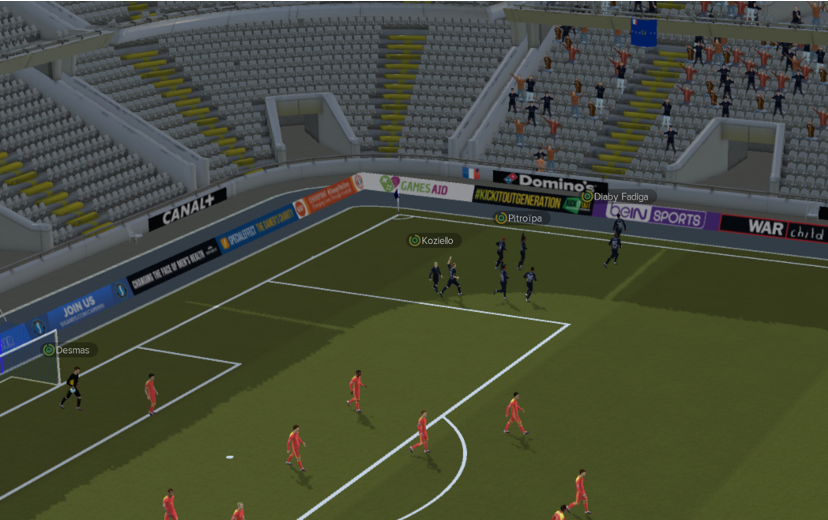 For the rest of the half, momentum was entirely with us. We were creating a flurry of chances, yet were foiled by a well-organised defence. The half-time stats made encouraging reading, having 15 shots to their 0.
The Charléty was rocking in the second half. Things were going extremely well, as we continued to sustain the pressure on the visitors. After 60 minutes, I decided we needed to make a change to help break things down. Pitroipa had looked complacent, and so I decided to haul him off for Chieck Timité.
"What are you playing at lad! I expect more from you." The winger nodded frustratedly in response.
Following a quiet spell, I decided to finally give Nomenjanahary his moment, bringing him on for a tired looking Mara, who had again been excellent. From that point on, the game became a little more disjointed. Rodez lacked any real creativity to cause us problems, while we were able to see out the rest of the match in complete control.
Rather randomly, the press decided post-match to quiz me on my relationship with club chairman Pierre Ferracci. Bemused, I figured there had been some fabricated or miscommunicated story.
With matches coming thick and fast, our next game saw us play Le Havre at home on Wednesday, before we would then go to Orléans on Saturday. A very different kind of match, Le Havre represented one of the league's best and most established sides a talented mixture of youth and experience.
Despite their talented squad, the media seemed to make us slight favourites for the match, which I thought was questionable. I knew that we were in for a difficult match, and so decided to again field our strongest XI, with a view to potentially resting players against Orléans at the weekend, if necessary.
The one change I did decide to make was to hand Nomenjanahary his first start. Mara had been brilliant, but was tiring himself out and needed a rest, and so the opportunity to improve the former's match fitness seemed perfect. While Mara played best as an inside forward, I decided to deploy the veteran as a more conventional winger, a role better suited to his pace, workrate and crossing ability. Such a role may also help get the best out of Diaby-Fadiga.
"You've been excellent over the last few games and I expect to see that continue," I told the players in the dressing room. "This is a far bigger test than the last couple of games. These kind of matches could be the difference between reaching Ligue 1 or staying in Ligue 2. Make it happen."
Everyone was fired up, with Nomenjanahary especially excited to be getting making his first significant contribution of the season.
Walking out of the tunnel, I found myself standing facing Le Havre manager Paul Le Guen. Le Guen was the most experienced manager I had faced in the division so far, and I had avidly followed his work earlier in his career with Lyon. I told him as much, and asked if he would be willing to join me for a glass of wine and a chin wag over tactics after the match, a habit of the great Sir Alex Ferguson. He looked a little bemused, but said that he would oblige.
The Le Havre line-up was intimidating, with the talented Pape Gueye in midfield, and Lyon loanee Tino Kadewere up front, arguably the division's best striker. "Stay on him boys" I had told Kanté and Bamba in the dressing room previously, "Cover him across every blade of grass."
Le Havre started the match on the front foot, causing us some trouble down the flanks. Nomenjanahary however was playing like a man possessed, running up and down the left flank to do his bit defensively wherever necessary. We looked to be holding firm.
But 11 minutes in, winger Hervé Bazilé meandered his way through our defence, before unleashing a vicious strike into the top corner from the edge of the box.
The lack of urgency in the press had cost us – Le Guen and his coaching staff gaped in awe, having surely witnessed one of the goals of the season. "Where's the pressure!?" I yelled from the technical area at the defence. For us, it was back to the drawing board.
Gradually, we managed to claw our way into the match. Putting them under pressure in their half, we repeatedly won throw-ins close to their box, which Coulibaly would duly take, often leading to half chances. It seemed Coulibaly throw ins were becoming a feature of our season, and a sight that would strike fear into the hearts of opposition teams as the season progressed.
It seemed we were destined to go in 1-0 down at the break. In the 44th minute, Pitroipa won the ball from the opposition and made a darting run forward down the central channel. He then played the ball wide to Cissé, whose cross found the towering Diaby-Fadiga, only for the teenager to head straight at Gorgelin in goal.
The team were frustrated at half time. "We've been far too passive guys," Gilli bellowed, "Show us something else in the second half."
We were lacking creativity, and I decided that we needed a change. I told Ménez to play higher up the pitch as a deep lying forward alongside Diaby-Fadiga, and told Pitroipa and Nomenjanahary to focus on getting more crosses into the box. That had looked like our best chance of scoring.
Two minutes into the second half, we had yet another Coulibaly throw-in to the left of their area. The full-back tossed the ball to Cissé, who, in turn, offloaded to Nomenjanahary. The veteran winger, in space at the edge of the box, had time to pick out Pitroipa running in at the far post, who rushed onto the low ball and slotted past the keeper. 1-1. The Charléty erupted.
The formation change had seemed to be working. We created a flurry of chances, with Mandouki coming closest in the 60th minute, firing straight at Gorgelin from just inside the area.
Diaby-Fadiga had had a relatively poor game, so I decided to take him off shortly after, in place of Romain Armand. I encouraged the players to take a more direct approach, but ultimately Le Guen, seemingly satisfied with a point, pulled his team back and frustrated our attempts to grab a winner. The game finished 1-1.
We had performed well overall, with a wonder goal the only clear difference between a draw and a win. Pitroipa especially had a great game, and finally had his first goal of the season.
The week-end rolled around quickly and it was time for us to play Orléans. For rotation purposes, I decided that Mara should come back in for Nomenjanahary, as well as Yohou for Kanté in defence. Additionally, Ménez and Diaby-Fadiga still weren't gelling as I had hoped, with the former struggling to make a significant impression in attack. I thus decided to opt for Florian Martin as our advanced playmaker going into the game. Besides, Diaby-Fadiga had already shown signs of improvement as a player and had already contributed more on the pitch. It seemed unfair for him to lose his place at this point.
After weeks of glorious sunshine, it was a cold day in central France. Orléans had been one of the favourites for the drop going into the season, but found themselves in 12th, and boasted some talented players, including Metz loanee Vincent Thrill and midfielder Maxime d'Arpino.
The game seemed to reflect the weather, starting at a slower, stodgy pace. Diaby-Fadiga was holding up the ball nicely, and Mandouki was looking industrious in midfield, but otherwise things were slow. It was also an intensely physical match and, 27 minutes in, Orléans striker Hicham Benkaid had to make way for Aurelien Scheidler.
After just over half an hour, yet again, we found ourselves with a throw in just outside the opposition box. This was of course taken by Coulibaly, whose ball found Florian Martin, the midfielder dribbling his way into a central area and unleashing a whipped shot into the top corner. 1-0 to us. Martin turned straight to the travelling fans at the opposite end, coolly saluting them in celebration.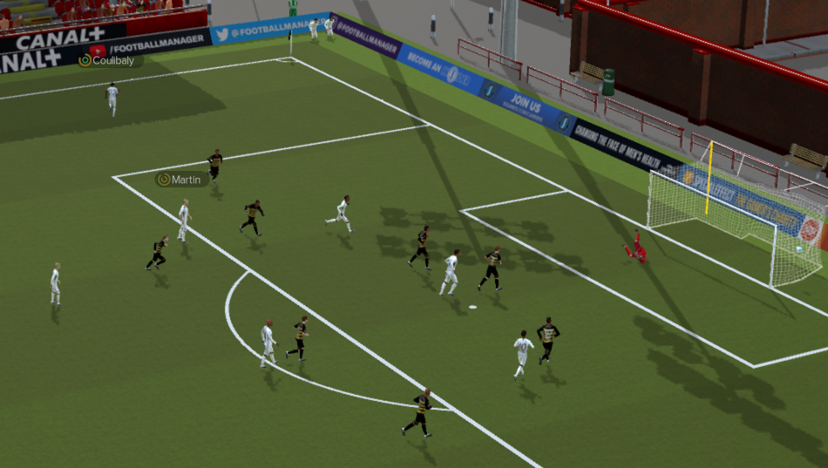 Our lead however didn't last long. In the 39th minute, the home side equalised with their first shot on goal, a cross from Lambese finding Schleider, who headed in. Again, it looked like our lack of efficiency in front of goal would cost us.
In the 42nd minute, Orléans were on the counter, but a tame shot at the end of it was calmly collected by Demarconnay. The keeper booted the ball upfield, seemingly having spotted a pass. The ball floated straight over the opposition defence, and indeed found Diaby-Fadiga, rushing onto it from an onside position. The Frenchman darted towards goal from the left, and unleashed an explosive effort, almost taking the net off. A breath-taking solo effort of our own, leaving the fans in raptures. The teenager ran towards the technical area, wagging his finger at Gilli and I before embracing us. We were back in business.
Balance had been restored.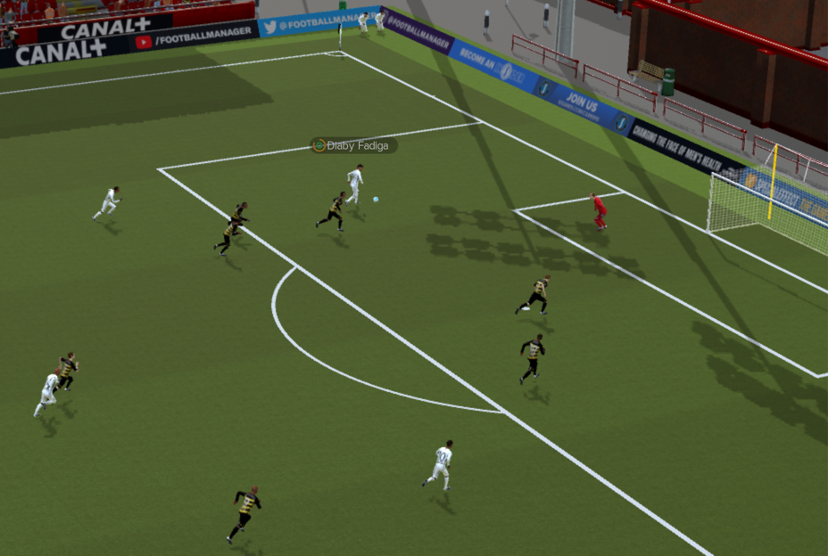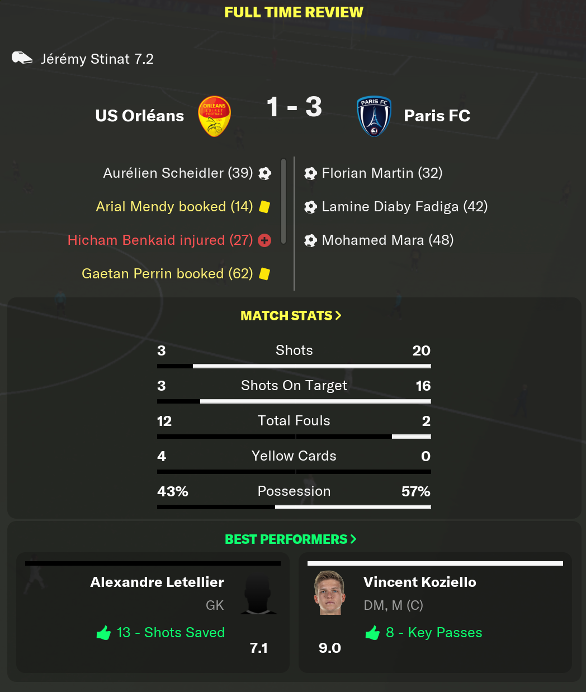 Victory left us in 5th place, in the playoff places for the first time and right up where we wanted to be come the end of the season. It was early days, and things were tight, but I'd seen enough promise to know that we were in for a very promising season.