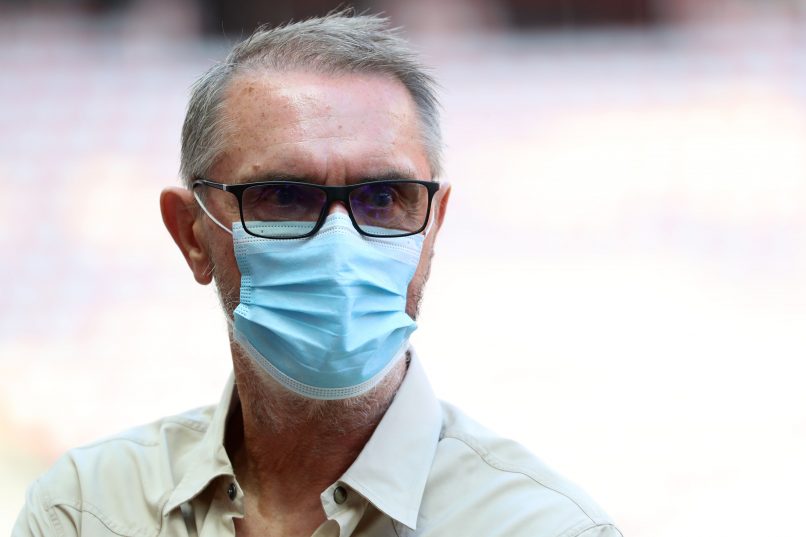 INEOS Football President Bob Ratcliffe on OGC Nice: "We will never give in to panic."
Speaking in an interview with Nice-Matin, the President of INEOS football, Bob Ratcliffe, discussed OGC Nice, the chemical company's biggest footballing franchise, following the recent sacking of Patrick Vieira and a disappointing first half of the campaign, with the club sitting 12th in Ligue 1 at the turn of the year.
Let's get right into it: are Jean-Pierre Rivère and Julien Fournier in danger of losing their jobs?
(laughs) That was never a question.
A look at the results, it would be normal if you had begun to get impatient.
We have learnt from our experience in Lausanne. Patience, in sport in general and in football in particular, is an important virtue. So, we are patient. Look at last season: those results kicked off the INEOS football project. No doubt we were even a little ahead of what we had foreseen. 5th place and a ticket for the Europa League with Nice, promotion to the 1st division in Switzerland for Lausanne, African Champions' League qualification with our partner Racing Club Abidjan. In summary, we experienced a superb 2019/20 campaign. The new campaign has gone less well, but that is football.
What are your relations like with Jean-Pierre Rivère and Julien Fournier?
Our relations are excellent. I speak very regularly with Julien on the phone. I also spend a fair amount of time with Jean-Pierre when I am in Nice. When we were interested in OGCN, we quickly understood that there was something to be done here. Jean-Pierre and Julien have already done a lot of things for the club. They are the right people to grow it even further. The president has links with the league and the world of football, also with the Mayor of Nice. The Director of Football, he, has a solid experience in terms of negotiations and identifying the profiles of players. Their presence was a major part of our desire to buy the club. Nothing has changed.
So you don't hold them at all responsible for the current situation?
No. We are all responsible. You know INEOS is not a company that gives into panic. Never. We are 12th in Ligue 1 and the league season is still long. 
OGC Nice do not sit in the top 10, they have been eliminated from the Europa League, the football is hardly inspiring and the results are worse. How do you explain that?
For me, this is a quality squad. It even has the potential to be in the top four in the league. So yes, we are disappointed by the European adventure and yes certain players were not at the level we hoped for. Others have not really improved. The injury to Dante was a real blow. He is missed on and off the pitch. Despite that, I see encouraging signs. And then, we are not far from the teams at the top. I repeat that I think there will be opportunities for us in 2021.
The January window starts on 2nd January, what is the budget in terms of signings?
Don't expect numerous and costly purchases. We will have to focus more on the optimisation of our players and the style of play. The January window exists to rectify one or two things, not to stack up signings. It is for this reason that I do not expect us to be very active in this window.
Even so: bringing in a central defender to combat the absence of Dante and adjusting the attacking sector would not be much….
We will have to look and find the player that is capable of bringing added value. See who is available and that is not easy. It is a crucial position. At the back, we have very good youngsters who are lacking more in experience than in talent. For the rest, we will see.
Dante's injury highlighted the weaknesses, what was lacking. Did OGC Nice not make a mistake in putting too much emphasis on young players?
No team is capable of foreseeing injuries. We have the potential that we require. I do not think that there were errors in selections.
However, some, like (Stanley) Nsoki or (Robson) Bambu, are accumulating mistakes and the relationship between quality and price there could cause a problem…
Nsoki and Bambu are very good players. For me, the problem is elsewhere. It relates to the composition of the team. Our XI was too often changed around. Because of injuries or for other reasons. A team needs to know itself. Take Aston Villa who are doing well in the Premier League, they have eight immovable players in their starting XI. Always the same. For us, the starters change too much. The youngsters are learning. They need to play regularly. That is how they are going to learn and improve.
Who decided on the exit of Patrick Vieira? Were you aware or in agreement with this decision?
It was an unanimous decision. It has to be when it concerns a role as important as the manager. I spoke with my brother Jim, and we took the difficult decision, all, together.
When was the decision taken? After the defeat against Leverkusen or before?
I do not remember the exact timing. We were speaking regularly and in quite a lot of detail on the matter with Jean-Pierre (Rivère), Julien (Fournier) and Jim. We reached a point where it was time to finalise this decision. The reasons for his departure, we have discussed with him and we will keep that internal. We have a big respect for Patrick (Vieira). He has brought a lot to the club, he is a football legend, he attracted very good players and he always gave 100% of what he could for OGC Nice.
You placed a lot of hope in Patrick Vieira. Did he disappoint you? Have you stayed in contact?
Jim and I, we like him a lot, it is true. We therefore did not take the decision lightly. To answer you: since his departure, I have not had contact with Patrick. I hope that one day, we will have the chance to cross paths again and have a coffee together. Football is a small world. I know that he will bounce back. He has everything to become a first rate manager.
Is it true that you proposed a list of four names (Advocaat, Van Gaal, Heinze, Klinsmann) to replace him?
False. I don't know where these rumours are coming from. We don't want to rush. We still have 2/3s of the league season. We have time. The choice has to be simple, obvious. but before that, we need to do great work collectively to identify the right profile. INEOS wants to install OGC Nice at the top. Make this club a regular in European competitions. Le Gym is attractive. It must become even more so. For players as well as for a coach.
Should we expect a big name on the OGC Nice bench next season?
I wouldn't say that. Today, the best manager for Le Gym is the one on the touchline. For the future, we will see who is the best candidate. We do not need a big name, we need a manager whose qualities perfectly suit the club.
What do you make of the decision to select Adrian Ursea until the end of the season?
We have known him for a long time. He is a discreet person but with great qualities, serious competencies and great knowledge. We are delighted that Adrian has accepted to take on this position for this season. There is also Fred Gioria, perfect in the role of working alongside him. But also a new fitness coach (Nicolas Dyon) and the support of Didier Digard. This new team needs a bit of time, but we can already see the changes.