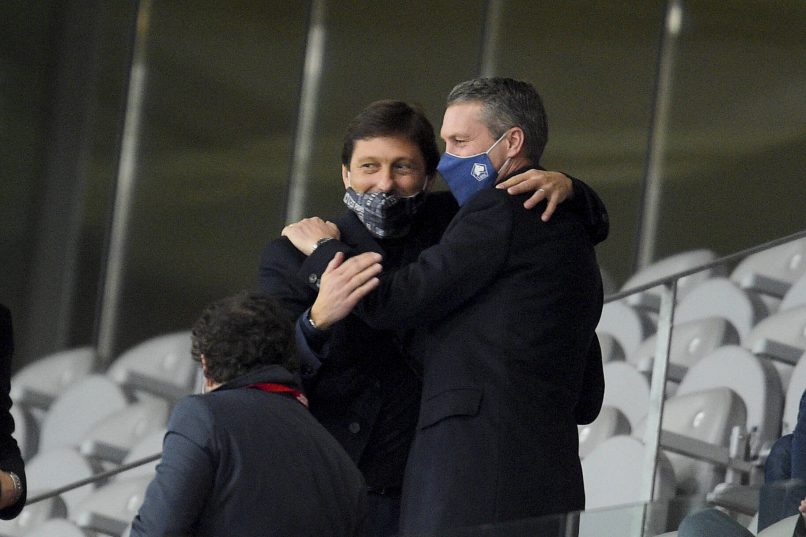 Luis Campos leaves Lille – highlights from Olivier Létang's press conference
Speaking at his first press conference as the new president of Ligue 1 club Lille, Olivier Létang confirmed a number of important changes occurring within the organisation on an immediate basis, including the departure of transfer-supremo Luis Campos.
On the death of the volunteer groundsman at Lorient yesterday:
Before we start, I wanted to pay my respects to the person who died in Lorient. I am sending all my thoughts to his family and those close to him.
On arriving at Lille & his vision:
It is with a lot of pride that I am presented to you today as the President of Lille. This club is an institution in French football, with the facilities, a training centre of the highest level, a quality squad and one of the best managers in Ligue 1. This project will focus on three pillars: a club that performs from a sporting perspective, financial balance, through developing revenues and controlling costs, and a social pillar. I can't wait for the supporters to come back to the stadium. This is above all a sporting project. I have spoken a lot with Christophe Galtier. There has been a reduction of debt, an injection of cash will occur from January, which means that we want to have the best possible team until the end of the season. The first contacts began two and a half months ago. I arrived late on Friday here so I am still getting to know things. We are going to put into place a certain organisation but we are going to be guided by what is already doing very well here in Lille.
On Gérard Lopez:
I have a lot of respect for what the previous board have done. I will therefore not answer any question about previous board members.
On the club's financial position:
The club would have been in a state of insolvency in January so there was a problem in terms of being able to keep all the teams in the club going. We are now not in a situation or where we want to sell any player currently. The meeting with the DNCG (French football's financial watchdog) went very well on Friday morning. You have to meet with the DNCG before buying a club and there will be another meeting on 4th January. But we have well accounted for the issues of COVID-19 and TV rights. Without going into the details, obviously what is happening with the TV rights and COVID-19 is going to impact the clubs. Concerning LOSC, the purchase of the club is not only linked to COVID-19 and Mediapro but a more profound problem. We do not want to be under financial pressure. We need to have this balance between strong sporting ambition and an acceptance of the existing, difficult economic situation.
On Christophe Galtier:
We spoke with Christophe and have decided to have faith in each other but we have also decided that we need to focus on the sporting side. In terms of the organisation, we cannot do things alone. There are a lot of very good things that exist here. I am very, very happy to have Christophe as manager. He has a contract until June 2022. The wish is for Christophe to continue and there will be discussions in the coming weeks.
On Luis Campos:
The contract is going to end with Luis Campos and his company. A new team will be built. Marc (Ingla) will stay at the club as an administrator because we need someone who can do the transition. I am the president of the club and not the Sporting Director. There will be a recruitment cell to build. Next, to be completely transparent, we told the DNCG that we want to go from this very strong player trading model to a more classic model. Scoutly was outside of the club. So we will no longer be using that structure.
On Mouscron and Boavista:
There is no legal relationship with Mouscron and Boavista. There is only a contract with Mouscron that runs until 30th June 2021. We have 55 professional players under contract, 38 here and 17 on loan. For me, that is too many.
On Merlyn Partners:
Merlyn is a fund that wants to have a great deal of confidentiality. During the meeting with them, we shared the same way of seeing things. There is a significant reduction of the debt, a big investment, and an injection of capital because otherwise the club would have been in a state of insolvency in January.
Quotes from the press conference provided by Le Petit Lillois.